Fujifilm X-T2
Amazon Link: check prices
Right off the bat, know this:
All of my product pages are meant to reflect my own personal experience with my gear. I use everything I've listed!  I've chosen each piece based upon how they float my boat and make my work, art, travel, comfort and mobility possible. As such, my comments are completely my own opinion and based upon what's important to me. So don't cry if I'm not objectively droning on about this feature vs. that feature and why point-decimal-some-number is going to make a difference in your life. It probably won't anyway – and there are plenty of people who WILL share that data with you. You might enjoy their reviews. Fair warning. What I WILL share is my thought process in choosing my gear, what it does for me, what I love about it… and if there's something not love, I'll share that too.
The links I provide to Amazon to check prices and view specs are affiliate links. What that means is that should you choose to buy said gear, I'll receive a bit 'o change from that sale. It doesn't cost you any more. You're NOT under any obligation to purchase whatsoever. Nada. None. I just like to be all transparent about stuff like that. Now let's get on with the show…
Amazon Link: check prices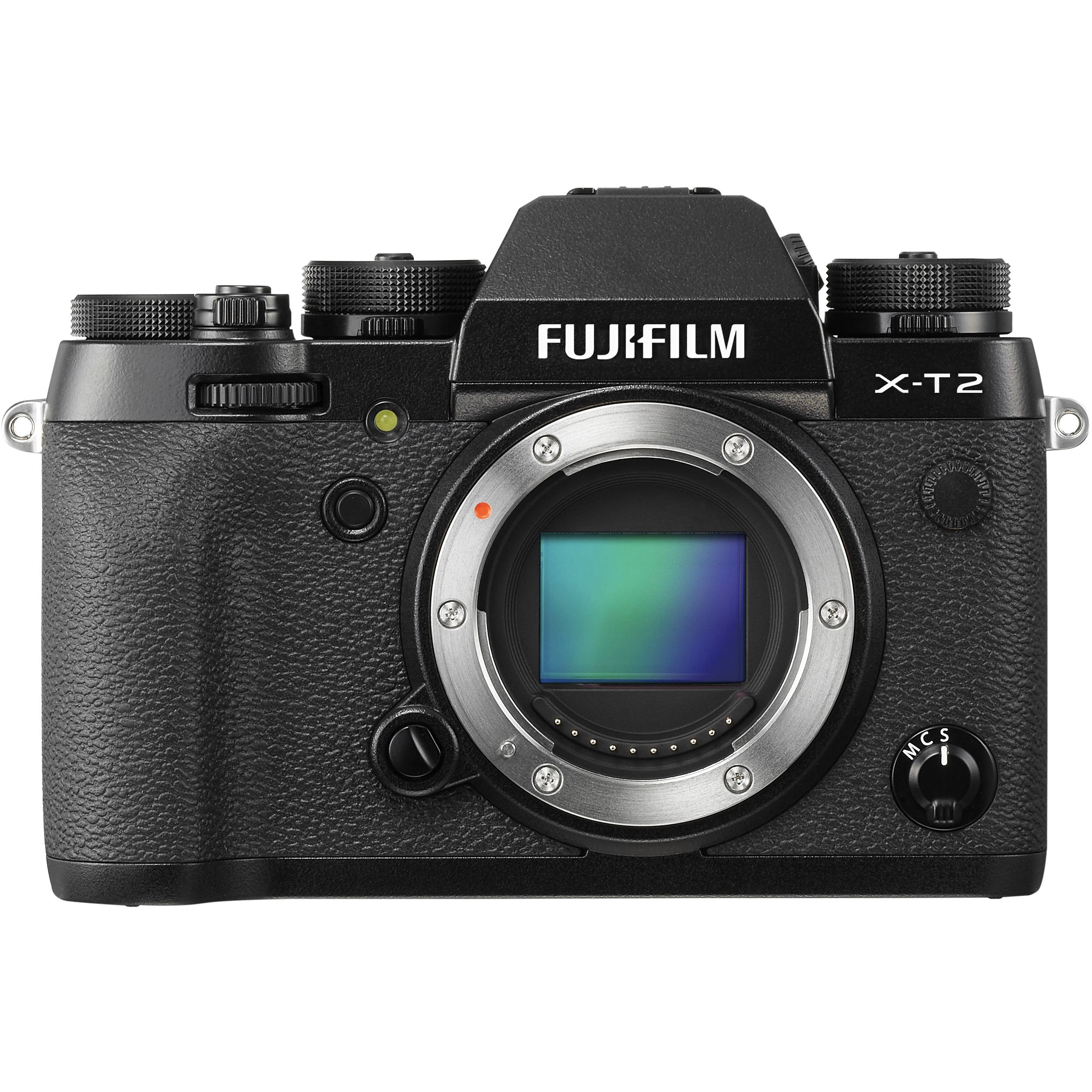 When I first switched from DSLR to mirrorless in 2015, I started with Fujifilm's X-T10 and X-T1. These cameras blew my mind and rocked my world! I broke up with my heavy DSLR and never looked back. To this day, I have ZERO regrets.  Thing was, the entire time I worked with the T-10 and T-1, I kept re-designing certain features, especially after trying the X-Pro2 with it's little magic joystick and Drive menu.
Plus, I kept thinking… what's the deal with the articulating screen only flipping in landscape orientation? Why can't it flip vertically too? (my neck and upper back were screaming for this feature) And… can we PLEASE have 24mps already??
Then the X-T2 happened. Dream camera accomplished! It was a major update from the X-T1 and it answered all my prayers handily and then some. Love that about Fujifilm – they listen.
Don't let its small size make you think it's lacking anything. It isn't! While only you can set the criteria of "must-haves" in your next camera, here was my basic list (in no particular order), which the XT-2 handily nailed, hands-down.
My basic list of requirements, handily met:
Have FUN – and make me WANT to get out and take pictures
Weather-sealed
Joy stick to move the focus point
Large articulating LCD screen that flips horizontally AND vertcially
24mp
Knob/button-driven vs. menu-driven… intuitively laid out
Even faster AF (than its predecessor)
Even lower noise at high ISO
Big, fat native lens selection to go with it
Gorgeous images.
Regular firmware updates to keep everything humming along and improving
A company that, listen, responds and has been and would be around awhile
Oh yeah, It also does remote firing and viewing via iPhone and lets you transfer images to your mobile device via the Fujifilm app. I love that.
Here's another feature I didn't even KNOW I wanted until it appeared: the "My Menu" feature. While I customize buttons for my most-often used settings, the My Menu feature lets me gather the other settings I'd like to be able to change quickly. Nothing's for everyone… but this one really works for me. Between My Menu and the customizable buttons, I can swap settings at star speed! In other words, it's another way the camera helps – then gets out of my way and lets me stay in my creative zone.
As you can probably tell, I'm not one to pour over pages and pages of specs and reviews with a microscope. I DO look, for the basic useful data. But specs and reviews tell the whole story. At some point, you just gotta get out there, get your hands dirty and figure out what works best for you and got on with it. Enough talk! (Yes, I realize I'm talking now, which is technically a contradiction in terms. sigh. Life is not perfect.)
Bottom line:  user experience and the results are what matter.
3 really important (& simple) questions to ask about a camera:
Is it fun to use? 
Does it make me want to take pictures/get excited about it/make me feel more creative? and
Are the images stunning?
The X-T2 verdict? A triple Yep, Yep and YEP!
All of the X-Series Fujifilm cameras I've used has unique way of unlocking new, creative ideas and license to play. They've made me a better photographer and are truly an artist's camera! For me, the X-T2 simply takes this to a new level.
I also love how many functions and buttons you can customize EASILY. It contributes to one of the HUGE things to love about this camera: its ability to get out of the way and let me create!
Image Quality
Crazy, awesome STUNNING!
The X-T2 still uses an APS-C sensor, but this is the newest X-Trans CMOS III. I'm not sure what wizardry the Fujifilm engineers know, but the 24mp images are mind-blowing. Sharper, more detail, more dynamic range than the X-T1, but still with those gorgeous Fujifilm colors and tones. I've printed up to 60 inches across handily with NO problem.
In case you're interested in how it came about that I switched to mirrorless, my first big trip with my Fujifilm cameras was to Paris and France. I wrote a blog post about my impressions then. Honestly, my amazement and delight with these cameras has only grown over time.
I've struggled with words to describe what it is about Fuji images that makes me want to leap with joy. It's the particular tones and colors they offer. It's the contrasts and micro-contrasts. It's the dynamic range (which makes me swoon). It's the depth of the blacks, yet the range of shades within them. I used to do HDR alot… because I had to. Now: I barely do any. I don't need to, with what I'm getting from each of these images.
They are different than any other camera I've used. Creamy, gorgeous, artistic, brilliant.
After all is said and done, IMAGES are the make-or-break point for me. Fuji so far exceeded the bar on them, I don't even know when I'll top out on my enthusiasm for them. They continue to beckon me forward to explore and think outside the box. "What if…" has become my favorite game now, because these cameras make me want to try new stuff, all the time. As an artist… this is critical!
Amazon Link: check prices.
My Own Gear In Action
When I first fell in love with Fujifilm, I was presented with an option to partner with the company as a Fujifilm Professional X-Photographer. I will ONLY promote, speak highly of or partner with companies and products I truly believe in. Perhaps to my own detriment at times in my life, I just can't suck it up and lower my standards just to make a buck or get a pat on the head. I'd rather just go it alone, thank you very much.
In this case, I was thrilled at the chance to team up with the company making the best cameras I've ever used in my life. I'd seriously use this gear and talk about it no matter what, any day of the week. And no, they don't pay me to say that… they didn't even ask or require that I create these Gear pages. I just thought it worthy of sharing, so I am.
All that to say that when I was asked to make a video about the X-T2 – showing how I use mine up here in the mountains, I leapt! I mean yeah, it's promotional for the company… but it tells MY story, lets me show my joy and this artist's world made better with my crazy awesome paintbrush of light, as I like to call it.
Practically speaking, I can carry it without it toppling me over… for miles if I want to. I can photograph in driving snow, rain – I can travel and make art everywhere. It's changed my life in many ways that are hard to explain. That's the stuff beyond the settings. That's what you REALLY want your gear to do for you. I'm incredibly grateful that I'm having that opportunity.
This was created with my friend and incredibly talented videographer Justin Majeczky. He helped me tell my story with this camera so brilliantly! He's way more than a videographer… he's a weaver of tales and dreams. I've worked with him now on 3 projects for Fujifilm. Hey, credit where credit is due… and the crowd simple goes wild over Justin's work.
Note that I can't stop grinning through the whole thing! It might seem goofy to you, but that's something I've noticed since ditching my DSLR and turning my Muse loose with Fujifilm gear. It's kinda nuts – and embarrasses me a little sometimes, but I guess that's just part of my #1 requirement with my gear.
Fun. Love.
He Wrote The Book For The X-T2!
Got a new X-T2? Already own one, but want to learn more about it? My good friend, adventure photographer and instructor  Dan Bailey just wrote THE book on Fujifilm's X-Series cameras. He's the guy I call when I need help – he's got these puppies down. (I've got a copy myself, although I still ping him first when I have a question. ;))
I'm happy to support him by being an affiliate for his book "X-Series Unlimited: A Comprehensive Guide for Mastering Techniques and Maximizing Creativity with your FUJIFILM Camera." But only because it's 100% awesome and so is he!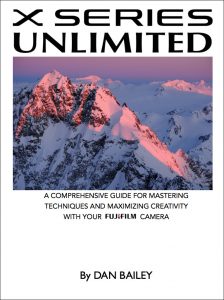 I'd venture to say that this may be the definitive guide for X Series cameras.
These cameras do so much – and most don't know even a fraction of what all that is! I certainly didn't.
As he says: "For as clean and classic as they are on the outside, when you dig deep, you find that there is an astounding set of features tucked away inside all of the X Series models. And while the manual explains every single feature, it doesn't really tell you how to use these features in real life shooting situation."
And that's where Dan shines… real life applications. Hence my recommending his work to you.
 Click here to check out Dan's book!
The Images
And finally, these images were all taken with my Fuji X-T2… some in the pouring rain and blizzard conditions! Yes, the weather sealing works.
You can click on any image to see them large – and to and see all the EXIF data by clicking the ℹ︎ button.
---
Tahoe City, CA
XF 16-55mm lens:

Tahoe City, CA
XF 60mm f/2.4 Macro lens:

Cannes, France
XF 16-55mm lens

Grasse, France
XF 16-55mm lens

Amazon Link: check prices