Amazon Link: check price
Right off the bat, know this:
All of my product pages are meant to reflect my own personal experience with my gear. I use everything I've listed!  I've chosen each piece based upon how they float my boat and make my work, art, travel, comfort and mobility possible. As such, my comments are completely my own opinion. So don't cry if I'm not objectively droning about this feature vs. that feature and why point-decimal-some-number is going to make a difference in your life. It probably won't anyway and there are plenty of people who WILL share that data with you. You might enjoy their reviews. Fair warning. What I WILL share is my thought process in choosing my gear, what it does for me, what I love about it… and if there's something not love, I'll share that too.
The links I provide to check prices and purchase on Amazon are affiliate links. What that means is that should you choose to buy said gear, I'll receive a bit 'o change from that sale. It doesn't cost you any more. You're NOT under any obligation to purchase whatsoever. Nada. None. I just like to be all transparent about stuff like that. Now let's get on with the show…
FUJIFILM X-T10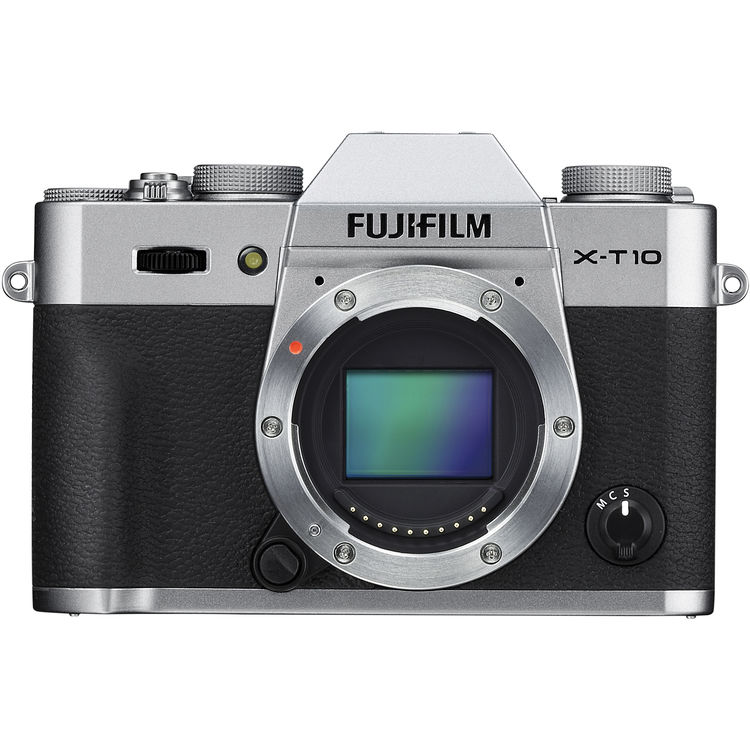 I love this little brother to the X-T1! Same sensor, same wonderfulness of image, in a smaller package.
Here's the page for the X-T1… rather than repeat all of that here, I'll keep this to what differences I experience between them.
The X-T10 was created in order to offer a GREAT camera at a smaller price point. Hence, the same sensor, customizable button and dial system, large LCD screen and all that. Naturally, you can use all of the same lenses you'd use with the X-T1.
Some of the differences: the X-T10 isn't weather-sealed. So I don't take it out in a rainstorm. I'm not saying I would never do that… but if I did, I'd just bag it up with a grocery store produce bag. (Yes, I've actually done this. Cheap, easy and it works with a few rubber bands!). Or I'd take the X-T1.
I carry it in cities, when I want to be super low profile and only want to take one small camera. It's also fantastic for landscape shooting in good weather, especially when you have to pack it. It's a bit smaller than the X-T1, but has the same feel and handling.
Amazon Link: check price
My Actual Gear
I always like seeing people's actual gear. The dings, use marks, scratches, whatever. It shows they're alive! So, here are some images of my X-T10, with a few notes to go with….
At a coffee shop, with the 60mm prime Macro: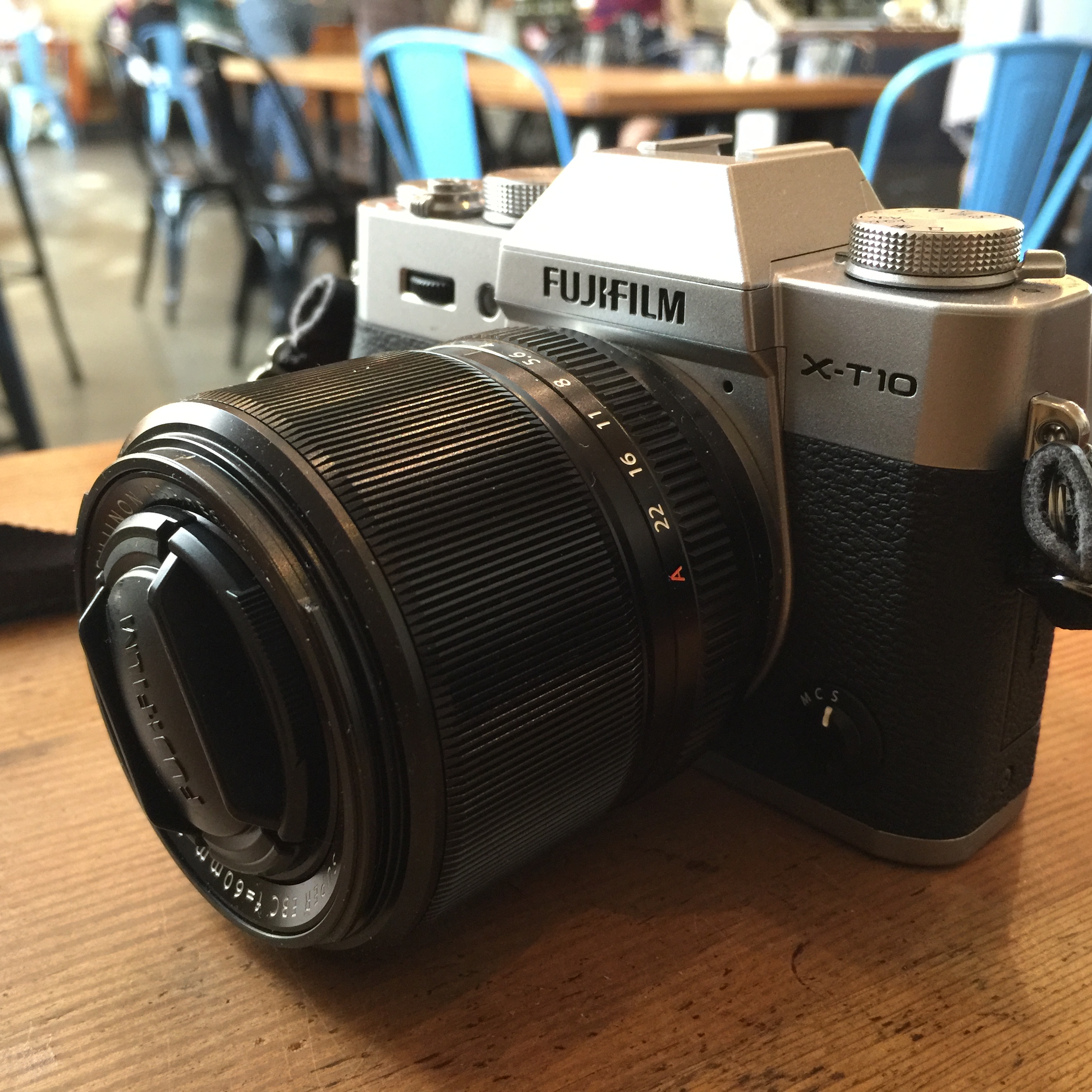 The top of the X-T10. On the X-T1, the knob on the left is the ISO control, which is convenient. To make it quick and easy to change ISO on this camera, I just create a custom function for it on one of the buttons on the back of the camera. I thought it would slow me down, switching between those, but it really hasn't.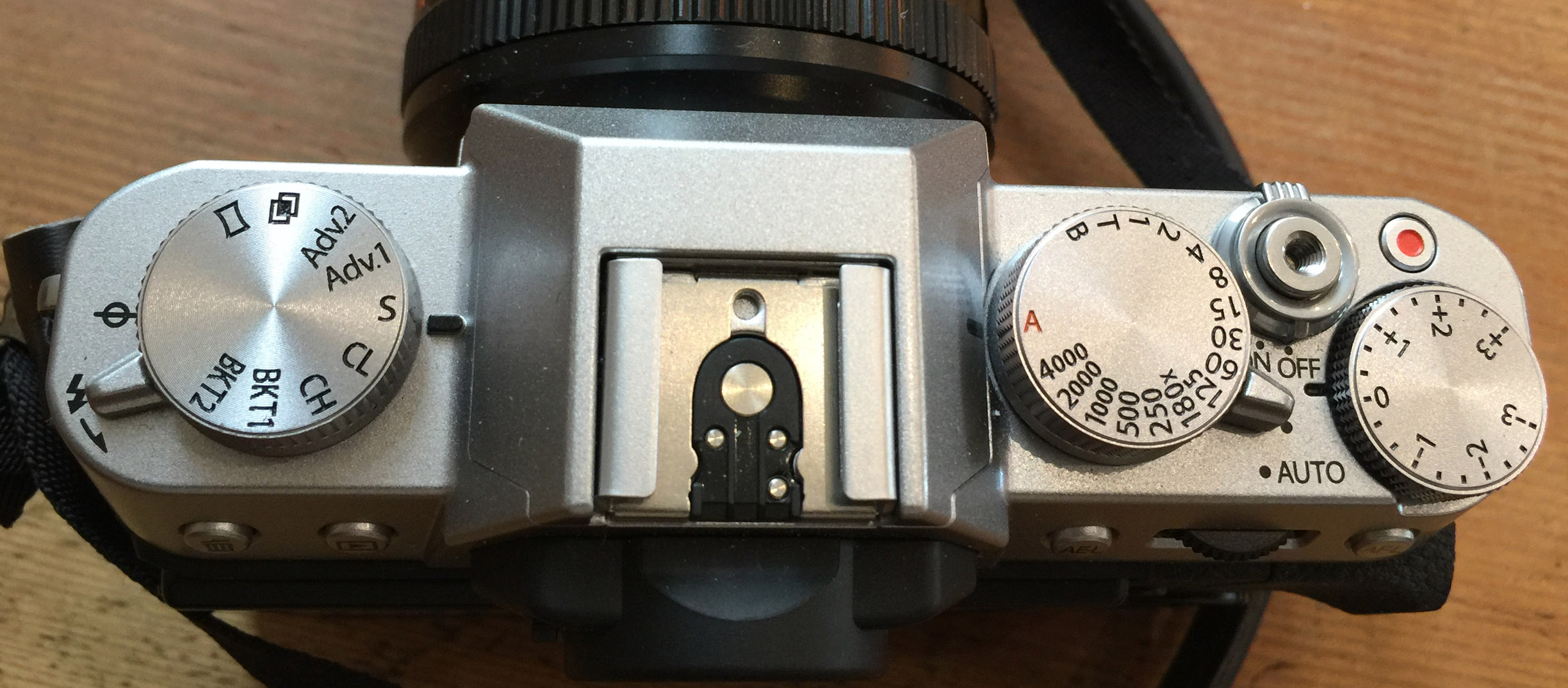 The back, with it's big, fat LCD screen and menu system: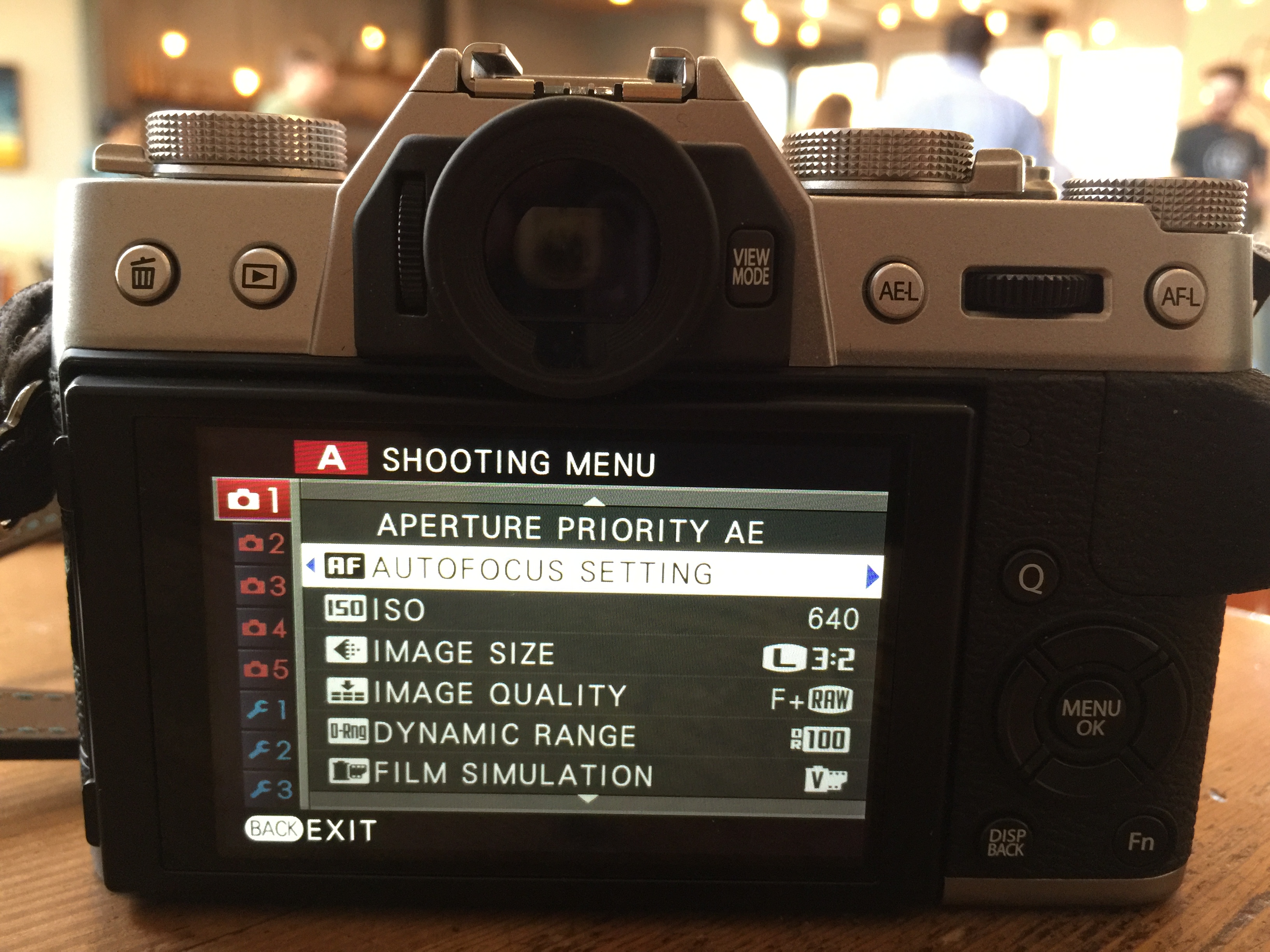 The Images
And finally, the following were all taken with my Fuji X-T10.
You can click on any image to see it large. To see all the EXIF data, click the ℹ︎ button.Honfleur, France
Truckee, CA
60mm lens, panorama

Mont St-Michel, France
16-55mm lens

Truckee, CA
16-55mm lens (19 shot pano)

Amazon Link: check price