Plotagraph On Mobile: Good Fun!
You may have seen the photo animations made with Plotagraph Pro floating by your social stream. They're super popular – and with good reason; they're fun! The idea: animate sections of any photograph so that it moves in wondrous ways. Just how "wondrous" really depends upon your imagination and skill… more the former, really – especially since the mobile app is pretty darn easy to use.
The Context Of This Review.
On all of my Gear pages (this being one of them for "Photo Tools") I take a little different perspective than your typical gear/review/"here let me tell you what I think" page. I will only ever show things I actually like and use… but also that contribute to "artistic voice" in some way. 'Cause that's what I'm most interested in: cool things that help you be more creative, open your mind to new possibilities and See Different.
Plotagraph Pro handily qualifies overall – but for me, it's about the mobile app in particular.. Why? Because you get to play, re-imagine your images (which in turn tickles your brain into looking at things differently) – and be creative anywhere, anytime. Plus, you can do it AWAY from your computer! #Winning. While waiting at the doctor's office, instead of scanning your Facebook page for the hundredth time, create something cool! Make a Plotagraph of one of your favorite images and see what you discover. Let your muse pick the image… and whisper in your ear what she'd like to do with it. You might just surprise yourself. Staying inspired is key to any artist!
My Bumpy Plotagraph Beginnings
My story with Plotagraph on mobile (Look for: Plotagraph+ Photo Animator in the App store. Android version is in the works.) begins with one of my top current life rules; no more taking on projects that put me MORE in front of a computer! Less computer time is my key to The Kingdom of Perpetual Happiness these days. Back when I first gave Plotagraph Pro a whirl, it was on the desktop version. I thought it was cool, but I wasn't willing to spend that extra 'puter time to really dive into it.
But now: BINGO!
Plotagraph+ Photo Animator has become my new favorite pastime. I can use it on my iPhone, but prefer using my iPad Mini with a stylus. That's mostly because of my less-than-delicate fingers and well-aged (of course, thought of with the same loving kindness as a fine wine) eyes. The extra real estate that my iPad mini offers is perfect for me.
Create Art Anywhere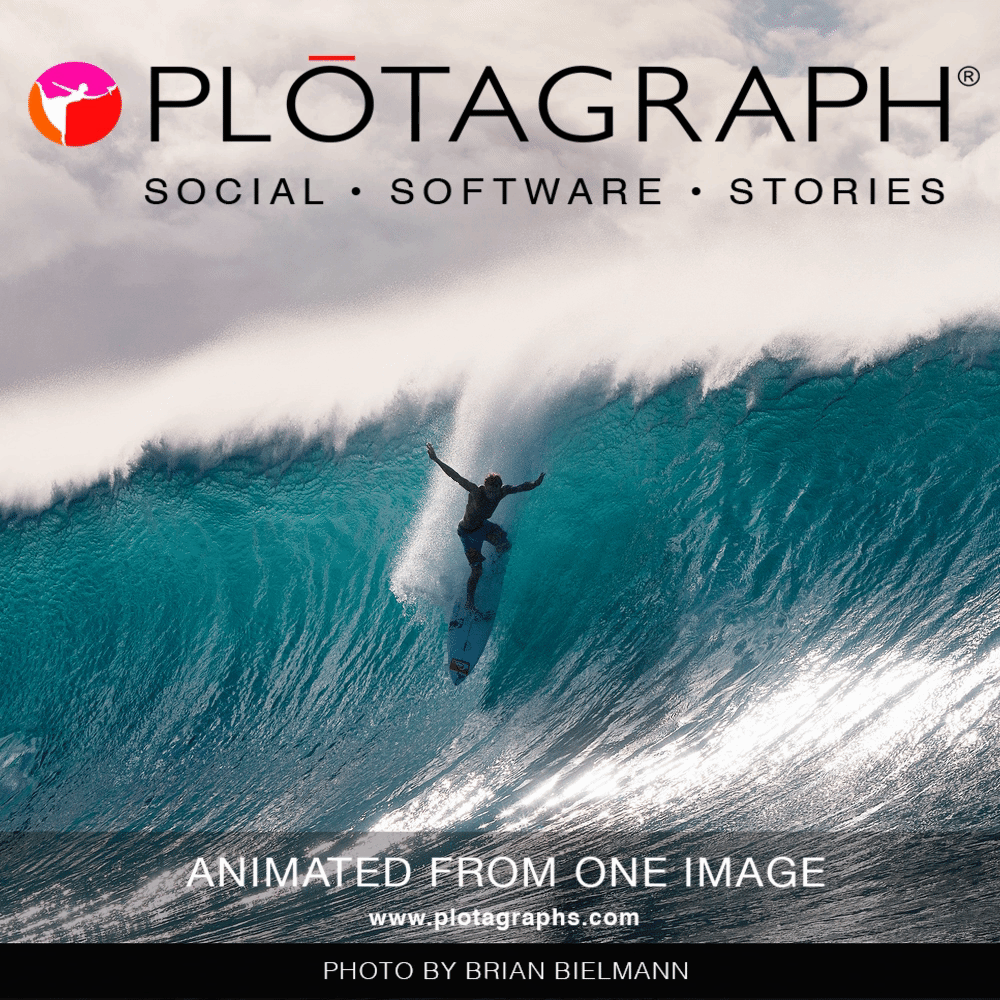 I'll admit it… I wondered how hard it would be to create a Plotagraph on an iPhone or iPad. The computer version has a ton of features and controls. I wasn't sure just what all they could pack into a mobile version. Would it be so streamlined it was lame? Would I be able to even see the controls? Feel lost trying to learn it? (I didn't have time for a huge learning curve) Feel like the ONLY way I could make anything cool was to go back to the computer, which I wasn't about to do!
Clearly, I have lots of questions and multiple rules of engagement. 😉
Up and Running in No Time
Full of the aforementioned questions and my usual curiosity, I downloaded the app to my iPhone and iPad. Tried it on both, opted for my iPad mini. There were zero instructions other than the little tutorials within the app. Turns out they were plenty. I was up and running in about 5-10 minutes and was stunned to discover how simple and powerful it was! Color me impressed.
Here's what it looks like…
Under The Hood
Controls are pretty simple… these are screenshots from within the app:
---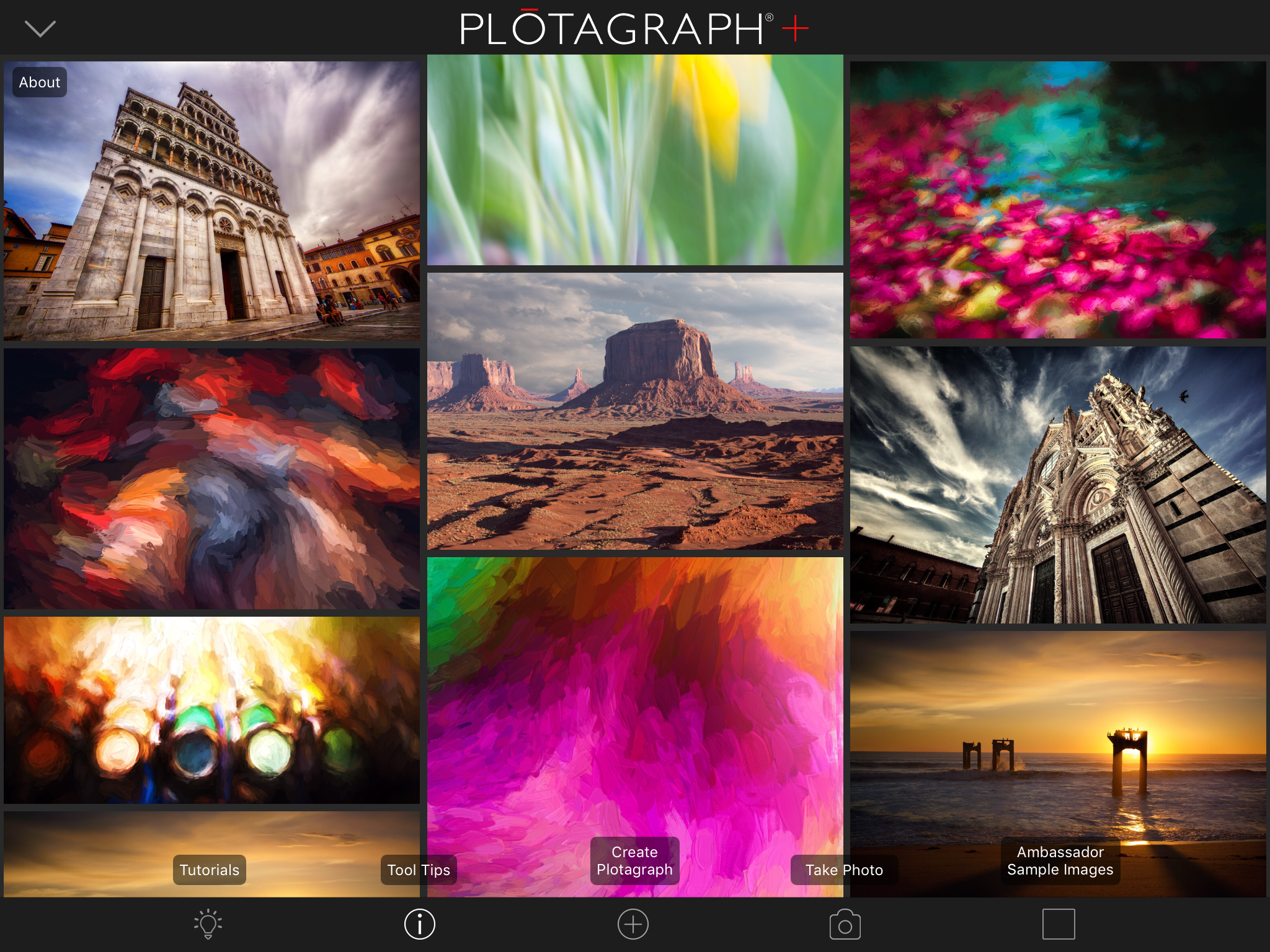 ---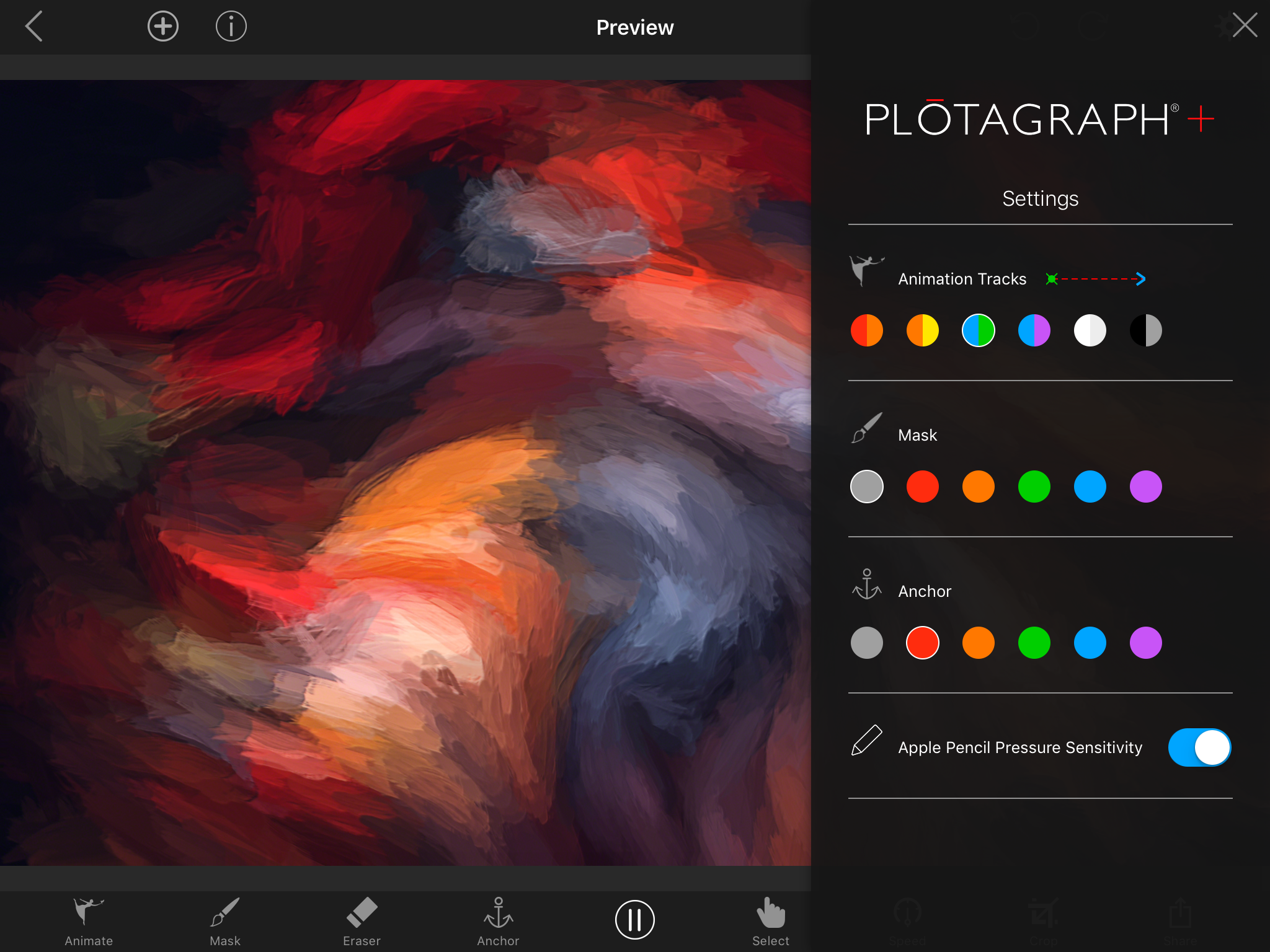 ---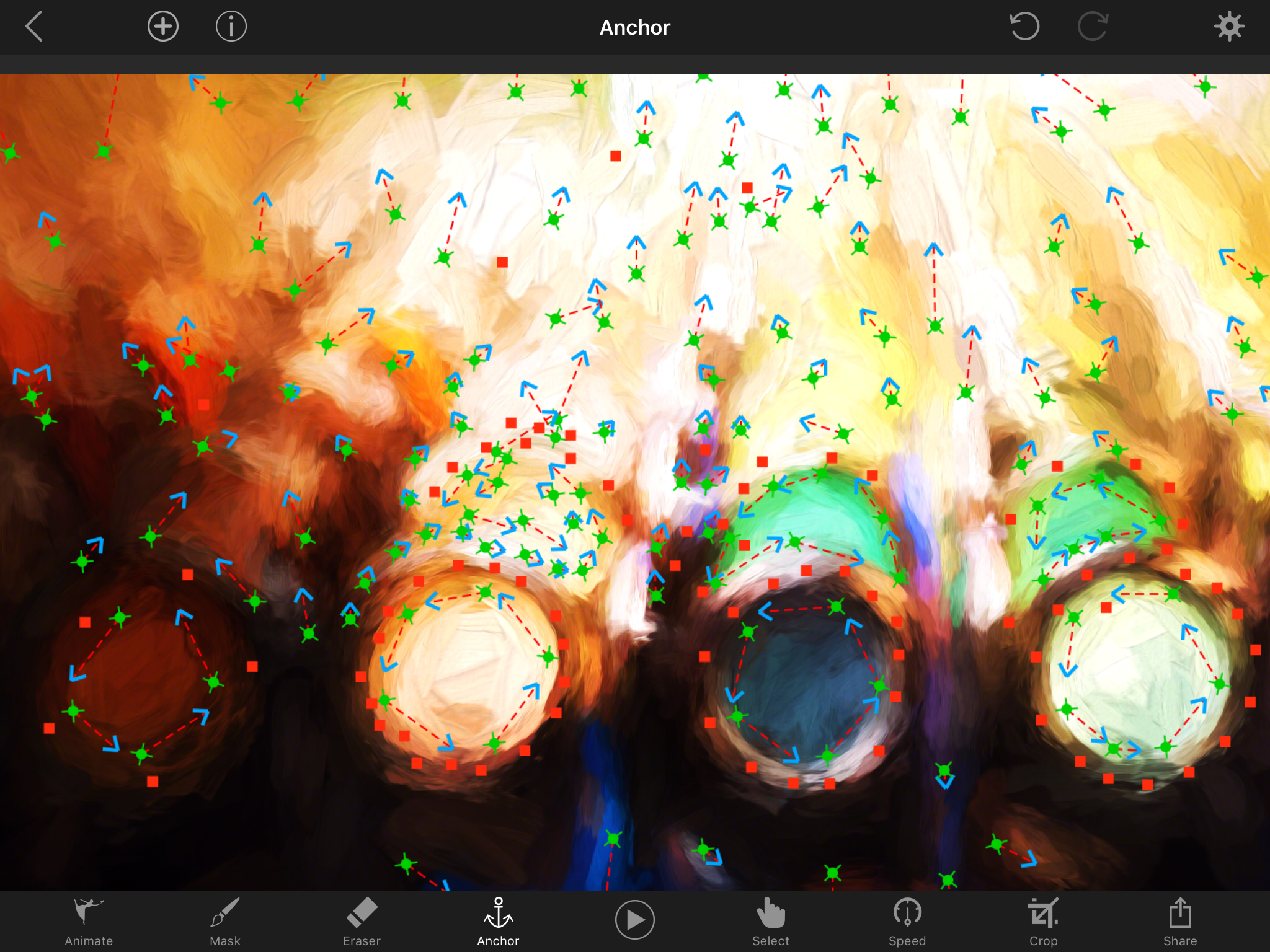 ---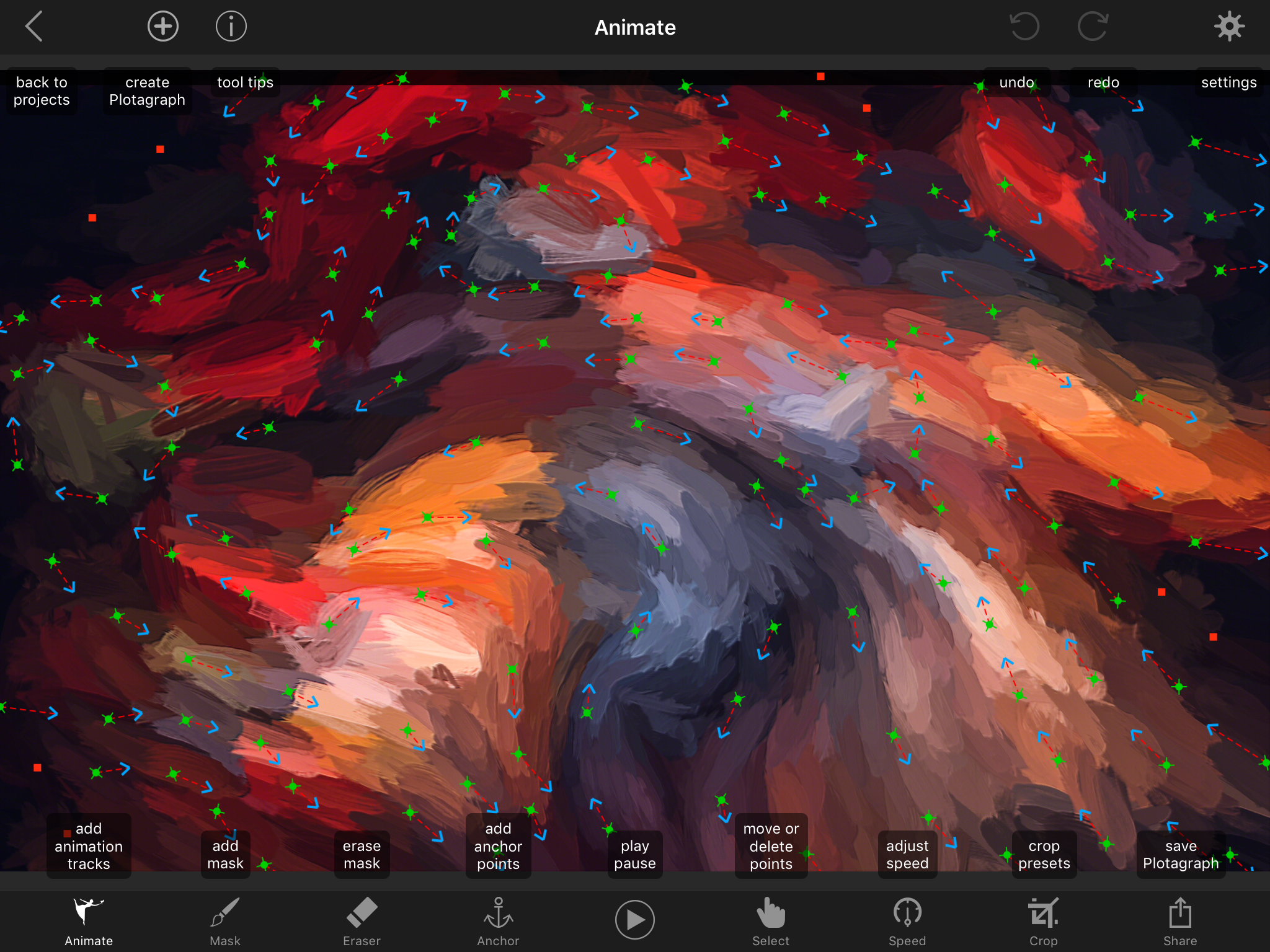 ---
---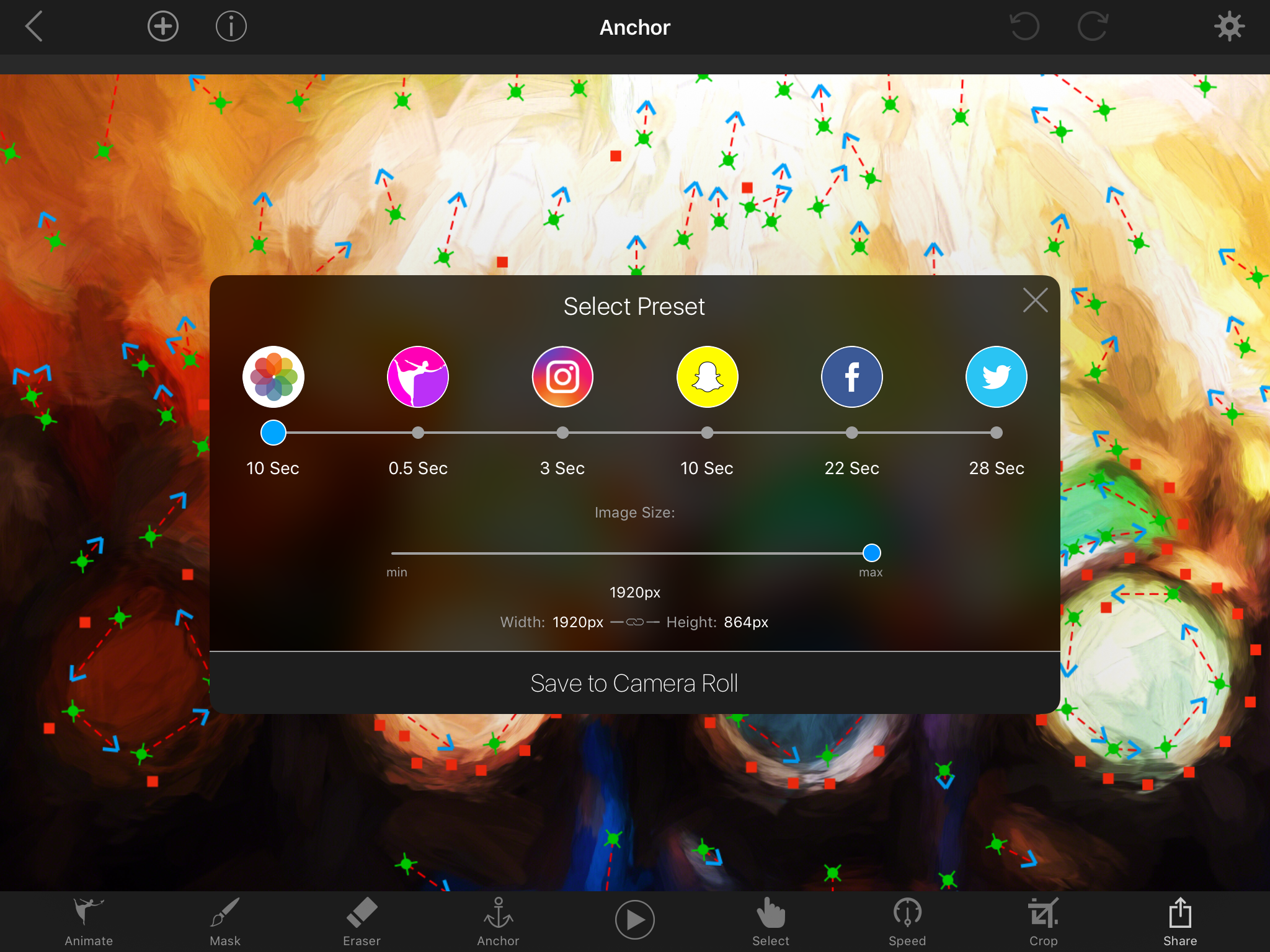 ---
My Plotagraphs

Now (takes a deep breath) here goes… my first group of Plotagraphs! Trust me, what I'm showing you aren't all masterpieces! Nope, this was just me, playing around. Trying stuff. Experimenting. Sometimes I made something cool  – sometimes not so much. I'll show you both, because I think all too often, we think everyone always creates awesome stuff. Truth is, I make my fair share of duds!
I certainly learned alot about what I love and don't love to create – and found that really valuable. Not to mention, bringing my images to life in new ways gave them a new voice as well. How cool is that?
Once I got going, it was like potato chips… I couldn't stop with just one! I'm including a fair group here, because they track my thinking, the experiments I made and progress along the way. You path will be YOUR own!
Davenport, CA
This image of the famed cement piers in Davenport, CA was the first Plotagraph I tried on my iPad mini… and of COURSE I chose the hardest kind to start with! Sky… surf… 90% of this image is moving, in all different directions! GAH! I'll be honest, it didn't turn out awesome – and it took forever. Sheesh! That was mostly because I was learning for the first time on a stupidly complex image for a newbie. So typical of me.
I'm including it here, because your first one might not be awesome either.  But hey, it's all part of the process and the whole "Just go for it!" mentality we need to have for maximum creative fun and expansion.
This sucker moves really slowly. Initially, I thought maybe subtle was better, but ultimately it was TOO subtle. And not nearly as masterfully done as I'd hoped; it fell woefully short in that department! By the time I I arrived at that decision though, I'd sunk so much time into it I was sick of it and wasn't about to start over! I decided to cut bait, move on… and show this as my starting point. And oh yeah…  as a cautionary tale!
My advice: Start MUCH simpler than I did!
Siena, Italy
In my next attempt, I decided to simplify things. This image of the Duomo in Siena, Italy is a few years old, but I always loved it. It's moody and strange… and  I wondered if making it into Plotagraph would add something to it. It did!
Although I'd love some way to easily animate the bird in a way that makes sense. I learned that my brain (and muse, for that matter) doesn't seem to think the bird being stationary quite works. It wants to believe wholeheartedly in whatever I create – and it just doesn't quiiiiiite want to sign off 100% on this one.
I still liked it, but wondered "What if I could create pieces that my brain whole heartedly endorses?" Thus began my mission…
The Coliseum, Rome
For the next round, I decided that if my brain and muse were going to argue with me, then I'd choose some images where there couldn't possibly be ANY other movement besides the sky and see what it had to say.
Haven't you ever looked up and watched clouds go by, all dynamic and alive… passing by tall buildings, making them seem even MORE solid and stationary? I have. And I always liked that juxtaposition. So it was super cool to hit upon that with this one. It took about 3 minutes to do, if that… which thrilled me to no end!
Monument Valley Sunrise
Then I thought: "What about Plotagraphing a really cool landscape image, following the same idea as the Coliseum?" Y'know, where it all makes sense to both brain and muse and there's not some element in the image that WOULD be moving if it were actually a video. Voila! The buttes in Monument Valley shortly after sunrise were wonderfully accommodating.
This was when the whole thing about creating Plotagraphs on mobile being alot like eating potato chips occurred to me … you always seem to want onnnnnne more. Heh.
Pink Flower Abstract
My muse is never satisfied with "the norm"… so she wondered: "Ooooo, what would it be like on an Abstract, where NO rules of reality apply?" Now she was singing my song!
I started with this one… just to see what would happen. I imagined it moving in different directions and wondered if that would work – and how to even do it! Didn't take long to find out. I decided this is a bit like making your own lava lamp. 😜
Endless Circles
Then I wanted to get fancier. I grabbed this Abstract and wondered if I could make those circles at the bottom go round and round, while the top section marched off the screen.
Fun fact: this was originally an photo of an eye shadow display at Macy's in NYC. I made it into an Abstract and now, it's aliiiiiive!!! (cue Frankensteinian maniacal laughter).  Loved doing this one…
Crimson Carp Abstract
By now I realized that I Seriously. Could. Not. Stop!
Fun discovery: creating Plotagraphs out of my Abstracts opened up a whole new way of seeing. It's always surprising and entertaining to see how they turn out, because even though I start with some ideas… they always end up doing something a little different. I like that! I also think it's fun move them in different directions and see where the flow works best.
Mind you, this is all still a works-in-progress, but I feel so encouraged to use Plotagraph on mobile in ways I just wasn't feeling on a computer.
Have I mentioned that I really, REALLY hate being stuck on a computer?
Lucca-Duomo
I photographed this image of the Duomo in Lucca, Italy in a purposely surreal fashion with a really wide angle lens some years ago. It was an experiment I was doing at the time, giving these old buildings their own life. They always seem so out-of-this-world to me! Consequently, this one was a great candidate for a Plotagraph.
I liked it! Wish I could animate the people in the shot, but for now.. I liked the clouds and the way they move right up over my head. Again, took all of about 3 minutes to create this one – and it was strangely satisfying.
Green/Yellow Vertical Abstract
Yep, back to the Abstract-Meets-Plotagraph thing!
I always saw so much movement in this one… and wondered if I could Plotacize it even remotely the way I imagined it. I can tell you it turned out differently, but life-of-its-own cool.  I don't know if a greater skill level would bend it to my will more or not. Ultimately, I decided the better exercise was to let it be what it was. Let it go, not try to make it "Perfect", which tends to be one of my creative stumbling blocks. If this was to be a true creative exercise… I need to just freakin' Let Goooooo.
So I did.
Lenticular Face-Off
I was gaining some confidence. Now I wanted to tell a story, create a scene.
Where I live, we see alot of these Lenticular clouds. They always look like little (sometimes not so little!) space ships to me. Which made me wonder… what if they looked like these were flying toward each other. You'd have to wonder: Were they prepping for battle? Were they friendly? How fast were they going? Y'know, just some thoughts to pass the time.
This one DID turn out much like I imagined, yet still with its own voice.
SIDEBAR: As I was working on it, I thought of someone saying: "Clouds don't move like that!" To which I would respond: "Exactly. But space ships do. Duh!"
And I laughed, as I often do at my own stupid jokes. 😜
Conclusion
For me, Plotagraph on mobile is a really fun, creative, brain tickling tool. It's a great app to reach for when I'm in the mood for:  "I wonder what would happen if I tried this… ." For those times when I just want to mix things up and play… expand… try stuff… experiment. I always encourage my students to do that, because we ALL get stuck in our creative ruts, in our same-old same-old way of seeing.
Plotagraph on mobile is a fun way to break out of that little jail, and adopt the infinitely more freeing "I wonder…" mind set.
Personally, I find that no matter how, where or why I do that… it's like spritzing the  scent of Awesome across the board of my life, not just in photography. The fragrance simply can't be contained to one room… it spreads its delicious joy to the entire house!
SaveSave
SaveSave
SaveSave
SaveSave
SaveSave