Captain Hook & The Bay of Emeralds
I have a wonderful friend named Annette Biggers who photographs weddings. Brilliantly. And she does this other really cool thing; fairy tale photo shoots. She has a whole philosophy about why she likes to do this… and it's awesome deep. One day she called up and said "I want to do 'Captain Hook at Emerald Bay'" (Lake Tahoe, in the area where I live)… "And I want you to do some HDR photos!" Well, of course I said "YES!" I was really excited, since I've loved Annette's work since the day I laid eyes on it… and the idea of getting to play in that realm AND do some HDR had me bouncing up and down. Literally!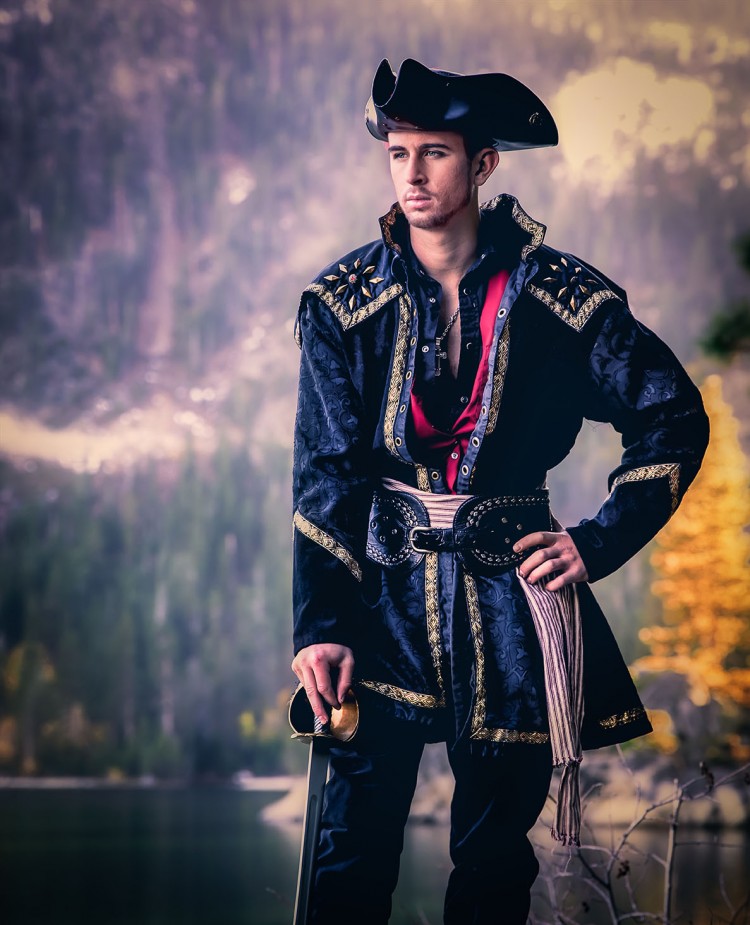 She picked up the costume in Los Angeles, at a shop that rents them for movies and such. She chose a few spots around the lake from photos I'd taken previously, and away we went. Her son Daniel was a fabulous Cap'n and put up with us setting him up in all kinds of positions all day long! What a gem.
I used a shallow depth of field for this, so the background would blur out. Shot 7 bracketed exposures, combined them in Photomatix. That created my base image… then I went to town with NIK Software, onOne Perfect Effects 4, some Photoshop techniques and Lightroom too. But here's the thing when you do HDR on a person… don't HDR the face! The process makes skin look strangely gritty and unnatural. I used one of the mid-range raw exposures for Daniel's face, making sure to lighten and brighten his eyes just a little. The costume lent itself particularly well to the process, which made all the details in the fabric and necklace really pop. I wanted an old fashioned movie poster vibe – but with more modern colors and details. I love how it turned out – and want to do more! Don't know when I will, but it was sure fun to play and experiment with a type of photography that I don't do very often.
Tried anything new lately?