Sweet Lady Charlotte is one of my favorite subjects. She thinks deep thoughts. And loves to have her picture taken, as it turns out. Perfect combo! Charlotte lives in Portland, Oregon, so I knew from the beginning I'd want to give her a little old-fashioned-meets-modern-grunge vibe, yet still be on the realistic side. First up though, make the capture!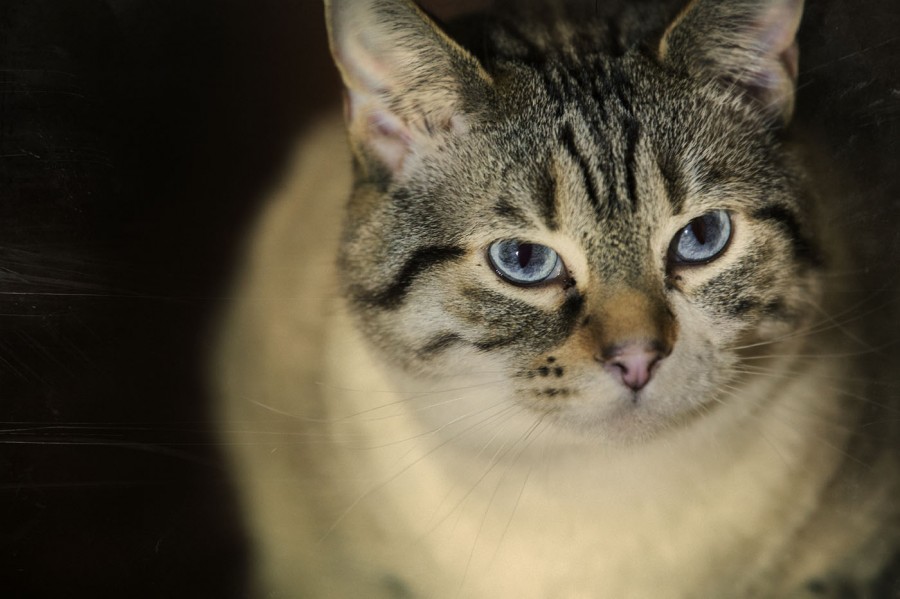 For this, I broke out my 70-200 f/2.8 IS II and set the f-stop to f/4. Right off the bat, I knew I want her face in focus, but everything else to blur away into a nice bokeh. The eyes are where the magic is when it comes to both people and animals – so I made sure to focus on her closest one. Since I wanted those big baby blues to be seen in all their glory, I also brought out some mighty fancy lighting: my HP7 Coast flashlight, laid on the floor. Yep, fancy schmancy, I tell ya! I was laid out flat on my stomach on the floor too, so I could get my lens level with her eyes. My back didn't love that – but hey it's only temporary, as my mother would say. (and it was!) Luckily, Charlotte really seems to love having her picture taken; she's like a cat couture model, with the myriad of expressions and positions she runs through in a session. I had to honestly not laugh out loud at several points! But we did well and I walked away with several winners.
Processing: I started this image in Lightroom. It was a bit bright and cool, so I calmed that down straight away by using the highlights and whites sliders. Then used the brush tool to mask her face and add clarity and sharpness in tasteful measure. Next; over to Photoshop CS6. I started there with a black fill adjustment layer set in Soft Focus blending mode to bring the brightness down even more and make the darks pop a bit more. It also helped the color in her eyes come out without having to deal with them directly. I moved the opacity slider till I liked the effect amount, then brushed a bit more out in areas of her face that still looked a bit dark or muddy. At that point, it was a nice portrait… but I wanted a "vibe". Charlotte is, above all, a native Portlandian. Vibe required.
Over to Alien Skin's Portrait 4 to experiment. I finally landed on the "Time-Zero Film (Dust & Scratches)" effect. I liked the ever-so-slightly vintage feel it gave – and even liked the scratches, which I don't always. In this case, it played off of her whiskers nicely. And, OK, I admit the old tune "Cat Scratch Fever" by Ted Nugent also crossed my mind, but I dismissed that as being embarrassingly trite – and yet – here I am admitting this whole thing to you. ANYWAY… I tweaked a few of the color levels, opacities and such, then clicked OK.
Still in Photoshop, I went back and forth over whether to add another black adjustment layer to lower the light even more… which I ultimately did, but only at 45% opacity. Brushed more from around her eyes, ears and places around her face… even lifted some away from the scratches on the sides, since I didn't want to lose those.
Voila! May I present… Sweet Lady Charlotte.