Imagine that this is called "Mirror Lake". Go ahead, imagine it! 'Cause it would be true. On the way to Milford Sound, you can get out to stretch your legs, take a little 5 minute walk and enjoy this view of the Earl Mountains. This photo is a sneak peek into the story of my recent New Zealand Adventure, which I'm working on now and can't wait to share!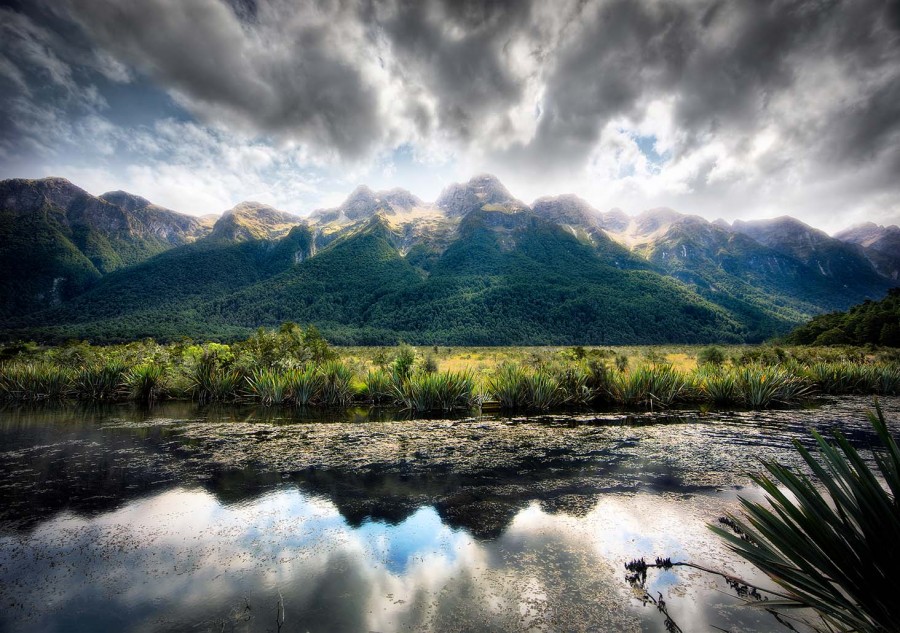 So much happened, so many photos were taken – and there was SO much awesomeness to take in, that I'm only now beginning to assimilate it all, nevermind process enough photos to encompass the experience. I mean, HEY, where are all my mini-me's?
For now though, I can tell you that I shot 5-7 auto-bracketed exposures for this one, processed it in Photomatix – then some NIK, OnOne Software and Photoshop goodness. Truth be told, I noodled around for awhile to figure out the best execution for what I had in my mind for this image. So if anyone asks to know exactly how I did it – well, it's like getting lost trying to find the Grange Hall, driving around town for awhile, passing the same Burger King twice along the way and finally arriving in Le Grange. Now tell me how you got there! hahah!
OK, back to work! I want to have this NZ mini-series ready to show you soon… it's gonna be FUN!