Who doesn't love a redwood forest? There is something so prayerful and majestic about them. The big daddies amongst them are thousands of years old and they stand testament to the passage of time, of beingness. Something we flighty humans could stand to learn a whole lot more about. They form their own ecosystem. If you've ever been in a redwood forest, you know just what I mean. The freshness of air, the stillness, the damper, cooler atmosphere that welcomes a whole host of other flora and fauna. And the smell. There's absolutely nothing like the smell of a redwood forest. Nothing at all.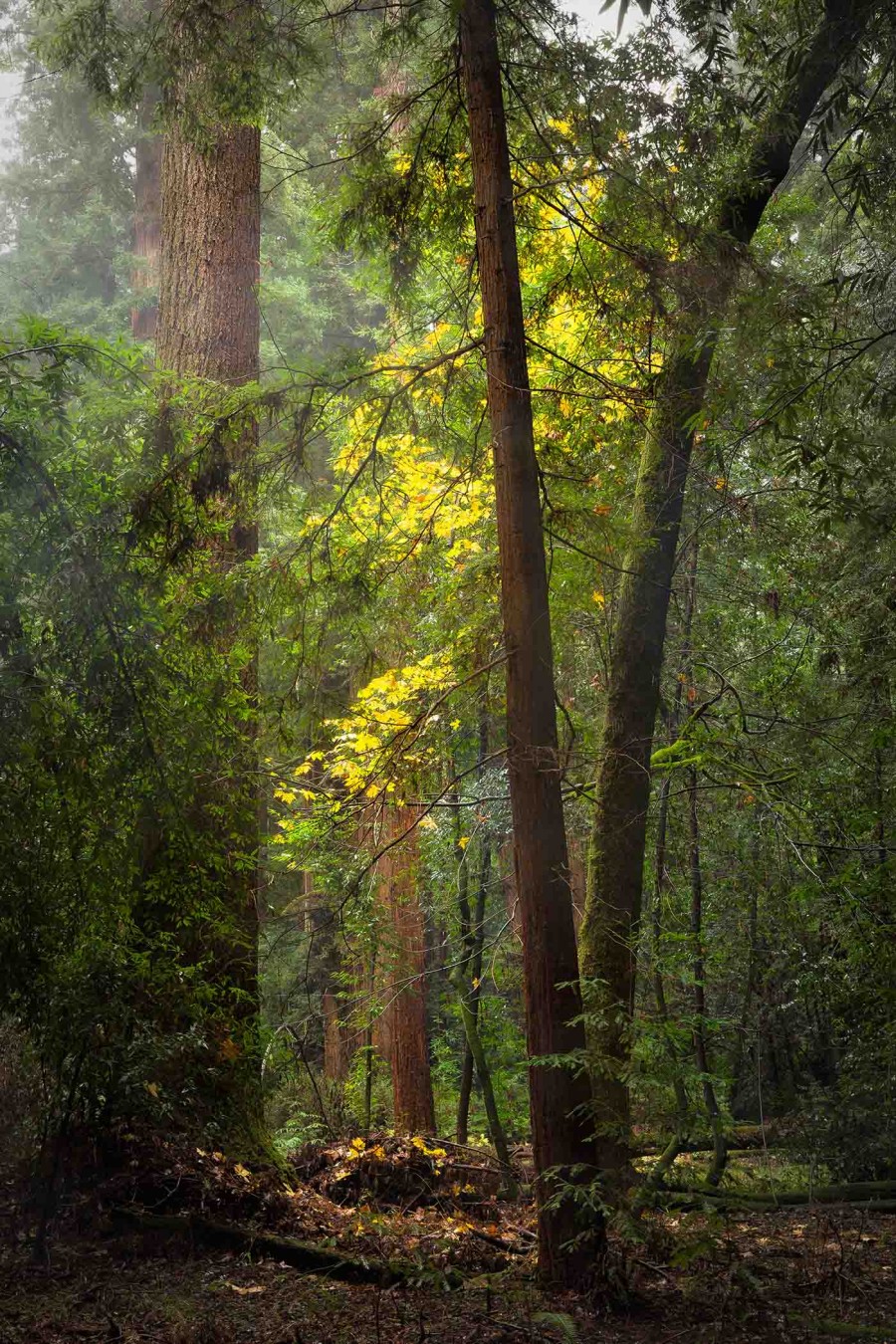 I remember our visits to see my grandmother in Santa Cruz, California. Uncle Frank and Auntie Rae lived across the street. Of course, I would clamor to go to Santa's Village and The Boardwalk for crazy kid fun… but in the end, there was simply nothing like Uncle Frank's monster swing in his redwood grove. It was this enormous plank of wood, lovingly sanded smooth and held by ropes fatter than my fist. I don't even know how he got them attached 100 feet above the ground, but he did. Swinging was a team sport, since you couldn't start the thing on your own. Uncle Frank would stand behind us and push just like any swing, even though it was quite unlike any other. It was big enough to fit both my sister and me – but we liked taking our own turns the best. The arc started slow… like a long, low bass note, as deep as the ancient trees themselves. No instant gratification here; it was all about the slow build, the anticipation, the ever-increasing breeze on your face, the gentle creaking of the swing way up above, the quietness of the grove itself. As the arc got bigger… and bigger… the breeze got stronger and I could hear it whistling in my ears. Pretty soon Uncle Frank would be pushing by running underneath, using his own momentum to send us higher and higher. After awhile, we were moving at such a pace he couldn't push anymore… and we'd just go for the high-flying ride. The trees would blur as they went by. When I leaned back and looked up, I saw the rope moving with me, its perspective constantly changing against the lines of the trees as we swung beneath them. The gravitational pull would vary distinctly throughout the arc of the swing. I liked floating weightless for the couple seconds at the top because it seemed like magic. I believe those trees smiled down on us. At least, that's what I imagined. I always felt God there, amongst the redwoods. And never wanted the ride to stop. But slowly, a few inches at a time, it eventually would come to a stop. And I'd slide off, albeit reluctantly, feeling like I'd been cradled for a little while by creation itself. It was a blessing, and I knew this, even at single digits years old.
Those days are something I carry with me, they're a part of me. And when I visit the redwoods now… I feel it all again. It's almost like these trees, in their infinite, unfathomable wisdom teach us by sharing themselves with us. Stay in your truth. Be who you are. Let others gravitate to the world you've created, don't go running to theirs. Never waver. When swinging through the air, throw your head back and laugh. Let yourself be rocked by creation. Listen to the wind. Welcome the like-minded. Smell great.
A true recipe for awesomeness!
This is a single shot from my Canon 5DIII, 24-70 f/2.8 II lens. Processed in Photoshop, using NIK Software and onOne Software… and the blessings of the redwoods.