Virtual Photo Walks: Google+ San Francisco with Trey Ratcliff & Thomas Hawk
On May 14, 2013… I joined up with Virtual Photo Walks  (click link to see the VPW event posting on G+) to broadcast the massive Google+ San Francisco Photo Walk with Trey Ratcliff and Thomas Hawk. (click the link to view Trey's posted event on G+.) It was all part of kicking off Google I/O 2013, starting the very next day – and featuring he Google Glass Project. It was a freakin' awesome experience!! I loved how we combined forces and made the live streaming broadcast (which was also recorded, as you see below) even bigger and more awesome! As some of you may remember, Virtual Photo Walks was featured on NBC Nightly News, which I talked about in an previous post.
This is the sweetly edited version of the G+ Photo Walk in San Francisco:


And for those of you who want to know what an ENTIRE photo walk of this magnitude is like, here's the whole thing in all its glory:

Mind you, this is still a developing technology… we were literally doing a G+ OnAir Hangout (the kind that broadcasted and recorded) from an Android Phone while walking with 469 people through the streets of San Francisco! What's more, since the cell signal wasn't strong enough with the carrier the phone came with… we tethered it to my friend Barry Blanchard's iPhone wireless hotspot and that's how we managed to keep the thing going for the entire 2 hours! Good on AT&T, I gotta say. I also used 2 Mophie 6000 mAmp Juice Pack to keep both phones going – plus my Rocket Fish wired headset… the best one I've found for these remote broadcasts. So when my regular camera battery died – and later when I was freezing – I couldn't just stop and fix either situation! I had to keep moving with the crowd, stay close to warm people and enjoy everyone's photos later. 😀
It was an AWESOME experience!! Everyone in the photo walk was just so wonderful and in their happy place that day. No fussing, negativity, or any of that. Just a bunch of people who love photography. Some met each other for the first time, some greeted friends they haven't seen in awhile. Nothing like wall-to-wall smiles! Alot of times when I go out and do a Virtual Photo Walk, people have no clue what I'm doing and sometimes I get the suspicious stares. Here, EVERYONE knows the fantastic VPW… and all thought it was the coolest thing ever. Click on this link to see a group shot from the day, taken by the amazing Peter Adams.
Normally I use my Canon 5DIII and Really Right Stuff tripod, since I'm usually taking HDR photographs along the way. But since I was going to be carrying it for so long – and not focusing as much on taking fancy photos – I decided to use my NEX-7 as the camera and my usually mount for the phone. My big "OOPS" moment was when I realized I'd forgotten to get a hot shoe adapter that fit the Sony – so my great and awesome pal Lisa Donchak figured out how to use the many rubber bands I carry with me into a rigging that held it all together!! High-larious!! You can see her in the reflection. heehee. She was my steadfast Android tech (I use an iPhone, so when we had issues, she jumped in and bada-bign, bada-BOOM got things rolling again. She was also my uber friend support. Turns out I absolutely needed both that day! In fact, I had an entire support team behind me – and could NOT have done this without them! This photo was taken by Lisa – from Google Glass!!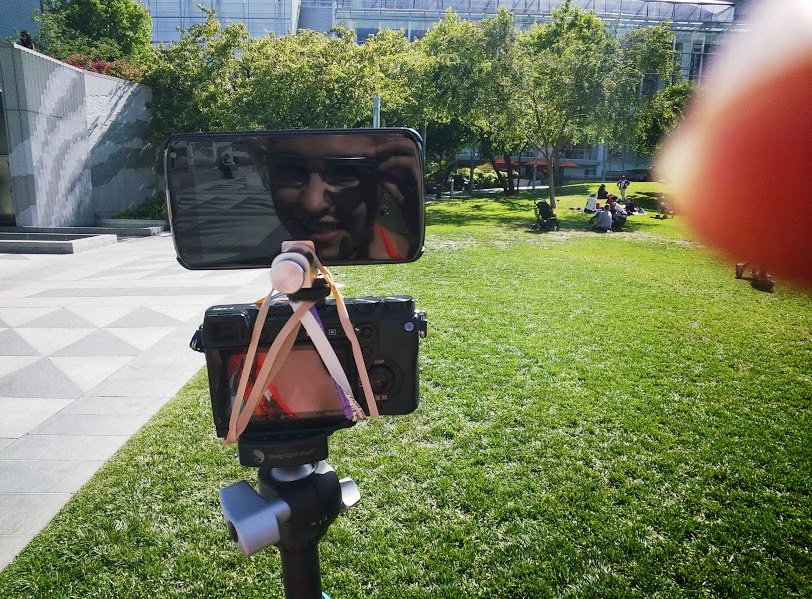 The walk started at Yerba Buena Gardens and in the photo below, Lisa and I getting set up for the first round of VPW; the one that didn't work out so well due to connectivity issues. I crack up at this photo, since it shows each of our perspectives about said tech issues of the day. And then look in the background…  you can see the security guard advancing, about to quash our tripod dreams! hahahahah!!  He was super nice about it – but it was absolutely NO TRIPODS allowed in the park. So had to ditch it for the duration. (Photo by Teresa Newcomb)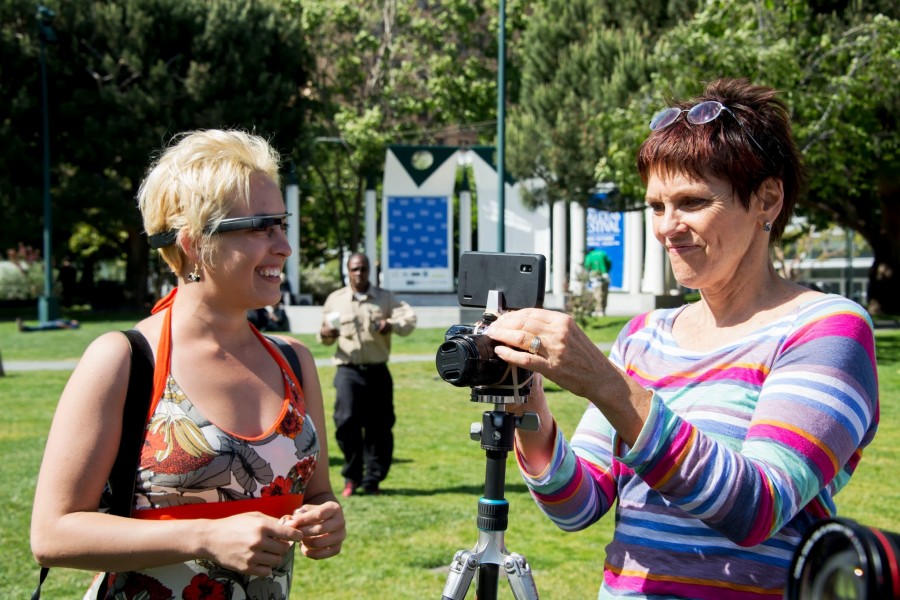 Here's how I ended up carrying everything… (photo by Andrew Deang).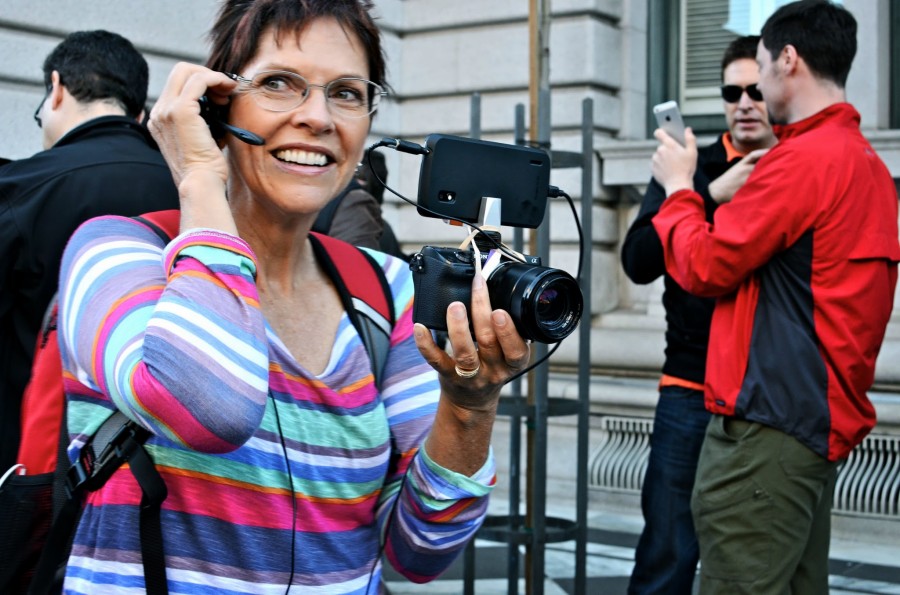 Since I was hardly ever looking exactly where I was going as we traveled with the crowd, it turned out I needed both a bodyguard and a guide! Barry Blanchard was both for me that day and I am SO grateful. You want a good friend that everybody is scared to cross at your back in times like this, believe me!  I haven't ever done a Virtual Photo Walk in such a big crowd through city streets before… and had Barry not been there, I'd have probably fallen down, run into stuff and hassled by certain street people repeatedly!
This photo shows Barry (on the right) and me with another great friend Chris Chabot (on the left), who  helped me devise the route for a Virtual Photo Walk we did earlier that day. Yes, we did two! On the right is Barry… and in this photo, I was introducing them both to the VPW audience as part of my support team.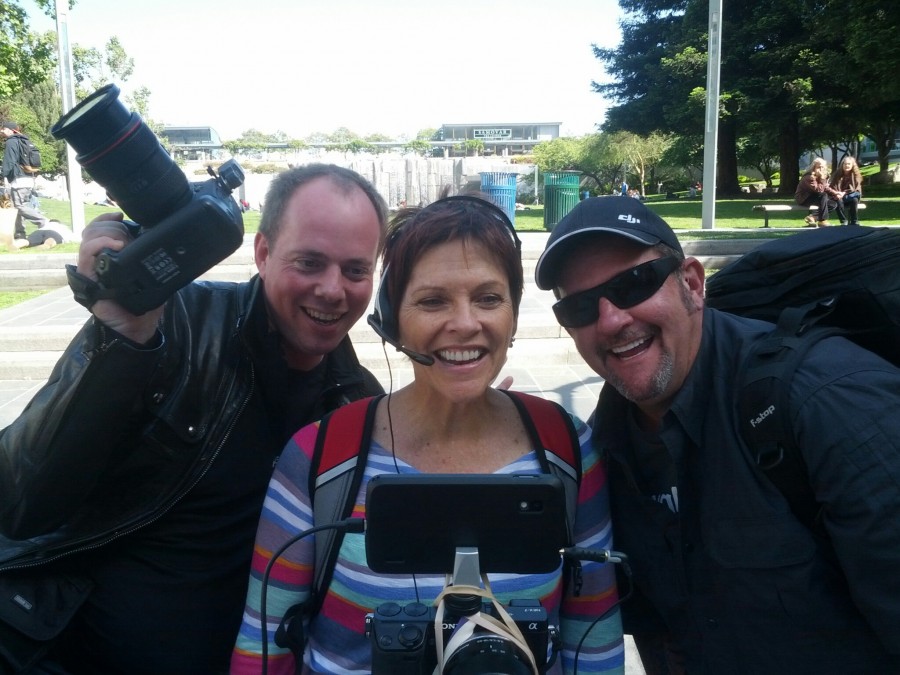 This was taken during our earlier walk… when we were still on a tripod. But it gives you an idea of what you might've seen, if you happened by us that day: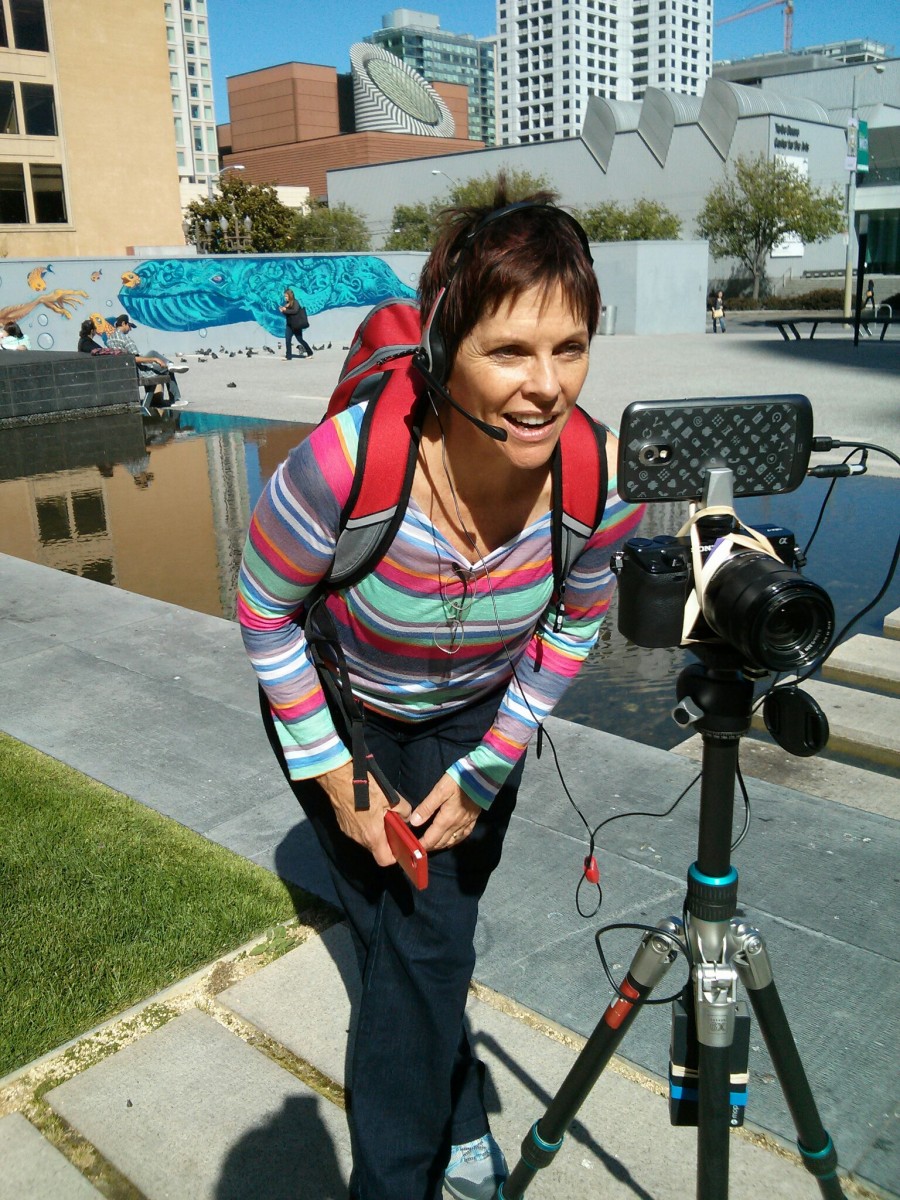 Below is  Trey Ratcliff and me. He was razzing me about my rubber band set up, we laughed alot about it.  He also loved what  Virtual Photo Walks and I were doing that day. Lisa took this photo as we compared our rigs for the day. hahahaha!! Trey photographed both from his NEX-7 and from his brand new Google Glass! Photo by Lisa Donchak, processed in Snapseed.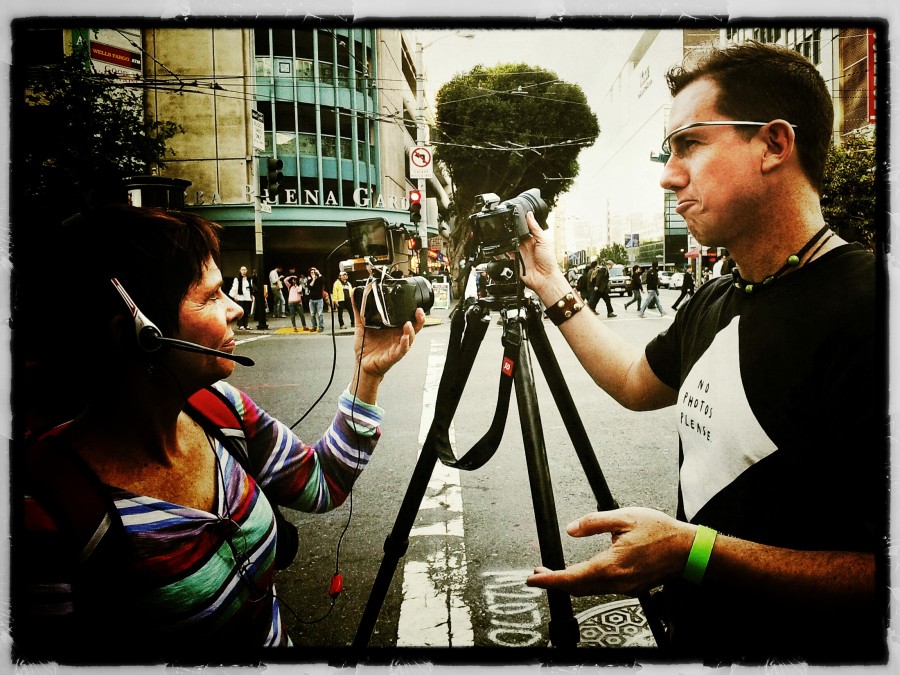 Here's a view of what we're looking at – and you can actually see the hangout in this one!  (Photo by: Rachel Wilson)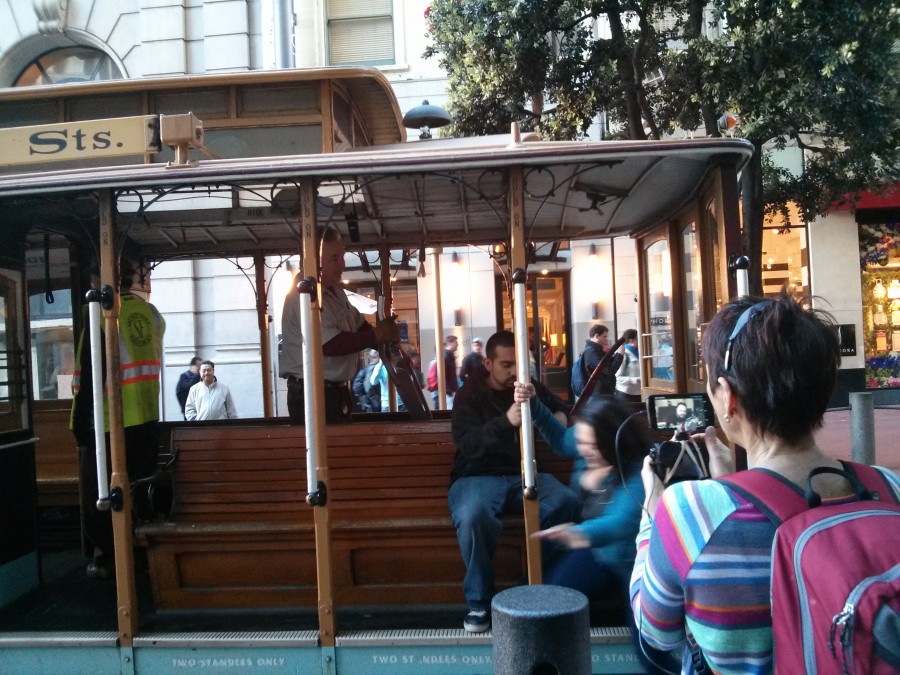 I'm sad I couldn't find any pics of Lisa, Barry and me together – but this gives you a feeling for the day, I think.
A huge THANK YOU to both of them for helping me through! And to Virtual Photo Walks – who continue to "Walk The Walk For Those Who Can't". It was my pure delight and joy to bring this day to everyone. I've already heard about how one woman found us en route after being stuck in traffic and arriving to SF late… she followed the Virtual Photo Walk on her cell phone, figured out where we were by the landmarks I called out – and caught up with us to enjoy the rest! A photographer friend in Uruguay watched the whole thing – and said he felt like he was with us! As did another photo friend in Australia who walked with us virtually from there on his lunch break.
High fives to everyone! Here's to many, many more… 😀