I live by a little lake in the mountains. We moved here a few years ago from only 2 miles away – but the entire world has changed. Before, it was all pine trees, all time. Truckee is, after all, in a national forest. But here, everything's open. And the lake attracts a totally different kind of life.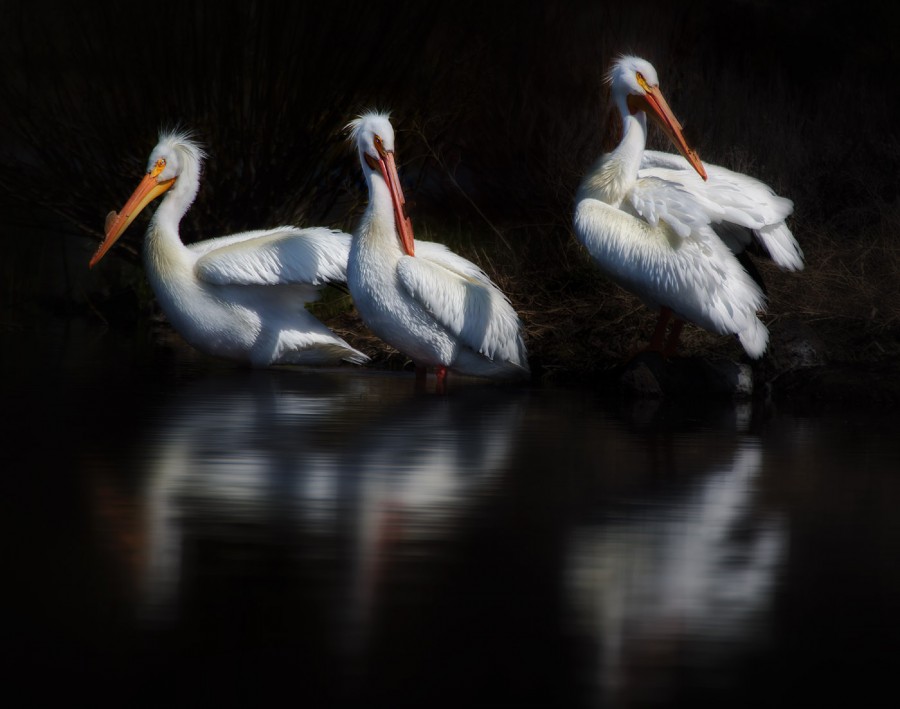 For instance, every year, the pelicans come to visit. I often feel like I should say they "bestow" us with a visit, because they comport themselves a prehistoric regalness that always makes me want to curtsey sightly. I have thus far refrained, I'm just saying the thought has crossed my mind. They usually only hang around for a couple of months in the late spring and early summer… but presence kind of makes everyone stop what they're doing and watch. They soar in the air with the greatest of ease. When they come in for a landing, it looks like they're going to crash and burn… but then they alight upon the water like a feather. They swim with ease, grace and no effort at all; yet in their smooth strokes, they zoom past all the geese, ducks and assorted waterfowl like an ocean liner dusting a dinghy.
Me loves the pelicans. And since they won't let anyone anywhere near them, it has become my unofficial yearly challenge to lens-capture them. The processing on this photo quite intentionally represents them in a slightly altered, otherwordly way because that's just how I see them. I created it in large part using NIK Software's Midnight filter and a number of fine tuning adjustments in Photoshop. It ended up feeling not quite of this world, which is just what I was after. Because that sort of thing just kind of MAKES my world!