Point Lobos After All These Years
I've wanted to visit Point Lobos, California ever since I was in my 20's, studying photography and falling in love with Edward Weston and, to some extent, Ansel Adam's black and white masterpieces of this area from the 1930's. Their moody, monochromatic images from this oasis have teased my mind for many, many years. I don't know what took me so long… but recently I made the trek. What a world full of wonder! And color! I had to laugh at that last part. Because I realized that in all the years I'd longed to visit, I'd only ever thought of it in black and white. Which made this photo all the more perception-altering and sublime.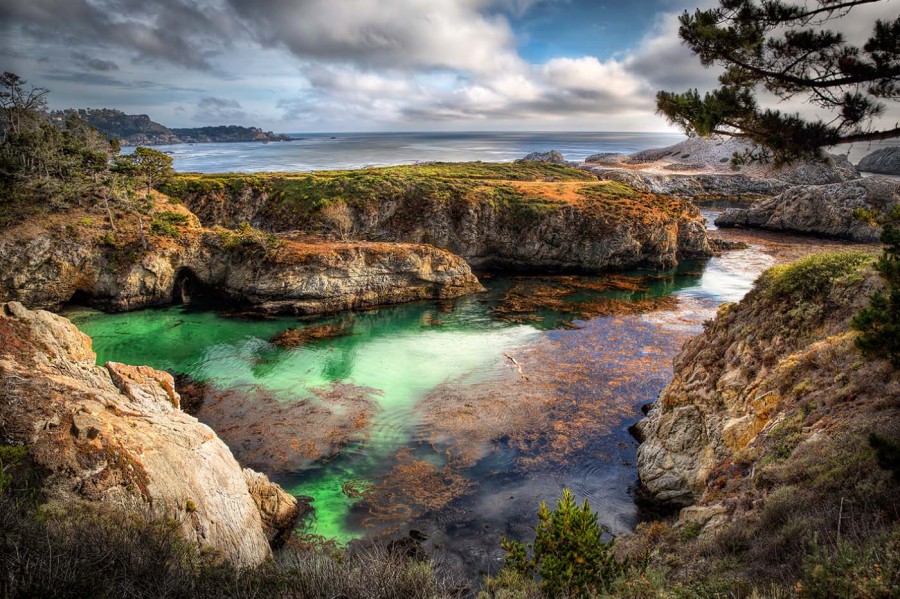 There is just so much to explore – way more than I expected. The cyprus trees and textures were indeed an art form unto themselves. But this little (hugely photographed) inlet made me gasp just a little. It wasn't just colorful – to my mind, it was from another world altogether. I just love places that stop you in your tracks, boggle your mind  and take you on a journey somewhere else entirely. This was definitely one of those spots. We had such fortunate skies; and the afternoon light was my pal for life that day. I used my 14mm prime lens so I could wrap my glass arms around everything I loved in this frame… then cropped away the riff-raff in post processing.
I used HDR to capture all the light levels and textures on the land, but handled the aqua-green water separately.  The kelp had swayed and samba'd about so much with the tide that I pretty much had to go with a single frame. Since I shot 5 of them auto-bracketed, there was one that was pretty close to being a match with the rest, though a little flat in the Raw. So, over in Photoshop, I gave that one some NIK software love  in the form the of the Pro Contrast: Dynamic and Correct Contrast filters, then blended it back into the HDR image at about 70% opacity in the water, and 100% on that gorgeous kelp. It worked, I liked it – and I'm so revisiting Point Lobos SOON!