All Lined Up For Awesomeness
"All Lined Up For Awesomeness" seems like a silly title… but that IS what I thought when I looked at this cool cloud formation at sunset – then saw these pelicans. Later, when I looked at it on the computer… the pellykins (as I fondly refer to them) were also lined up with that one bit of the arc in the clouds. I hadn't seen that bit so clearly when I was just concentrating on getting the shot. I love juxtapositions!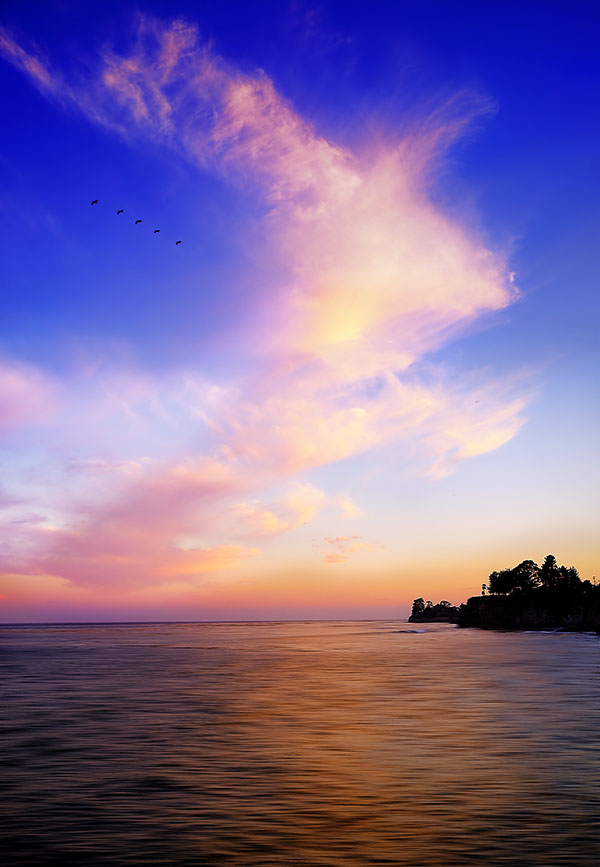 I shot this auto-bracketed, but ended up blending back most of the sky from one of them in order to get the birds to show clearly. First I used the "Multi-Grad Cool" filter in Red Giant Software's Magic Bullet Looks on both the original and the HDR version. (I'm using their software on video now too – I love it!). That made the skies match up the best. That was also where I blended most of the original photo back in.
After that, it was all my usual tweaking… NIK Color Efex Pro 4.0 (Pro Contrast, Brilliance/Warmth, Skylight, Darken/Lighten Center), a little OnOne Software's Perfect Effects (a few of the basic brushes, Center Focus, a titch of one of the Glows), and some final Alien Skin Software's Kodachrome & Soft Square Vignette). I also did a bit of motion blur in horizontal mode for that nice relaxing effect on the water. The ocean just seemed too agitated that day for the vibe I was going for… so I gave it some Photoshop valium. hehheh.
Standing there on the beach, this whole scene felt so much like a Maxfield Parrish painting. That was the vibe that kicked off the processing on this photo… although I put the K-Hutt signature on it. Tried to just go with that inner creative muse and all of her wishes. It continues to amaze and amuse, watching what she comes up with! I'm understanding more and more what I've heard artists say all of my life: their art comes through them. I feel that more and more all the time… which makes me simultaneously braver and less attached to outcome every day. It's starting to be like flying!
I know how we all love a good Before/After comparison… so here's the A-B: (left is after tonemapping in Photomatix), right is after Huttonization. Heh.