Sometimes Seeing Double is Awesome
First things first!
Hint #2 about my FABULOUS ALL NEW GUEST on The Chat this coming Monday: 
SHE is an artist. An amazing, amazing artist!!
OK, you just got two hints. Who loves ya, baby!
So there I was in Napa, California.
Went there to get out of the smoke from the huge Rim Fire that was blowing into the Tahoe area… and because my husband Joe had a gig there. (He's a badass bass player.) While he was off playing – I grabbed my camera and headed out to the Silverado Trail to check out the lay of land.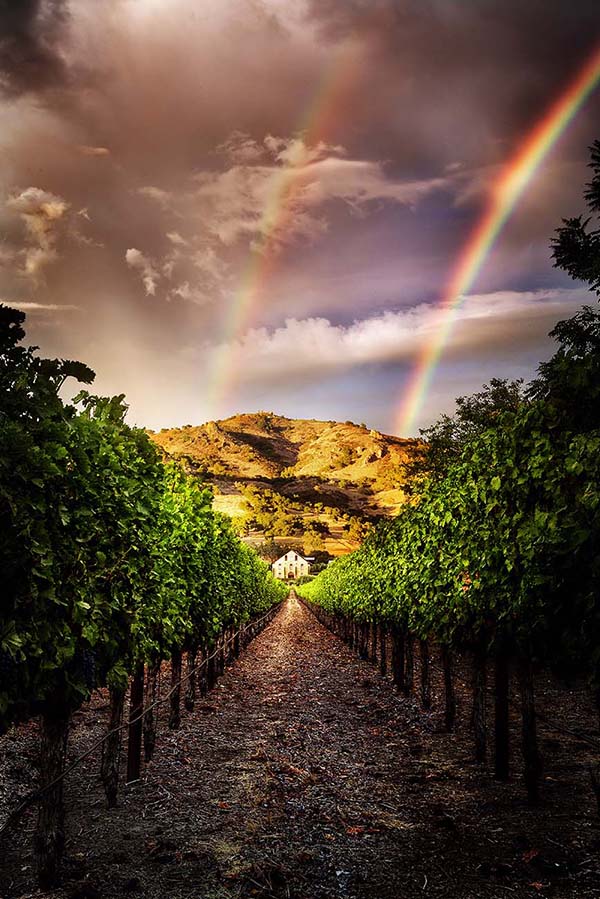 I'd gotten there later than I meant to, but with enough time to catch a sunset, which I always love to do. The Napa Valley is so picturesque and lovely – but don't tell any Sonomans I said that! I grew up right over the hill in Sonoma Valley and the funniest thing was that Sonomans and Napans totally turned up their noses at each other. Each knew for a fact that their side of the mountain was the best by far and felt that the pretenders on the other side should just slither away. hahaha!
But this day was great. For one thing, there was fresh air to breathe. After a few weeks of nasty fires including the horrendous Rim Fire, I was up for some simple pleasures like… oxygen!. It was a warm day, the valley was so colorful – and there were the awesomest of clouds in the sky! Sunset oughta be good! Now… gah! Where to be?
That's always the million dollar question in a new area. Where's the sweet spot? While I was trying to figure that out, I stopped to shoot this wild array of ginormous Cosmos wildflowers along the road. Mind you, aside from the flowers, this particular spot weren't nuttin' to write home about. Kinda scrubby, in need of a trim. But as I finished with the flowers, I turned around, looked up and saw the most incredible rainbow! I gasped. And then… it turned into two!! Oh lord, there has GOT to be a Town and Country shot here somewhere!!
I fired off  a few obligatory shots fast, in case all I got out of this moment was an "I was here" shot. Rainbows ARE known for their capriciousness, after all. Well, that and their pot of gold. But I kept thinking "what's up with THIS?? I'm here in Napa Valley, home of unicorns and rainbows and beauteous land a'plenty… and I must be standing in front of the only weedy, scrappy piece of land in the whole joint!"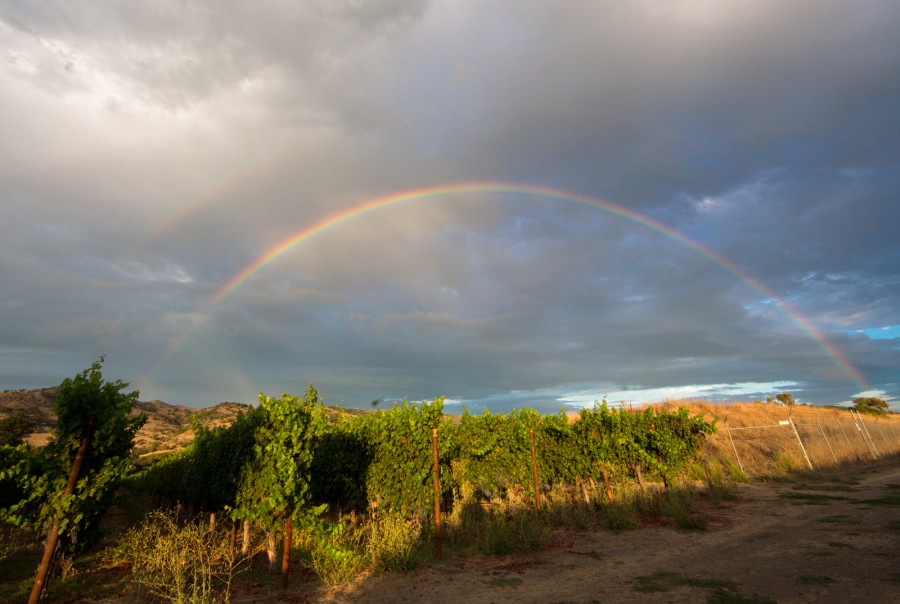 I noticed that the neighboring land at least had a vineyard and scampered over to it. Saw the perspective it offered. The crazy 'it's growing out of their house' rainbow view  "Aaaahhh, now THAT'S more like it", I thought to myself… and snapped away. Another miraculous, happy outcome, brought to you by rainbows and unicorns.  😀