Behind-the-scenes with Kalebra
Whenever Kalebra Kelby and I get together – which isn't all that often, BTW – it always feels like we could talk for days and days. Our visits always end too soon and they're filled with laughter and deep thoughts. Plus alot of really silly jokes – and musings about chocolate. She's a TOTAL choco-freakaholic, did you know that? Yep, true dat!
Did you miss her on "The Chat with Karen Hutton?" last week? No worries… it's here.. 😀
When we were done with our Chat… the conversation had only just gotten started! A small group of us – including Dave Bell, who took these lovely photos, yakked for about another hour, sitting right where we were. Part of me wishes I'd recorded everything. But 1. I didn't know that was going to happen and 2. sometimes out of respect, I don't won't turn the camera back on. Sometimes enough is enough; life really wasn't meant to be a reality show, despite what television would have you believe.
We only HAD to quit talking because we all needed to be somewhere. But we picked up the next day over lunch with the same group though; skipped the small talk and got into the heart of things. I love people like that; with whom you can just be yourself and say what's on your mind – and they'll do the same. Is this a lost art nowadays? I'm wondering. But it's one of the things I most treasure about time with Kalebra. Here's a moment Dave captured of us recording "The Chat":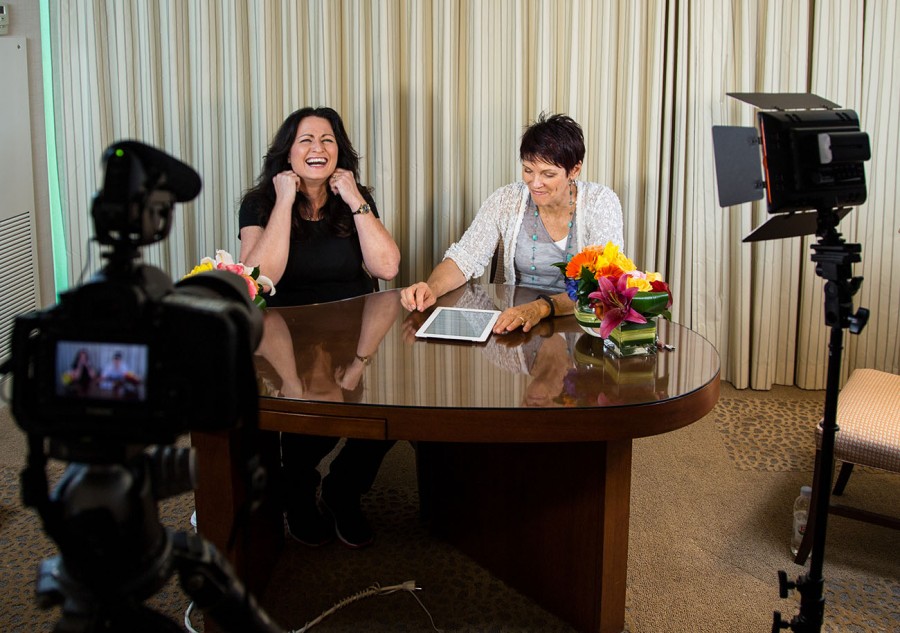 I also got to see her perform live which was a HUGE treat! Kalebra is rock band belter, no two ways about it! She and Big Electric Cat kicked it HARD the night they played and simply amazed one and all. (that's her hubs Scott Kelby on keyboard in the photo – but he plays guitar, drums and bass too. I know, right? Multi-talentedism clearly runs in the family!) Photo credit goes to Dave Bell on this one too; taken at Photoshop World in Las Vegas. I was standing right next to him! heh.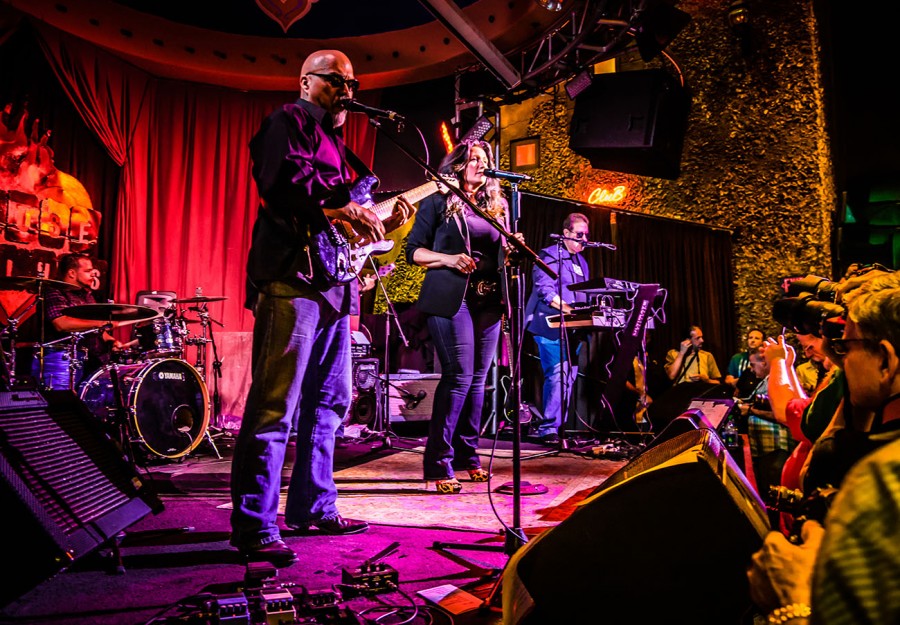 In all, a fantastically fun time – and I'm already making plans to go see her and the entire Kelby Media crew in Florida! I guess that means… more to come!