Behind-the-Scenes with Peter Giordano and The Chat
Find my Chat with Peter Giordano by clicking this link.
What Goes on BEHIND the Camera!
I always smile at how smoothly everything looks in a movie, TV show, an interview. Because I always know that it completely belies what's going on behind the camera!
In the case of my Chat with Peter Giordano, it was just funny. Funny how much lighting and camera gear I hauled down (with Pete's help) to brighten up our faces in our chosen outdoor setting. How beastly hot it was and I was NOT dressed for it, thus I was drenched in sweat by the time we sat down to have our most civilized Chat. haha! How I lined up my arsenal of backup: my NEX-7 as backup video camera, Olympus digital recorder for backup audio – and them both bungee corded to a music stand next to the Canon 5DIII that I use as my primary camera.
While I do look forward to a day that I have a little crew to help schlepp, set up, do proper audio (For simplicity, I now use a Rode VideoMicPro attached to the hotshoe on my 5DIII), cue the final 3, 2, and 1 minute marks towards the end of the show, make sure the damn camera is rolling, edit.. and all that goes into this: Right now, it's just fun and funny to do both! It makes me giggle to stand outside and watch myself scurry around doing all that goes into these live episodes. Google+ On Air Hangouts do have their advantages… they're SO much easier! But it's just so much more fun and immediate to talk to people in person, whenever that possibility presents itself. Plus the stories later are awesome!
Here's a shot of our groovy set on Peter's deck: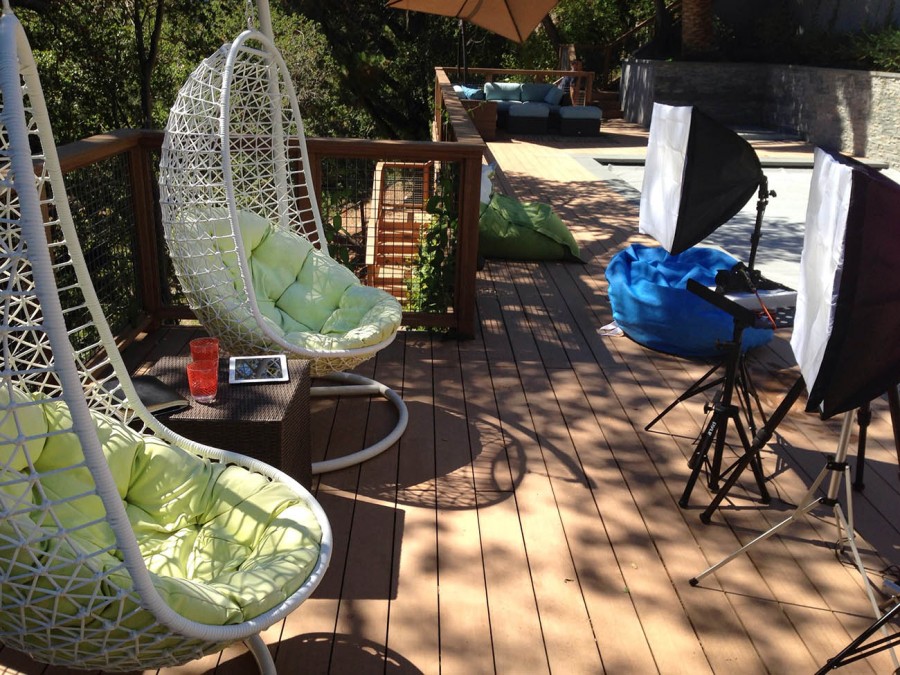 And here's Pete grinning at me and I was getting my focus and exposure right before starting the video: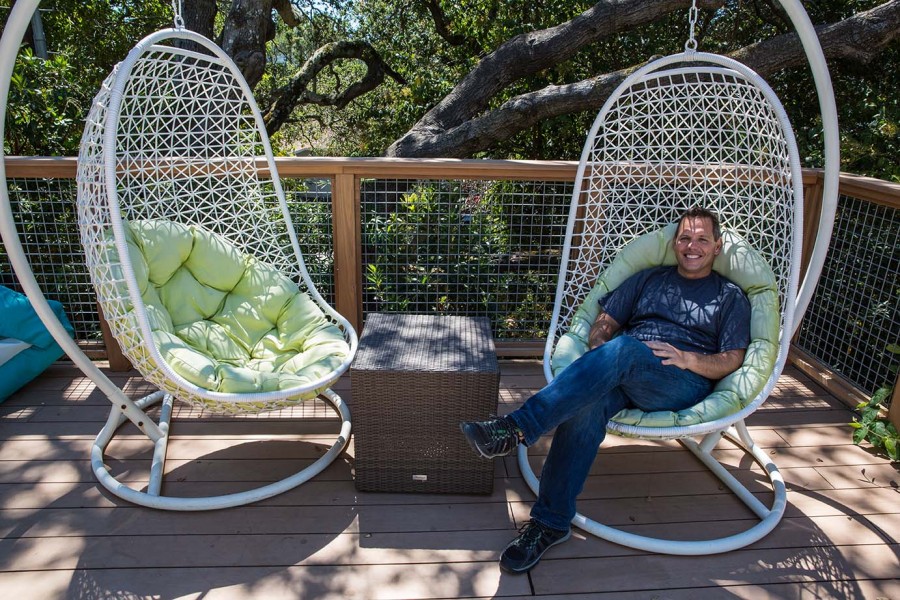 So Much To Say, So Little Time
We actually did 2 takes. One where we went to town on a GREATLY shortened list of questions I had for Pete. He's got SO much to say and offer! But for this show, I have to think in terms of 2-3 main topics or questions, no more! It's painful making the cut sometimes. Anyway, I was on about 1.5 of 4 questions and we were already AT TIME!! Ack! I had to stop us and start over. I felt so bad doing cutting him short! But he's an awesome sport. We just shifted gears and the next take was what aired.
For the version we aired, we simplified our approach GREATLY, focusing just on how to think about a career transition or change… and it was STILL packed full of great stuff. That's hanging out with Peter Giordano… you walk away with a TON of ideas and stuff to think about and just can't wait for more!
I can't wait to go photo-shooting with Pete… something we plan to do in the near future. He's so enthusiastic about his photography and is super excited to be getting back to his creative/artistic side. He started there in his youth… but with a family and the opportunities that presented themselves in his life, the tech path simply made more sense at the time. He's so strong in both, why not do it all? Such is living your life as an artist!
But Wait, There's More…
Peter's part of a powerhouse couple.. his wife Bridget Dolan is VP of Interactive for Sephora. She's amazing!! I'd love to get HER on The Chat… she's every bit the life artist that Pete is. Hmmmm… [taps her chin conspiratorially] you might have to keep an eye out for that one!