Behind-The-Scenes with Ron Clifford and The Chat!
If you missed the last episode of The Chat with my guest Ron Clifford, well you're in luck… it's right here!.
We did his Chat episode in Las Vegas at the mighty conference Photoshop World… and here's some of the behind-the-scenes action!
First of all, this was our set:
(photo courtesy of Dave Bell)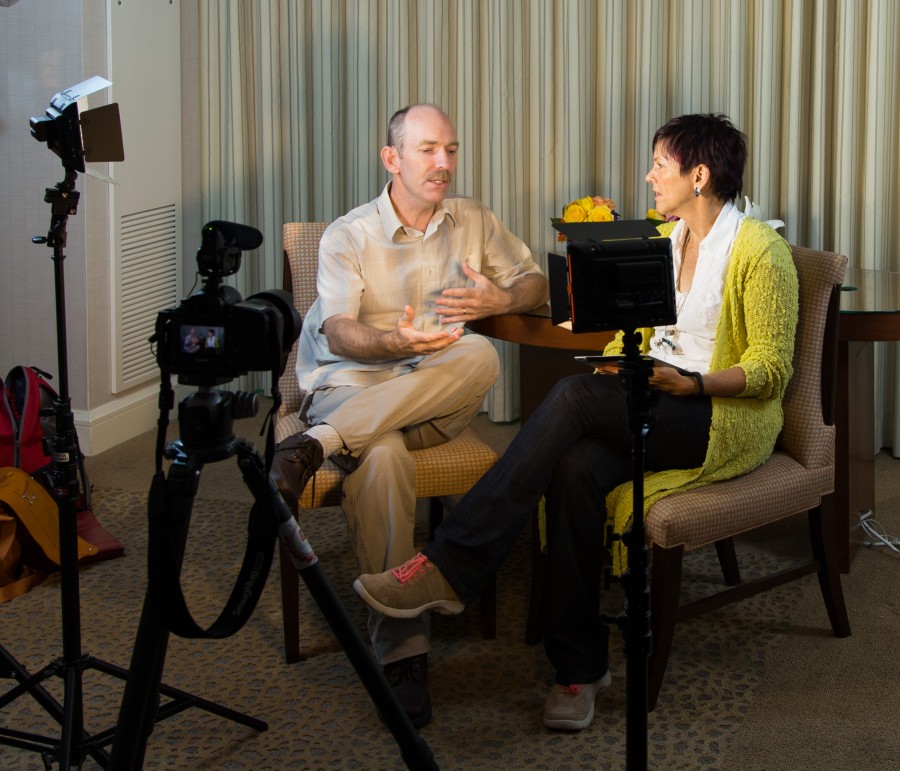 It was a hotel room that Laurie Rubin had secured for her "Women in Photography" video series at Google… and which she shared with me for the couple of Chats I had lined up. She's awesome that way. 😉
With Dan Hughes' help, this room was transformed into a television studio! You haven't lived until you've seen two queen beds stacked one on top of each other in an upscale hotel! I didn't get a pic of that. Doh! Plus, we moved the tables and lamps moved, brought in lights and BAM! On-camera glamor in moments! Hehheh.
I (Don't) See Dead People
Laurie and Barry Blanchard (my friend and brother-from-a-different-mother) were staying nearby and kept an eye on things for the duration of the conference. That meant keeping the "Do Not Disturb" light on the door to the 'studio' for 4 days!
Here's the funny part: On the last day, shortly after we unstacked the beds and reassembled the room, the maid service decided that after so many days where they hadn't had access to the room… the obvious conclusion was that someone had died in there. Hahahah!! So Barry showed up to find the maid and manager standing in the room, conferring. He assured them that everything was fine, but that breaking into a guest's room without even a phone call was probably a bad idea. They left, rather embarrassed and we giggled.
Thank GAWD they didn't come in to see queen beds, complete with box springs stacked almost to the ceiling and their supposedly unmoveable table/desk thingie dragged across the floor!
First Meetings
If you saw Ron's Chat episode, you know it was the first time he and I met in person after 2 years of knowing one another online, doing shows and projects together, etc. But Ron had other friends he met up with for the first time on that trip… and each first hug was as moving as the last. Here, it was Barry and Ron's turn, with Dave Bell beaming in the background: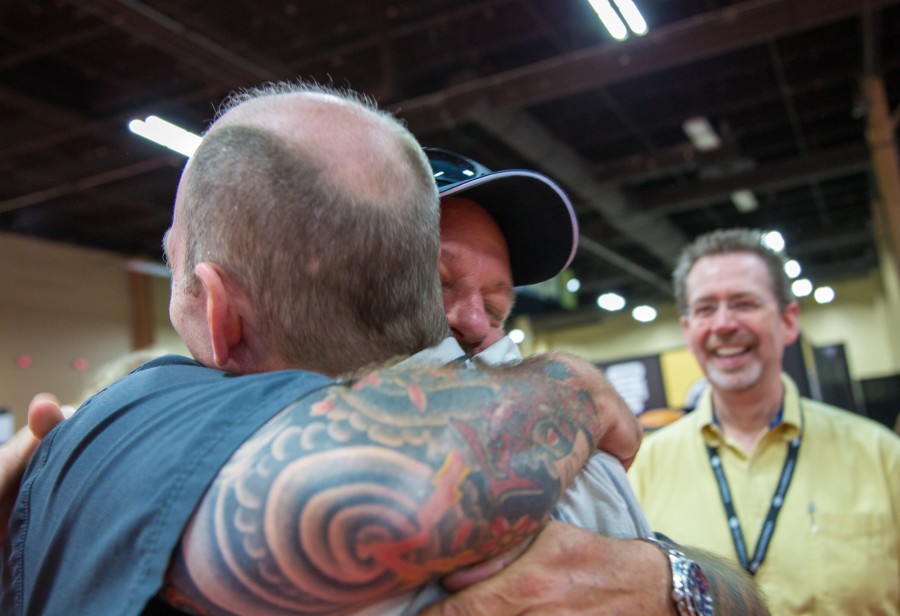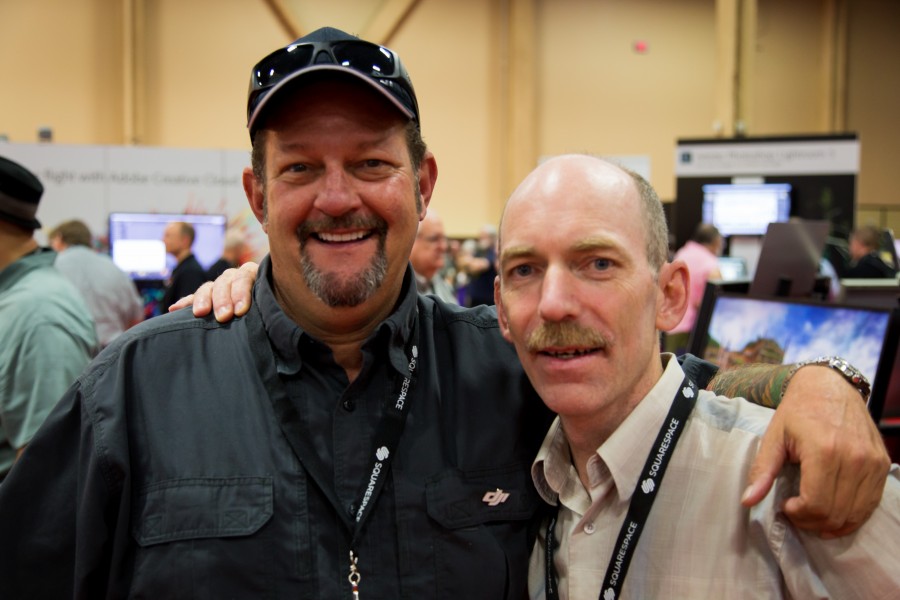 We all just grabbed onto each other and didn't let go the entire 4 days! And, because we're kind of dorks… here's me and Ron, having just stepped outside to discover REALLY high winds that almost bowled us over! This is each of our modern dance interpretation of "Wind":
(photo courtesy of Dave Bell)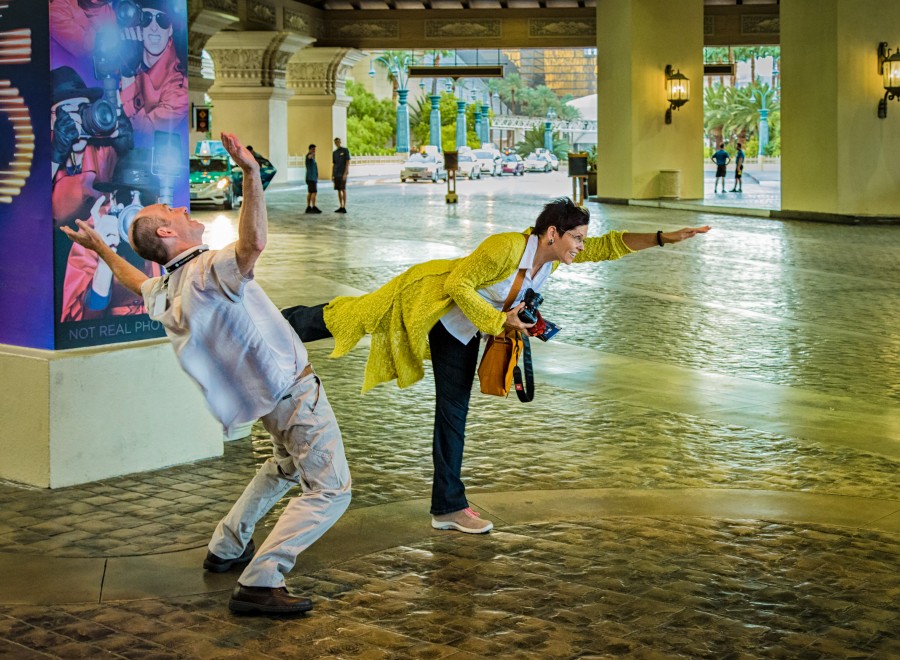 An awesome week, I'll tell ya. Full of friends, art, passion, firsts, laughter and remembering why we do This Thing We Do!