In a Crowd, It's All About Having the Right Guide
Everyone said; "Avoid Upper Antelope Canyon! The crowds are insane! You'll never get a good shot!"
Well, Upper Antelope Canyon has been on my bucket list most of my life, so when the hubs and I took a short photo vacation to the Southwest, it was always going to be Upper. Not Lower, not X, not some other "alternate" slot canyon. Nope, Upper Antelope Canyon or bust.
Mind you, a couple of days before we left the government shut down the national parks. Nice going. So we scrambled like everyone else to come up with our alternate plan. Luckily, Upper Antelope Canyon stayed on the list, because it's owned by the sensible Navajo Nation, not the U.S. government. I had put out a query on my Google+ page, asking which state parks and other sites people recommended in the areas we were headed – and someone mentioned the Adventurous Antelope Canyon Photo Tours, owned and operated by Carol Bigthumb. Decision made!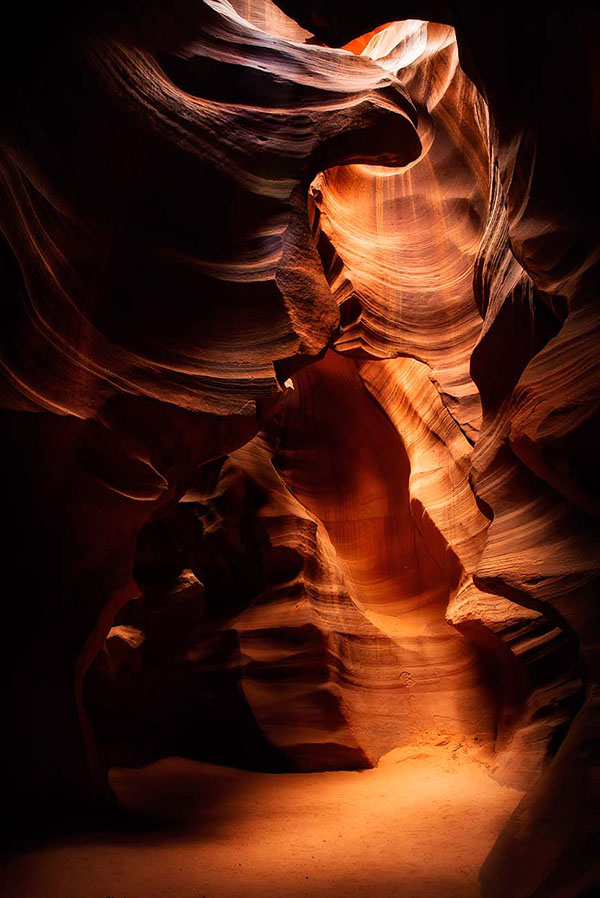 We piled into the car with our 4 other photo tour mates and got the rundown on the lowdown from Rob, our fabulous guide. He said it was key to stay together, because while there would be lots of people in the canyon, he had permission to move freely to the open spots, so we could photograph without interference and would have enough time to get what we needed. But the only way that would work is if we stuck together. So that's what we did.
We drove down a deeply sandy river bed that requires 4 wheel drive to get through. Along the way, we learned that our tour mates were all from Beijing, China – and had come to the U.S. for their one week national holiday. This was their "trip of a lifetime" to visit and photograph in our national parks! Naturally, our national parks closed right after they got here. They, too, had to scramble to make new plans – but had a great attitude about it all and were excited to be going to see Antelope Canyon. Their smiles and excitement made it all so much more fun – and we swapped stories about our backgrounds, work and what brought us all to this place.
Our Native American guide Rob was not just a guide – he was a photographer too. He gave us the rope-a-dope ahead of time: that you really don't want to be changing lenses canyon (too much dusty grit in the air and falling from above), that my 24-70 was the perfect lens to use… and the history of the place.
Seems the canyon was discovered in 1931 by a couple of Navajo kids who were herding sheep. A few of the pesky critters had run off, so the boys went looking for them. The sheep had wandered into the slot canyon and the boys found them inside. It was such an AWESOME find that they kept it a secret for a good while before word got out.
Flash floods are enormously dangerous in there – and in fact are what created these slots. They can happen even when barely any rain falls at the site itself. They're unbelievably powerful… and often cause the level of the floor to rise or fall up to 4-5 feet overnight. Flood waters themselves can be up to 20 feet deep. Consequently, if there is ANY danger of rain at all, they close the place down till the storm passes through, especially in the monsoon months of July-September. That's when all the thunder, lightning and flooding happen – the Navajo call these the male rains. The gentle spring rains are considered to be female.
In 1997, 11 tourists were killed in a sudden flash flood – and in 2006, there was a flood that lasted for 36 hours and caused the whole place to shut down for 5 months. Flash floods mean business around there!
I loved learning all these things… and bonding with people from the other side of the planet over the one love we all have in common: Photography. In those couple of hours, there were no cultural barriers, no attitudes, nothing but a sense of awe for an incredible place that we'd all longed to see for so long – and the singular focus of capturing our own vision, our own stamp of the experience. Rob deftly navigated us through each section – and, true to his word – gave us time alone at every stop. The whole thing was like a dance, very organic and very smooth. Sure, there were lots of people around – but it was like we were in a bubble of our own, traveling through the chaos, unaffected.
In the end, all I could think was: what crowds?
Awesome.