Bendemeer Estates
A year ago, I went to New Zealand to help teach a fabulous workshop given by Trey Ratcliff. It was his first New Zealand workshop – and my first visit to Hobbitland. I pretty much walked around the whole time with my mouth hanging open at the postcard views EVERYWHERE!
We visited lots of different places and scenes, not all of them reminiscent of "Return of the King". One was at a new housing development called "Bendemeer Estates." I use that term loosely, since there were no actual houses built on the property; a fact that made me chuckle (to myself, of course) as we wandered about the golf course, golf cart paths and lovely little lake that you see here.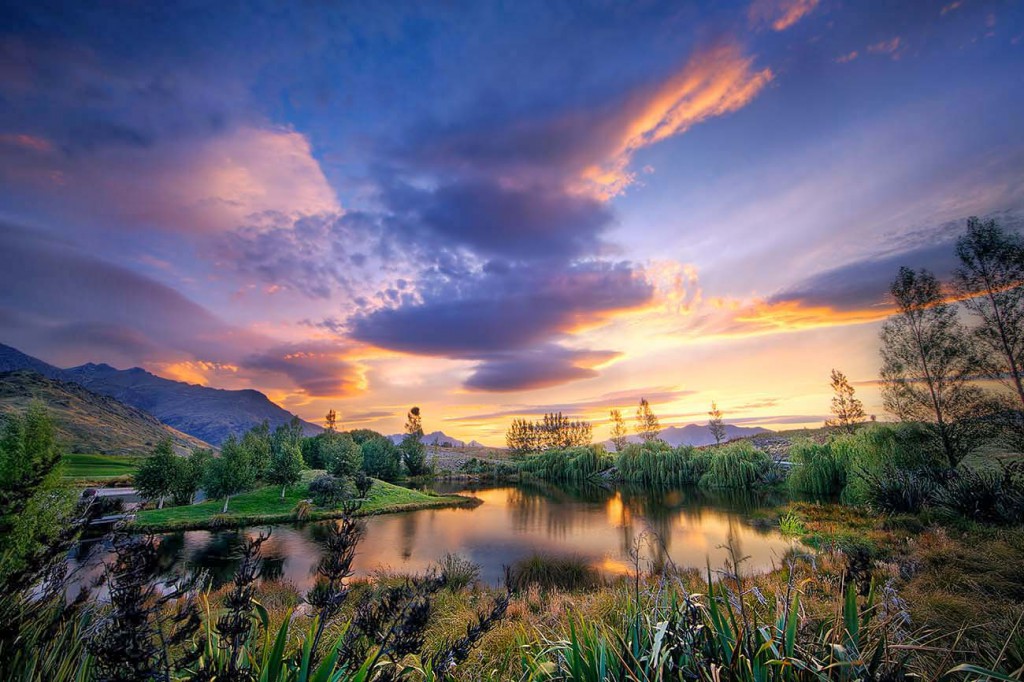 Surreal Grounds… Meet Surreal Sky
The property itself was simply gorgeous; I could see why someone would want to build here, though I felt sad that such natural beauty would one day be blotted out by upscale homes.
What made our visit to the property particularly surreal and amazing that evening was the sky. Sunset hour (or more – sunsets last a loooooooonnnnnng time over there!) brought about a surreal show in the sky!
I wasn't necessarily thrilled with photographing a manmade lake next to a golf course – but the cloud formations demanded attention. The fact that they towered over this lake (reflections! reflections!) made photo capture a requirement. The elements all came together to make the moment feel very Alice in Wonderland meets abandoned development (which couldn't very well be abandoned yet – as it hadn't even begun. Making it feel all the more surreal).
At the time, I wasn't happy that this spot was my only option at the particular moment those clouds were firing up… but in retrospect, it's kind of perfect in a perfectly odd sort of way.
Mind you, there were many other breathtaking spots on the property – not least of which was The Wool Shed – as well  stunning views  atop grassy rolling hills. That would one day be someone's driveway.
Such is progress, even in New Zealand. Sigh.