Another Panorama? Goodness, I'm on FIRE!
For someone who eschews the mighty panorama, I've certainly created a record number of them lately!
Mind you, two in the same month IS some kind of record for me… hahaha!
For some reason that I have not yet fathomed, I've been drawn to panoramacize certain scenes of late. This one – of the ocean just outside of Shark Fin Cove in Davenport, California, was taken on the exact same day as this image I showed you the other day. (and yes, I'm going to make the video I promised on that one… just seeking the time this week to sit down and do it).
Same Spot, 2 Takes
But where I was messing about with a 2-8 stop ND filter on the other photo to mystify and smooth out the water, I got a wild hair to produce this panorama as an HDR image. I just felt it would add to the wildness of the day. The water crashing and swirling, the sun setting so brilliantly (and so quickly!), so much going on all at once that I hardly knew what to look at! So I decided to bring the whole wide view home! hehheh.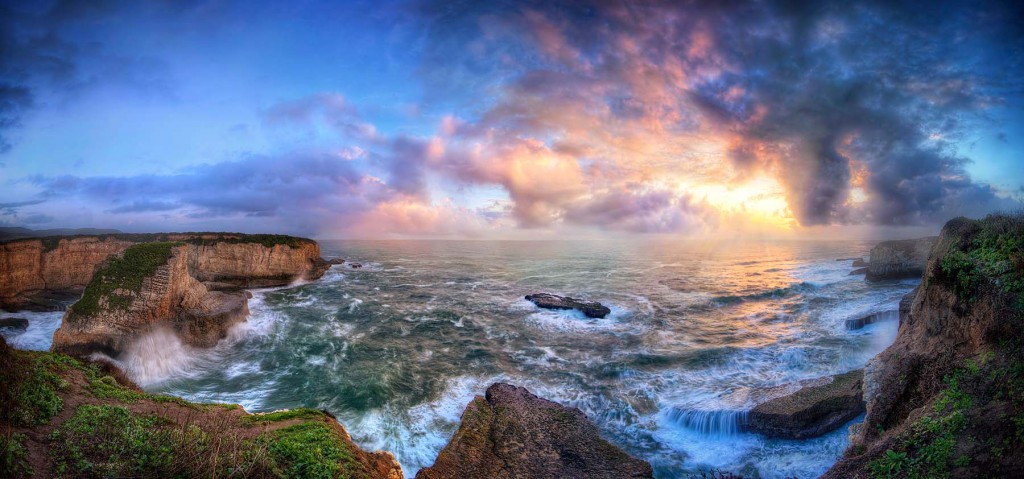 I'm More Like "Panorama Lite"
This one is 5 or 6 images, taken vertically with my Canon 24-70 II lens. I auto-bracketed a mere 3 exposures, each about 1.5 stops apart. Set my camera for f/22 and ISO 50 to create just a little drag on the water… because I was going for the patterns in the heaving and swirling water more than an exact replica of every wave and splash. It was more mesmerizing to me that way.
Once I had a base image; that is, the multiple images all stitched together, I went for some "sweetening" (as we call it in Voiceover. I just decided to use that term in place of "processing" in photography. Let's see if it catches on. heehee). That is, bringing out the tones, colors, texture and light that made the scene so attractive to me.
If I Were a Real Panorama Ninja
If I were a true Panorama Ninja… I'd have done this very differently. I'd probably have a special tripod set up, use a 70-200 lens or thereabouts… and zoom in to shoot MUCH smaller sections of this scene. In this case, I dunno… maybe as few as 10 or as many as 20 images, then stitched them together. That would capture more pixels, resulting in a HUGE file. The downside is that it takes mega computer horsepower and memory to pull those off without aging 90 years in the process of waiting for it to process… the upside is that you can print that sucker as big as the moon with every detail intact.
Do It Your Way… But Do It!
Personally, I still view myself as a dabbler in panoramas. But I'm intrigued at how even dabbling is fun, instructive and produces a pretty cool result. The way I do it compresses the scene some… meaning in real life this one extended further out to the left and right than it appears to here. But since my style in photography a bit like painting sometimes, the perspective being off a bit works great. Makes me feel right at home!
I haven't decided if I think this one's good enough to print or not. But I like sharing the experiment, what it was that made me want to try it – and maybe, just maybe… encourage you to try something new and stretch yourself TODAY! 😀