Vic Gundotra & Google+: My Story
Get Ready For My Windiest Post Ever!
Amanda Blain started it. I blame her. She wrote this blog post, as well as posting on Google+. She made her point… then said "tell us your story." Well, I've got a good one!
This all started because Google Senior Vice President of Social Vic Gundotra announced his departure from Google last week. This is huge. Vic and his team created Google+ – a platform that has forever changed my life.  If you're wondering who Vic Gundotra is, I'm re-posting this episode of The Chat I did with him awhile back. It's my first re-run (!), but in honor of him and the lives he's transformed through his work, I felt it was only fitting.
When Google+ Was Born
When Google+ hit the airwaves, it was sneered at by reporters. They said it would die quickly, that Google has never had a successful social media platform and never would. Neener, neener! Of course, not a one of them ever had an active account on G+ – and had vested interests in other social platforms. But I like to steer clear from pointing fingers. So let's not go there. Later, they called Google+ a "ghost town". Hmmm. What ghost town uploads over 1.5 billion photos a week? They can argue over how many users there are (then get into the other argument about "active" vs. "non-active" users.)… but there are still all those photos. You know I'm all about heart, art and soul here. But you know what? There would be no "here" and my life would be VERY different if it weren't for Google+. I shudder to think about it, frankly. As of today, I've got 1,656,517 followers on Google+ with 1,413,221,422 views. (You know Google's big on stats). My point is not to boast about this, I'm just setting what to me is a personally astounding (and quite miraculous) before/after stage; and the part of the story that only numbers can tell. Here's the story that only I can tell…
It Began in June, 2011
Google+ launched at the end of June, 2011. Joining was by invitation only (it was in beta for awhile at the beginning) and I was invited by Trey Ratcliff on Day 1. Prior to this, I had only a wee bit of social media experience. Namely, I was on Facebook, but only in family and friends mode – and I had to be goaded into that. I didn't post regularly or often – I mostly found it a good way to reconnect with friends I hadn't seen in a long while. I mostly watched and commented on their posts. I thought it was a time-sucker and for very little benefit. As for blogs – I had no idea what the redeeming value of them was for me, nor what I would talk about if I had one. I did have a website (actually have had one of some kind since 1996 or so), but it was really just an online demo for my VO business.
Times Changed, As They Always do
But times were changing and so was I. I'd been doing voiceovers full time for 10 years and made good money. The trade off however, was less-than-inspiring work, a life of being chained to my studio – (which I made amazing so the the hours spent didn't FEEL like jail. I called it my "gilded cage".), mind-numbing isolation, being separated from my husband during the week since his job took him out of town M-F, very little travel, no real creativity called for, god forbid you should have some original thought in the voiceover world, or want to proactively manage your own career or pursue interests that take you too far from the home microphone.
I'd hit my own personal ceiling. I'd worked my ass off to become successful – and then found myself singing that old Peggy Lee tune "Is that All There Is?". I was bored out of my gourd, my brain felt numb, my creativity had gone to the Bahamas in search of a new owner, I missed my fabulous husband and had begun to question WTF I was doing?? I wasn't sure where to go next.
The Little Canon T1i That Kicked Things Off
The hubs gave me a Canon T1i for Christmas 2009 and said "You're always talking about the images in your head. And you always complain that the cameras you have don't do what you want them to. I want to see those images too. Go get 'em!" Of course, I bawled my eyes out at the gift and the speech! Then I grabbed that little piece of heaven and headed out the door to figure out how to use the damn thing (just enough different from my old Minolta SRT102 to be utterly flummoxing at first).
This was one of the first images I shot; I believe I was just using auto settings to see how they'd do. I decided I was in love!
I began to reclaim a piece of soul that I thought was gone. My creativity bought a ticket back from the Bahamas (it made some stops along the way, I'll admit). I started smiling again.
I discovered Trey Ratcliff's work in 2010. THOSE were like the images I'd been seeing in my head! I actually gasped when I saw them. How do you DO that? Conveniently, he had a tutorial that showed you how. I devoured it – and learned how to do HDR. I took his first webinar and met a bunch of cool people via the forum community he set up.
My world was beginning to expand. This was my VERY FIRST HDR image from May 2010. I didn't have a tripod yet – and simply couldn't wait until I did! So I hand-held my camera for the 3 exposures: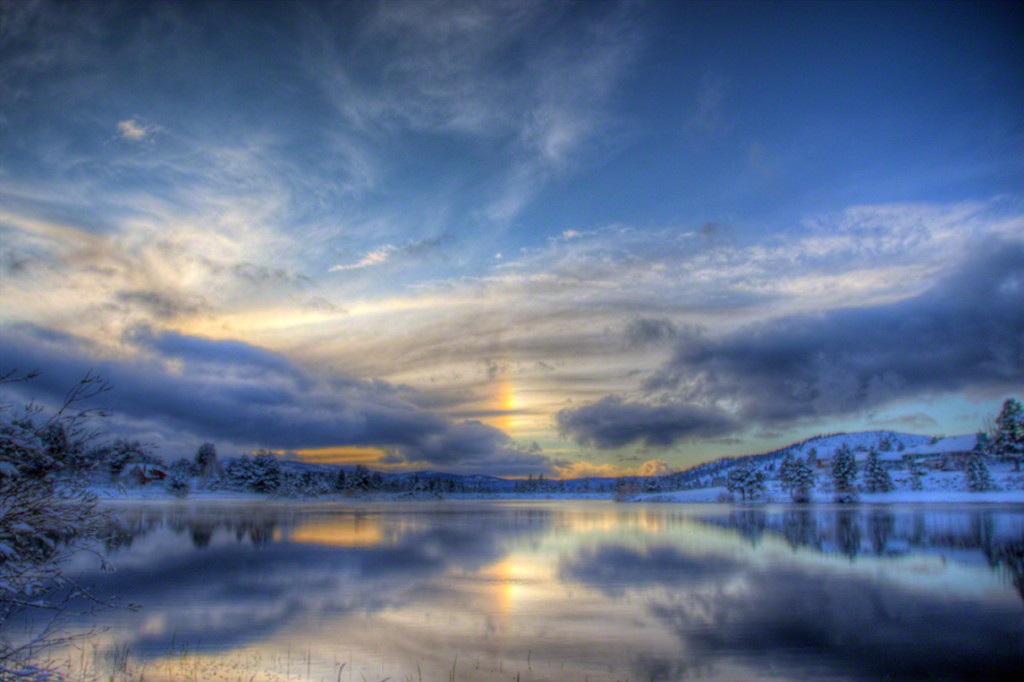 This was my second: (I was so proud! heh.)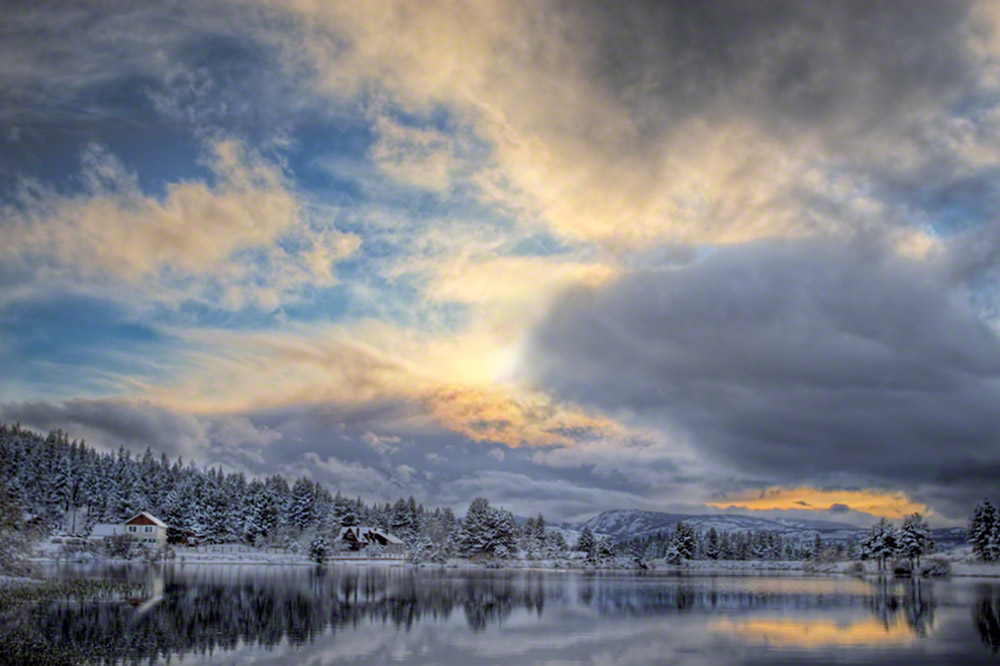 A Year Later…
I started dreaming up ways to combine photography and voiceover. The VO industry as a whole isn't very open-minded or original, so that didn't take me far in that world… but soon it would become gold. In May 2011 I did the voice for Stuck on Earth with Trey. It was awesome!! A dream come true… the perfect blend of photography and voiceover. I was in heaven. Then in June 2011 – the invite to Google+.
My Swan Dive into Social Media – and Google+
What the heck WAS this Googley Plus thing? I was in JUST the exploratory frame of mind to find out. I dove in head first. Spent every spare (and a few stolen) minute for about 3 months doing nothing but learning the ropes. How it worked, who was there, looked at thousands of photographs, finally began posting my own, connected with others by on others' streams, dusted off on my rusty writing skills, tried out new ideas both in photography and writing, determined what people responded to (what incredible market research in an amazingly short time frame! Learned hangouts.
My goodness, hangouts. Those were a game-changer.  Re-discovered my on-camera and hosting skills (I'd been a professional actress for 15 years, but gave it up some years earlier. Hated the profession, but enjoyed the skills). Felt the urge to do something with them… and began to see ways of doing it. I co-created a G+ hangout show called "Life Through The Lens". A few episodes are here on my blog… it ran for almost a year.
Started going to G+ hosted Photo Walks. There were a ton of them! I had jump-started my voice coaching business 25 years earlier by going to every broadcast convention I could and meeting people in person. Now: photo walks were the new convention! My new photographer friends and I not only knew each other online… now we could HIRL (hang out in real life) with each other, doing that thing we love so passionately! I started traveling to them – to the San Francisco Bay Area, Portland, Los Angeles, Austin… even tried to have one in Florence, Italy! No one showed. hahahah!)
Here's me with astronaut Ron Garan: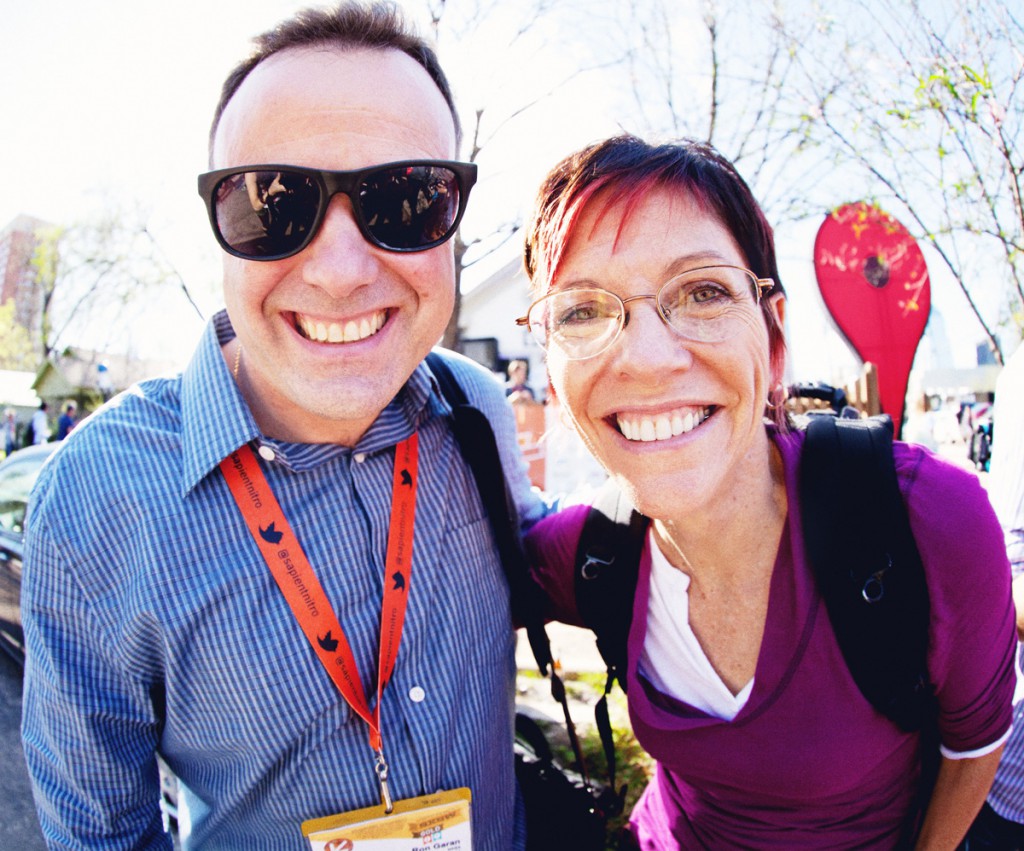 And with my friends Daria Musk and RAM Rich in 2011: (she has her OWN incredible G+ story to tell… just amazing!)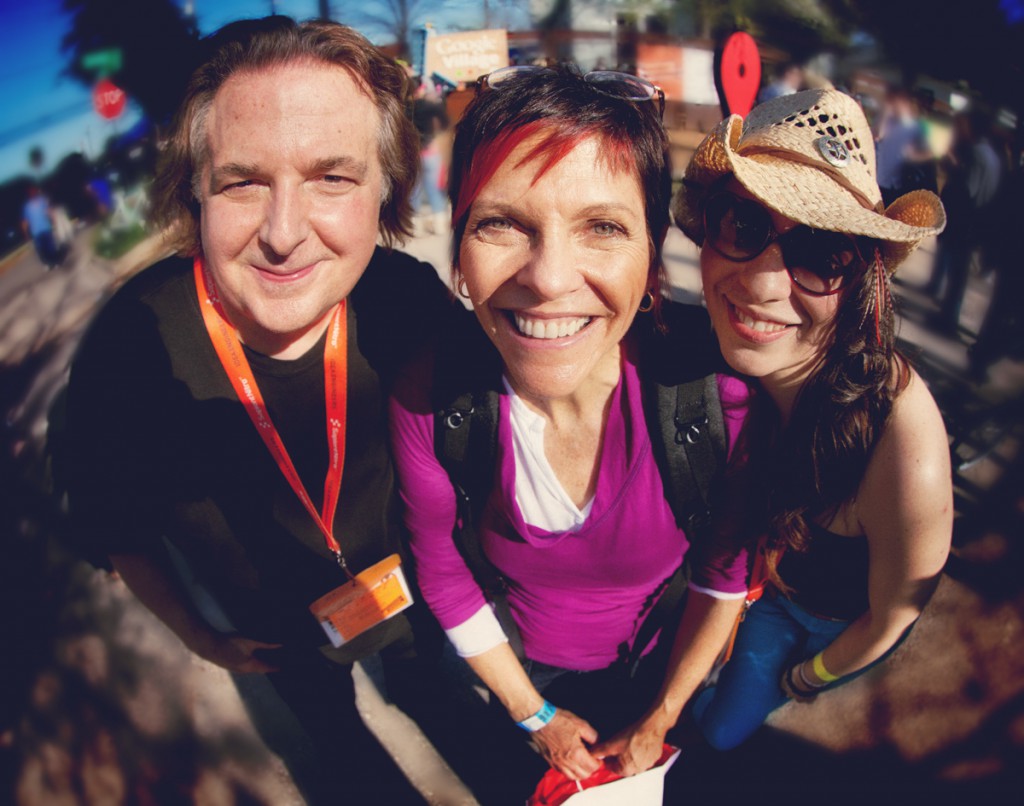 The Great Idea Test-Driving Lab
On G+ I had a chance to test-drive every new idea that my creative muse came up with. (she did finally make it home, BTW – and was a beautiful reunion. She even brought home gifts from the islands!).
I now had more friends than I'd ever had in my life! People I could call upon for opinions, to hang out with, to share with. Collaborations began to happen – all of our worlds opened up so much through G+ that we all had new opportunities to co-create at every turn. The photography community exploded like a starburst… to the point that the other social medias began to take notice. Some even sent their people on photo walks to see what the heck was going on. Spies! They were awesome people and genuinely trying to grok this revolutionary explosion we were creating, so we didn't mind.
Facebook changed the way their photos were displayed to be more like Google+ and implemented a few other changes I noticed that were direct copies of G+… all geared toward photographers. I was asked to be on a "list" at Facebook that somehow (they would never say how) directed people to our streams, filled with photographs. Many followers ensued. It was like photographers were the most popular kids in school! Oh, and guess what happens to your SEO when your G+ profile gets humming? Through the goal posts, my friends. It's a game-changer unto itself. Interactions in the thousands, then hundreds of thousands, then millions. A ghost town? Where? I didn't get it. Still don't.
And Now…?
Now… it's Karen 2.0. I'm  a works-in-progress as to how I'm weaving all this together, for sure – but the outlook is so exciting! Over the past 3 years, I've had the chance to try out ideas and field test them on a public stage. I know where my opportunities lie, where I want to focus my attention – and what kind of business I actually want to create from all of this data. And now, thanks to G+, I won't be starting any of it from scratch or in doubt. Because of what I've been able to create from that platform, I'm not unknown. I know where I excel – and I know what I love most out of this entire "Multiography" adventure I've been on. Now… I get to make educated choices about where to take it all.
Photography... oh yes, my love. Photography. The passion that drives it all – and the key to this brave new world. Ten years ago, I dreamed of a photo website where I could share and sell my work and it came true at Karen Hutton Photography. But more, I'm getting requests for fine art printing in BIG sizes. I don't know what it is about fine art prints, but I just love them. It's a back-to-the-roots thing, I think. Plus… I have a wonderful following that loves my work – and an AWESOME bunch of photographer friends who share in the same passion for this artistic sport.
Speaking: I did my first public speaking gig in 25 (or more!) years via Photography Talks at Google.
It confirmed that I still love to do it, that I have something say… and it wasn't exactly starting at the bottom of the heap!
Gallery showing… another looooooong-held dream. I've got one coming up in July! More on that when it gets closer. But my very first one was as part of Google's "Moments that Matter" event in San Francisco. It was private – and I was invited.
The sad/funny part was that I wasn't able to attend! Why? Because I'd been flown to Nashville by Sony to be one of the "influencers" asked to test and offer feedback on the then-unreleased A7, A7r and RX10 cameras. All expense paid to their big media event. They'd originally asked Trey (Ratcliff), but he couldn't do it. So he suggested me. Sony agreed. I wrote a guest blog post for Stuck In Customs… one of the very few guest posts that Trey has ever had. (not sure if he EVER had one before, to be honest.) Think about this for a moment. What value would this kind of influence and exposure bring to your business? Again, it all comes back to G+.
Author (fledgling). 20 years ago, during my days as a broadcast talent coach, I'd been asked by a publisher to write a book. However, their deal was so pitiful and insulting that I swore I'd never do one until it could be online and under my control. My first – and very simple photo eBook "I/We" is for sale at Flatbooks. It's basically a collection of my favorite photos at the time, with the short snippets of kind of stories that I've become known for over on G+.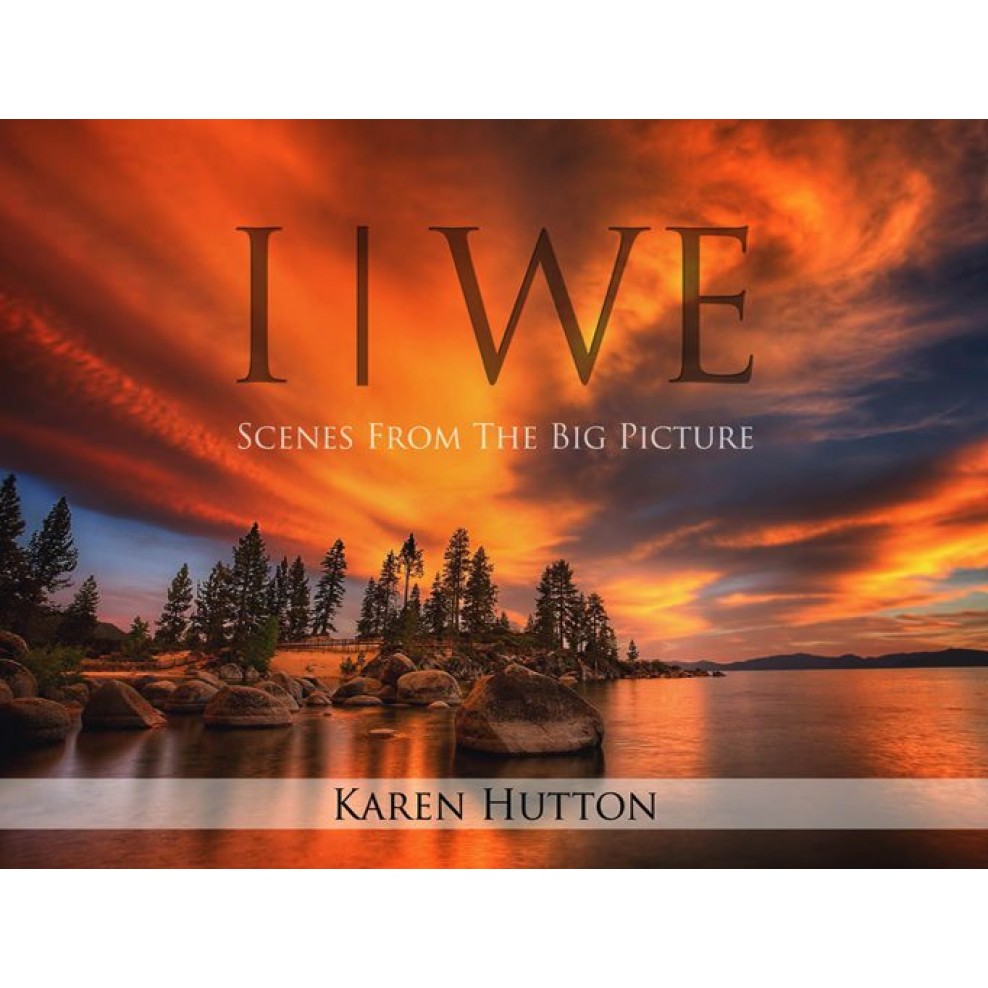 I'm a co-author with 9 of the top photographers in the world in an eBook called "Visionary Insights, 101 Pro Tips That Will Instantly Elevate the Emotional Power of Your Outdoor Photography". Long title, I know. I didn't make it up. 🙂 The creator of this series is Angelo Ionaides, whom I met – you guessed it – on Google+.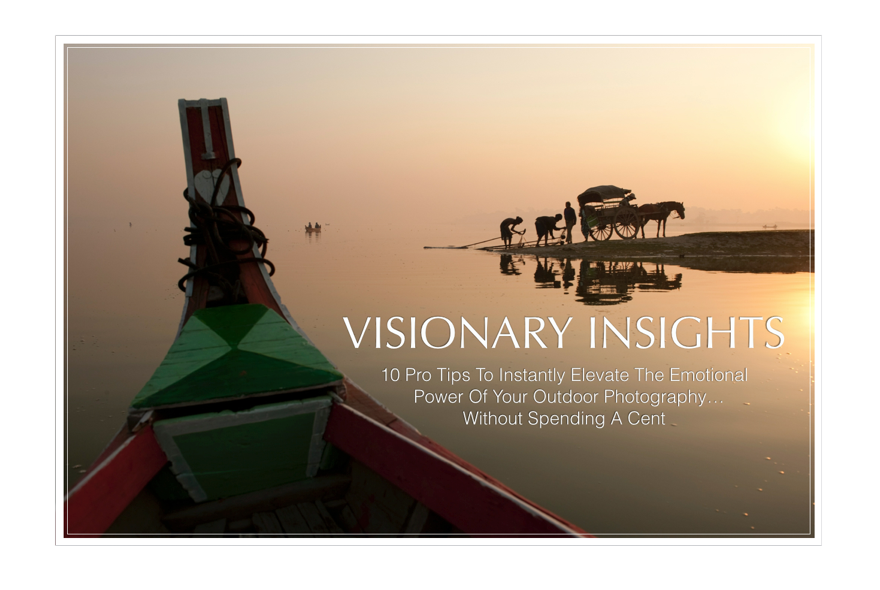 Show Hosting: Well, my cool little web show The Chat with Karen Hutton is gaining speed – and is something I absolutely love to do!
Blog: Hi. We're here! And while I want to redesign EVERYTHING about it… it's been up and running for over a year now and I love doing it. Where has most of my visitors come from? Google+. I have the analytics to prove it.
Art shows/projects: Lil Galleries was a project I did for a year. It's online only now, but it had a physical presence in a janitor's closet in Portland, re-worked into a tiny, personal theatre. It's vision it was to combine art, music and voice into a unique expression and message. Where did I find all the participants? They were my friends on Google+. We even did a live G+ OnAir hangout on opening night!
The Arcanum: it just launched and I'm one of the very first Masters in the beta program. It uses G+ Communities and I know every single one of the other Masters from Google+.
Vic
These are all just a few of the more defining opportunities I've been able to experience as a direct result of my involvement with Google+. They have changed EVERYTHING for me. My business has changed, my outlook on life – and even the life that is now possible for me has changed. The springboard I have to work from has completely and utterly transformed!
You can see why the news that Vic Gundotra is leaving Google has made me sad, made me want to tell my story. His influence has directly and indirectly created an entirely new world and life for me – and I'm FAR from alone! It hasn't been a fluke – I've worked really, really hard at showing up with new content every day, engaging, exploring. But thanks to Google+ – I have a new platform for life.
I know Vic to be a wonderful human – and I know he's moving toward his next stage of awesomeness, whatever it may be. And oh those lucky, lucky people who next get to work with and spend time with his huge, visionary heart! May he live long and prosper, wherever he goes!
You!
If you've read this whole thing.. you deserve a medal! Thank you for sticking with me all the way to the end. YOU are a HUGE part of what makes this a worthwhile journey.
Now please, for the love of God – get out there, live those dreams and Be Inspired!!!