Best Time to Photograph Rockefeller Center
Turns out, somewhere between 2 & 3am Sunday morning is a good time to photograph Rockefeller Center.
That is, if you didn't want an people in your shot!
It all started with a birthday dinner. Which was late. And long. And Greek! In Astoria.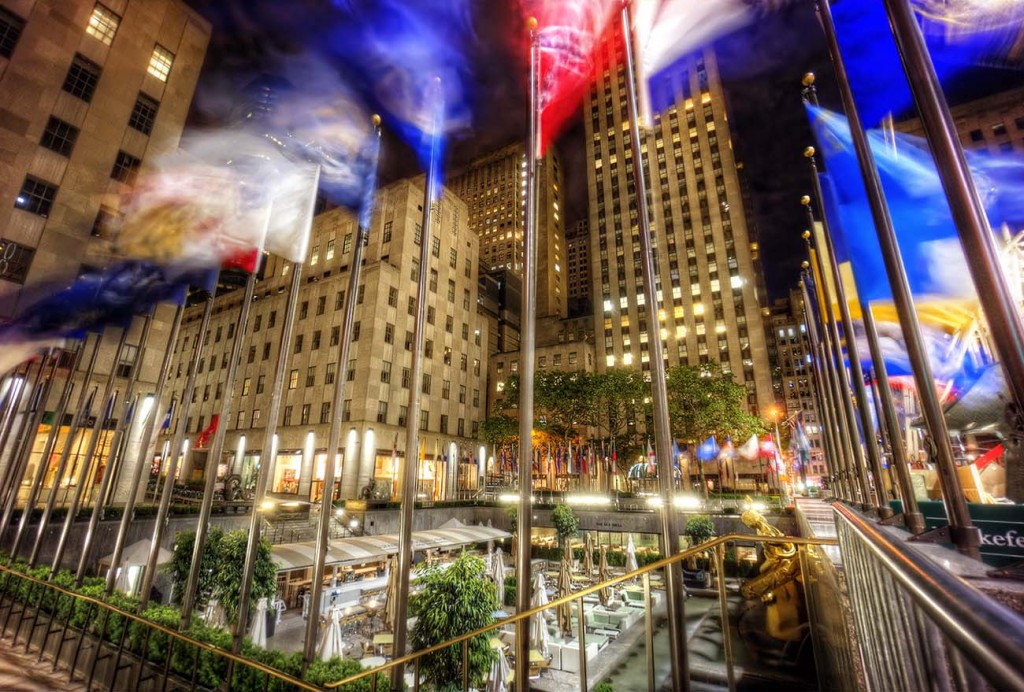 A Night in Astoria
My husband Joe's kid Caleb lives in New York. Astoria. Naturally, a bit part of our visit to New York City was to see him and his awesome girlfriend Natalie. Caleb's best friend Sam Minaie's birthday was that weekend – so Joe and I headed out to Astoria for celebratory drinks at their favorite family run neighborhood hangout O'Hanlon's Bar. I can see why they love the joint… it's just so real, fun and run by good, good people. After a nice, cool beer (during which Caleb and Mary the bartender performed their "Vampire Dance-off", which was quite a sight. I video'd it on my iPhone, but it was too dark. I'd have posted it here otherwise. ahahah!)
Properly primed, our next stop was Greek food at Telly's Taverna… Sam's pick, after hearing it recommended by several of the O'Hanlonites.  We were seated at 9:30 and stayed until almost midnight! I have to admit, I never liked Greek food all that much… until that night at Telly's! It was amazing AND reasonably priced. They don't rush you, food keeps coming… and it was the perfect way to kick off Sam's 31st year on the planet.
We always kid about Caleb and Sam being like an old married couple. They've each got girlfriends who could be "the one"… but they've been buddies with each other waaaayyy longer. Caleb's a badass drummer… Sam's a badass bass player. Bass players and drummers are the two members of any combo or band who work the closest. As the rhythm section, they set the groove, ground the beat, work hand in hand to keep things moving forward in good time. That's where Caleb and Sam bonded… over music. That's lifetime stuff, right there. So it's been fun to see them see each other through thick and thin like best friends do… and to finally hang with them and their ladies here in Big Apple, where they're making their global mark in music.
2 am: Times Square 
After dinner, Sam and Alexandra headed home… Caleb and the awesome Natalie took us to Times Square. Joe's never been to NYC, so of course he had to see some of the tourist spots in the middle of the night! I had fun making images for my latest project (which I'll be revealing here soon!)… doing portraits of the kids lit by the blinding light of all the neon signs… and generally enjoying the lack of massive crowds, who, I presume were sensibly at home sleeping. (Wait. Isn't this the "city that never sleeps"? I'm still working that one out.)
Here's the might triad striking a pose for me: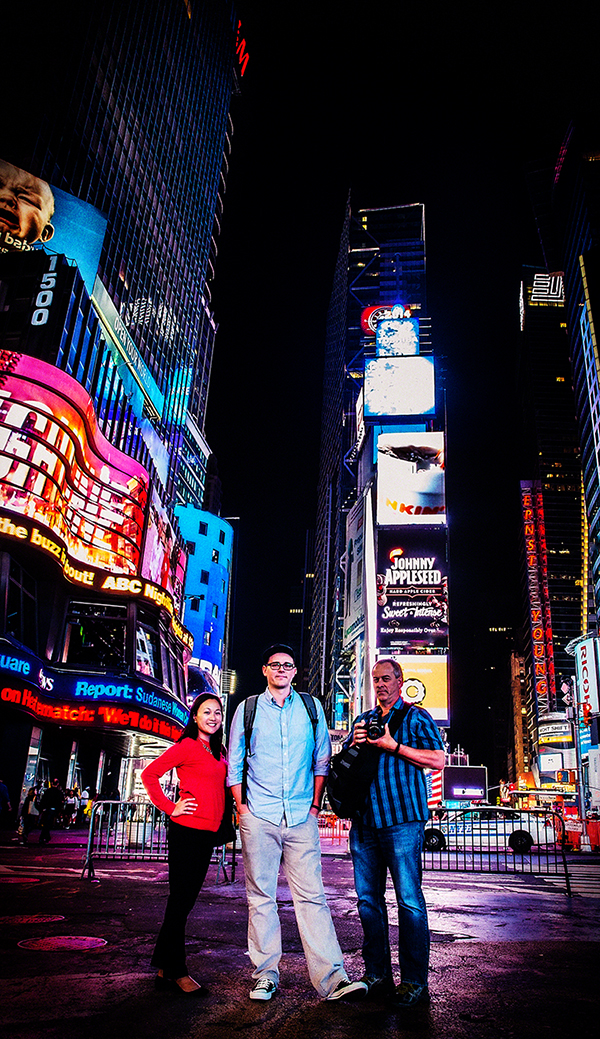 Natalie works in midtown for a huge company that does big corporate and major sports (such as the NFL) insurance… so we walked over there to see where she worked, then over to Rockefeller center where I took that first image above. I had put my Canon away, just on account of safety and all… but had my Sony NEX-7 out for quick shots along the way. No tripod that night, so when we got to the spot with the flags, I hand-shot the long exposure!
Basically, I set up on a barricade and had at it; capturing 3 auto bracketed photos. I made an HDR image out of those, then blended back a spiffed-up version of one of the RAW's. It being an NEX-7 and all, there was quite a bit of noise… but I liked it all the same!
Watching The Sun Rise
Joe and I headed back to the subway, waited 45 minutes for a train that it turned out didn't run on weekends, watched a fight start, took a taxi home and were in bed by 5 am. I watched the sun coming up and thought… life, she is good.