Meanwhile, Just Outside of Las Vegas…
I'm off to Photoshop World in Las Vegas today. Gonna jump on the big silver bird and wing my way to the Bugsy's big playground in the desert.
OK, I'm really going to connect with a bunch of photographers, put my finger on the pulse of the industry – and probably go out in the desert and take pitchers (as my friend Barry Blanchard refers to photographing. hehheh).
This was from last year, when a few photographer friends headed out to Valley of Fire for what turned out to be a gorrrrgeous sunset. I'm hoping for another sky like this one! There are also wild donkeys out in another area out there… am hoping for a wee visitation. They are so awesome… but I don't want to disturb their natural flow. If they happen to flow my way… well, who am I to turn away? Grin.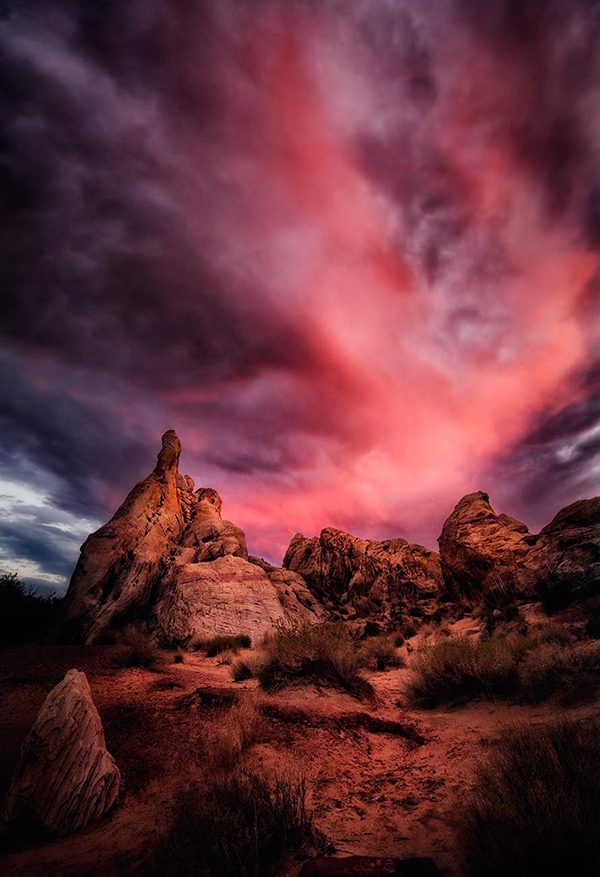 Last year was also eventful, in that I did a couple of fab episodes of The Chat whilst there. One was with good friend and fantastic mentor/teacher/photographer Ron Clifford, the other was with the incredible Kalebra Kelby.
This year… well, we'll just have to see what adventures lie ahead, won't we? HeeHee.
In the meantime, please enjoy this message from our maker. Just a reminder there is true awesomeness in this world. And to those of you who have just joined our hearty band of KHutt blog friends… WELCOME ABOARD!!
(Yes, you can purchase this print! I just knew you'd ask. 😉 Just click on the image… then click Buy!)