A Season of New Beginnings
Like a Fiery Birth of Fabulocity
"Like a Brainstorm." "Like a Lake Tahoe Vortex." "Like the Eye of Sauron fallen over on its side."
"Whuuuuut?" I hear you wondering. "What's IN that chia-and-flax-seeds-in-yogurt mash you've been eating??"
I see moments like the one above and it's double take. No.. triple take! No, quick… write the first three captions that pop into my mind, no matter how daft!
(Oh, and photo notes: Single shot, Canon 6D, EF24-70mm f/2.8L II USM lens, ISO 125, f/11. In case you wondered.)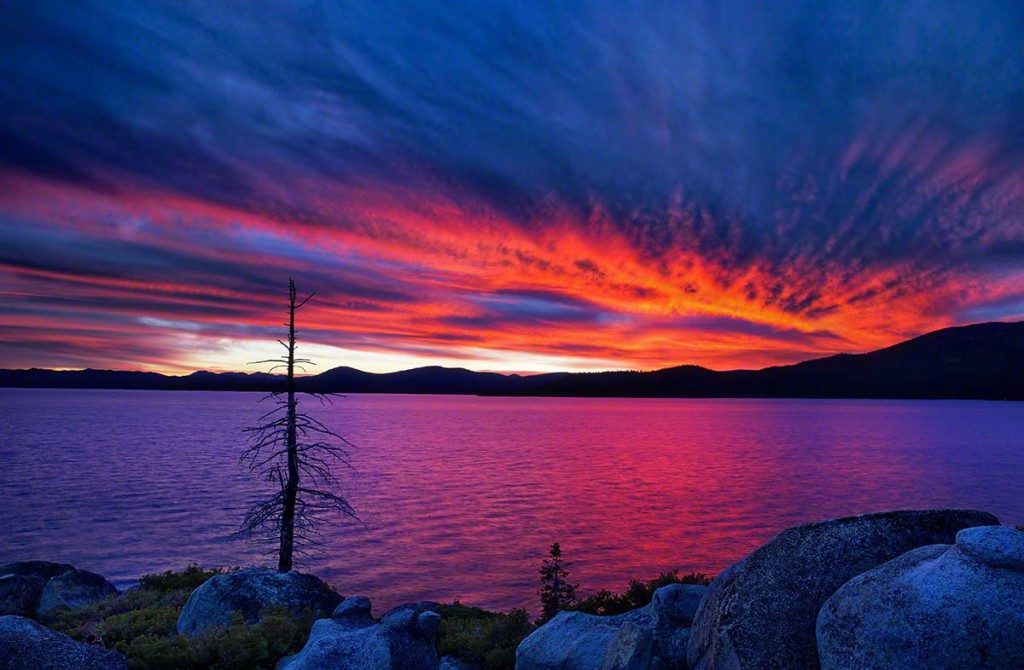 The Brilliant New is NOW!
In this case, it reminds me of the birth of something. A brilliant burst of New.
It's strange that this almost-Autumn is a time when so many of my friends and acquaintances are starting new things, with new seeds beginning to come to fruition. Like my new website, coming in November. It'll pull ALL my worlds together in one place; photography, voiceover, speaking, The Chat, LiL Galleries. No small feat! It's coming along… and doing it in concert with the plethora of other opportunities/commitments has meant that WAYYYYY more time behind a computer than I'm really comfortable spending. Like, EVER! And it's gone on for months. But then, discomfort now means awesomeness later! That's my theory and I'm sticking with it.
And like my friend Frederick Van Johnson's brand new, re-imagined TWiP Pro, which soft-launched today. Frederick's TWiP was fantastic… but TWiP Pro is set to become THE photography network out there! He first announced and talked about it on The Chat, which you can see right here. (it starts at 14:24).  I'm so excited for him. And for me too! Because if all goes well (with time and such), I'll be contributing a Landscape Photography podcast. Woot! Audio only, which makes it do-able for me.
I don't have a start date on that yet – only two lights. The green one  that says my TWiP Pro presence is a "Go"… and the one at the end of the tunnel that I just started seeing in the past couple of days that says I'll soon have the time to even think about this! They both must be in synch. But here again… new beginnings.
The Right to Live Infused with Light
And we're not the only ones with new stuff coming in! Summer was busy, but now it seems like everybody I know is coming back from it infused with new energy, opportunities, ideas, offers – all moving their heart's desires forward. In a nutty world full of constant programming telling us to be scared for the future… I love seeing people do the opposite: use our creative force for Good, Light and Inspiration. That's how shift happens.
That's our birthright. That's our true mission. To live out loud surrounding and infused by the light of All That Is.
What new stuff is happening for you? Now I'm curious… 😀