Being a Master in The Arcanum 
First, those of you who follow this blog know that I'm one of the 6 original Inception Masters in the Arcanum.
Back when it all first started, I wrote a two-part blog post about what it all meant to me: The Arcanum, Magical Academy of Artistic Mastery.
I'm including these links on each of these highlight posts, since new folks are coming on board every week. Wouldn't want to leave you guys out!
Click here for Part One
Click here for Part Two.
Now, 9 months later, I'm highlighting my Level 20 grads on my blog. I'm doing it because each of them has been on an incredible journey of spirit, soul and creativity. Their stories need to be shared. I'm doing it because they were the first bunch to take the leap when the Arcanum was still a baby in beta. I think each one's story is incredibly inspiring, each in their own unique way.
So far, I've shared the journeys of  Sandra Carlock and Dave Garber.
Meet Bob Young
So today, I'd like to introduce you to Bob Young.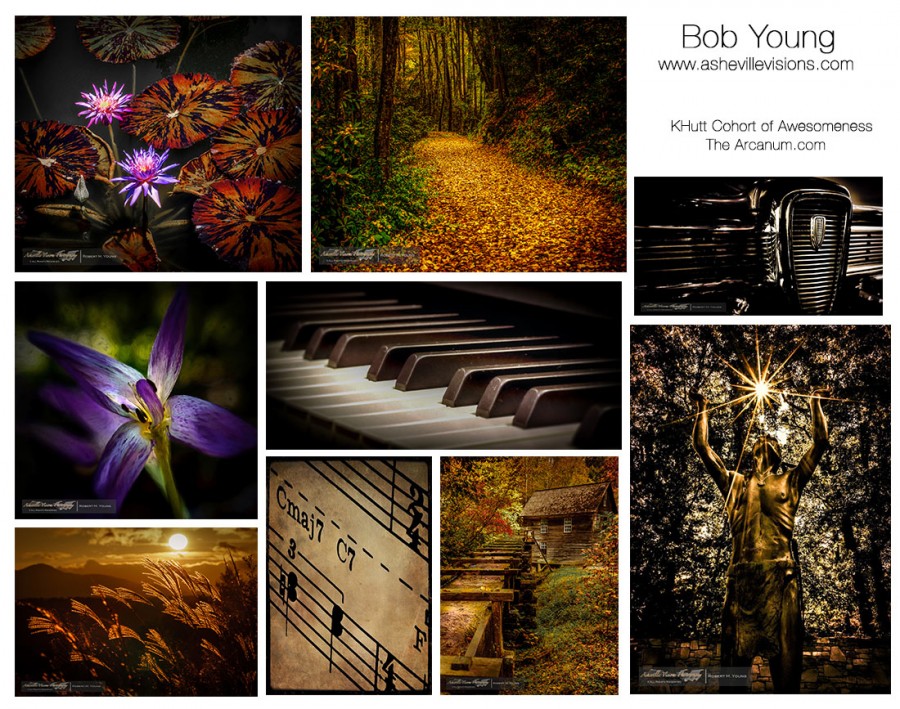 The Application
I wanted a variety of ages, life experiences and perspectives in my Cohort. Bob's Arcanum application stated that he was retired. He had been a Chief Technology Officer up until that point, then he and his wife had moved to Asheville, N.C. for the photo opps there, the artistic community, the beauty, the weather. After seeing his photographs for a time, I completely understood the draw! In his professional career he'd been a teacher, laboratory researcher, technology consultant and manager of several law firm information technology departments. He was also seeking to find a better way to express himself – and stories – through his photographs. Bam! I had a new Apprentice! I loved his life experiences, his time in life, his perspective and what he was seeking to get out of his photography.
Bob and his two photographer partners have a business in Asheville called Asheville Visions.. They sell prints and now, give workshops… although now that all of them are now Apprentices in The Arcanum, who knows where inspirations will take them??
In the course of our work together in The Arcanum, Bob has also proved to be one of the kindest, soft-spoken, and multi-talented people around! He was always the first to offer great feedback, support, tech help when any of our Apprentices needed it. He always led the way in getting his own work done; taking the feedback I offered and running with it.
His photography improved by leaps and bounds, for sure… but his ability to make complex concepts seem easy made him shine as a gentle soul of a teacher. Coupled with the fact that age and health issues had made him "realize that my days of hiking, climbing and crawling to capture THE quintessential landscape photo are behind me for the most part," bringing teaching and tutorials into the mix made a ton of sense and made us both smile.
A Wonderful Teacher is (Re)Born
In Bob's case, he decided he wanted to start focusing on making photography tutorials. He's SUPER good at photo software… Lightroom, Photoshop, Plugins for both, Google+ and social tools… he's just a fountain of knowledge. Way more than me! I like to focus on the artistic part and "inner game"… Bob is simply gifted at showing people how to use all sorts of photo tools.
So, for his Sphere 1 Project Bob chose to: "…developing my instructional skills in photography with an eye to developing a possible business of ebooks, videos and workshops." Boy, did he go to town! He learned Screenflow Pro, which is what I use to create my show "The Chat", my own tutorials and pretty much all of my video content, how to write and deliver good content (much harder than you might imagine!), develop a delivery style that worked for him and his content, get a good audio sound going… all of which we worked through piece by piece.
Here's a sample: a short, 1-minute quick tip about using solo mode in Lightroom:
The Train is Now Moving
So, get this: since beginning to work on all of these things, Bob has already developed and presented a paid four-hour workshop to a local photography group – and demand is growing for both a repeat and a sequel! He's also fielding requests for technical presentations at the various camera clubs he belongs to.
What's more, he's recently had exhibitions of his work at a local theater, a museum and a coffee shop; with a showing already schedule for next year at a large restaurant in Asheville. Retirement shouldn't mean "STOP."! It should be all about doing what you love, thriving and continue to grow. That's one of the things I love about Bob… he's literally re-creating himself as we speak, expanding and building a whole new world for himself.
Here's what makes me chuckle: the wonderfully artistic town of Asheville now boasts 8 Apprentices in The Arcanum, including Bob's two other Asheville Visions partners. (he was responsible for 6 of them. heh.)
Bob Is One of My Role Models Now
Finally, Bob had to get all of his Arcanum work done early, to prepare for his wife going in for major surgery. She was (and is) his first priority. His devotion to those he loves, his craft, his art – and his great big, gigantic heart – are all reasons I adore and am inspired by Bob Young. I'm so honored and thrilled to have shared in his journey in The Arcanum – and now, to share him with you.
He's living proof that if we choose, we never grow old… we simply grow more Awesome!!
Level 20 Presentation; Kind of Like a Final High-Five
To wrap; here is Bob's Level 20 Presentation. Each of my Level 20 grads had to do one; it's been our way to complete this part of our adventure together, to honor one another's journeys, to celebrate and cheer before everyone goes off on their new vistas in Sphere 2 of The Arcanum. Since he's now focusing so much on video; it made sense  to create his Presentation as one. He's also got another great tutorial at the end… I hope you watch the whole thing, enjoy a wonderful story and learn a thing or two. I did. 😀