The Arcanum: Margaret Gaines
This is the final installment in a 6-part series about my incredible experience as a Master in The Arcanum… and my stunningly inspiring Level 20 graduates. 
A Little Background..
Those of you who follow this blog know that I'm one of the 6 original Inception Masters in the Arcanum.
Back when it all first started, I wrote a two-part blog post about what it all meant to me: The Arcanum, Magical Academy of Artistic Mastery.
I'm including these links on each of these highlight posts, since new folks are entering our little KHutt blog world over here every week. Wouldn't want to leave any of you guys out!
Click here for Part One
Click here for Part Two.
We began in April, 2014. 9 months later, I had 6 Level-20 graduates. It was such  an incredible journey of spirit, soul and creativity… for all of us.  Their stories just had to be shared. I'm doing it because they were the first bunch to take the leap of faith when the Arcanum was still a baby in beta. I think each one's story is incredibly inspiring, each in their own unique way.
So far, I've shared the journeys of  Lauri Novak, Sandra Carlock, Dave Garber,  Bob Young and Tanya Wallis.
Rounding out this illustrious field is the final story of my Level-20 grads… who was actually the first to graduate!
She's my first and final….
My Final Level 20 Grad: Margaret Gaines
Margaret is a wife, mom, photographer, jewelry maker. Oh yeah, she was also an attorney at one point; but loved art and the outdoors more.
She was my first Level 20 in The Arcanum – and the final story of our series on my Level 20 grads.
In her final summary of our time in the KHutt Cohort of Awesomeness  (I asked each grad to write one), she said: "I applied to The Arcanum because I wanted to hone my photographic storytelling abilities and to be part of a community." And boy, did she!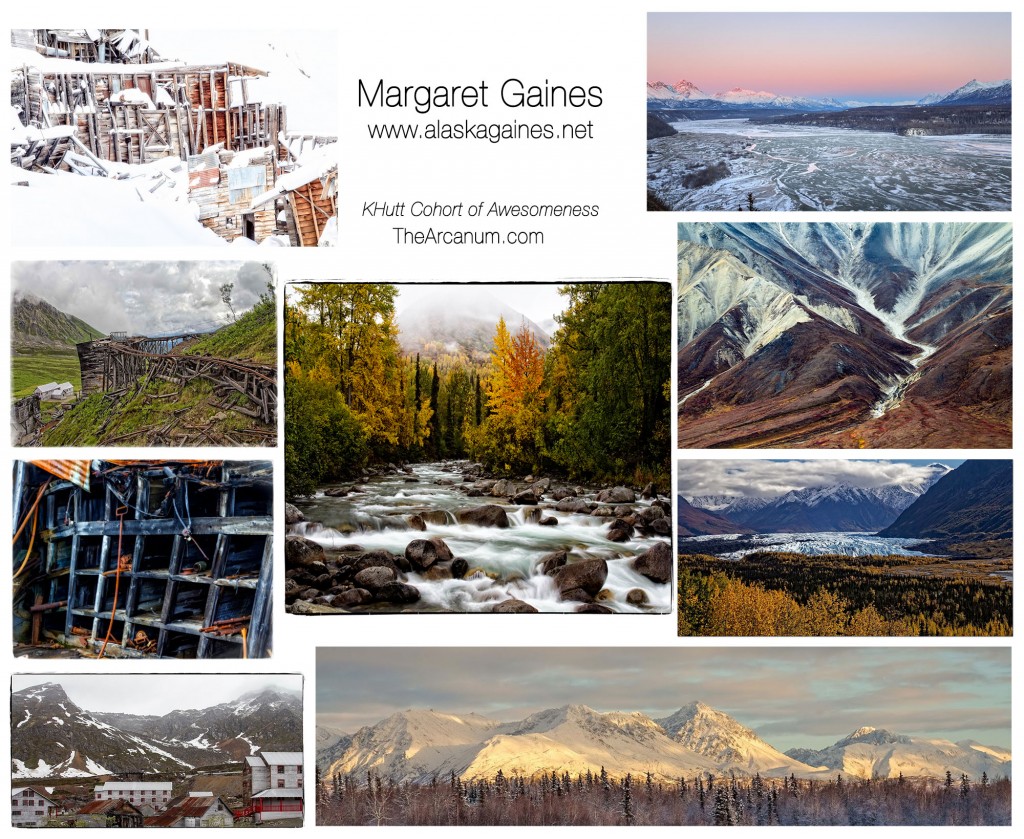 I chose Margaret to be one of my Apprentices because her nature and outdoor photographic chops were strong (she lives in Alaska, fergoddsakes!)… she was an independent thinker… and valued community highly. I needed folks who had ample helpings of ALL of these qualities in order to create the cohort of my dreams.
The Process
We dug in. Margaret was already super skillful as a photographer, but did need to hone her storytelling skills. She jumped in with both feet. She began going deeper into that mystical photo-path of defining her subject, its story and "the moment" and capturing it in all its glory better than she ever had in her life.
Man, that's SO much easier said than done, especially in the grand landscapes of Alaska. To snag those… you have to open your mind up on a really grand scale to find the soul of the place, find its best angle, frame it, get it to smile and press the shutter.
At this point in her life, Margaret keeps her close to home for her kids. She home-schools one of them, so can't just hop in her car and head for distant realms (though she'd love to – and will, one day!). She had to find the stories right where she lives; and sometimes you have to coax those out a little. And that's exactly what she did.
The first 10 levels in The Arcanum are pretty basic. Apprentices need to spend some time getting to know each other and bonding in their community, get used to having assignments to do, asking questions, giving answers, etc.
A Master has to figure out how each person thinks, what their strong and weak points are… and how to best guide them so they unlock and release all their gorgeous artistry from the inside out. That's the only way anyone really, truly learns something forever. If they always wonder what's "right" or "what would Karen do?"… they'll never find their own voice.
I've been teaching for 35+ years… and one thing I know for sure is that you can't give someone their freedom… you can only point, then get out of the way and let a student's own genius find the answers. They always do.
Margaret being the all-eyes-forward person that she is (something I love about her)… she was one of the first people to ask if I'd be upping the ante/making it more challenging for Levels 10-20. And oh yes, I did.
The Project
In the KHutt Cohort of Awesomeness, my Level 10-20 folks chose Projects. They were each different: reflecting where each person wanted to develop.
Margaret was the first of our group to choose an eBook. Her topic: the story of the Independence Mine, now a State Park near her home. And lordy it was quite an undertaking. She wanted to develop different ways of processing, so that the images didn't all look the same. She uses Lightroom, so had to really experiment to find the tweaks and changes that fulfilled her vision. She surprised me with her creativity and the incredibly varied – yet congruent – array of processing styles and techniques she came up with.
It was fun to watch the entire cohort commiserate on which were the best images, how the heck to do an eBook in the first place… the whole creative process went on transparently and everyone learned a ton. Me too!
It was like a birth, this book. In her own words: "What started out in my head as a 20 image ebook about one of Alaska's gold mines from the 1930's and 40-s turned into a 52 image paper book and ebook that tells the story of the mine as it exists today, partially restored and partially falling apart."
It's now available in both eBook and print book form… and if you click on the image, it'll take you to Blurb, where you can see every page big on your monitor. It's quite a tribute.
The Book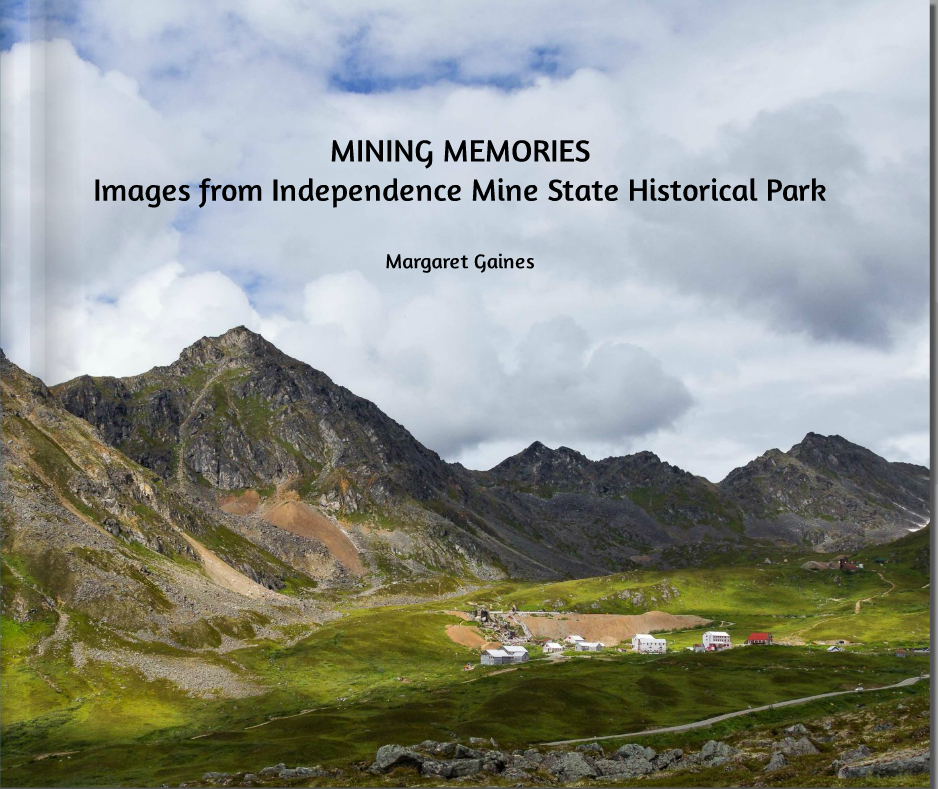 Part two of her Project was getting her website up to par. Because if you're going to create a  book, it needs a spiffy home:
The Website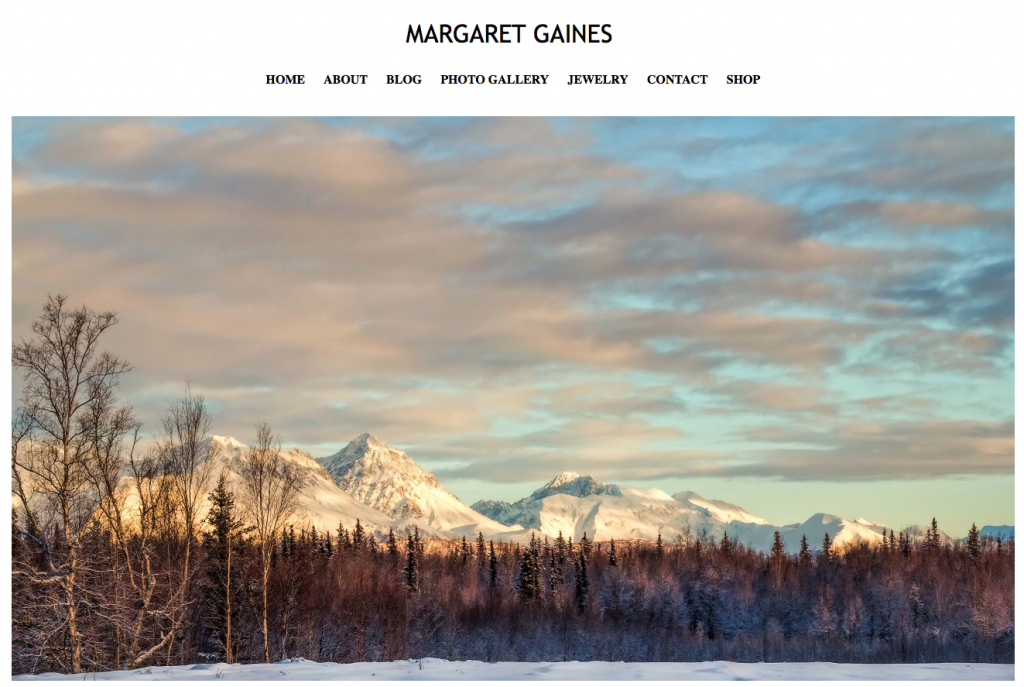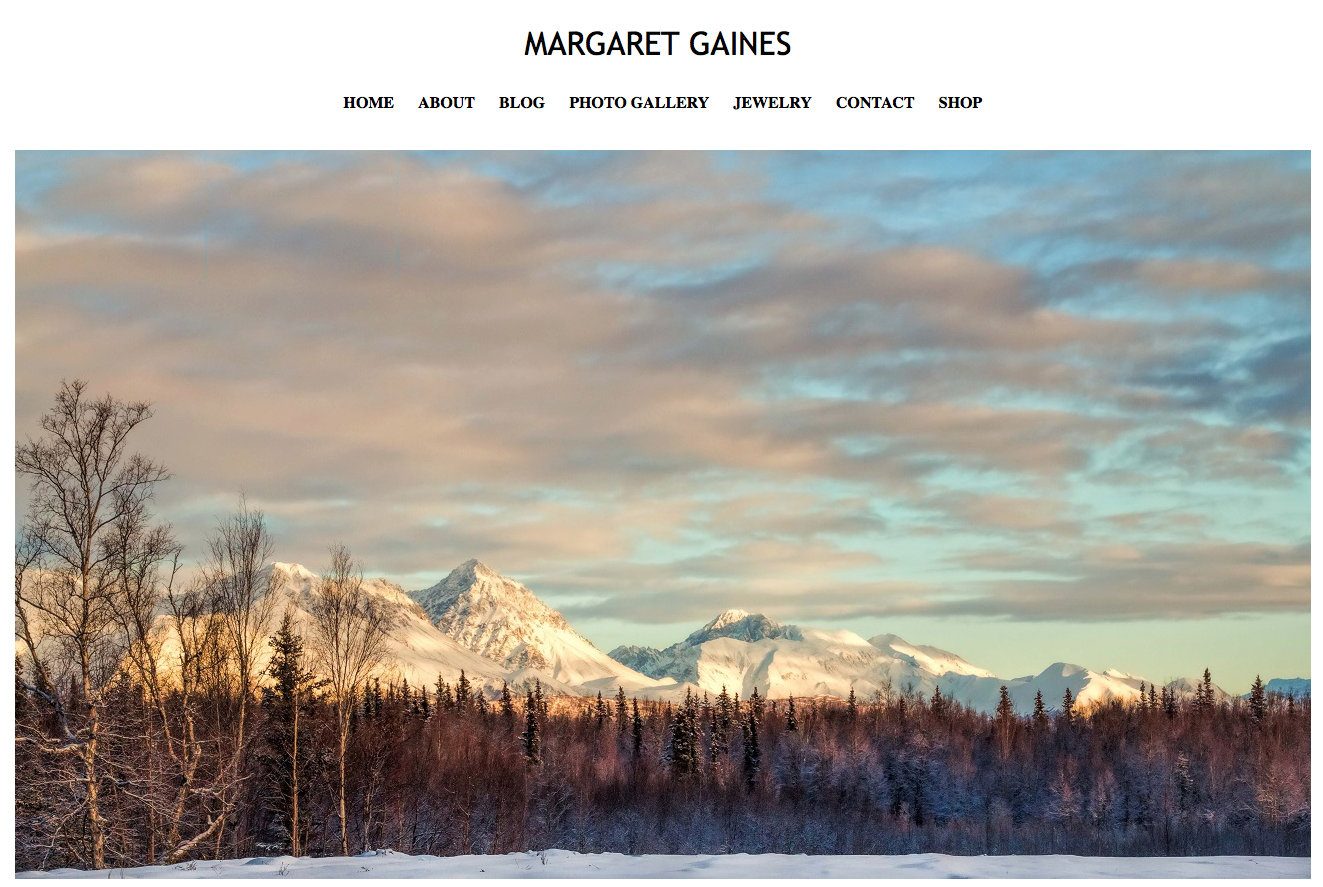 The Etsy Store
Oh but wait! Margaret wasn't done: she brought her photos into her jewelry world, created a new line of pendants and added them to her Etsy store:
(a bunch of us have already ordered the photo pendants; they were created during our time together! Many are from her eBook. She adds new pieces all the time.)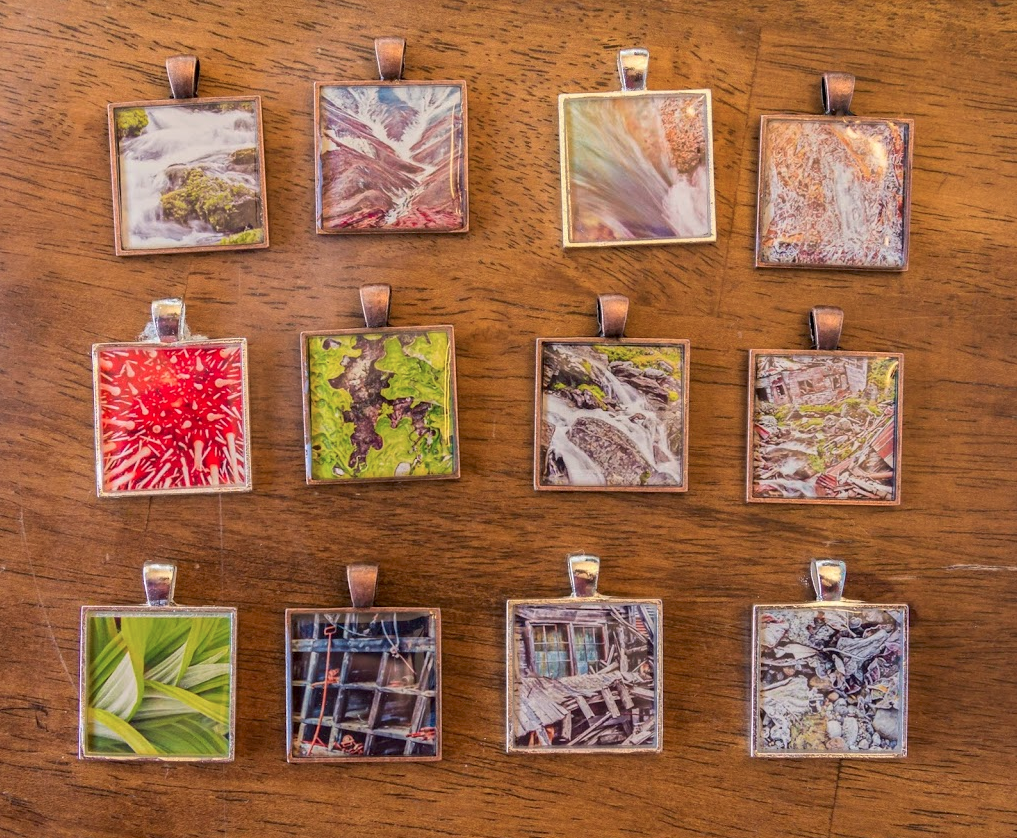 Mind you, I didn't come up with ANY of this.
What we did in the KHutt COA was adhere to this challenge: define your desire, make a choice, focus on it, keep moving towards it. When you get there, define or refine your desire, make another choice… get moving… rinse and repeat, forever. This is what came of that process for Margaret.
Focus, Intent, Action = Miraculous Outcomes
Here's what I love.
The Projects were cool. But one thing I know is that if you take a focus, then take action on that desire… things happen.
Here's what happened for Margaret:
In a chance meeting over pizza at her daughter's school, some of the mom's offer to buy Margaret's book when it's ready.
Another mom (who is friends with the superintendent of the school district) offers to bring it to said superintendent for possible inclusion in school curriculum.
She goes on to brainstorm an entire marketing and rollout plan…

Offer the book to parents who spent lots of time at the mine with family in summer months
Sell it to local visitors center, stores, bookstores
Make it available to home schooling parents and Alaska teachers.. and outlined ideas for several more books just like it
Create a teachers packet with the book as well as offering the book by itself.
Take the book to the state's teachers' conference in the spring to market it and spread the word
In Margaret's words: "All this from one "chance" encounter with someone I barely know, pretty much laid out a business plan for me in about 10 minutes.  The universe works in strange and wonderful ways sometimes, doesn't it?" She's working on all of these projects now, in between being a human and dog mom, wife, home-school teacher, house mistress and owner-operator of a Life Worth Living. What informs ALL of it: she is an Artist. In life and in her creations!
You can always help "chance" by taking action on your dreams, no matter where you're at in your life… being ready the opportunities arrive… and never stop moving forward.
If my cohort walked away with a deeper understanding and appreciation for how that works; then I did my job.
If they continue that – and keep creating art and lives that thrill and delight them… then I fulfilled my purpose.
Margaret's parting words:   "I would say that my experience so far has lived up to and exceeded my expectations and my photography has grown more than I could have hoped."
My parting words: ROCK ON WITH YOUR BADASS SELF!!