Fuji, France and BABY GEESE!
Holy cow, time is flying! I feel like it's been ages since we met up and the days just keep getting shorter, even as the clock says they're longer (at least on this side of the world)! How is that even possible??
Getting Ready for France, 'n Stuff
Over here, I've been working behind the scenes getting projects, business stuff, life stuff and travel stuff all fluffed up in preparation to be gone for 3 weeks in France!! That's a long trip for me… and I couldn't be more excited! So much more to come, but today I thought I'd share where I'm at with Lady Fuji.
Since I'm going mirrorless with a Fuji XT1 on le upcoming trip, I'm doing my best to get comfortable with my new camera system. Y'know, learn from the ground up… find its strengths and weaknesses… find MY strengths and weakness.. and generally be as quick-draw ready as I can be. There's alot to learn! You really can't apply full-frame rules across the board with these mirrorless cameras.
NOTE: In case you're curious, this is the most recent in a series of posts I've been making about my personal search for the most suitable mirrorless camera solution for my particular needs. Here's how it went down:
Canon to Sony – Here Goes!
The Sony Marriage Is Off
The Sony Mirrorless Chapter; For Now!
Fuji: First Impressions

We've had a great time over here, sharing experiences, talking about what works – and if one thing is amply confirmed it's this: you have to determine your needs first – THEN go get the system best suited to that. If you simply look for 'the best' or go by reviews… you'll go out of your mind!
Along these lines, we had an interesting conversation over on Facebook. My friend Gordon Laing shared some great info, as he always does… and I learned stuff, as I always do with Gordon. If you're interested, just click on this link to read the post and comments.
Purpose-Driven Outings
The other day, I wanted to have a purpose-driven outing, take my time and focus on a couple of specific things. I think this is always a good idea when you're learning – and much more helpful than just running out and shooting all willy-nilly. Besides, I already did that the first day. hahah. Now I wanted to take my time.
I've been noticing that the dynamic range on the XT1 seems pretty darn good. This image was taken looking generally toward the sun (it was off to the upper right) and it had that bright willow bush in the foreground, the dark under the trees and the house was light. Lots of contrast! This is a single RAW shot, to which I only added a little contrast, a teeny bit of sharpening (it takes VERY little) and some details. I find I don't have to do much to these images, especially when I'm going for a realistic look. They just come out looking pretty awesome.
This one did indeed confirm that the dynamic range is just FAB!
Baby Geese!
Those of you who know me, are learning to expect me to shriek "BABY GEESE!!" at some point in the spring. Around here, they don't always come. Some heavier snow years, they either don't arrive at all… or do burst forth, all cute and squeaky and ready for life here on Earth, only to freeze to death in a late season snowstorm. I'm always so sad then. But last year and this, we've had none of that… and the baby geese are happy 'n healthy! This family boasts 6 goslings… and I decided to see what it would take to get some clean, baby action shots.
Mirrorless camera systems aren't really ready-for-primetime-wildlife shooting (most people are sticking with Canon and Nikon for that – especially birds)… but I figured with a little practice and a slow moving target, I might get lucky.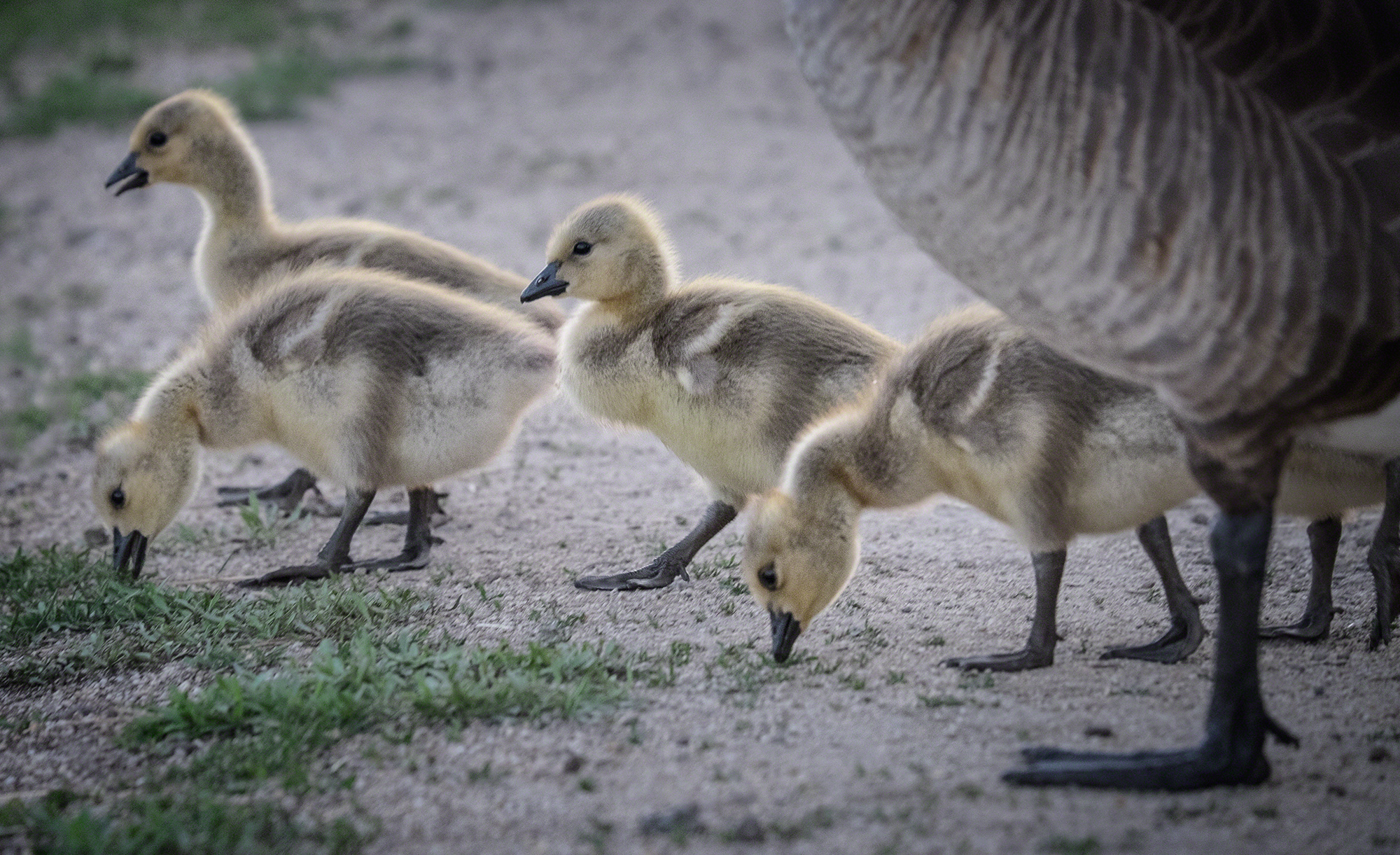 Part of the problem is that the electronic viewfinder isn't super fast. I found this to be true on Sony too, so it's not just a Fuji thing. Hopefully this technology evolves over time… but it IS one of the reasons it's so hard to capture a moving target. I always hear people say that focus fast enough… but how can you tell if the viewfinder doesn't catch up fast enough TO focus? These goosey geese definitely moved alot… but in small enough increments it gave me a chance to break it all down and actually be successful. They are so considerate. 😀
It was late in the day, NOT ideal light… so I shot most of these in Manual Mode (still auto-focus): ISO 1250 -1600, f/6.4-7 or so, 1/250. I used the XF55-200mmF3.5-4.8 R LM OIS for all of these. They probably would've been even sharper if I'd used a monopod or some kind of stand… but where's the challenge in THAT? hehheh. They're all handheld, so not always perfect on account of me. But the fun part is that the camera's so small and quiet, it didn't bother the family at all.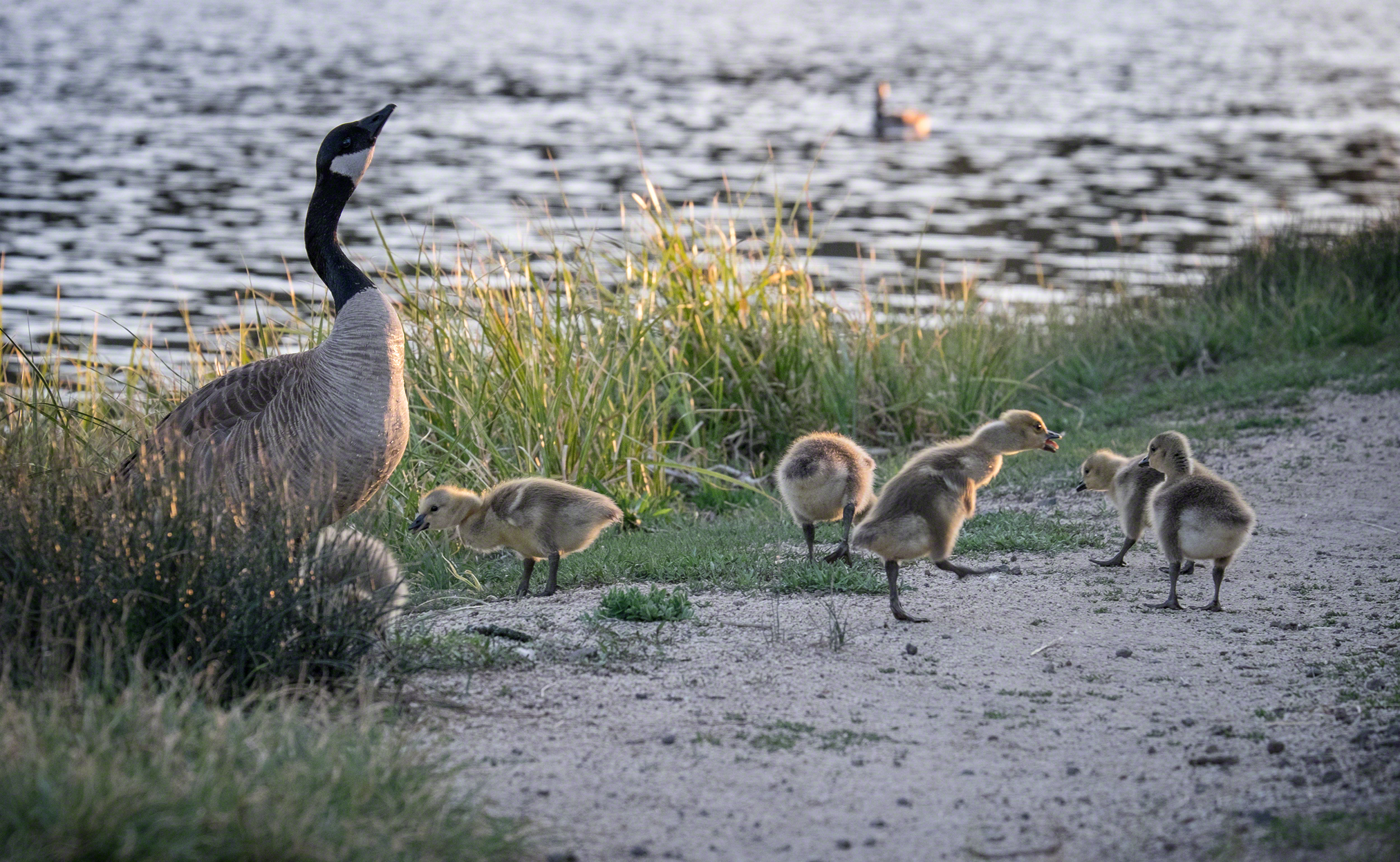 You never notice all the kooky things baby animals do, unless you're gazing through the looking glass…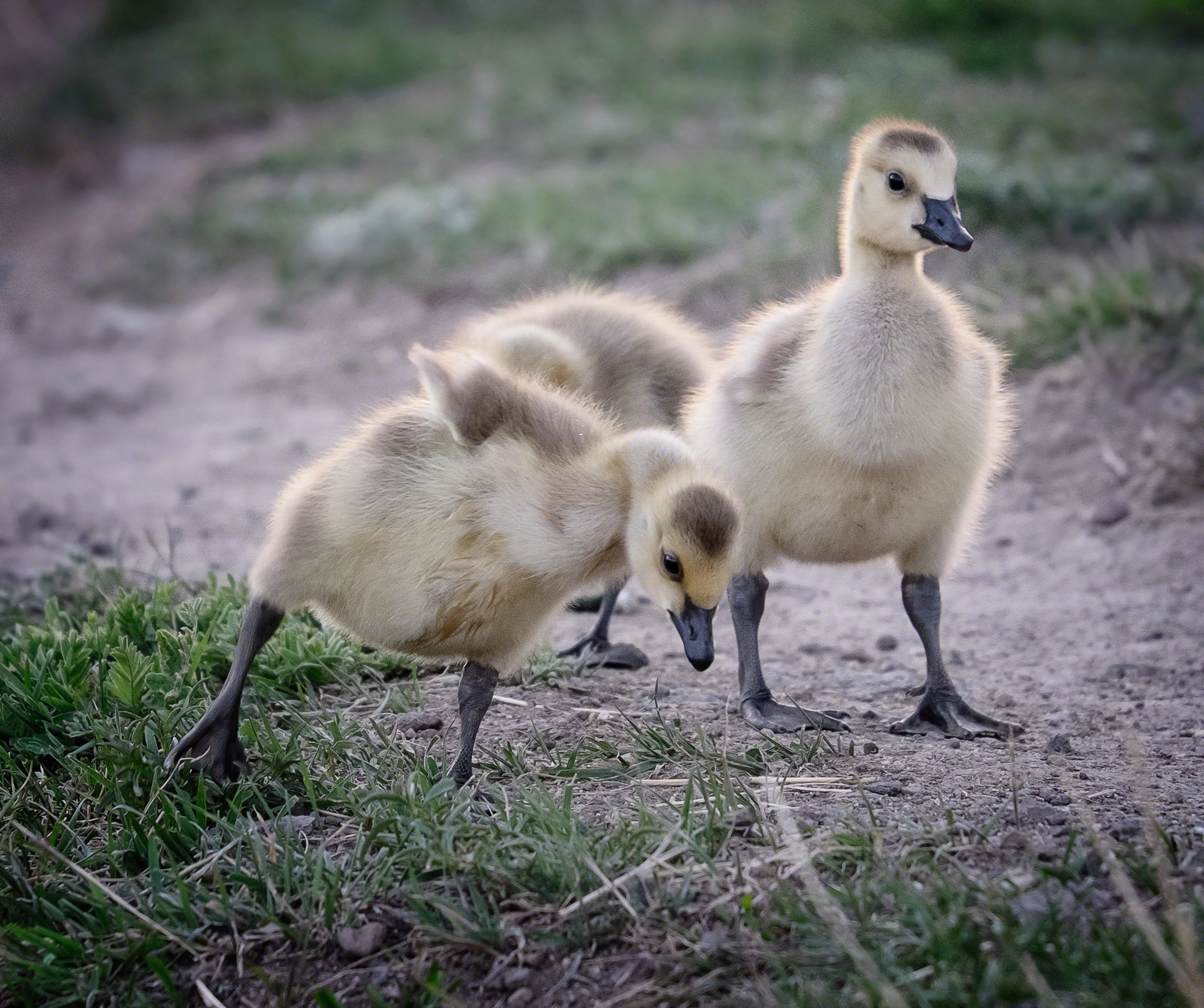 Anybody who has kids knows THIS moment!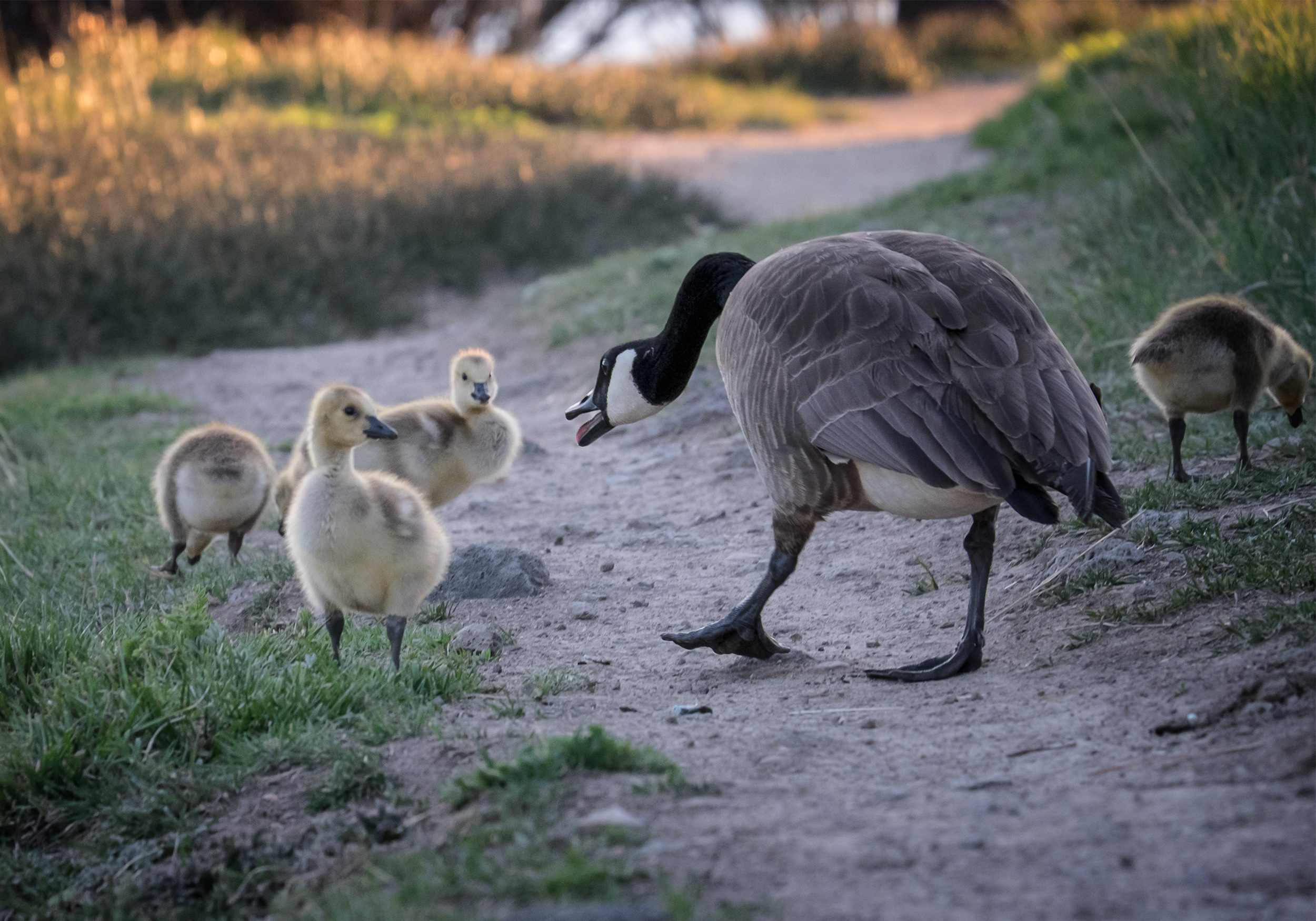 Finally, I did try and capture a pair taking off… but as I mentioned earlier, the viewfinder couldn't catch up quick enough to really tag the focus. And yeah, the whole system is just a bit slow for this sort of thing… and yet, I really liked the effect it returned. It surprised me. I felt the resulting image had a vibe and merit all its own. It obviously isn't super sharp where you can count every feather… but it's kind of wild, you can feel the movement and speed… and the colors! Yum. I gave this the softest, tiniest vignette; just to gently bring attention inward. That's it. To me, this sort of "imperfect" result is yet another opportunity to see things in a whole new way.
When I really want to focus seriously on wildlife, yeah,  I'll use my Canon. But I won't skip using Fuji on moving targets. Heck, I might just come up with something cool and surprising that wouldn't happen any other way!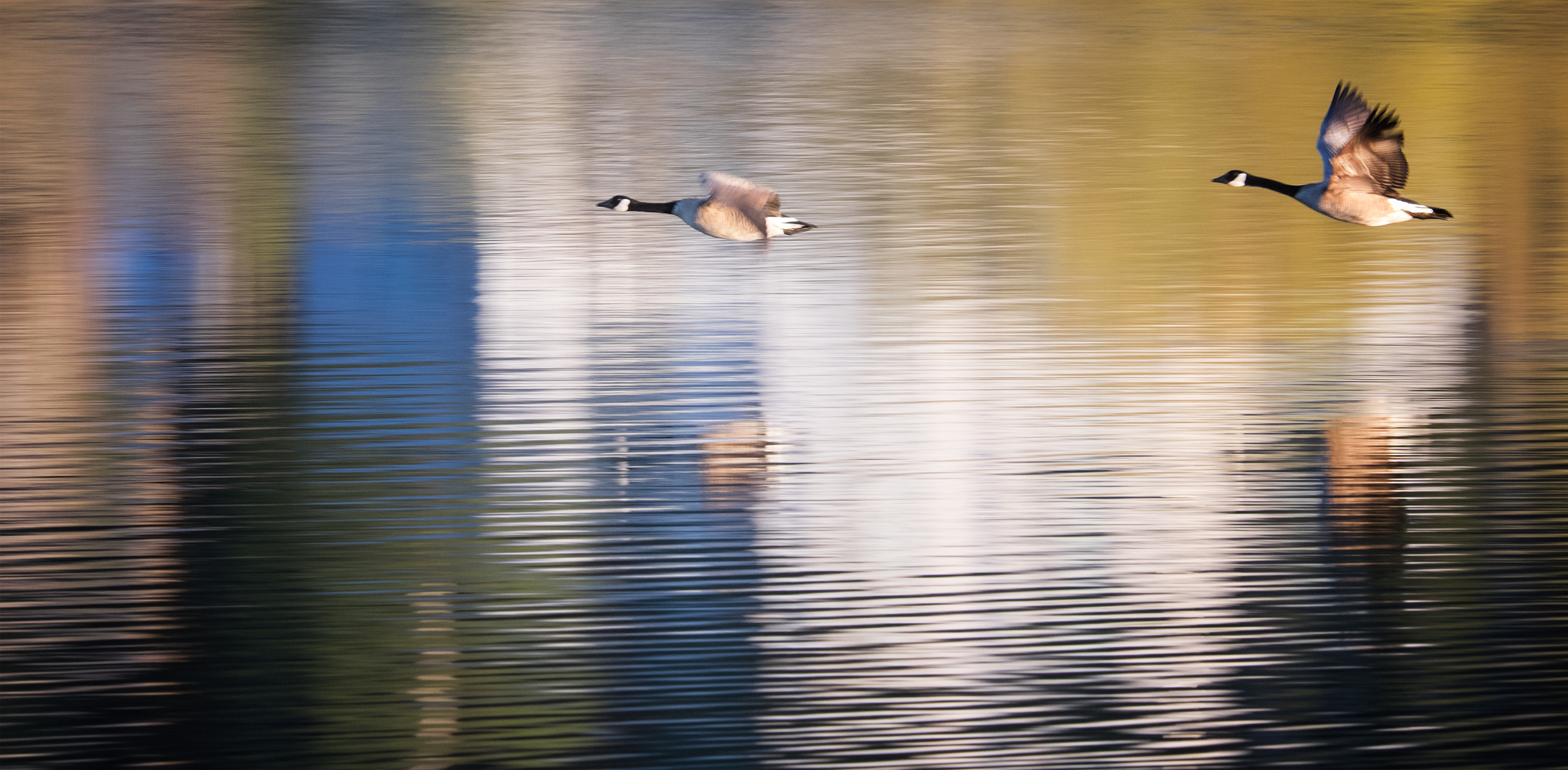 ---