Fuji: My Parisienne Paintbrush
Paris Speaks
NOTE: This is a lengthier post than usual. It's a summary of how the Fuji gear I took to France and I got along. (Famously!). It's not meant to be camera "review". It's one human's experience of being on a mission of art and heart; and the gear that helped bring it all to fruition. I've had a ton of questions about whether I'm sticking with Fuji after this… I think this will answer them all. 😀
For the record, I carried a Fuji X-T1 and X-T10, with the 16-55mm f/2.8, 55-200mm f/3.5-4.8, 10-24mm f/4 and 27mm f/2.8 lenses. 
---
Well, I'm back. Back from Paris, back from the glorious countryside of France, the incredible almost-a-month experience that began with some trepidation and ended with my not wanting to come home!
I had big ambitions to stay on top of blogging, video-ing, Periscope-ing, posting and all that 'share every second of your life' stuff we do nowadays. But y'know what? At a certain point I just had to surrender to the experience and let myself sink deeply into all that it had to teach me. There are times I just can't talk about stuff; I have to live it. Words come later. This was that.
I went to France seriously in need of a break. Mostly from myself and the treadmill of self-made deadlines, high expectations; the pressure and anxiety spin cycle that I just couldn't shake.
I'm definitely a believer in "wherever you go, there you are"… there's no running away from yourself. But I also know that sometimes you have to change things up. Do something radical. Dip yourself in a new fondue.
So… Paris beckoned. Then it spoke; of passion, of art, of finding the wonder in all things. I listened.
Thus, filled with intent to experience miraculous and wondrous things, I departed.
Taken with the Fuji X-T10, 16-55mm f/2.8 lens, ISO 320. At the top of the Notre Dame Cathedral.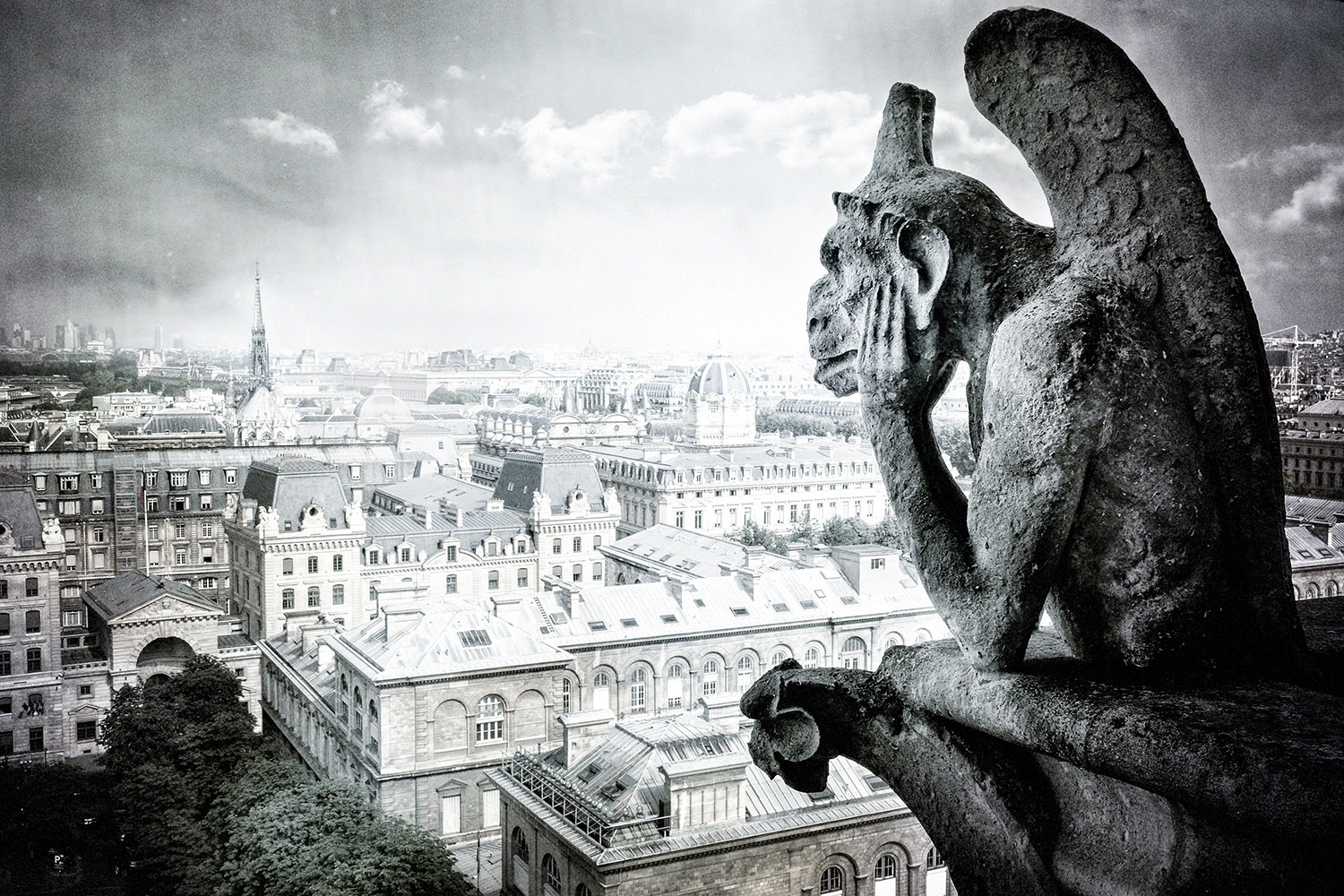 Hey, What About The Gear?
You may wonder what this all has to do with Fuji cameras?
Everything. Why? Because I'm a photographer. A light bender, a lover of life-as-art. I wanted to paint the picture of a journey of heart, soul and the unexpected miracles – and that  requires a unique instrument.  I didn't expect a veritable paintbrush, mind you… I figured a lighter camera was the best I could hope for. But… BAM. I got the golden egg.
Those of you who've followed this whole DSLR brick to mirrorless DSLR journey know I started off simply wanting to find something lighter, with good enough lenses to cover the gamut of what I like to shoot. If I could get decent enough images… I could post process from there. But seriously, could mirrorless gear replace my Canon set up? Time would tell…
Taken with the Fuji S-T1, 55-200mm f/3.5-4.8 lens, ISO 640 – at The Louvre.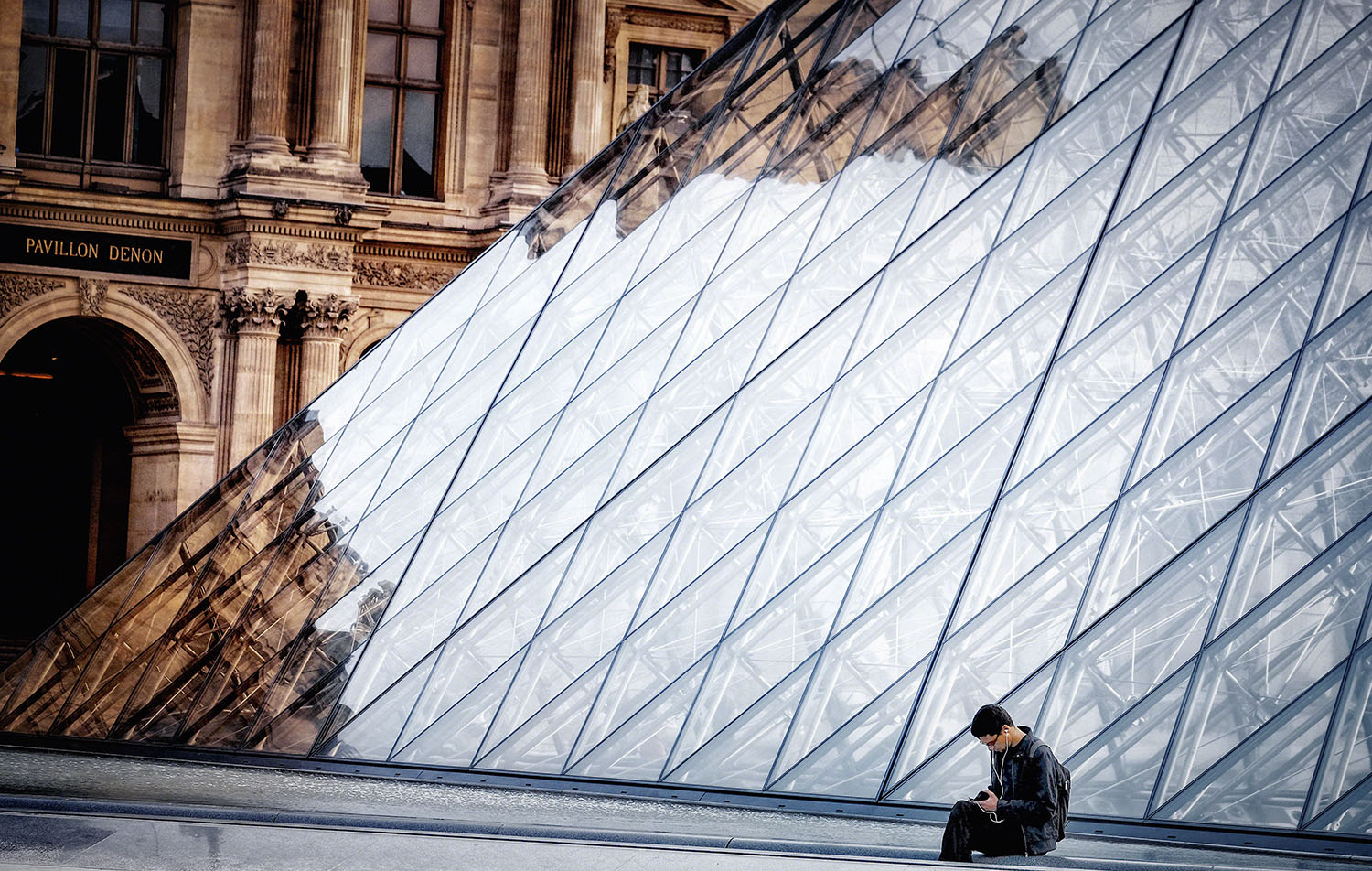 Game of Shutters
We all love our cameras. We're passionate about them. There's something about all this that stirs up a gladiator mindset. Camps are formed… those for and those against favored brands. The fight for supremacy ensues. Players try to sway the other guy to their team. There's boasting, swaggering, waxing prophetic, shedding virtual word-blood.  It's like a medieval fantasy HBO special. Personally, I don't care about any of that. I just can't muster for bloodsport. I want freedom, light and awesomeness. Is that asking too much?
My approach:
1. Figure out what you need.
2. Go get it.
3. Get busy creating. Preferably without yapping too much or hurting anybody.
I did my best to do this according to my own needs… and I've shared the process in hopes that it shines a light for you to do the same, independently of all the huzzah, hurrah and blah-blah of verbal swordplay over what brand is best.
So What's All This About Paintbrushes?
Ok, I know it sounds daft when I talk about a camera as a paintbrush. But I'm all arty like that.
See, I've loved my Canon these past several years; it's a tremendous technical instrument. The landscape world is about acquiring the "perfect" capture. It's a calculated, precise and technical sport. I do love it… and Canon performed like a solid, predictable machine.
Thing is, I crave more. If I had a modicum of talent for it, I'd paint. But I want to bend light, so cameras it is.
After nearly a month creatively stretching myself and my gear in France, I started to think of my 2 Fujis: the X-T1 and X-T10 as paintbrushes. Maybe it was the French air. But to me, these little dynamos began bridging the gap between vision, experience and expression in ways I only dreamed of before now.
See, paintbrushes allow the artist wielding them to lay down the colors as they wish. They bend the bristles in exquisite ways, in an absolute extension of their vision and expression. In this sense, the paintbrush is an extension of their mind.
Taken with the Fuji X-T10, 16-55mm f/2.8 lens, ISO 1600 at Monet's home in Giverny.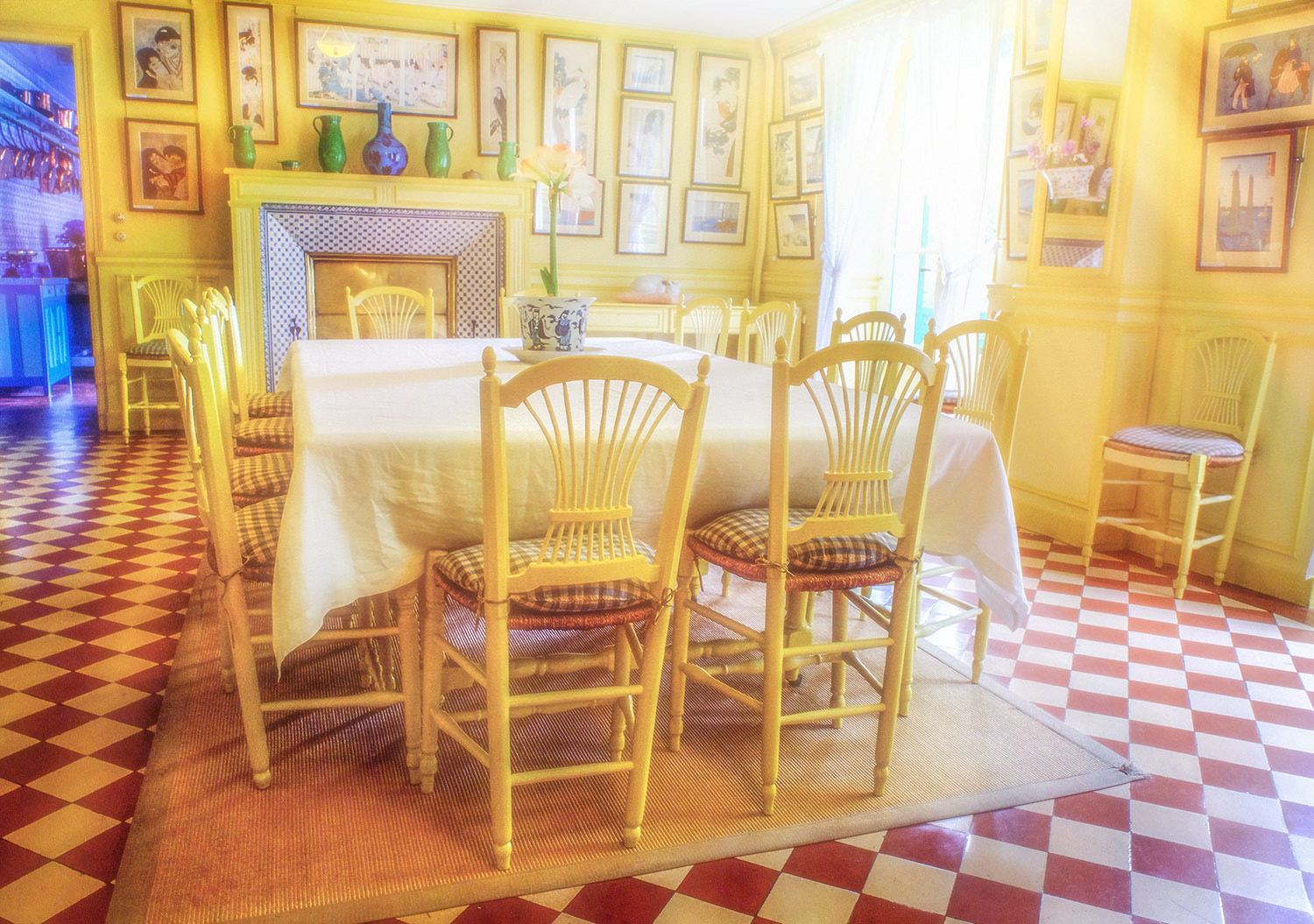 And so it is with Fuji more than any camera I've used or owned. From street to architecture to travel to artistic fancy to landscapes… it became this thing where if I could see it, I could paint it in light.
My Canon allowed me to technically and efficiently capture a moment, such that I could go home and process it into a final result.
Fuji captures the spirit of the moment itself. Both technically and artistically.
This is why it was the perfect tool for France – and for me. I went on a journey to re-discover a deeper sense of art, expression, self and Light… Fuji was apparently created for just such a mission.
OK, But What Is It,

EXACTLY?
Yeah, I know I'm being all poetic and stuff. But hey, I'm still coming back from my walkabout-of-the-soul!So let's get down to brass tacks. You can Google Fuji specs for both cameras… loads of proper reviews out there too, like the ones Gordon Laing does at Cameralabs. And here's the Fuji site's rundown on the X-T1 and the X-T10.
For here though, I'm going to keep it personal. I started making a list on my trip, as some sort of attempt to explain to MYSELF why the heck I was acting like a girl in love to a couple of damn cameras!
What I love most: FREEDOM!!
Oh lord, freedom from size and weight pinning me down, from high ISO noise, from being pegged as a photographer when out amongst the populace. I took them EVERYWHERE, something I could never do with my Canons. I feel like I'm getting my mojo back. Whew! I was starting to worry…
In no particular order, here's what I came up with:
Size/weight… can't say it enough; smaller IS better! Less weight does count. This alone pretty much rocked it.
Outer dials and buttons vs. menu-diving. I'm not constantly jumping between the creative right brain and left brain trying to remember where that damn setting is in the menu. LOVE!!
The look/feel of Fuji's images… it's really unique. Fuji's been in the game longer than anyone – and they've got the film feel down. I started in film so I love this. Hard.
How much fun it is to use. Fun wins, every time. If it ain't fun, it's staying at home! My Fujis went everywhere I did. They may even speak a little French now. Probably more than me. 😉
The incredible sharpness of images. It's stunning! And it's a beautiful, buttery sharpness. It doesn't have that crispy/jagged feel to it.
The film simulations within the camera are amazing. (Despite my initial nose-wrinkle at the whole idea.) That's another head-messer. I never wanted a camera to take the creative control out of my hands. But these simulations think like me or something, I dunno what it is. But I pretty much loved the ones I used – and I used them ALOT!
FOR INSTANCE: This image is SOOC (straight out of camera). I did nothing to it. Nada. Zilch. It was taken with my X-T1, 55-200mm f/3.5-4.8 lens, ISO 1250 with the film simulation "Velvia" (which is a Fuji film). I didn't even see that little spider on one of the top stalks until I was looking at the images on my computer.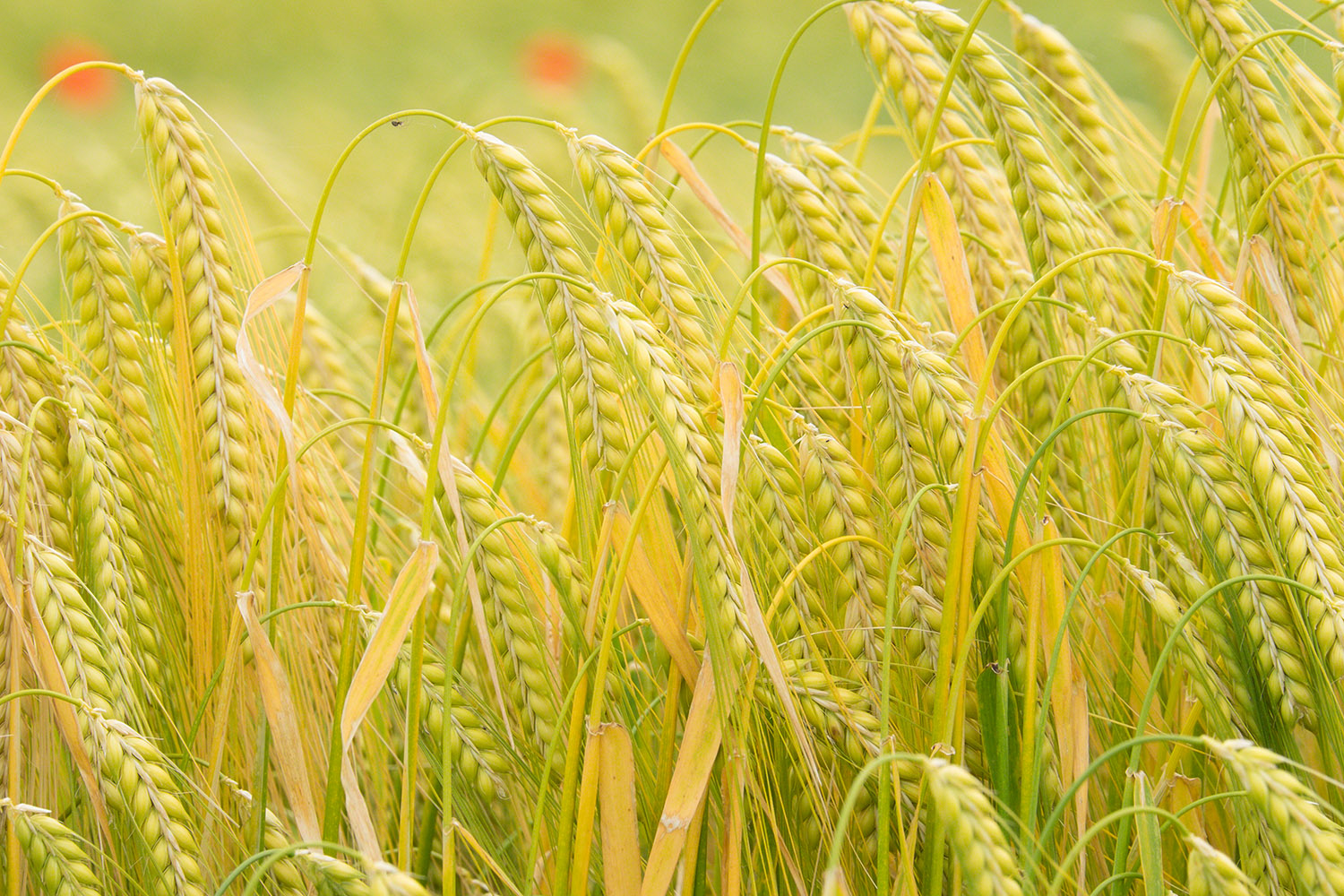 Stunning high ISO performance… what happened to the noise?? I thought this level of low noise was a couple of years away! But holy crap – this part blew me away.
When some noise finally does appear (a little) it's different type of "noise". The digital noise that I see is more regular; both in spacing and size/shape of the dots. In film grain was irregular. It wasn't 'noise'… something to be rid of. It was an analog texture that some films had more than others. That's what I liken Fuji's noise to IF it happens to appear. I actually like it. I'm an analog girl from way back.
I know you've seen this image in a previous post, but I it's a good example of 6400 ISO showing a bit of grain. I actually like it; it's something I might have even added myself. Taken with the Fuji X-T1, 55-200mm f/3.5-4.8 lens.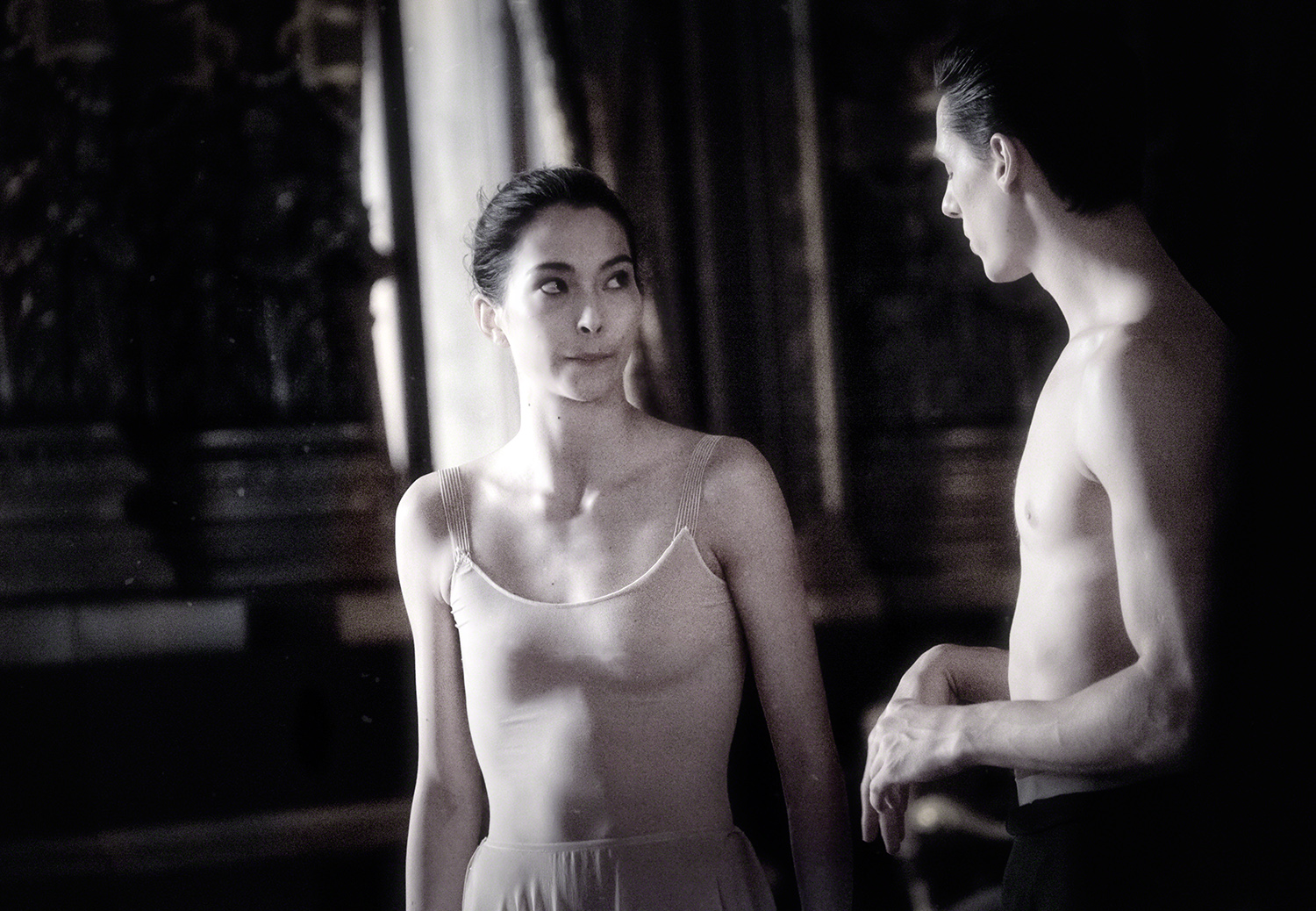 Fabulous dynamic range. Did you know there are 30-something shades of black? I think Canon provides about 5. (that's not scientific, that's just me exaggerating. Sorta.) So if your darks get to deep on a Canon image, good luck lightening them. Fuji doesn't have that issue, not in any color range. I don't shoot as much HDR for this reason alone. All the color and light levels are right there in a single image. Another freedom!!
The jpg's are almost as beefy as the RAW's. (Heck, they may even BE as beefy as the RAW's, I'm just allowing a little wiggle room there.) So, OK, this one took me awhile to sign off on. But since Photoshop and Lightroom didn't yet read the X-T10's RAW images yet (at the time I'm writing this, the camera is just too new. It'll all catch up at some point though.)… I processed the jpg's only. It was weird to have so much data available in a JPG. They behaved more like what I was used to in Canon RAW. That one still messes with my head.
CASE IN POINT: This shot of from the top of the Sacre Couer was taken with my Fuji X-T10, 16-55mm f/2.8 lens, ISO 200. It's a single JPG. Some folks (including me) wondered what happens when you process these images. Do they hold up? Ummmm… yep. They seem to do just fine.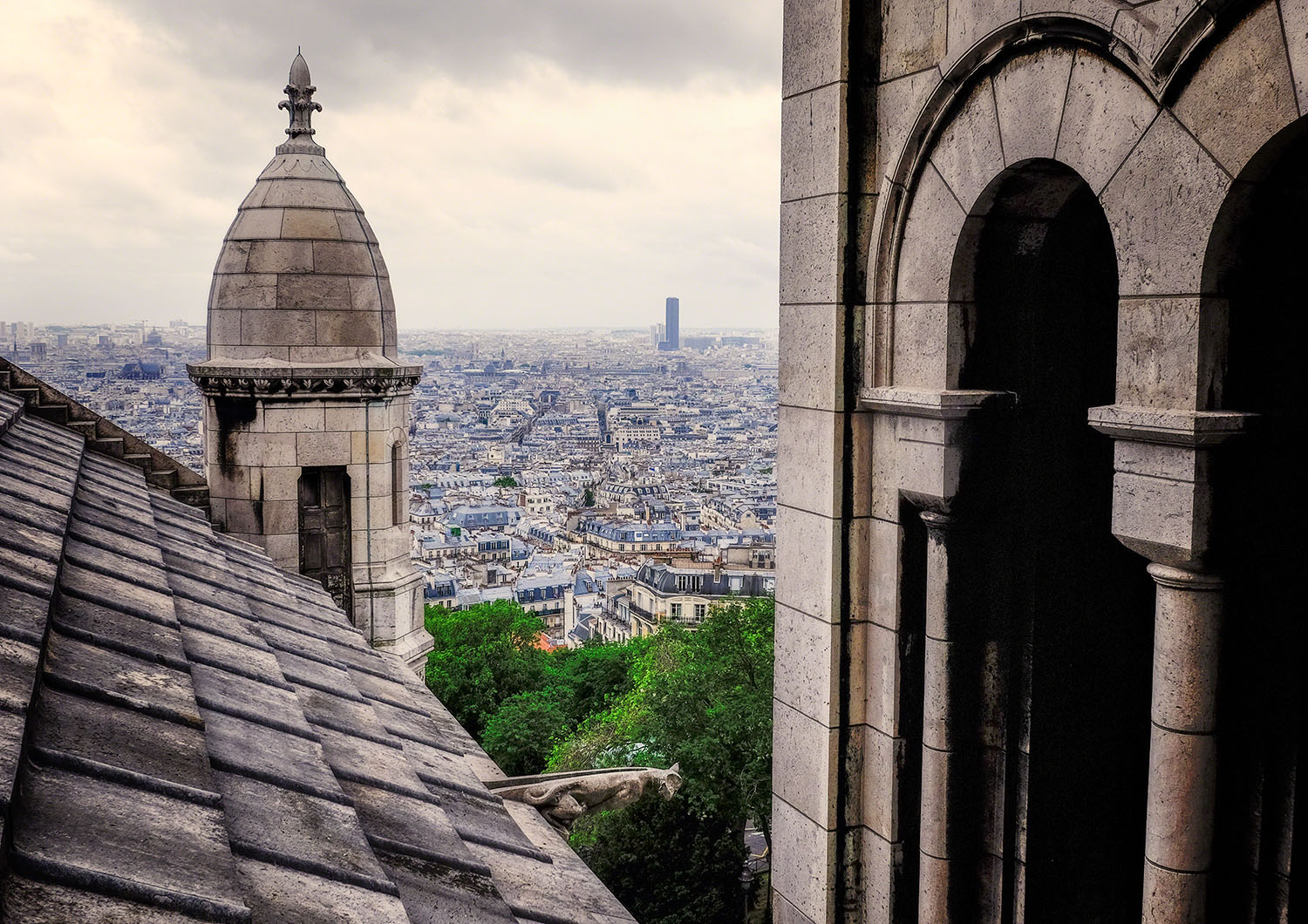 The different ideas I get when shooting. This one is hard to describe… but since I literally never have to worry about high ISO; noise is non-issue, since the colors and dynamic range are so incredible, since Fuji was constantly saying "Don't worry, I got this… just get the shot"… I stopped worrying about my gear and started paying more attention to the moment. All by itself that took me places creatively I've never been with a camera before. I thought I was there with my Canon… but discovered a whole new "there" there.
How it makes me want to shoot more often. WAY more often.
How it opens me up to interpret the world; to think, feel, create in new and different ways.
The exquisite lenses. Fujinon has been making lenses for decades. Fuji made cameras in WWII… they first went commercial in the late 40's, early 50's. The experience shows.
Their firmware updates and responsiveness to users. Unparalleled, IMO.
 A Few Other Notes: 

XT10:It's FAST! Fast focusing… and fast in that interim between turning on the camera and focusing on your subject.The electronic viewfinder is not quite as fast (yet) as a standard one… but I couldn't believe how close to real time it is. It took a very minor adjustment on my part to capture the dancers at the Opera House… as well as just the part of people's strides when they walked.  That's been one of my beefs in the past with electronic viewfinder, but the X-T10 just about has this whipped.It's smaller and more compact than the XT-1, but the images are every bit as great.
I understand it's minus some of the features of the XT-1, but I didn't miss them, whatever they are.
I did miss the left ISO dial. That's one change from the XT-1… it just takes a little getting used to. But I was able to switch between the two cameras easily, with no missteps. I pretty much always carried both cameras at all times.
I think the shutter could be way quieter. Even with the sounds turned all the way down, the X-T10 wasn't as stealthy at the X-T1.Not crazy about where the SD card is located, on the bottom accessed by the same door as the battery.
BOTH CAMERAS: Can't get over the low noise, at high ISO or otherwise.
Sharpness – it just has a special quality.
Dynamic range – game-changer for me.
Unique look and feel of images. "Buttery exquisiteness" keeps coming to mind.
Handling of the cameras – I felt at home with them from the get-go.
Overall, not so crazy about:
Battery life: I think of batteries now like Chiclets; small and need replacing often. But they ARE light, so I just keep a few extras on hand at all times.
The panorama feature; I'll stick with my iPhone for quick, automatic ones… for full res panos, I'll make them myself.
After close to a month of having them in my hands every single day… I only fell in love with my Fujis more.
Next up: Landscape exploration. I haven't had a chance to do too much of that yet… but that's next on my list! Suffice it to say I'll only be carrying lady Fuji out there. I expect great things. Stay tuned… 😉
Fuji X-T1, 16-55mm f/2.8 lens, ISO 6400. Saint Sulpice Cathedral.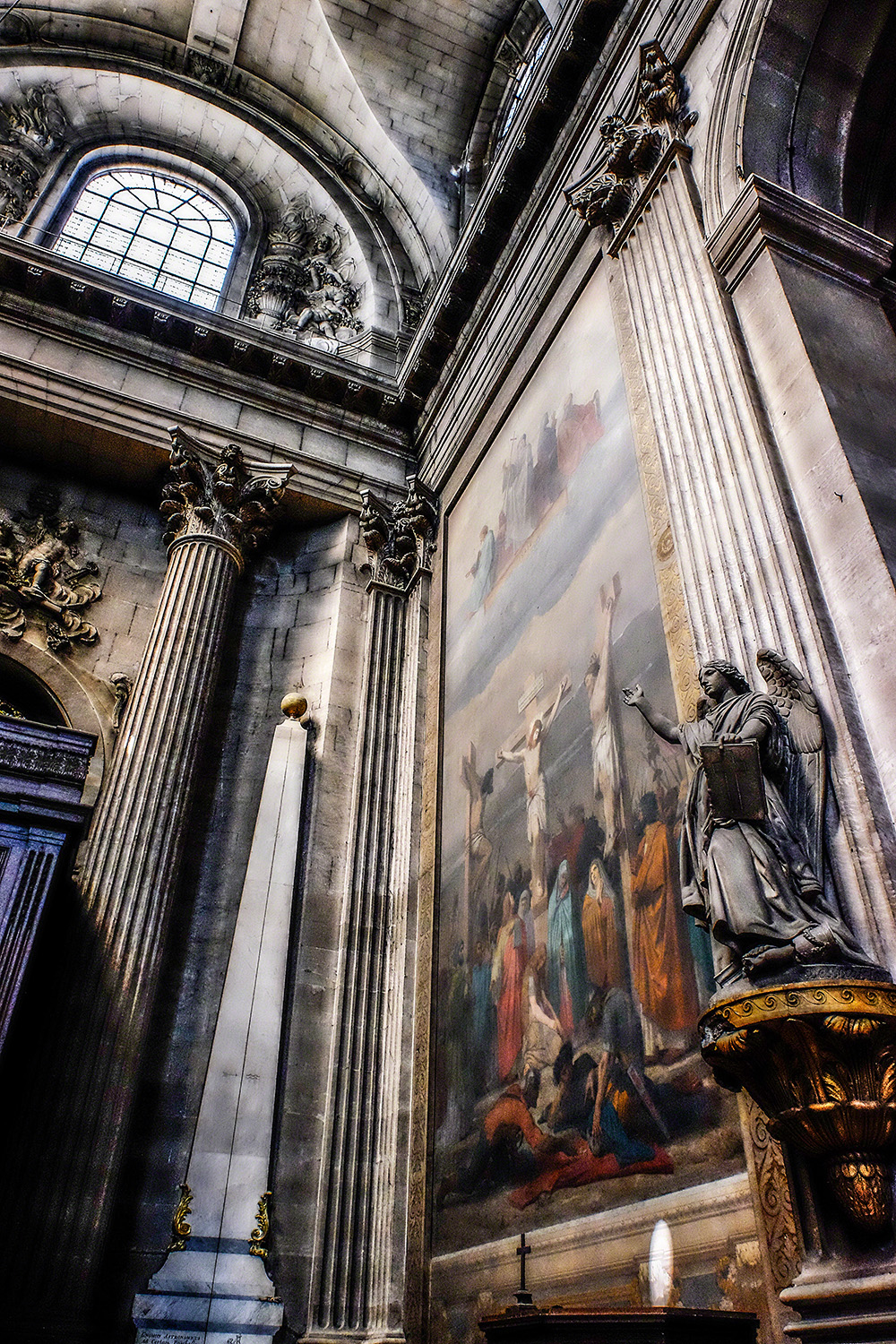 Fuji X-T1, 16-55mm f/2.8 lens, ISO 200. Notre Dame Cathedral.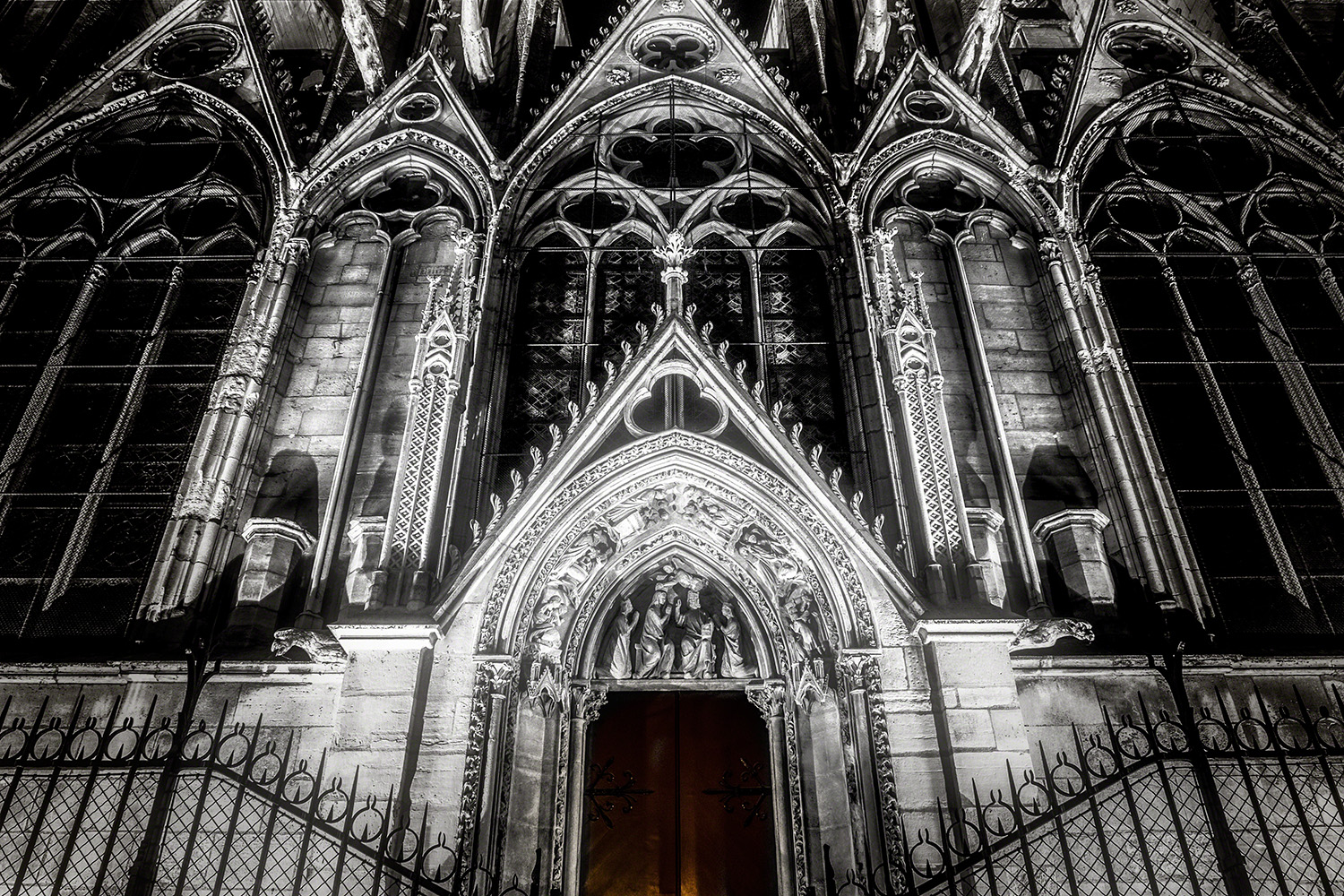 Fuji X-T10, 16-55mm f/2.8 lens. Strolling along the Seine River, the Notre Dame looming.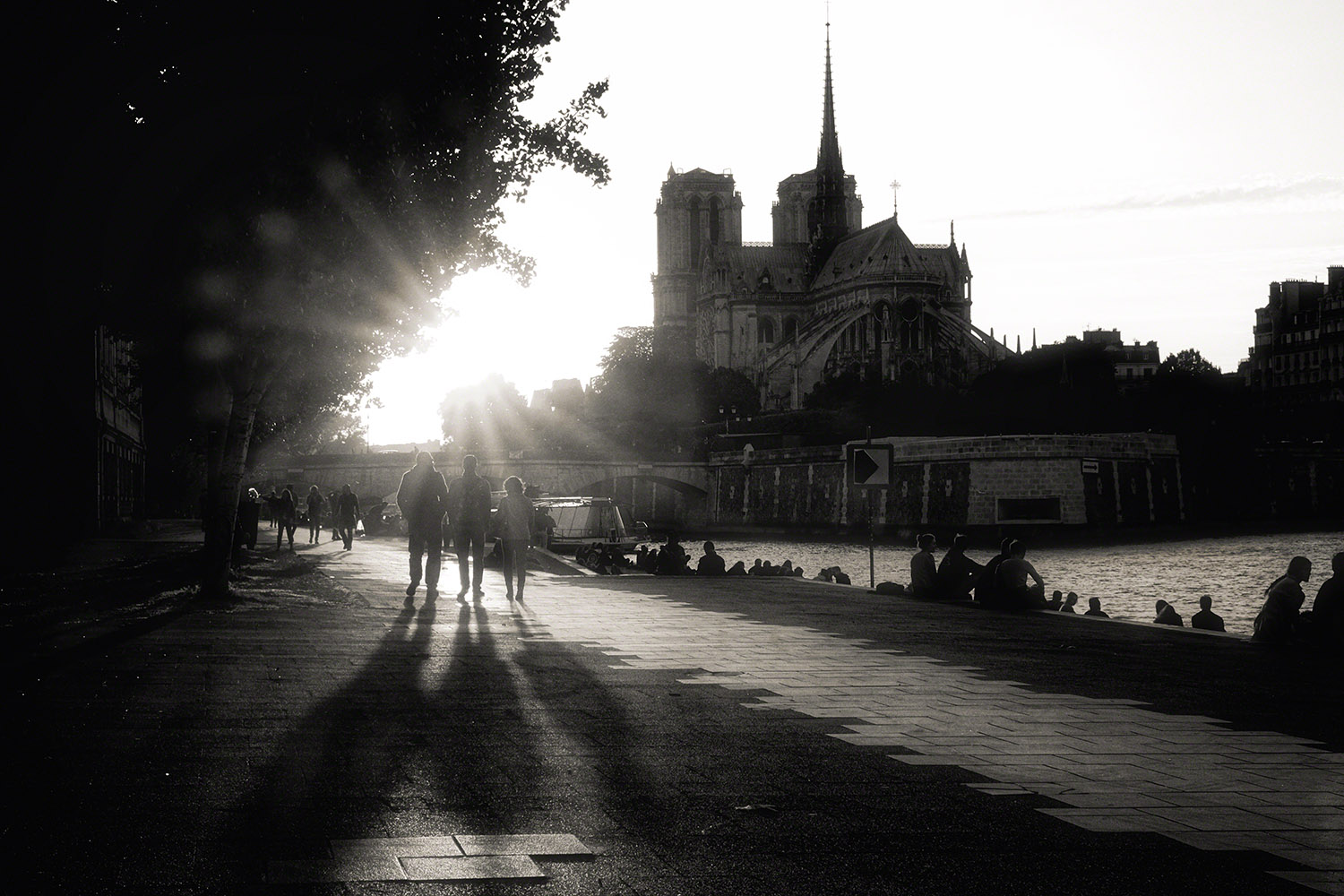 Fuji X-T10, 16-55mm f/2.8 lens.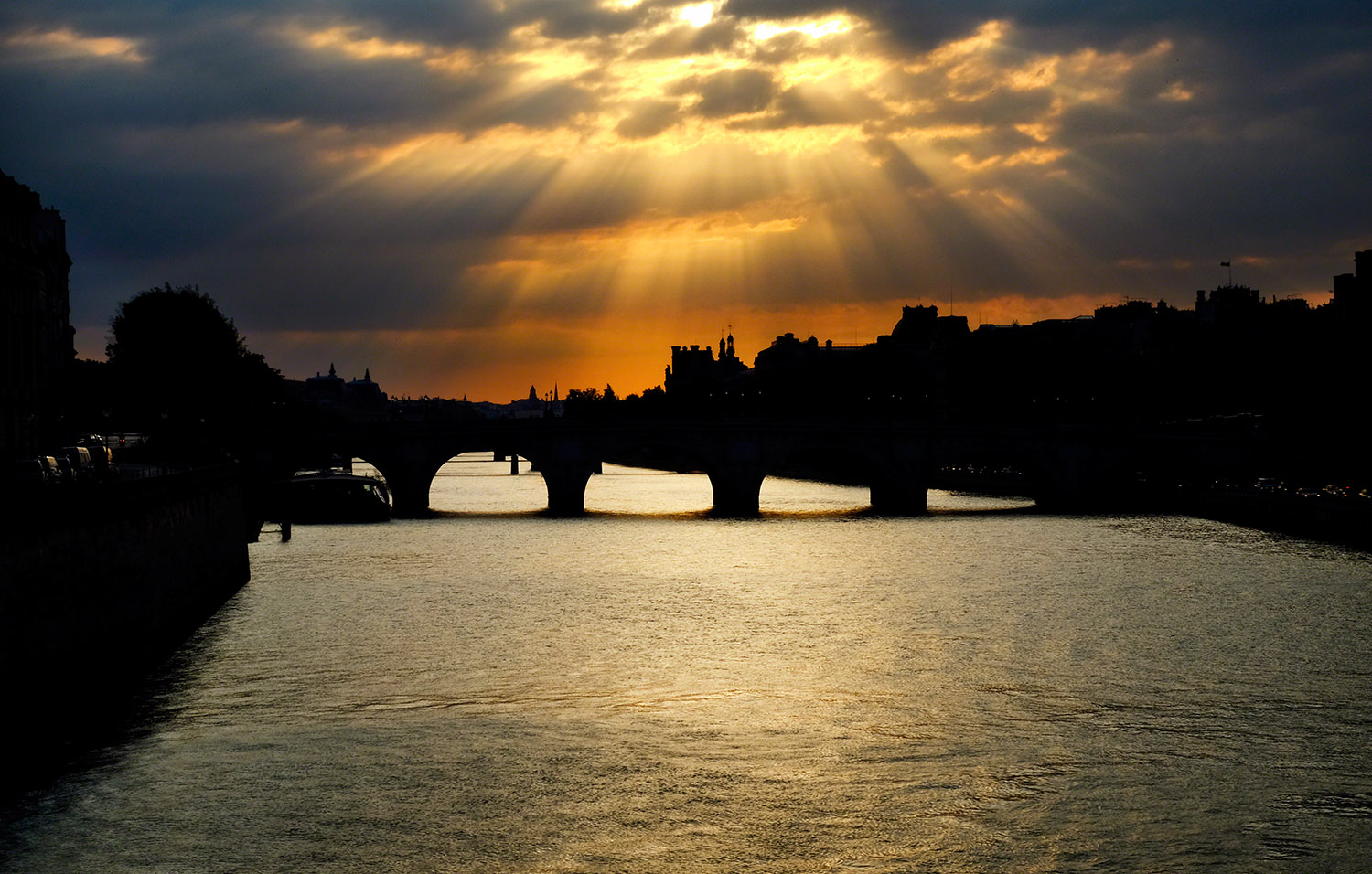 7 or 8 shot pano, stitched together later.  Fuji X-T10, 16-55mm f/2.8 lens. Standing on Pont Neuf, looking south.