A World of Panorama
"Panorama" is defined as: "an unbroken view of the whole region surrounding an observer."
I like this notion. It feels good, generally.
And I've always liked panorama photographs. I think alot of us do.
I've always heard what a pain in the ass it was to make them though… and how time consuming. It made me shy to try for a really long time.
Well, I'm amending my previous stance because I'm starting to fall in love with the mighty panorama. Making them, I mean.
I've been dabbling. First with my iPhone, which I've been doing for years. My iPhone 6+ kind of kicked that into new realms… with images like this from France, for example:

But even the iPhone 5 that I took to France did a decent job over in France:


Go Big: The Day Has Arrived
Of course, creating panoramas is common amongst fine art photographers who do large prints… so I knew the day was coming for me.
Apparently, that day is has arrived. The fire is lit… I'm IN!
Truthfully, I've been making panoramas quietly for awhile, just practicing, seeing if I'd love it or hate it. Till now, I've been using my regular Really Right Stuff BH-55 ballhead and Photoshop when I do. (Start with what you got!)
Of course, the problem is, there's some adjusting to do once the pano image is created… because regular ballheads create a parallax distortion. That's where the image bends, or part of it leans in and look all wonky. Sometimes I actually like that… in which case I'll use my wide angle lens and let distortion reign. Then again, sometimes the scene is too just big, even for a super wide angle lens.
The panorama images such as I envision need to stand up for themselves and be straight – and I ABSOLUTELY need for the process to be simpler and quicker than ever. I had no idea how timely my wish was!
Cut to now:
Specialized gear, YOINKS!! This was another reason I waited to so long. I wanted the creative need and desire to require the investment and fuss. Now it does! So, I just invested in a Really Right Stuff pano head. Pricey, but is the right tool for the job I have in mind. It gets assembled this weekend; my friend Peter Adams gave me my first lesson last weekend. [rubs her hands together with glee and anticipation]
I purchased Auto Pano's software. Photoshop's Merged panos are really good… they've improved SOOOOOO much since I first tried using them a few PS iterations ago. But Auto Pano takes it to a new level of ease and accuracy, especially helpful in the case of hand held panorama images. Hey, I'm trying to create MORE time for myself in my life, not find more reasons to sit in front of a computer! This all helps.
I got fired up to get all this up and running now because y'know what? I'm itching to dig into landscape photography with my Fujis… and Monsoon season will be upon us before long! Woot! That means outrageously awesome light and skies for landscapes. The Lake Tahoe and the Sierras region beckon!
In the meantime, here are a few I did in France… all with either the Fuji X-T1 or X-T10, as noted. They took my breath away at first glance… more time saved, because the images simply exceeded themselves.
---
You may have seen this one, but it was the first handheld panorama I did – it was 6 or 7 images, I think – stitched together in Photoshop.
Fuji X-T10, ISO 6400, 16-55mm f/2.8.


From the top of the Pompidou Centre. 9 handheld images, stitched in Photoshop.
Fuji X-T10, ISO 1000, 16-55mm f/2.8.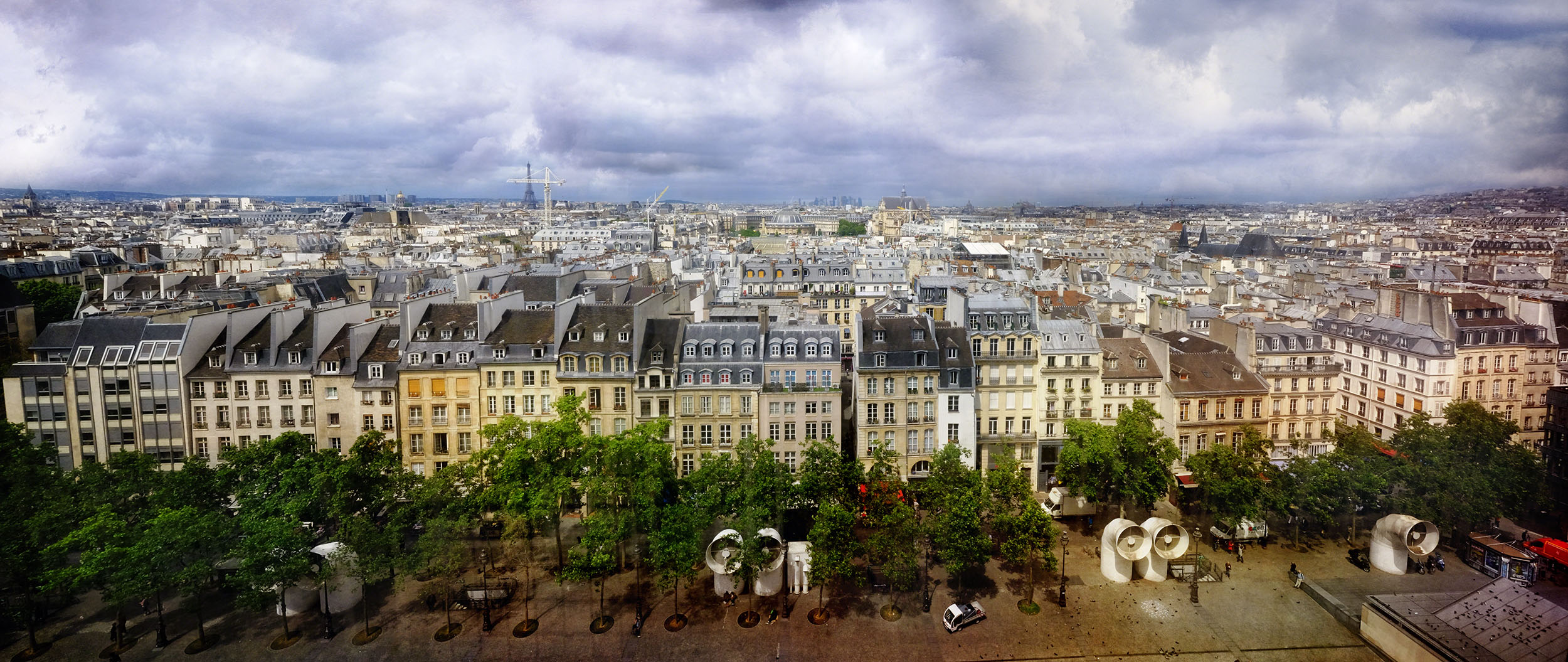 From the top of the Sacre Couer in Montmartre; 11 handheld images, stitched in Autopano.
Fuji X-T1, ISO 1250, 10-24mm f/4.
NOTE: I literally gasped when I saw this done and at 100%. The clarity was stunning. I didn't do too much to this… it was a bit dark, so it had to be lightened up… and tuned the colors to my desires some. No sharpening nor much of anything else!


Honfleur Harbor. 8 or 9 images on a tripod with my RRS BH-55 ballhead, stitched in AutoPano. This is where you can see the parallax distortion; in the curve. Pano heads eliminate that sort of thing. On this, though, I really like it.
Fuji X-T1, ISO 200, 10-24mm f/4.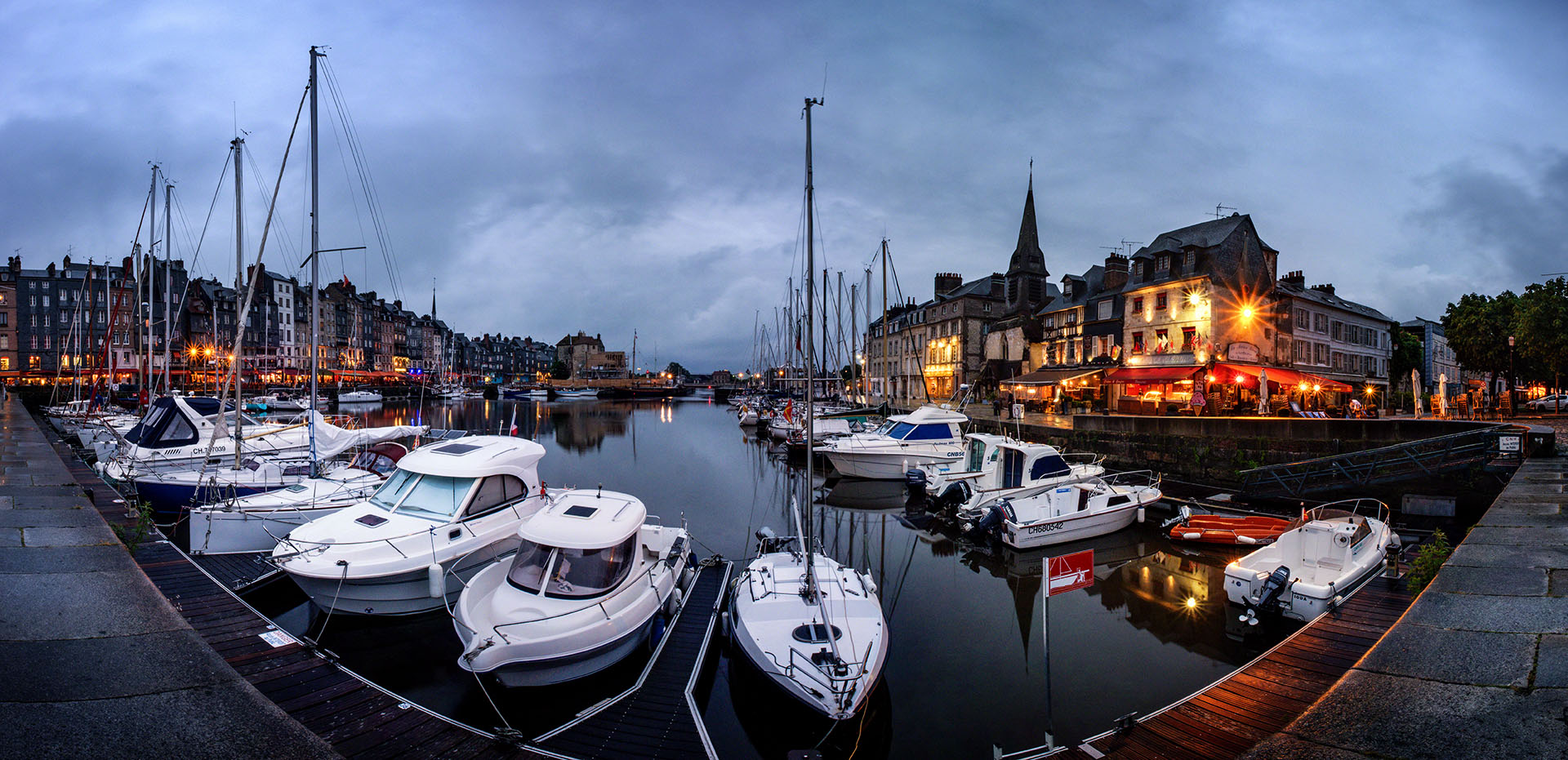 I love big, wide open views. I'm unbelievably stoked at the idea of getting to create more of them! With the tools I'll be using; Fuji for the most gorgeous base images I've ever seen, the Really Right Stuff pano head and Autopano software… this could be the start of something BIG!
Had to go there. Heh.