Can We Talk?
I'm going to talk a little gear today. Those of you who know me know I usually avoid this topic. Gear conversations in other places online typically devolve into name calling with a giant gooey dollop of puffy false bravado and well… snore. We don't do that here. Thank you for that!
I've been engaging is some gearspeak over the past couple of months, on account of my switch from DSLR to Fuji mirrorless. It's been a really personal journey and your response to it has been awesome. 😀 Think of this as part of that mindstream.
As you may know, after Fuji-cizing in Paris, the next big question on my mind was whether these cameras would make my heart go pitter-patter in landscape. Well, maybe I've just got palpitations, but I gotta say… YES! My jaw is still dropping at these images! And can I just say… lightweight is goooooood. I haven't been thrown down to the ground from the weight of my pack in weeks!! I almost miss it. KIDDING!!
Since being home, we've had the weather conditions that have had me out workin' it… so my test results are pouring in. Here's one… but believe me, more are coming!
Gear Is A Means, Not an End
Here's the thing. While I was in France my mind, heart and life shifted dramatically from the inside out. I went over there staggering from a major dose of burnout, my mind swirling, my heart mightily bothered. I came home with a completely new perspective on life, my art, purpose and direction. I'm going to be sharing more about that soon… it takes time for these life-shifts to settle into their new home in a way you can even talk about them, y'know?
How does this relate to gear? Simple. One part of this mighty shift involves a much bigger view. On every level! How that affects my photography is that I want to scoop up every morsel of the incredible things I see and experience. I'm talking about everything from going to a new place and shooting street photography, artful moments, scenes, architecture and countrysides… to an even bigger, grander, more glorious frame than your natural eye can actually take in all at once.
Really Right Pano Head
That latter part means Panorama to me. I've been dabbling with panoramas over the past year using my regular ballheads (Really Right Stuff BH-55 and BH-40)… and in France even did a number of handheld panos. I loved it! But to really dig into this view, this expansiveness-of-my-heart… it meant getting the right tool for the job; a proper pano head. I chose a Really Right Stuff setup, because it's simply the best for me. From the simplicity and accuracy (I'm not patient when it comes to gear. If it's hard to use, I toss it. Over a cliff. Literally.) to how smoothly it works, it feels like it was made for me.
We never do anything alone in life… so my friend Peter Adams helped me choose the right parts and get it set up. He's my pano mentor!
When it arrived, I totally geeked out and took a glamor shot of it. Cause I could: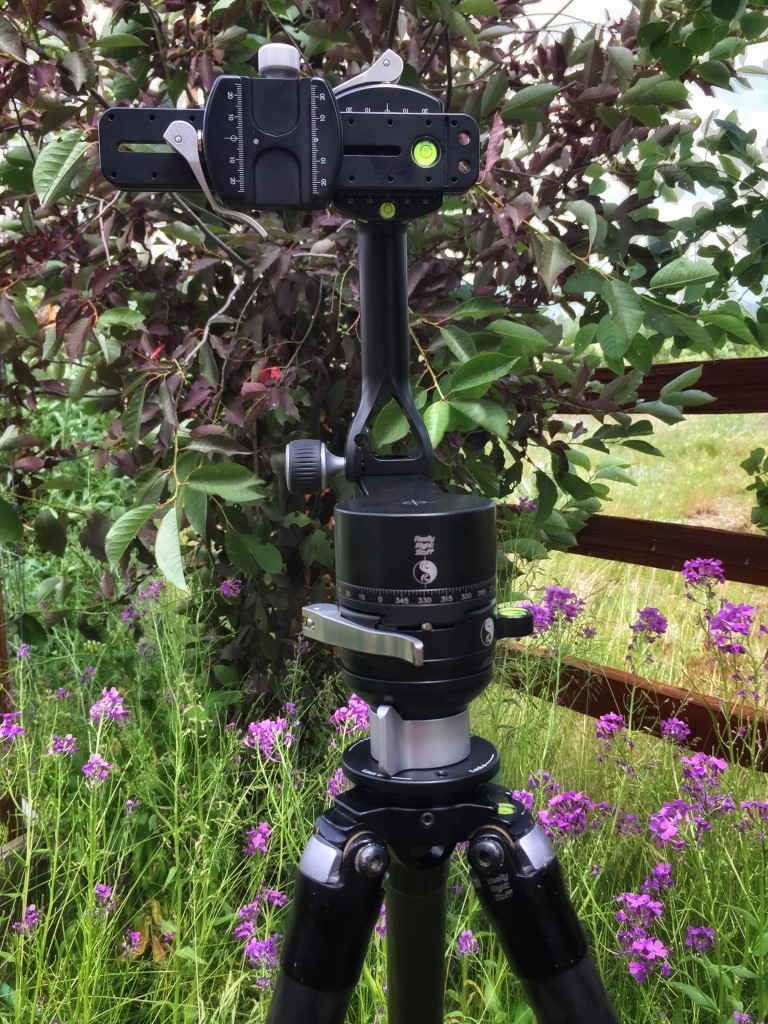 This is what it looks like at work:
A little "how it works" video done with Peter might be brewing. 😉

OK, now we're cookin' with gas! The pano head makes everything SOOOO much easier. One thing I vowed to re-tool in my life is how much time I spend behind a computer. Panorama images are painful if you have to do alot of adjusting after they're stitched. But if they're shot evenly and spot-on, they come together flawlessly and your work is just about done. This tool alone is probably saving me 30-45 minutes per image. Maybe more!
Filters. ACK!
The next thing I had to tackle was the other part of my vision: deep, rich colors, the ability to slow down water any time I want to and single-shot wonder. There are a few more qualities in my vision, but I don't know how to describe them yet. But they're yummy!
In the past, I've done alot of HDR. I love processing photos (still do!) and HDR allows me to do all kinds of wizardry with light. My Canon gear allowed me drop down to ISO 50, so that covered alot of territory as far as stopping things down.
Fuji RAW images stop at 200 ISO. There's a whole thing about "native" ISO, which I'm not getting into here, but many cameras are natively ISO 140-200 at their lowest. The lower ISO's are manufactured inside the cameras, at some cost to the final image. (I only learned that recently, so don't feel dumb if you didn't know that!) Fuji made a different choice in how they handle this part of camera construction, which I respect. You can shoot jpgs at ISO 100, but not RAW. This meant one thing to me: Filters!
I've always hated using filters. Historically, they've been such a pain in the ass to set up, plus you're so confined.  I'm always afraid I'm going to drop them (mostly because of the stupid holder designs. I never even felt confident that they were attached properly.). Plus filter-users are an arrogant lot, by and large – with a few exceptions. When they're like that, they bore me to death. Those were just a few of my litany of reasons NOT to use filters.
But here I was… needing to use them. Sigh. But then it occurred to me: hey, you're going to spend time at one end of the photography dealio or the other, so take your pick. Either spend time processing photos behind a computer (which I'm whittling down)… or spend time in the out-of-doors on your feet setting up a bit of gear for a shot you won't have to process so much later on. Still, my biggest speed bump was the holder. Every single one I've ever used deserves the flying fling over the cliff.
Enter LucrOit
Then LucrOit was born. A holder with no moving parts, that snaps in place in 5 seconds, weighs next to nothing, that you can't break and won't fall apart? I'M IN!! LucrOit is a new company… a father-son team in Spain. I'll admit it, their website isn't the absolute clearest thing in the world, but I'm sure it'll improve. When my friend Barry Blanchard and I get together, we're even talking about making simple video to explain some stuff about these holders to make it all easier. They're GENIUS!!! Barry introduced me to LucrOit and is my filter sensei. 😀
I ordered LucrOit's simple kit in 100mm to get started.
Again, my inner geek had to celebrate with a snap of the boxes: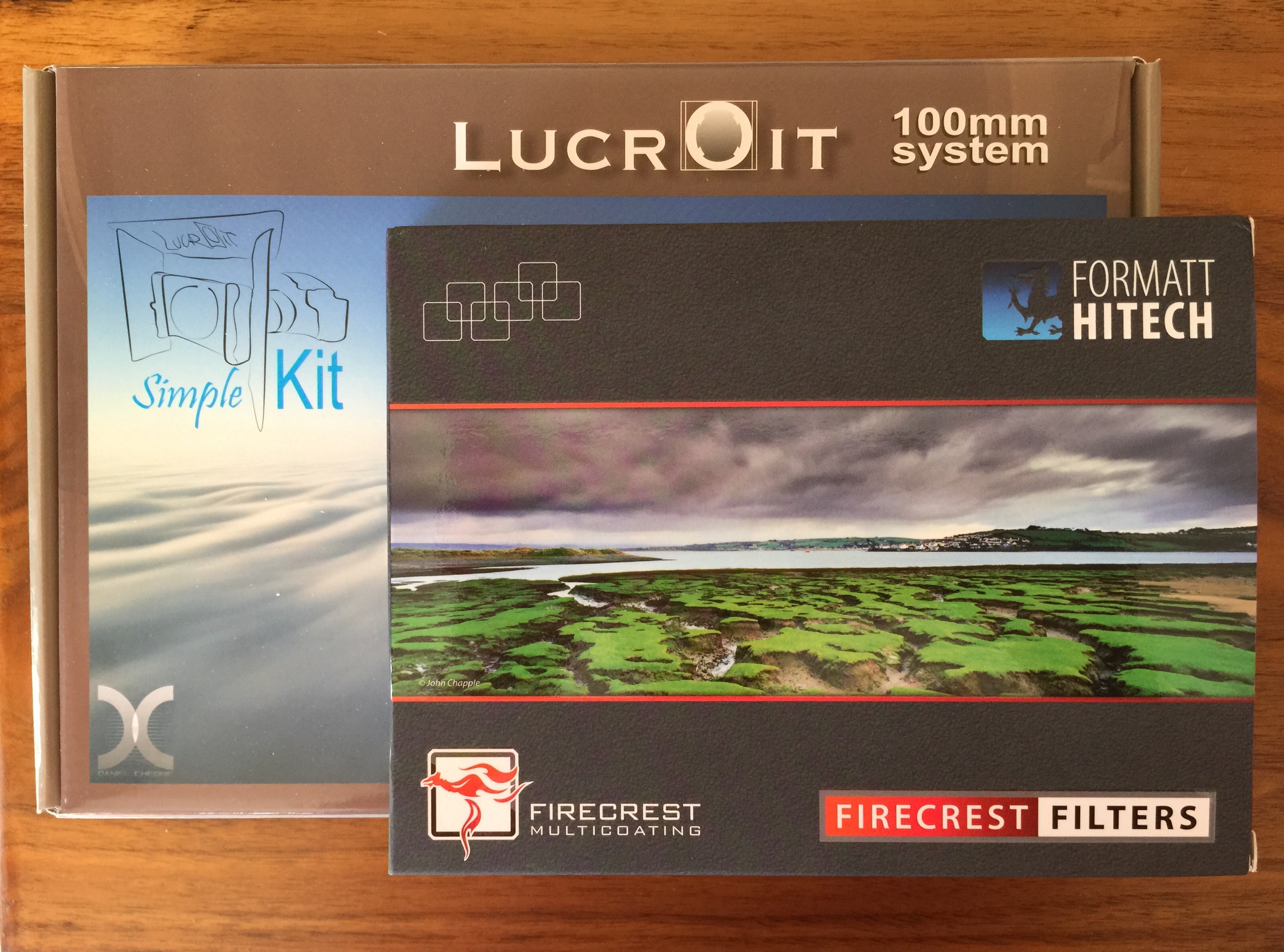 Glass Filters, Baby!
Finally, for me… it's glass filters all the way. I've never liked anything made out of resin and I'm not about to start liking resin filters. Besides I scratch everything, so ix-nay on the esin-ray. Formatt Hitech Firecrest filters are where I'm starting… I expect to love them. I'm starting out with recommendations from Barry and other friends, so I don't have big fat opinions on them yet, other than to say it's all working out great so far. The whole system I've put together (with help!) is easy peasy lemon squeezy.
I'm starting with two Graduated Neutral Density Filters (GND): 2-stop and 4-stop. Oftentimes, all I really need to do is bring the sky down a little so that I DON'T have to bracket. For my set up, I got the 100mm (which fits Fuji) and the 150mm long verson. The 150mm length gives me more flexibility than the shorter lengths do; sometimes I want the density to come down into the frame more, sometimes having it only up in the sky is right. I need fewer filters this way… another goal!
I also ordered two Neutral Density (ND) filters which have yet to arrive: a 3-stop and 6-stop. This will help me slow down water during the day, for one thing. And bring down the light some on really bright days. I can double them up if I need even more darkness. After that: I'll see what gives from there.
Thing is, I don't want to need a Sherpa for all this frickin' gear! It's funny how I lightened my load in camera weight… only to add gear mass. But I'll tell ya one thing… I'd NEVER have been able to handle ANY of this if I also still had to haul my big ass Canons up a hill. Mirrorless wins the day there! In fact, the other day, I had my filter rig, a tripod, two cameras and two lenses and hiked up to 7500 feet in the Sierras. It was no biggie… I barely noticed I was carrying anything! Granted, I don't necessarily carry the pano head everywhere… it's a little heavy and cumbersome for some of the places I go… but not too many.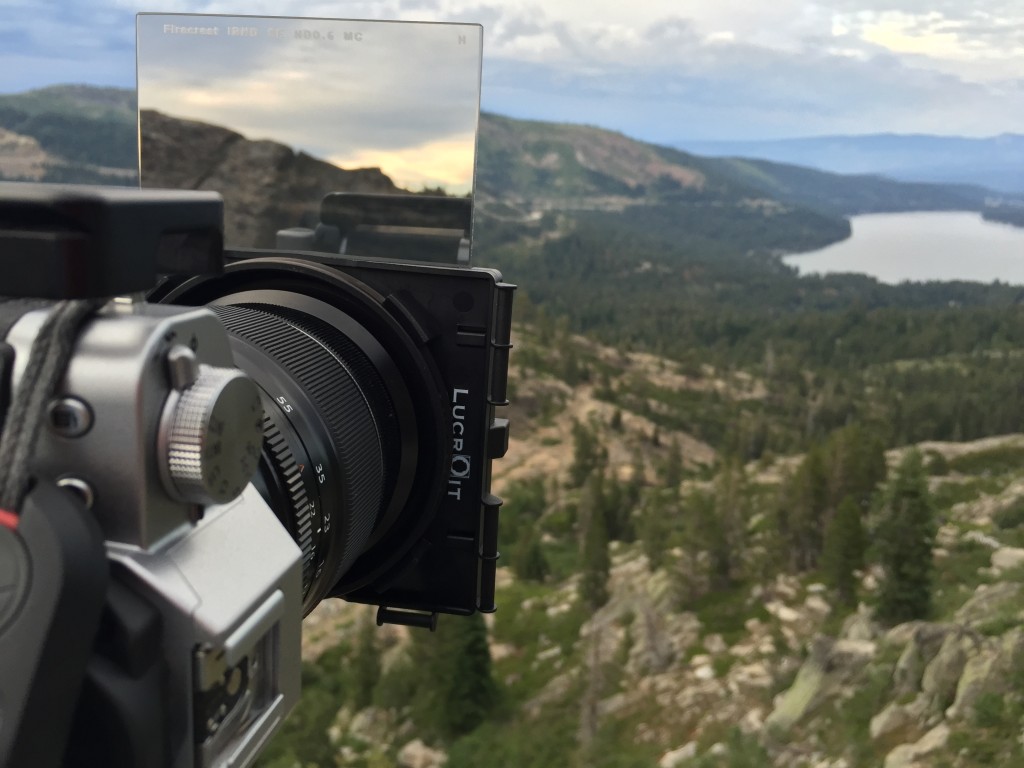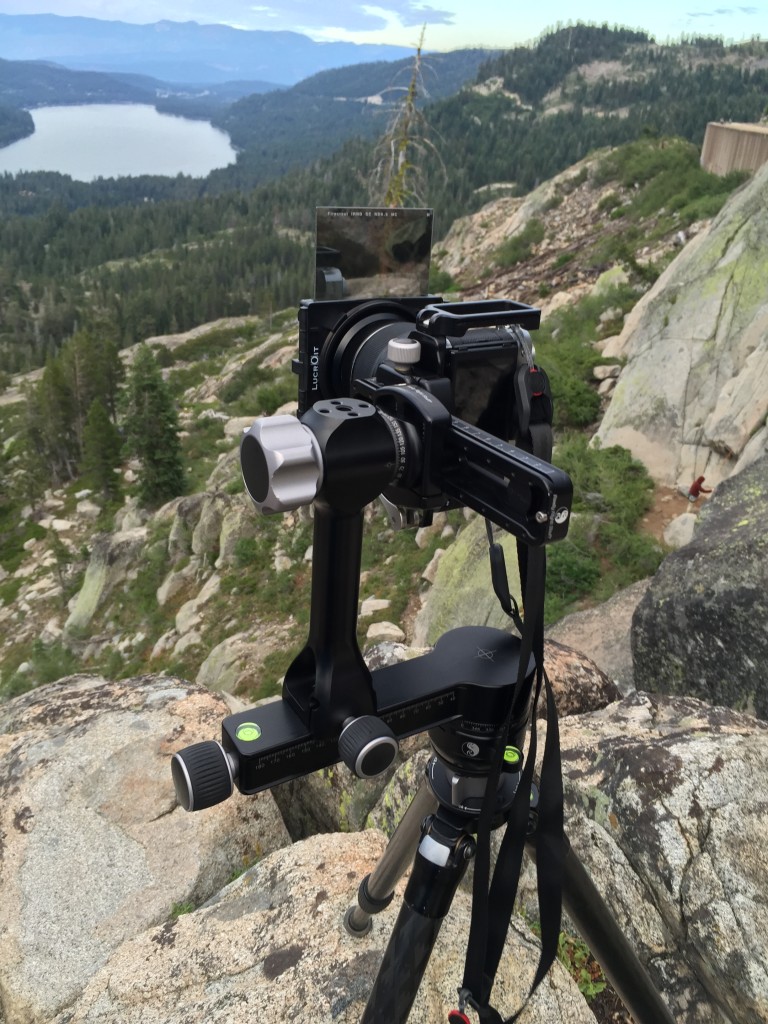 Oh, and here's a visual as to why weight matters to me:
My hubs took this iPhone pano on the 4th of July, as we were setting up for sunset and later on, fireworks. That's me over to the right. This is not a place to feel unbalanced or need help shlepping your gear! And it's just an example of what I like to do when I'm home. But lighter weight cameras and filter holder make this sort of thing totally do-able. I even hauled the pano head up here! And we hiked out afertwards in the dark with headlamps. Fun!

The Moral
Oh heck, there's no moral! I just know alot of people have asked me how I'm getting on with Fuji – what kind of gear I carry now – and all that. I wanted to share the latest developments… but more, I want to make it clear that all of my choices are driven by what I feel in my heart. By what I want to say, what I have to BRING to all this.
I don't give a pack of flying monkeys what anyone else is doing… this is MY journey and the decisions made from a real place in me. I suppose if there were a moral – or at least an ongoing theme – around here, it would be to always focus first on what your message is. What YOU want to say, what kind of experience YOU want to have… and let gear, tools or WHATEVER it is you need to carry out that worthy mission support that.
Then let everything else go. After all, light wins in the end. 😀