Free Stuff, Oh How I Love Thee!
This summer, I feel like the 4x Prize & Giveaway Queen. Hehheh. And because hosting, supporting, being part of awesome giveaways is a HECK of alot of fun, I decided I needed a superhero name.
Maybe… Hope Summers? Light Lass? Longshot? Juggernaut? I usually make up my own superhero names, but found these on this page, which claims to a "List of all superheroes and villains"… but I know that's not true, because two of my faves from the X-Men series; Rogue and Storm are missing. Annnnd I digress. Per usual 😉
Be that as it may, today I'm laying all 4 chances to win a slice 'o awesomeness at your feet. I was going to call each one of these out in separate post… but then I started to lose track, so decided to go big or go home and post 'em all today! Here we go…
---
1. The KHutt Caption Contest – Ends Sept 1, 2015
Prize: Fuji X-T10 camera kit with 18-55mm lens.
You have to be a subscriber at THIS website to enter this one. If you're not yet, just sign up with the form at the top of each page on this website. Remember to watch for the confirmation email when you do… it's the gateway to the contest page with the lowdown on the rundown!
If you are already a subscriber and haven't yet/want to enter… you should've gotten the newsletter I sent out last week with the rope-a-dope. If not, check your inbox and spam folder – it's probably lurking in there! Otherwise, contact me.
---
Prize: Fuji X-T10 camera kit with 18-55mm lens
I'm judging this very peaceful, soothing photo contest over on Viewbug; one of the largest, most popular photo contest sites on the interwebs.
They now post a short webinar/interview with each judge on every contest page, so you can get an idea about what each is looking for. It's cool – because it allows you to have a clue about what you might want to submit!
To check this contest out and sign up, click here or on the image below: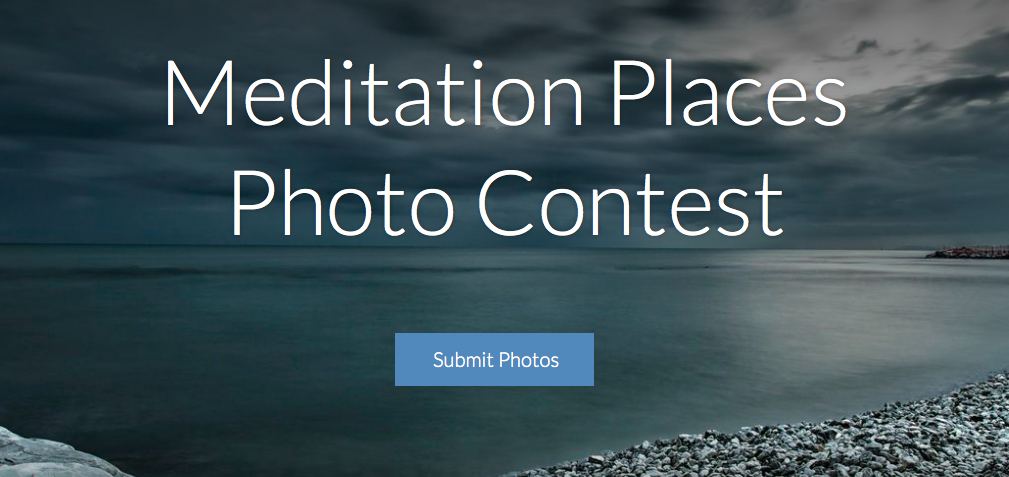 I really like the Viewbug philosophy, because they offer a wonderful opportunity for photographers of all levels a place to be seen, heard, win some cool prizes, find an audience, learn and support one another. In fact, I did a Quick Chat with Ori Guttin, one of the founders of Viewbug last year in San Diego. He explains it best:
---
Prize: Fuji X-t1 camera kit with 18-55mm lens
My friend Ken Kaminesky is judging this one. If you aren't familiar with Ken and his work – you should be! He's one of the coolest dudes I know. Co-founder of Dream Photo Tours, he is a fabulous, inspiring photographer and blogger… and one of the most abfab people I know.
You can also blame him for getting me started on Fuji! hehheh.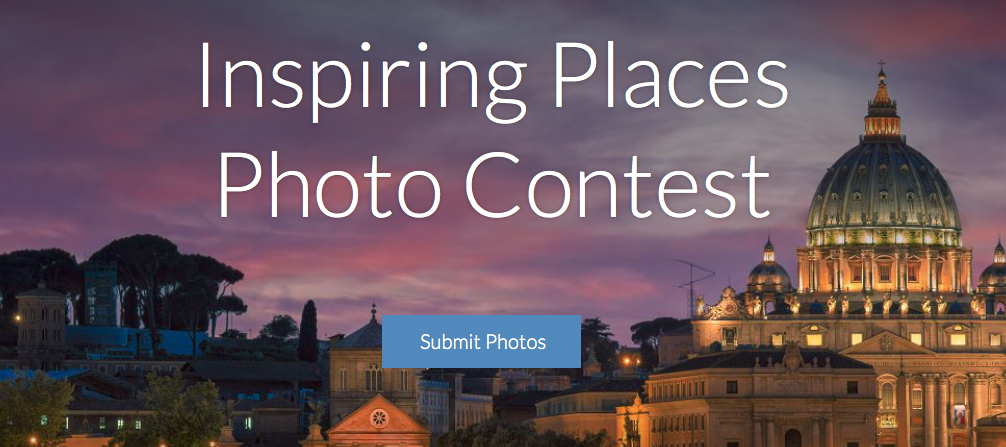 4. 5DayDeal's $50,000 Giveaway – Ends Sept. 10, 2015
Prize: $50,000 worth of photography goodies
I announced this one in an earlier post, but I'm going for consolidation now… so now it's here too.
For this one, I donated a $350 coupon good towards any print from my Online Prints portfolio. I've never done that before! But I think this might only be the beginning… 😉
Have you heard of 5DayDeal? If not – and you're a photographer – you'll want to check it out! It's a bundle of photography tools and learning content that would normally sell for ALOT of money, that goes on sale for a fraction of that… for 5 days only. That happens in September – and you can bet I'll share more as it gets closer.
But for the month leading up to that big sale; a $50k giveaway. Just click here or on the image below to go to the website and sign up for your chance to win.  It ends on September 10, so go git it!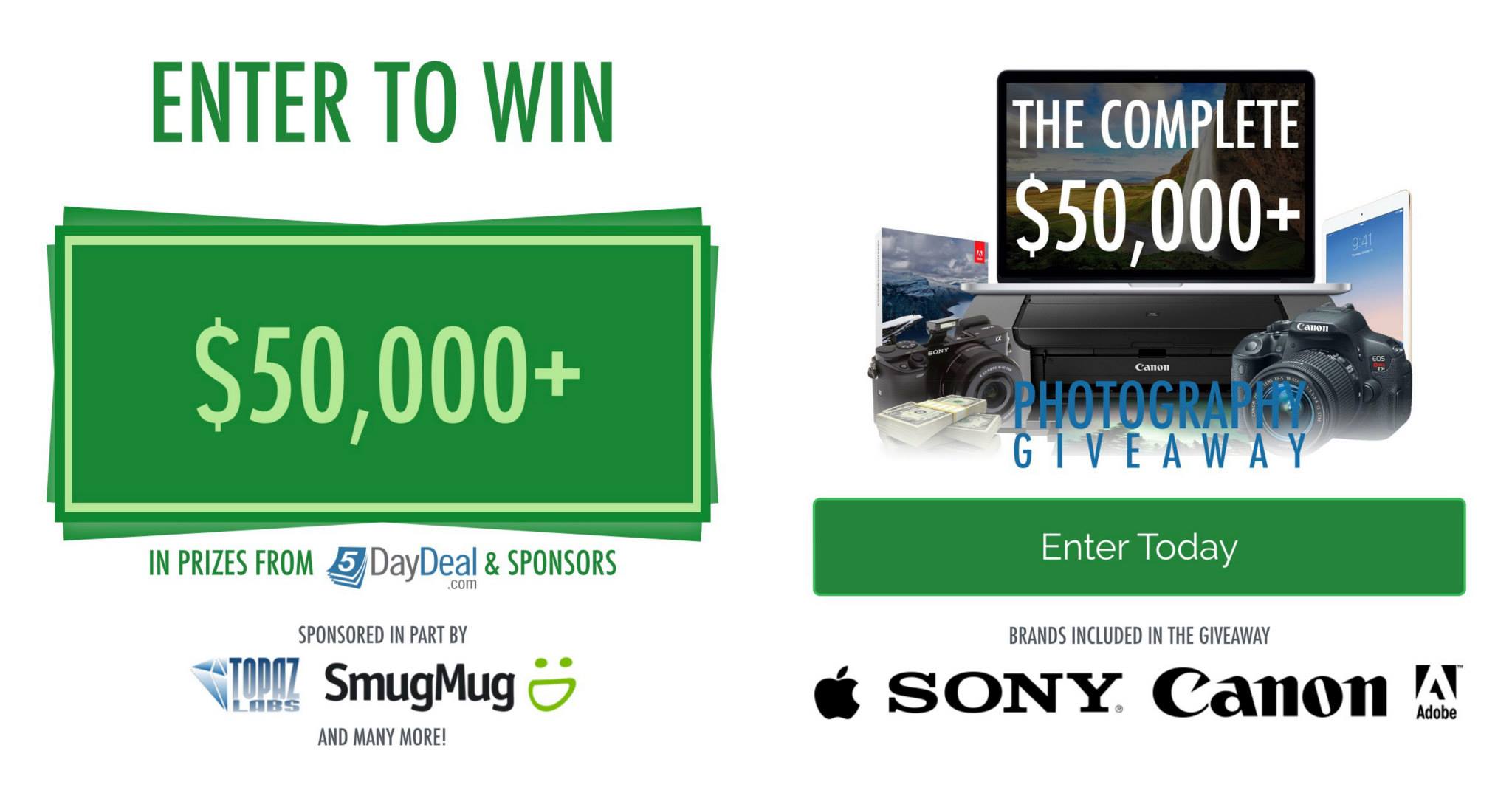 ---
And remember… you can always find discounts every day at Macphun (15% off with code: KHUTT) and SmugMug (15% off the first year of any subscription). Yep, it lands a few coins in my pocket… but it gives YOU even more savings on some fab resources.