How I Instantly, Painlessly Dropped 7 Pounds On The Mirrorless Diet!
Guffaw! I never thought I'd write a headline like that. BUTT… you asked. I listened.
I'll keep it short (mark this day on your calendar!).
Hey, You Asked!
You asked: "Would you show a side-by-side comparison of your DSLR vs. Mirrorless set up so we can see the difference?"
I answered: "Why sure!" So.. here it is: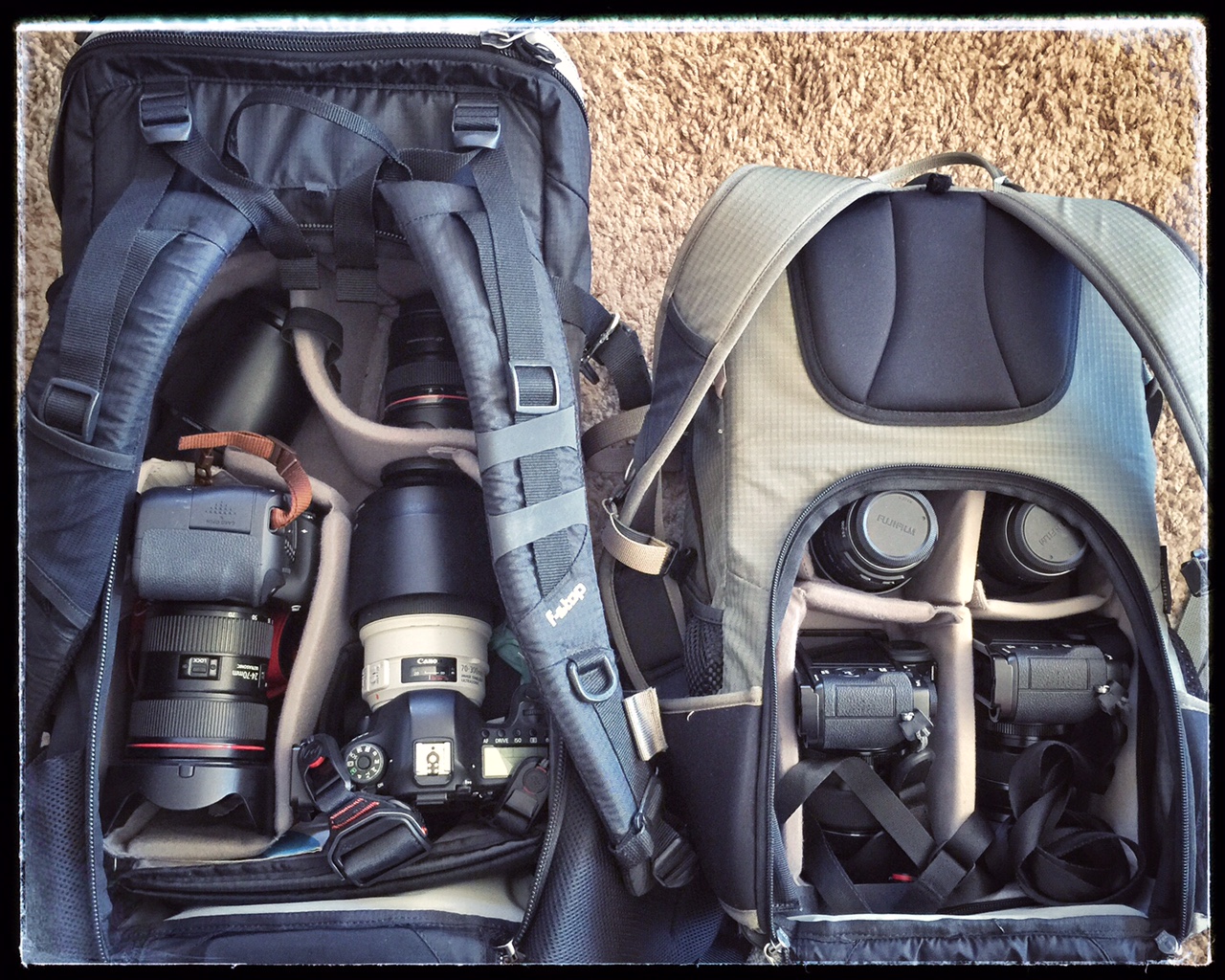 DSLR vs. Mirrorless: The weight factor
To keep it clean, I mirrored the rigs. I aimed for a landscape-centric configuration, mainly because I already had right bags for each team. I included JUST the cameras and lenses, no additional filters nor any of those other extra bits 'n pieces we all throw in our bags. I used a luggage scale that has proven itself worthy in the accuracy department.
On the left:
(2) Canon 6D's
(2) Really Right Stuff L-plates
5 batteries (including the ones in the cameras)
24-70 f/2.8 II lens
70-300 3.5-5.6 lens
14mm prime lens
100 mm f/2.8 Macro lens
(2) Peak Design camera straps
f-Stop Tilopa bag

TOTAL WEIGHT: 18.3 pounds 
On the right:
(2) Fuji X-T1's
(2) Really Right Stuff L-plates
8 batteries (including the two in the cameras)
16-55 f/2.8 lens
55-200 f/3.5-4.8 lens
10-24 f/4 lens
60 mm Macro lens
(2) Peak Design camera straps
f-Stop Guru bag:

TOTAL WEIGHT: 11.1 pounds
Weight Loss Made Easy!
Voila! 7 pounds GONE instantly!
Of course, I don't carry a big old backpack in Paris. How gauche! How non-stealthy! On all-day walkabouts there, I go commando with my Crumpler 5 Million dollar bag. And I don't carry ALL my lenses every time I go out landscape shooting, either. Sometimes I trim the herd, especially if I'm going to be hiking many miles. In both cases, I go way lighter than what I'm showing here. I just wanted to demo how the whole kit 'n caboodle looked like, nose to nose.
Of note:   with my Canon set up, I can't easily include filters, holders, nor extra layers to speak of. With my Fuji gear in the Guru backpack, I usually have 3 filters, plus my Lucroit filter holder system in their own cases stashed in the top, a bottle of water in the holder on the side, an extra layer or two stuffed in there and it STILL feels light!
So there you have it. One girl's story of instant and dramatic weight loss success.
[the crowd goes wild]
Grin.