Desert Heat & One Hot Sale
Valley of Fire
Deserts in general are mystical to me. Otherworldly. Paradoxical. And crazy photogenic! I don't think I'd choose to live in a desert world… but holy wow, I am just completely awed into silence (riiiiight??) when I step into one so magestic and magical as Valley of Fire, just outside of Las Vegas.
I visited there most recently when I went to Photoshop World last month. I went with my brother-from-another-mother Barry Blanchard, his new wife Traci and friends. Barry is like the unofficial ambassador of VOF. He loves it really, really hard – and knows better than almost anyone. Seeing it first through his eyes when he introduced me to the place a few years ago taught mine to see things differently there. I LOVE when that happens!  It changed my perspective completely. And took my breath away.
Valley of Fire is unique. It's alot like the other, more popular desert-y spots in Utah and Arizona… but MUCH less visited. You really have to make friends with the place. Love it. Quietly applaud it, so that – just like Tinkerbell – it comes to life before your eyes. Those same eyes that take a little patience and tuning to see it all properly. Mind you, I'm still working on mine. But I think I had a little breatkthrough this time:
Oh yeah. Crazy love that place!
Applauds.
Valley of Fire blushes and turns a little redder.
Grin.
The 5DayDeal Starts TODAY!
NEWSFLASH: The photography bundle that is (in my humble opinion) the BEST deal out there starts TODAY at 12 noon PT!
It's an interesting concept: A sale that lasts for 5 days only, offering an insane discount on photography tools and stuff.
So here's my nutty thinking: y'know how there are these two photo contests coming up on Viewbug – where the grand prize is yet another couple of Fuji Cameras (I'm judging one, Ken Kaminesky is judging the other)? Well, maybe… just maybe… this is your chance to get some new chops, pick up some new ideas that'll help you slam dunk your entry into new realms of beauty and creativity?
I love it when things ties together. 😀
In any case, if you use this link (or click on the image below)… you can check it all out for yourself after it goes live at 12pm PT today. And yes, I get the credit if you use the link here. Just being open about that. TOTALLY your choice how you do it though… I'll love ya no matter what! Mostly, I want you to get the goods while they're available.. from today through September 15.
Here's a sneak peak: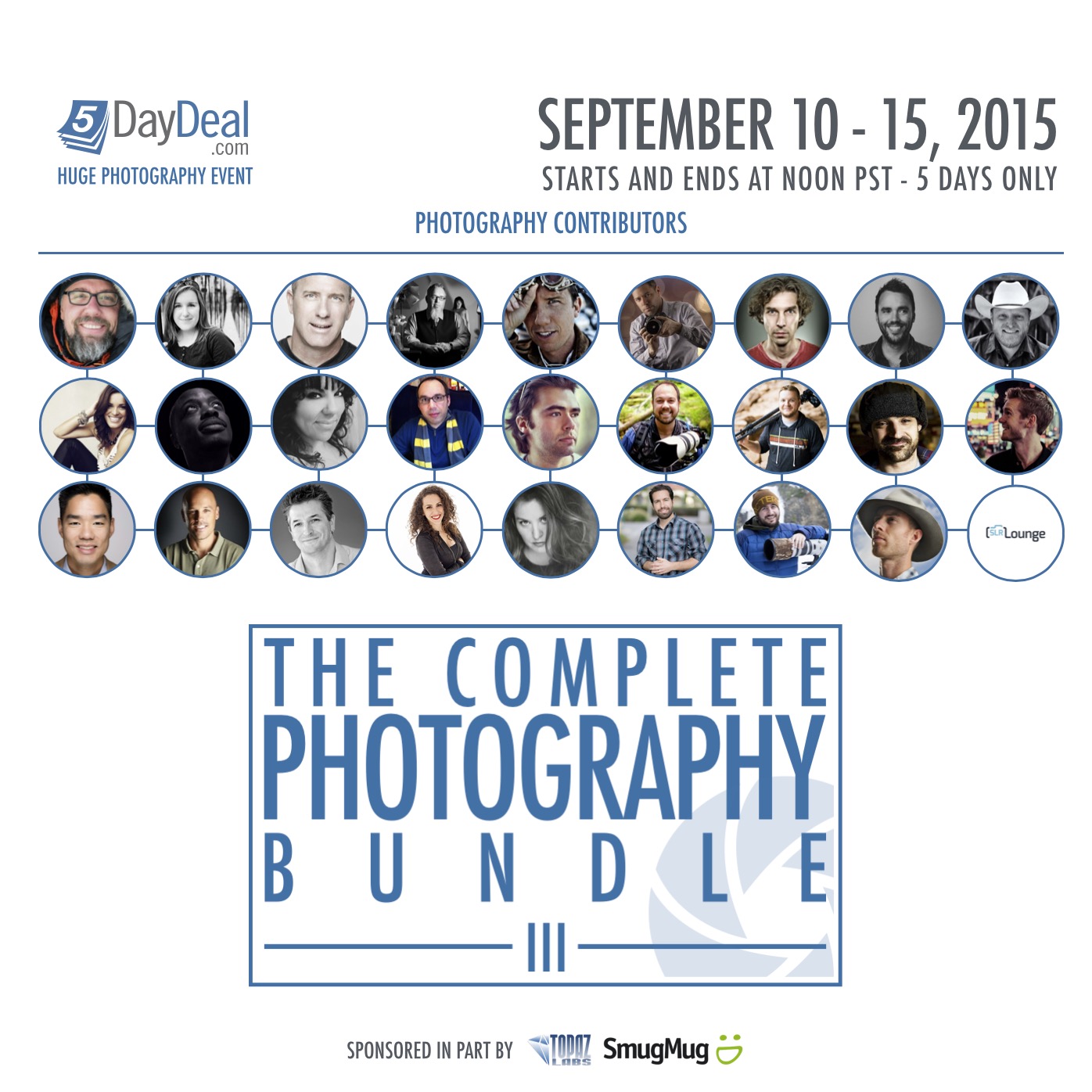 And with that, I'll bid you adieu!
I'm off to the airport to pick up one awesome friend: Tanya Wallis, on her first-ever trip to the U.S.!! More on THAT story soon… hint: you might need a hanky!