First Images With My New Fujinon XF50-140mm lens!
It just arrived. My brand new Fujinon XF50-140mm f/2.8 lens and 1.4x teleconverter. Giddiness has ensued. I'm like that.
A brand spankin' new lens is always exciting. It usually makes my heart go all a'flutter, I even get a little nervous. It's kinda like a blind date:
"What if I don't like you?"
"What if you don't like me?"
"What if you're too big and heavy?"
"Will we see eye to eye?"
"If I like you now, will I still like you a month from now?"
"What if we break up?"
Like everyday life isn't enough to worry about!
Focal Length & Weight?
I was more than a little stoked though, since this lens is from the Fujifilm Pro line. It's weather sealed, with a max aperture of f/2.8 and is serious glass. I knew all of that meant it would be heavier than my sweet little XF50-200mm f/3.5-4.8. After all, magic comes with a price. And I wasn't wrong.
The 35mm equivalent of the 50-140mm is 76-214mm. Obviously, that's less reach than my 50-200mm (35mm equivalent: 83-300mm), which makes me sad. I love the reach of that lens. But with the 1.4x teleconverter,  the 50-140mm jumps to a range of 70-196mm (or 105-294mm in 35mm equivalent.) That makes me happier. So at least on the focal length front, this lens isn't a deal breaker if I'm going to swap it with the 50-200mm.  WILL I swap? Dunno yet. We'll see. They may each have their uses for different reasons.
The wider aperture and weather sealing is definitely a super duper plus – especially when I drag it out into the snow and rain, which you can count on happening. The lens being made with metal gets two thumbs up too.
Those were all things that went though my mind as I opened the package. Then I picked up the lens.
My first thought: gorrrrrrgeous!! So lovely, so wonderfully built. Attention to details… love that. Yup, bigger and heavier than my 50-200mm, as expected. But not a monster nor imbalanced-heavy. And still lighter by feel than my Canon gear was, even with the teleconverter attached. Of course, that's a subjective assessment and you might disagree. We're all built differently and harbor different preferences. I didn't run over and look up each brand's specs to compare… I just wanted to go by feel on this.
I'm always torn – I want light and small. (I mean, if I could take pictures with my eyeballs, I'd do it.) But I also want superior, low-aperture glass and weather protection. When it comes to landscape photography, I'm always going to have to compromise on one end of the spectrum or the other. My own desires and preferences mean I'll usually opt for the sturdier, superior glass… and more weight. I'm fine with that, up to a point… it depends on what I'm doing.
If I have to backpack very far, or pack lean 'n mean for faraway travel in small bags… I'll probably grab lighter lenses. But for my gorgeous landscapes; oh yeah, give me something solid.
First Images
But hey, it's all lip service until you get out there and use the dang thing! My own true test means taking it out into the field a whole bunch of times. It's hard to tell anything for sure, standing there in the living room. So I attached lens /eleconverter to my Fujifilm X-T1, jumped into my car and headed out to Lake Tahoe for our virgin voyage.
The package had arrived late in the day, so I literally only had about an hour to work with. But I wanted SOME kind of first impression images… and I got lucky with the conditions. Not long till sunset, snow showers in the distance. The first two here were taken using my Really Right Stuff tripod… the third was handheld. All included the lens + teleconverter.
This image:
ISO 500, f/8
1/2400 sec
Focal length: 140mm
This image:
ISO 500, f/8
1/600 sec
Focal length: 98.2mm
This image:
ISO 500, f/6.4
1/500 sec
Focal length: 140mm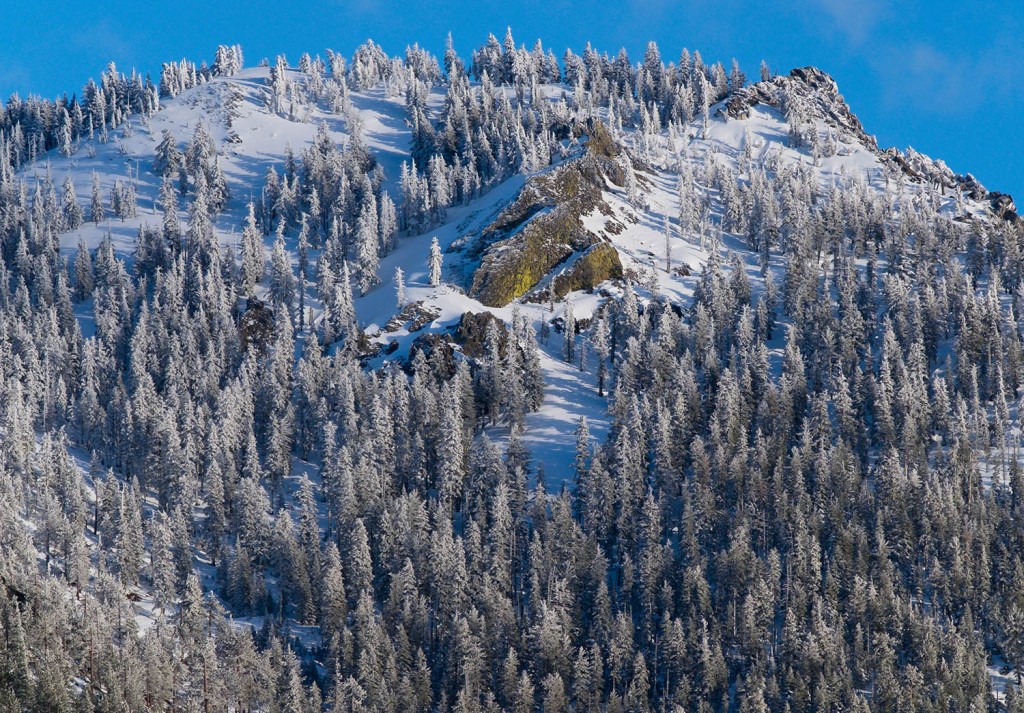 Like I say, I didn't have alot of time! But for a first pass, I'm super pleased with both the experience and the images. My street photographer friends would laugh at me; they get to use the teeniest lenses and cameras. But landscape photography is a different beast.
Based upon my first experience, I'm excited to use this lens more, to see what it has to offer and how it wears over time. I've seen loads of reviews, all sound great. But for me, proof of life will be a combination of image quality and the fun factor. My DSLR gear gave me tendonitis in my elbow and threw me to the ground more than once. I'll tell you one thing: I'm done hurting myself over gear!
I will say that as I clambered over big granite rocks and bounced off manzanita bushes (which is less fun and more challenging than it sounds!) – my balance was all over the place at times. At no point did my pack pull me off-balance, even with this lens in it. I was carrying 2 cameras (X-T1's) and 3 lenses(this one, a 16-55mm f/2.8 and a 27mm f/2.8), 6 filters and a filter holder set up, water, some extra stuff I always have in the pack, plus my tripod. I was pleasantly surprised that it didn't put me near the tipping point. So that's an EXCELLENT sign!
I'm taking this lens to Europe in a couple of weeks – so I'll have more to report as I use it more over there. Can't WAIT to dig in and create loads more images to share!