The 4 Reasons I'm STOKED!
Spring's on its way (even though we'll likely get lots more snow.). Normally that has me giddy all by itself. This year, there are 4 NEW reasons I'm stoked as it rolls around!
I'm getting ready to travel again – for 2 months! I can't wait! I'm in that "OMG, I've got so much to do before I leave!" mode and I don't head out for a couple of weeks yet. Hey, it's never too early to obssess a little… especially with so many cool things on tap. Here's the quick rundown…
1. The Artist's Voice Retreat
You know about about my photography retreat in Provence at Julia Child's house, mais oui? So excited about it! The Artist's Voice…  May 5-8, 2016.  As of today, there are only 2 spots left. Click here to learn more about it. If, after that, you think "HAIL YES I wanna go!!" and wonder if it would be a fit for you… well honey, just  Contact Me for more information!
This is Grasse, 10 minutes from where we're staying… (courtesy of Lonely Planet). We'll be visiting this historic town; the "perfume capital of the world!"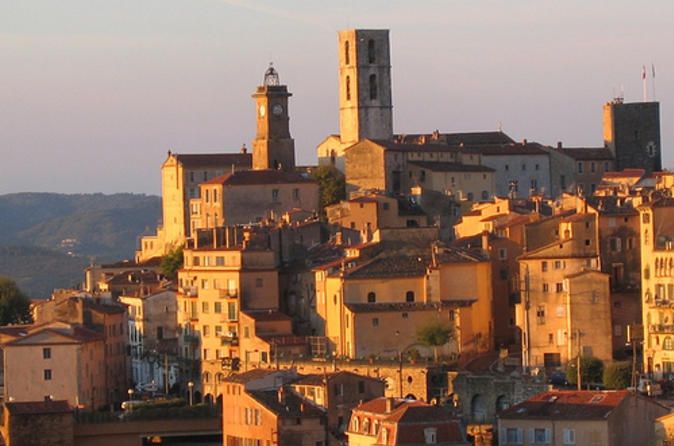 This time of year, airfares are surprisingly low… and car rental too! You could fly into Nice to land a half hour from Julia Child's house (which where we're staying)… but heck, you might want to fly in and out of Paris and take the train to make it a real adventure!
2. Postcards From Rome
The first stop on this 2-month travel adventure is Rome! I've never been to Rome before! I'm so excited it's a little embarrassing. But I'll get over it. 😉
I'll be spending 10 days with Valerie Jardin, while she embarks one of her world-famous workshops. We'll be photographing every day, of course, but there's a story too. Fujifilm is part of it. I'll have WAY more to tell you soon… but for now, the sneak peak is:  a tale of two professional photographers and great friends, a spirit of adventure and an indomitable zest for life, as told through photographs, video and words.
Like I say… wayyyyy more to come!
3. My New Podcast
Yep, it's happening. I'm starting a new podcast! It's going to be part photography, part travel, part inspiration… and all about finding your voice! I'll be posting a poll on Facebook soon, so you can chime in.  I want to hear your thoughts! (There'll also be some Q&A in the mix.)
In fact, we can start now! What would you like to hear about in a podcast? Tell me in the comments below… I read each and every one!
4. My New eBook 
My new eBook called "10 Steps to Finding Your Voice" is available right here in the store! It's been selling like hotcakes! Here are some screenshots: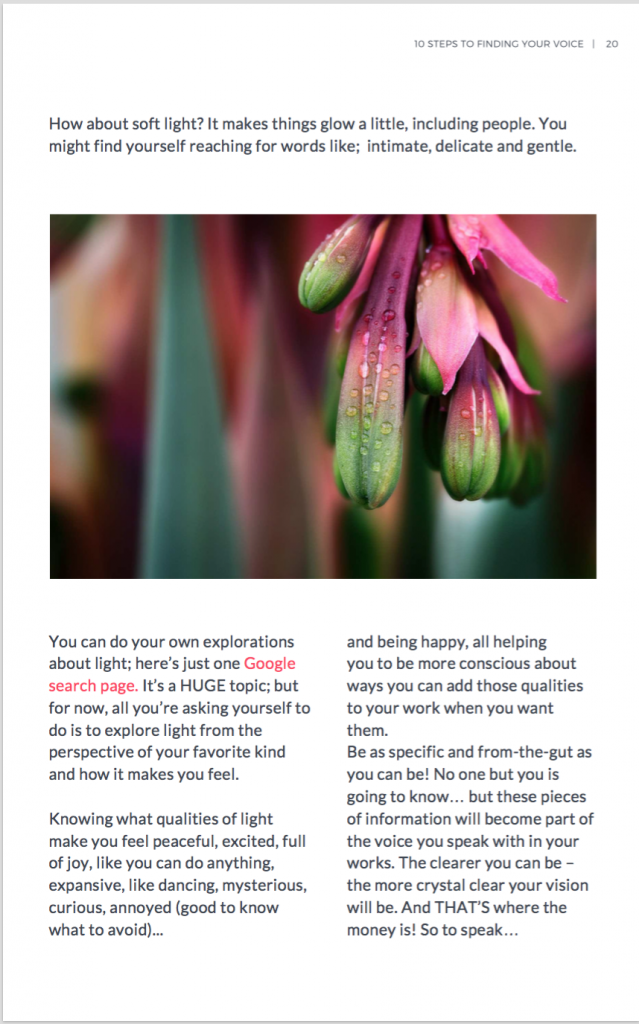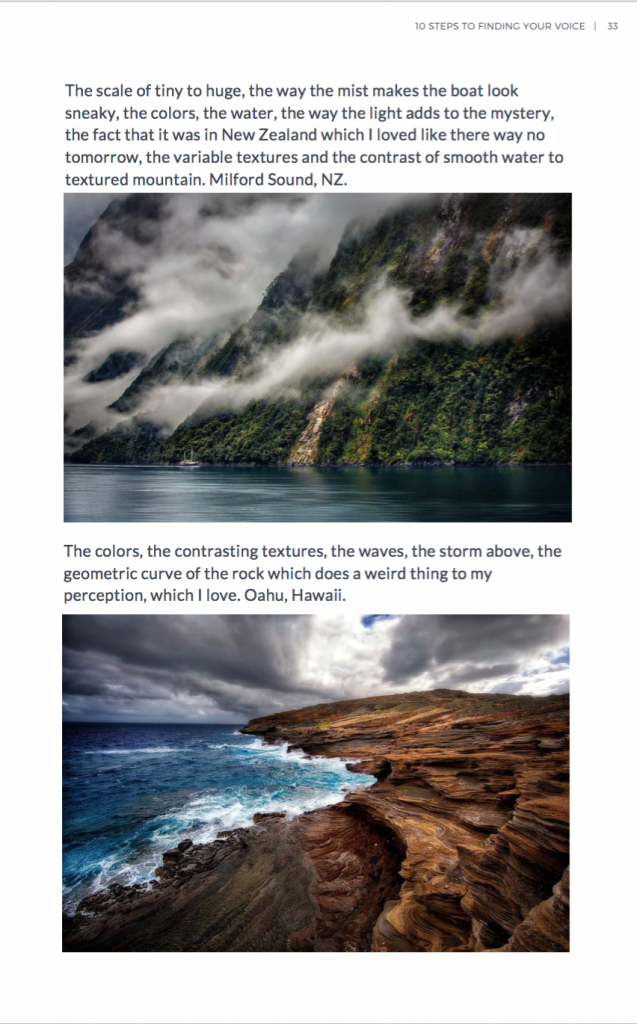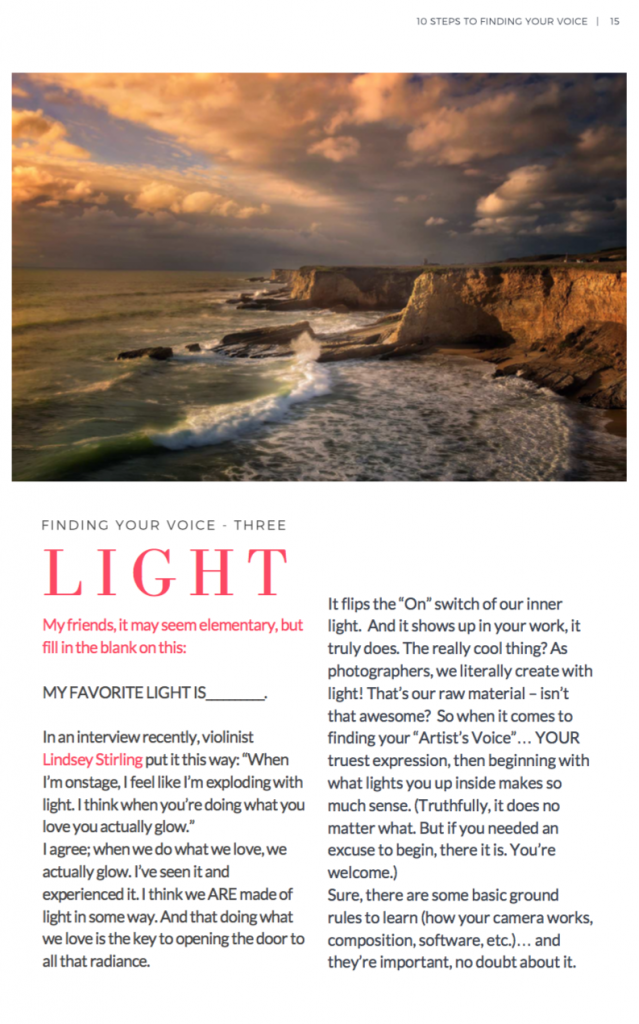 What's this book about? It's the first installment about a different way of creating signature images; by following the trail of what you love most, in a most particular way. It's a very specific, inward-looking process and journey, leading to totally tangible results.
Originally written as 10-Day series right here on this blog, we pulled it all together into one-stop, portable format, that's so pretty look at  – plus has some extras! I'll be sharing more about why and how this REALLY all came about… and a bit about the next one, due out this summer. 😀
OH – and I mustn't forget to mention; new articles are on the way too! I'll keep you posted on where and how to find those when they're live.
As you can see… there's a rumble in the jungle! I'm keeping this short, because I gotta run… there's so much to prepare!