Postcards From Germany: Hohenschwangau Castle

Today's "Postcard From Germany" is postmarked: Hohenschwangau Castle.  One cool thing about visiting Neuschwanstein Castle is that it's a 2-fer. One stop, two castles! Right next door to Neuschwanstein is Hohenschwangau. Just like people, parties and entrances – some castles are grander than others. This one isn't huge, but has history.
Though rebuilt by King Maximillion II in the 1800's and used then as the summer palace of the Bavarian royal family, Hohenschwangau was first mentioned in the record books in the 12th century. Until the 16th century, it was owned by the knights of Schwangau. Which seriously needs to be the name of a blockbuster movie.
When photographed with Fujifilm's "Miniature" Advanced filter on my X-T1, it looks just like this… and makes me feel like I'm looking at a storybook palace: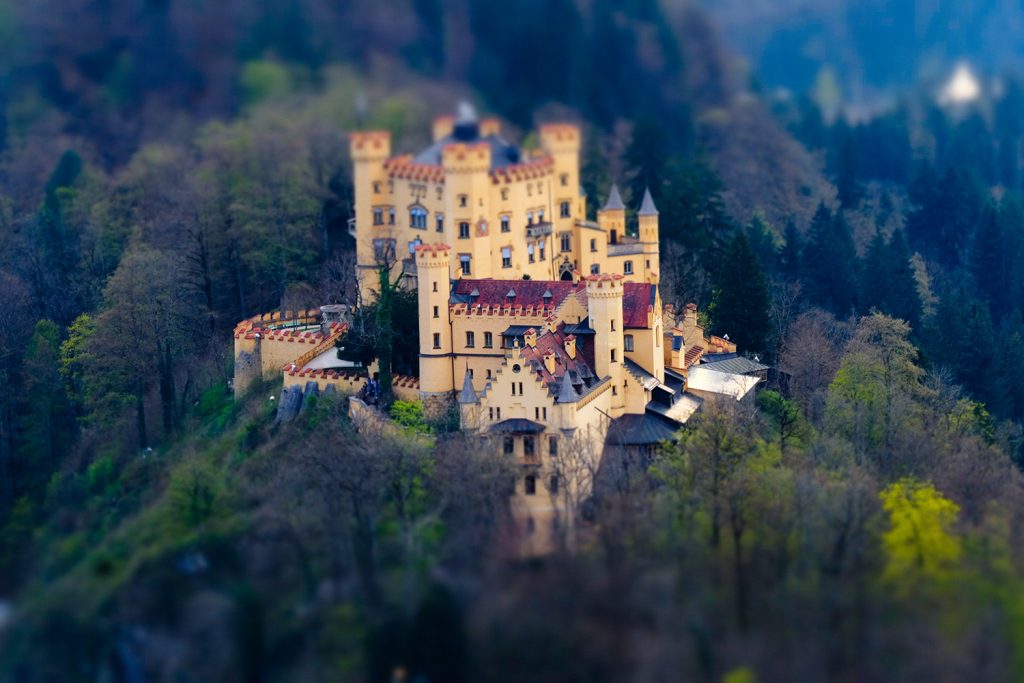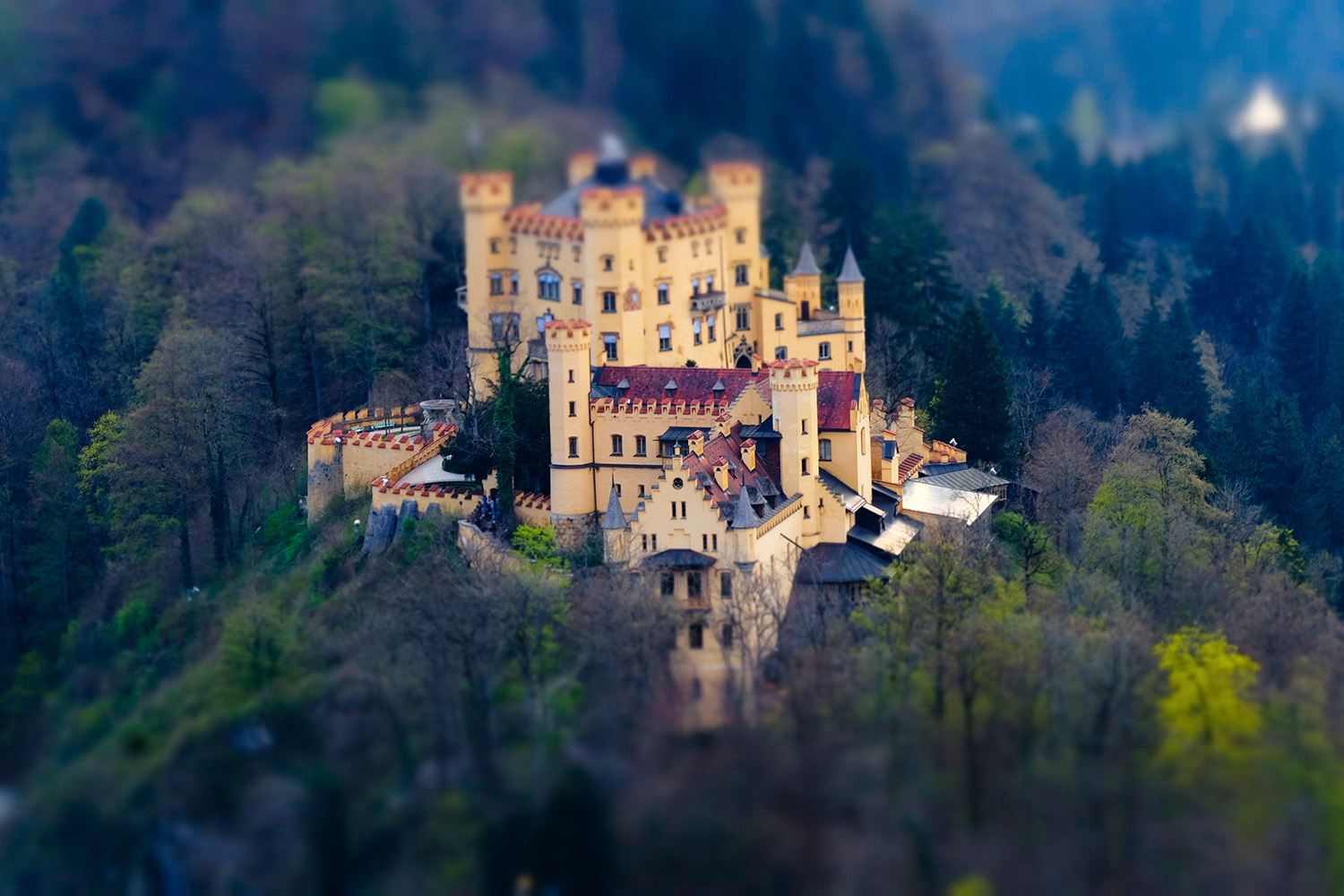 Hohenschwangau sitting in its surrounds is equally enchanting.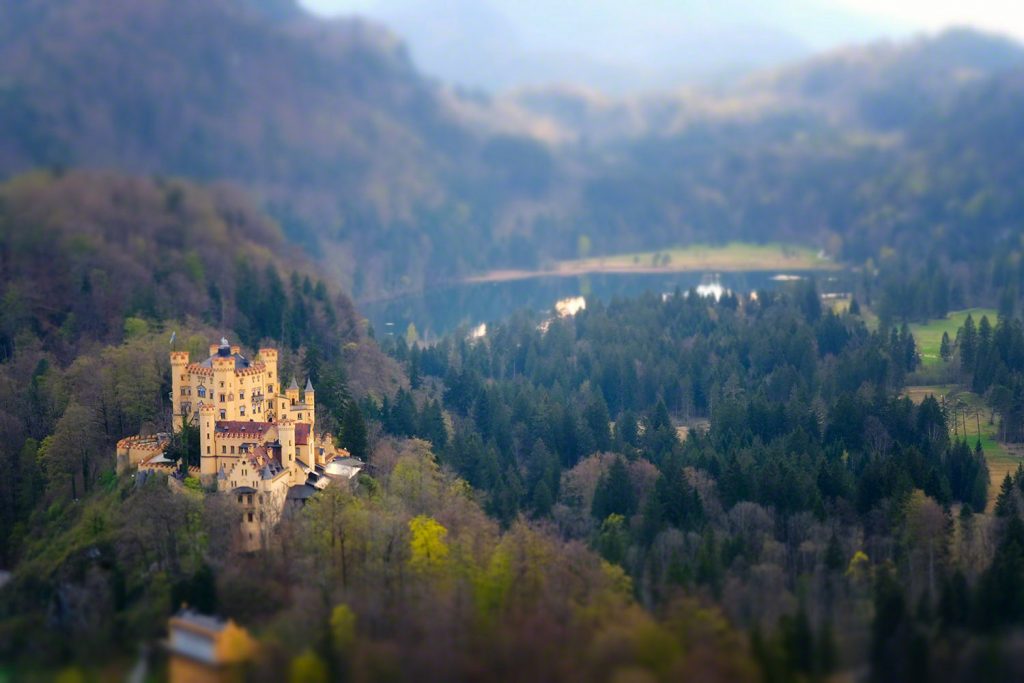 I got on a roll with that filter that day… it just made everything seem like a surreal page from a fairy tale. All very apt, given the subjects of the visit. 😉
This was looking down from the last part of the road leading to Neuschwanstein Castle. The light was so pretty just then it made everything look like an illustration.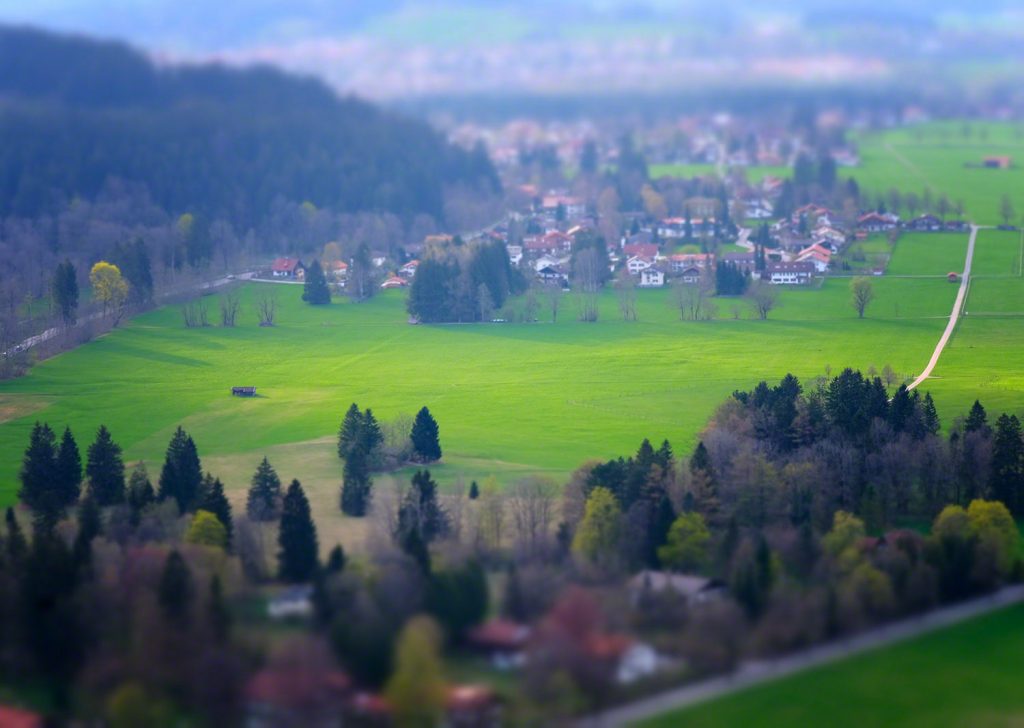 How about shooting from a car?
Since we were on a road trip, I thought it fitting to make a little video that not only showed some of the gorgeous scenery – but also give a tip about shooting from a moving vehicle.
I normally photograph in aperture-priority mode. That means that the shutter speed will vary, according to the ISO and aperture I choose. And normally that's fine, since my feet are usually firmly on the ground or the camera's on a tripod on likewise firm ground. But when you switch from stable ground to the constantly vibrating environment of a car or airplane, you can't have the shutter speed wandering around or nothing will be in focus, even with lens stabilization.
That's when I switch to shutter priority mode, a trick I learned from my fabulously talented friend Jessica Ambats, a hugely successful professional aviation photographer. You want the shutter speed to be fast and consistent when you're moving AND the target is moving. The idea is that the shutter has to move faster than the movement you're experiencing. It's not an exact science; you have to test a few settings. The sweet spot is when most of your shots are in focus.
In the case of our road trip, a shutter speed of about 1000-2000 seemed to do the trick. Then as the light changed (it was on-and-off cloudy), I adjust the aperture and ISO to make a good exposure.
My point isn't to give an entire theoretical lesson about this. It's simply to point out that if you're used to shooting in aperture-priority mode and wondering why your moving car or moving plane photos aren't in focus, you might try this simple tip-o-the-day. 😀
You can see all of the "Postcards from Germany" videos, by clicking right here.