Postcards From Germany: Munich

Well, I made it! Postcards from Germany officially begins! I switch gears from staying in one place and walking everywhere (in Rome) to planes, trains and automobiles in Germany. The climate's different too… it's chillier here, so it's layer up time.
It's so geeky to do, but I made a short video about landing in Munich, making my way to meet up with the hubs (whom you'll meet later on), then boarding a train into town, luggage in tow. It might be all old hat to you – but I still get a big kick out of it! So I'm bringing you along…
The Marienplatz Glockenspiel
It's a tourist attraction like no other. It's "classic Munich". Is it overrated? I dunno. IMO, you have to see something at least once before having attitude about it. Being jaded from somebody else's opinion is just plain lazy in my book!
Personally, I thought it was fun. See, I don't  like to lay an "is it good or bad" title on every new thing I experience. That's too exhausting. Besides, I couldn't be an artist or much fun to be around if I did that. So for me, the Glockenspiel was totally entertaining. (here's a bit of history about it). I love that someone thought it was important enough to build in the first place – and keep running all these years to boot!
The hubs and I just happened to arrive at the plaza 1 minute before it started… so I managed to capture a wee iPhone video…
Music Everywhere!
I felt like everywhere we went, music greeted us. All different kinds, from all over the world: church bells to street artist. There was so much of it, it was pretty easy to gather a sampling… which I did in this video. Good manners and fair use dictated that we contributed at least a couple of euro to the coffer of each artist we video'd… and we were happy to.
I love a musical city. 😀
New Images: Impressions of Marienplatz
The Marienplatz is just enormous. Back in the Middle Ages, it was the town square and they'd have jousting tournaments, markets and general meet-ups there.
We weren't there too awfully long, so I primarily made remembrance images of the place: I think of them as vignettes, serving to remind me of certain frames that made me smile, starting with the town hall itself…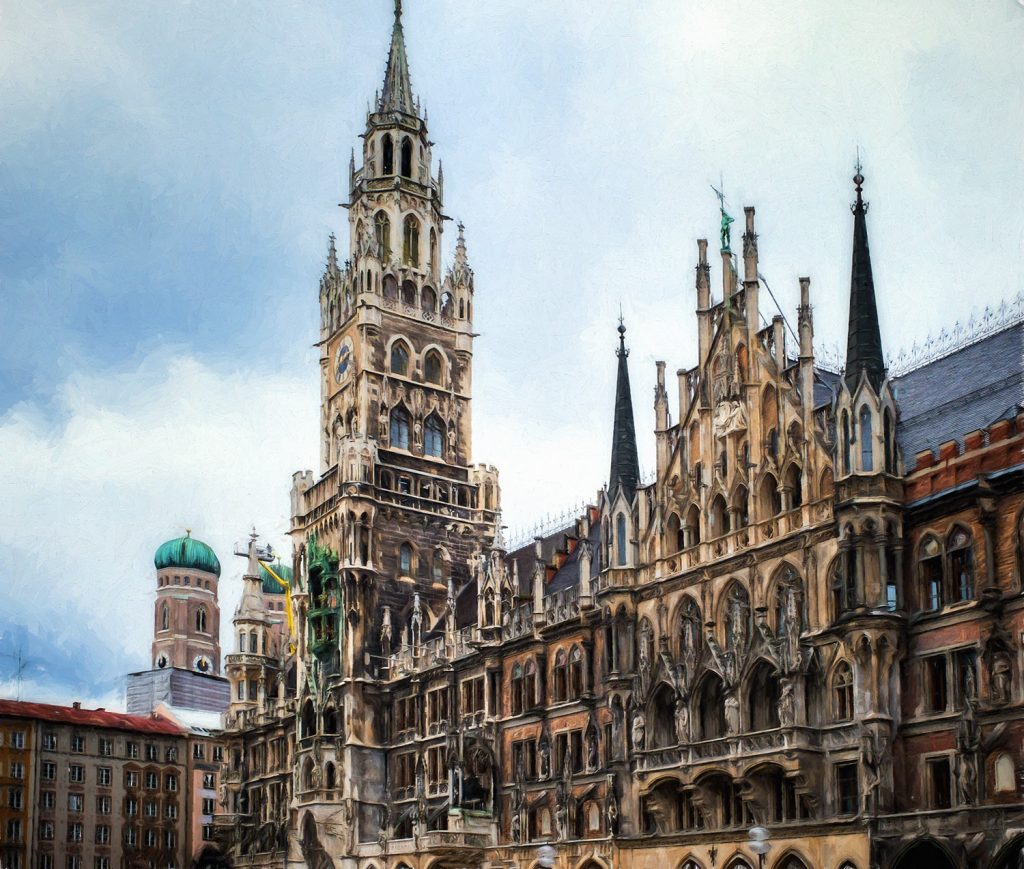 I thought at first the dragon was an add-on, not part of the original building… until I realized the townspeople above it were just FREAKING out! Part of the building it indeed is. And It made me smile to imagine the artist creating this scene. Makes you wonder about dragons too… did they or didn't they? (exist)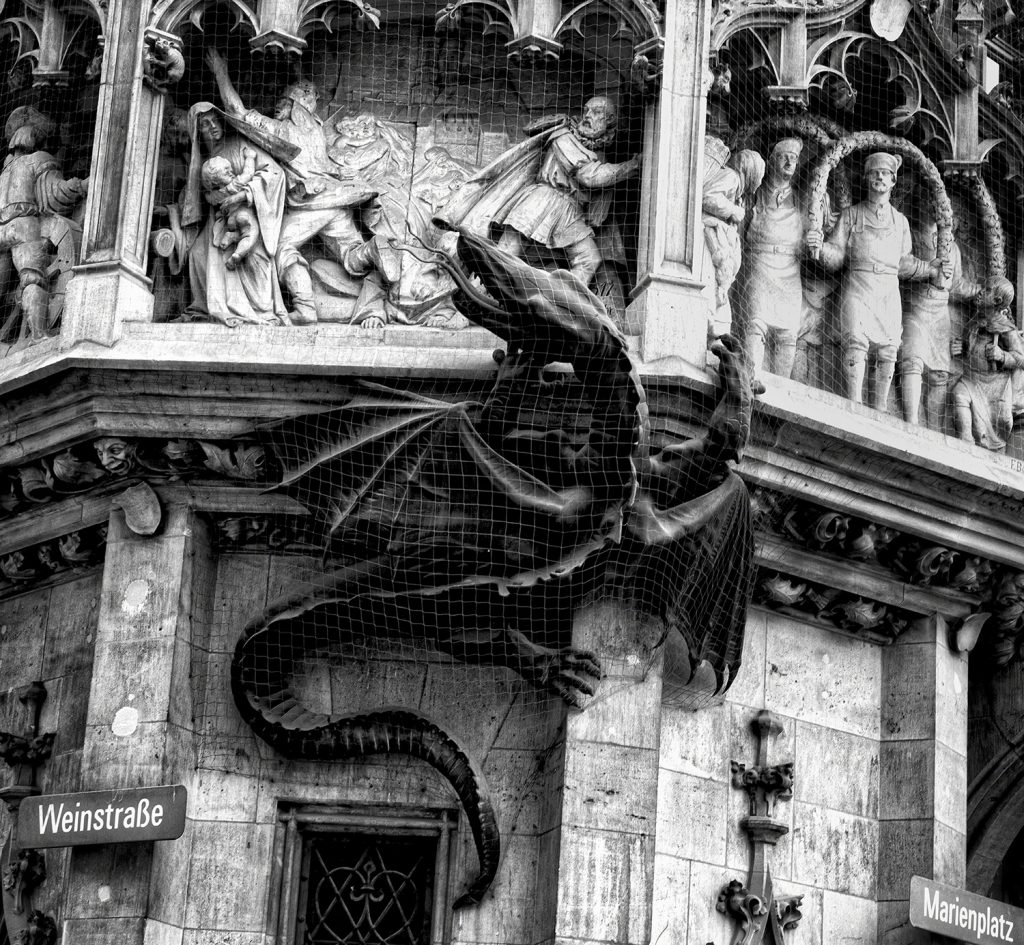 The upper section of the Glockenspiel. This figures were a pretty good size… and looked kind of creepily real. Clearly it's dangerous work they do… they've even got a safety net. (😜)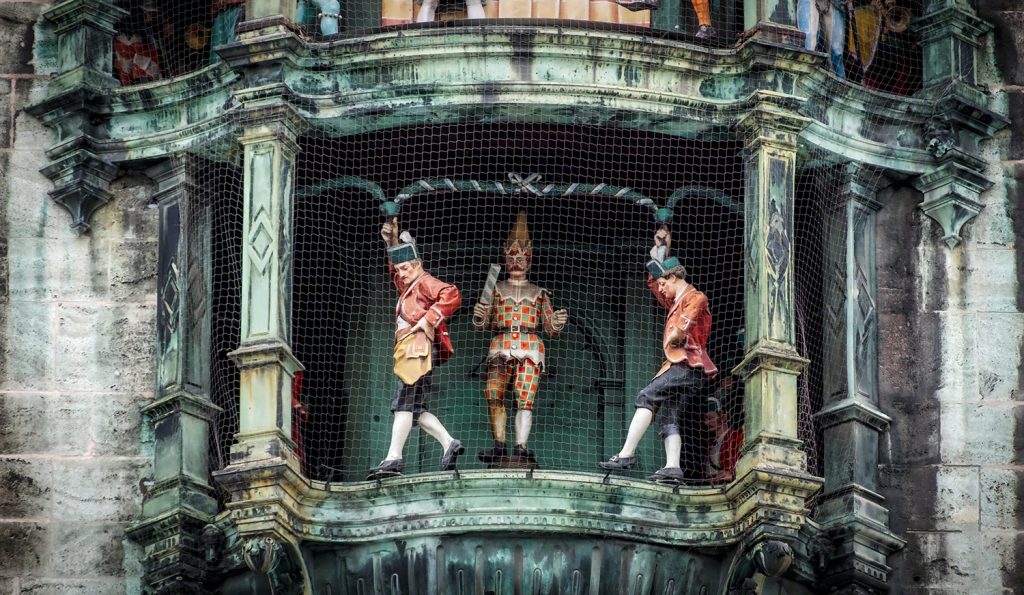 And this is the bottom half of the Glockenspiel.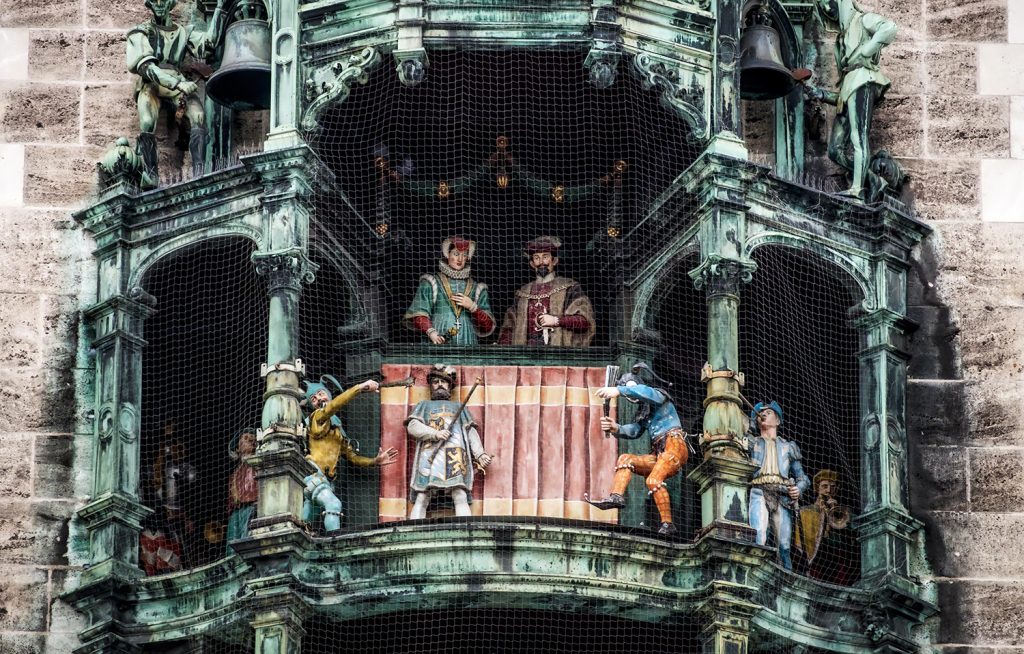 Here's the story of this golden statue in the plaza, according to Wikipedia; "The Mariensäule is a Marian column located on the Marienplatz in Munich, Germany. It was erected in 1638 to celebrate the end of Swedish occupation during the Thirty Years' War and is topped by a golden statue of the Virgin Mary standing on a crescent moon as the Queen of Heaven, created in 1590. The figure was originally located in the Frauenkirche. Mariensäule in Munich was the first column of this type built north of the Alps and inspired erecting other Marian columns in this part of Europe."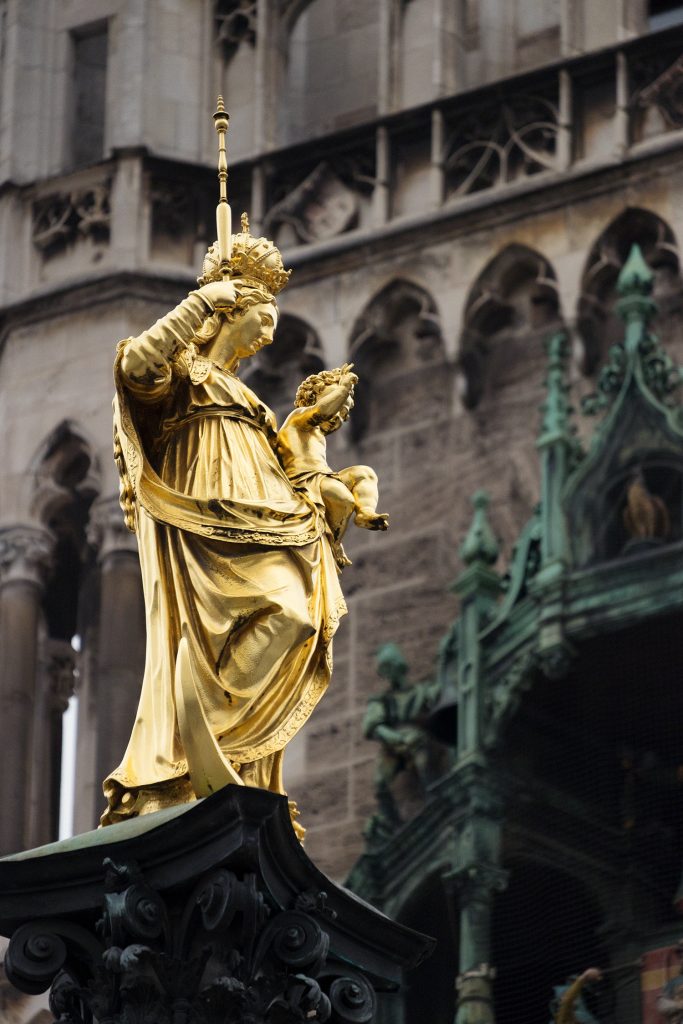 Next: it was on to castle country and LOTS of driving! German roads, here we come!