Postcards From Rome: Settling In

Postcards From Rome with Valerie Jardin began in earnest today!
Check out the view I see every day when I step outside the apartment. Sheesh!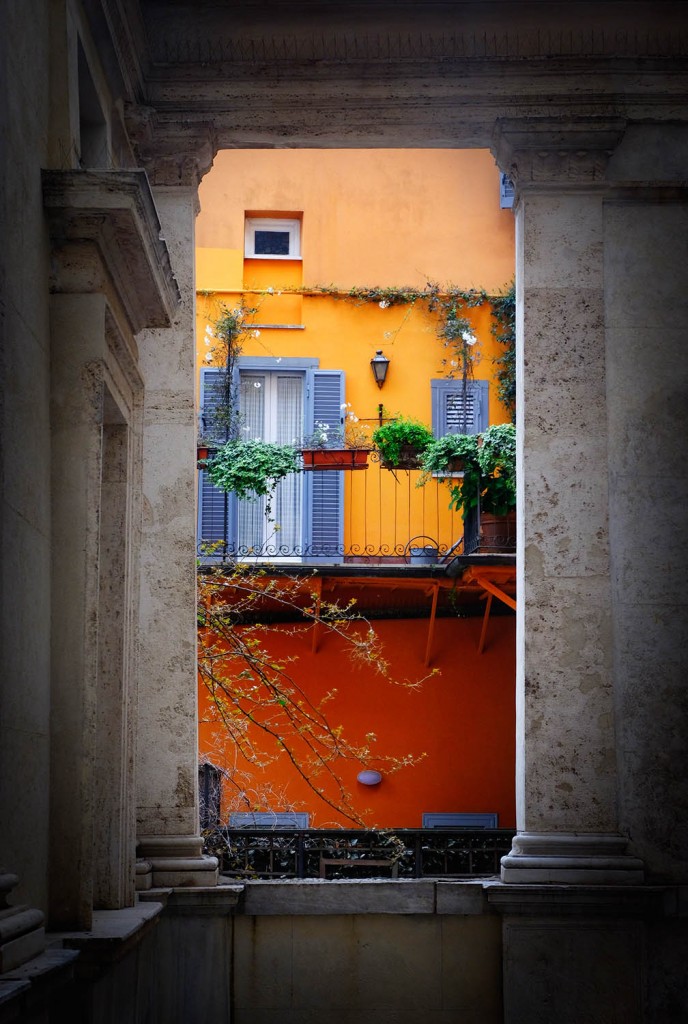 New York to Rome in 4 Minutes
I made a "Live and Uncut" (as I've decided to call these little impromptu check ins) video as I made my way from New York to Rome. I call it "New York to Rome in 4 Minutes." Heh.
Everybody has their way of settling in and adjusting  to a new environment, new time zone and new influences. Here's my 3 step process…
Settling In: Step 1
Step 1: First order of business for me: sleeping in! When I first get to another country (I always try to be there a couple of days ahead of time), I want to get on the local time schedule as quickly as possible. For me, that means going to bed about the same local time as I would at home. If I hit the hay at 11pm in California… then 11pm it is in Rome.  I sleep as long as I can. No alarms, no pressure.  Once I accomplish that… I'm generally ready to ramble.
Settling In: Step 2
Step 2: Take time to sink into a really feel a place. Without taking any pictures yet.
I find I need to take some time feeling and sinking into a place before I get my photography mojo on. My muse likes to take it all in before she offers her opinion. Since without her, I'm hosed… I roll with it. Every time I try to rush that initial soaking-it-in period, I end up deleting more images than I keep!
Here's a video I made today about that. I'll be honest. I started out the day feeling not entirely pumped; instead, a little melancholy, even a little homesick. I think the reality of such a long (for me) trip is sinking in. As cool as it is, it's different… and nothing I've ever done before.
That part of me that likes things as they are gets a little panicky at times. I'm not sure if I ever told you I was rather agoraphobic when I was younger. So it's been a lifetime of challenging myself to be OK with venturing away from home. Really, a story for another time. But I reflected on that in this video, as I came across some moody live music on the Ponte Sisto bridge…
Settling In: Step 3
Step 3: Have the camera ready to go, for whenever the mood DOES strike.
Today I carried my new Fujifilm X-Pro 2 and XF 16-55mm and that's it. I wanted to keep it first-day simple and just explore. I was excited to try the camera out… but I never like any of my images if I do jump too soon.
My muse DID have fun putting Valerie into various frames… here, in an actual art/frame shop. The place felt very noir and vintage… so that's the treatment I gave it in my processing. Initially, the scene was a bit busy. But taking it down to just light and shadow – heavy on the shadow – simplified it, brought Valerie's face out more and lent a bit of mystery that was just right.
Fujifilm X-Pro 2, XF 16-55mm lens
ISO 1250
F/7.1
1/30 sec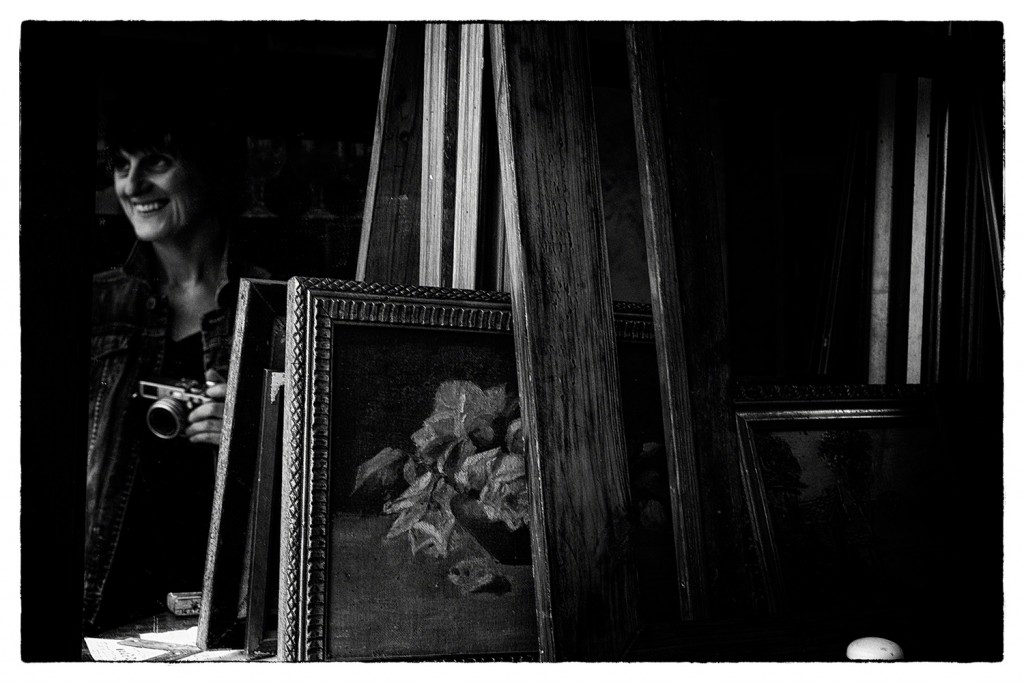 I just can't stop staring at the walls and streets here! Those colors, textures and history worn into them blows my mind. But it can get tedious ONLY looking at that… so here, I had Valerie stand in a doorway and peek out. It was the perfect touch.
Also shot with my X-Pro 2 and 16-55mm… pretty much straight out of camera, .jpg on the Velvia film simulation. I think that filter was made for Rome! I also like Chrome… but for this, the vibrancy of Velvia gave it the life I was looking for and edged out any other choice.
Fujifilm X-Pro 2, XF 16-55mm lens
ISO 1250
f/8
1/200 sec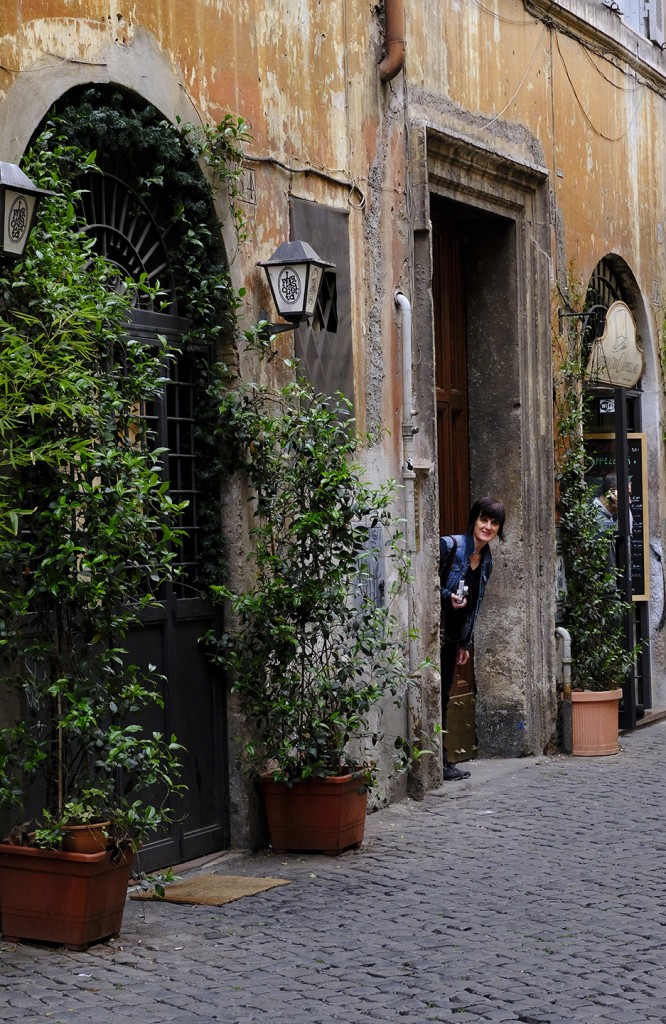 Rome is a huge city. So one of the things that has surprised me is how it doesn't feel that way. A zillion streets like this is why. I swear, it really is like walking up and down rows of movie sets. I have to keep reminding myself that this is what those sets were emulating! I'm actually in ROME! It's all so iconic and bigger-than-life it doesn't seem real!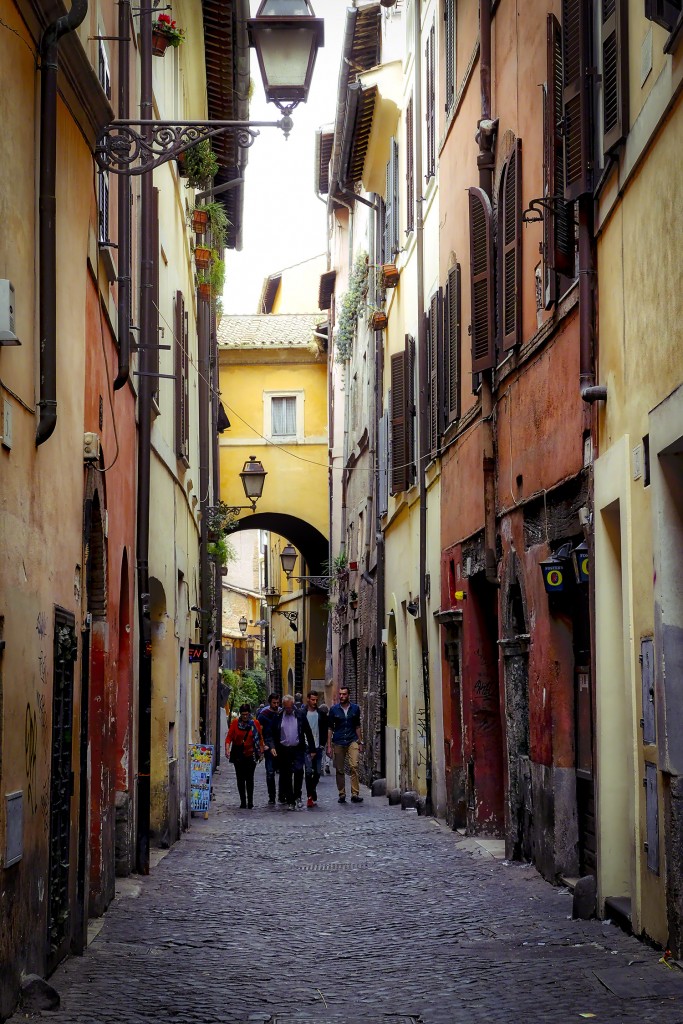 I'm still getting used to the X-Pro 2… it's a bit different than the X-T1. Jury's out on a few things still – I miss my flip screen! But holy guacamole, these images are stunning! In my next post, I'll include some that are completely straight out-of-camera, no processing at all… including a few from my new XF 50-140mm w/1.4x teleconverter.
I'm so, so grateful to Fujifilm for supporting this project… and for making the kind of gear that brings my vision to life better than any camera I've ever picked up! They continue to impress and amaze…
Video Q&A!
Valerie and I are taking questions and answering them on video as we go along. Got any?
We recorded recorded some A's to some Q's today – I'll be posting that in the next day or two – and we're looking for more! So if you have any questions for us that you'd like us to answer, leave them in the comments below. You can specify Valerie, me… or both of us.
Also let me know if it's OK to mention your name… or if you'd rather stay anonymous. It's OK either way!
The journey continues in my next post!