Postcards From Rome: Gear Chat By The River

I had a bunch of questions about what equipment I'm using on this trip – so let's have a little gear chat.
Here's my quiver:
Cameras: Fujifilm X-Pro 2 and X-T1.
Lenses: Fujinon XF 16-55mm f/2.8, XF 50-140mm f/2.8, 27mm f/2.8 lenes – and 1.4x teleconverter.
Tripod: Really Right Stuff TQC-14 tripod, BH-40 ballhead, PG01 pano gimbal for mirrorless.
I'm not ready to write a review on the X-Pro 2 yet (you've been asking how I like it)… but I can say that so far, so good. Everyone has their preferences on camera layout and way of working; I tend to prefer certain ways the X-T1 is set up over the X-Pro 2, but that's not a comment on quality or anything.
That said, the X-Pro 2 has some features I really love over the X-T1… so there's a bit of apples and oranges mixed in there. The X-Pro 2 is a bit bigger than the T1 and I REALLY miss the T1's flip screen under certain shooting circumstances… but everything has its trade off. Hence, my not yet having a firm grasp on an either-or aspect opinion about these two cameras yet. It may be that I never will!
The images are pretty frickin' amazing on the X-Pro 2, no two ways about that. But I still need to shoot under more varied situations. I only just recently shot at super high ISO in the past couple of days and haven't had a chance to look closely at them yet.
So clearly, nothing conclusive yet… still using, testing, creating a variety of images. I WILL say that I continue to be blown away by the quality and myriad of ways these cameras have put photography back into my hands, heart and mind. I can't thank Fujifilm enough for being THAT company who's figured out how to make gear that can do that.. and for partnering with me to make stories and images that can inspire others to reach for MORE!
My Set Up By The River
In the meantime, here's a video I made about my set up one evening when I was scouting a sunset location. It was early on during my time in Rome – and I wanted to figure out where along the River Tiber I'd most like to set up for a good sunset, should that happen. This particular night wasn't sensational, it was definitely more of a rekkie (reconnaissance)… so it gave me a chance to try out different spots.
While I was at it, I figured I'd share what gear I was using. Shooting it was a little tricky, since I was just using my iPhone 6s Plus… but you'll get the idea!
Click here to check out all the videos I made in Rome!
More New Rome Images!
Here are some more new images from Rome for you. I loved getting out at night for long exposures and the eerie way everything looks when the tourists are gone and dark cloak of evening sets in…
This one may be my favorite from my first night out! I stopped in my tracks when I saw it… it looked like something out of a storybook. Turns out, Valerie Jardin's workshop had dinner at Pizza Teatro the night before, but I didn't know that when I took the shot: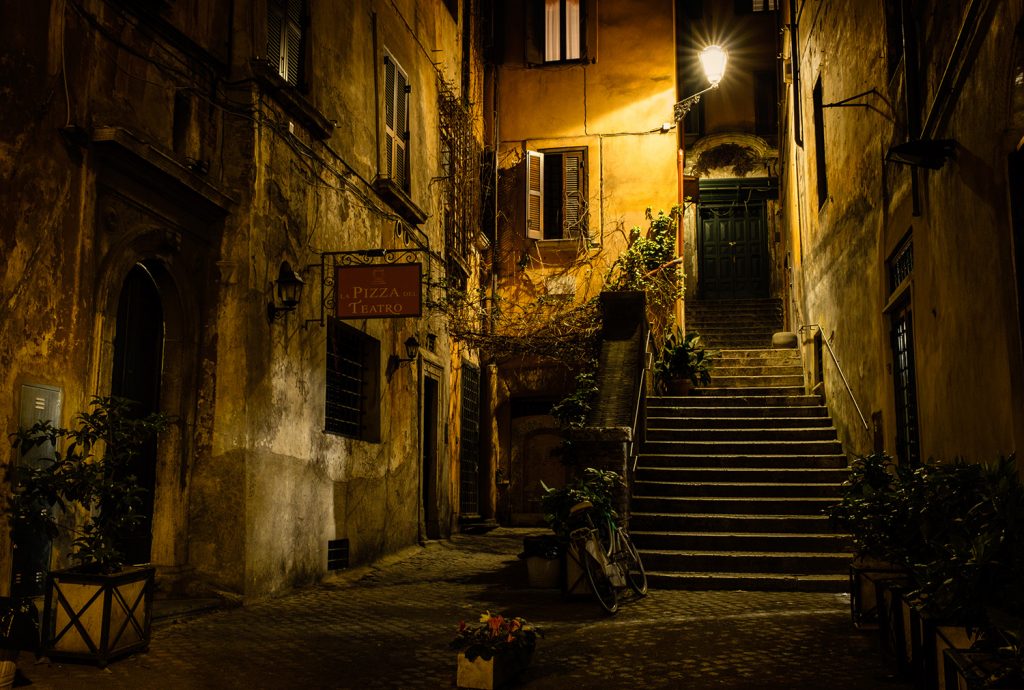 This is the outside of the Pantheon. Most people shoot the front (I certainly did)… but these lines and textures also drew my eye. I call this one "Pantheon Skin"… since that's what it seemed like to me. The peeled back layers of an ancient building, sans what must've been marble or something grand. Now, it's like leathery, wrinkled skin.
That's how I think at night…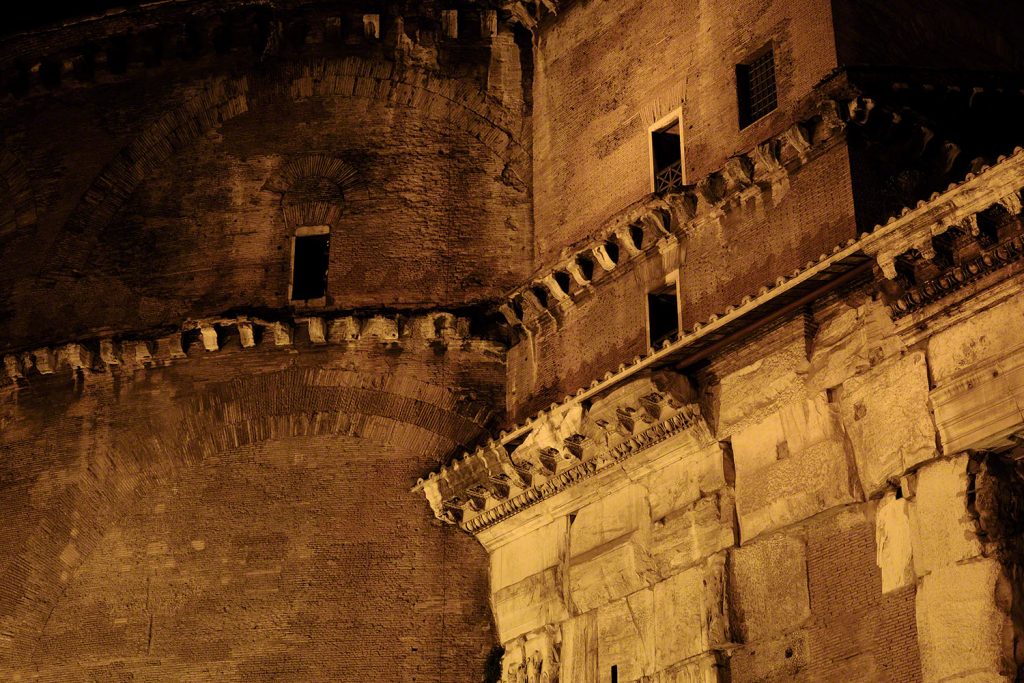 Later the same evening (I was out with new friend Ken Lyons) on our way back, we stopped for this street, which I found suitably eerie and spooky, even more so in monochrome. I made the tones warm, since Rome is such a warm tone city, even in the spooky night!