Postcards From Germany: Heidelberg
---

Today's Postcard From Germany brings us to our last town and castle in Germany: Heidelberg!
What a gem!
I have to say, this stop surprised me. I didn't expect to love it this much! It's the one place Joe and I wished we'd been able to spend more time. As it was, we spent one night, were enthralled by the majestic palace, delighted by the view of the town from up there and had the loveliest dinner afterward… THEN were treated to a fireworks shooting above the castle ramparts into the dark night sky! It felt like a little slice of magic.
First, though.. this is how Heidelberg Palace appears from the village. In all my Google searches ahead of time, I thought it was cool… but wasn't jumping out of my chair with excitement. Oh man, did I change my tune after our visit!
It would've been a nice, energetic walk to get up to the castle… something I'd normally welcome. However, my back was still hurting, so we grabbed a cab for the 8 minute drive to the top. I was glad, since it meant spending my daily allotment of steps seeing an incredible palace instead of sweating an hobbling up a hill!
Specs:
Fujifilm X-Pro 2, XF 16-55mm lens
ISO 400, f/6.4, 1/600 sec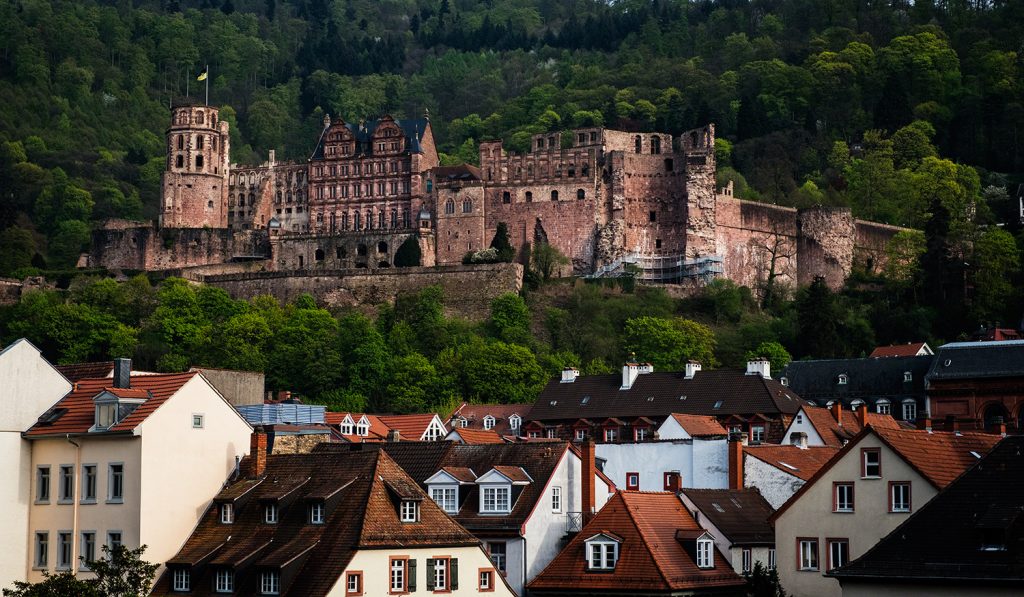 This is the first view that greeted us at the top! We'd just been standing down there…
Specs:
Fujifilm X-Pro 2, XF50-140mmF2.8 R LM OIS WR
ISO 800, f/14, 1/13 sec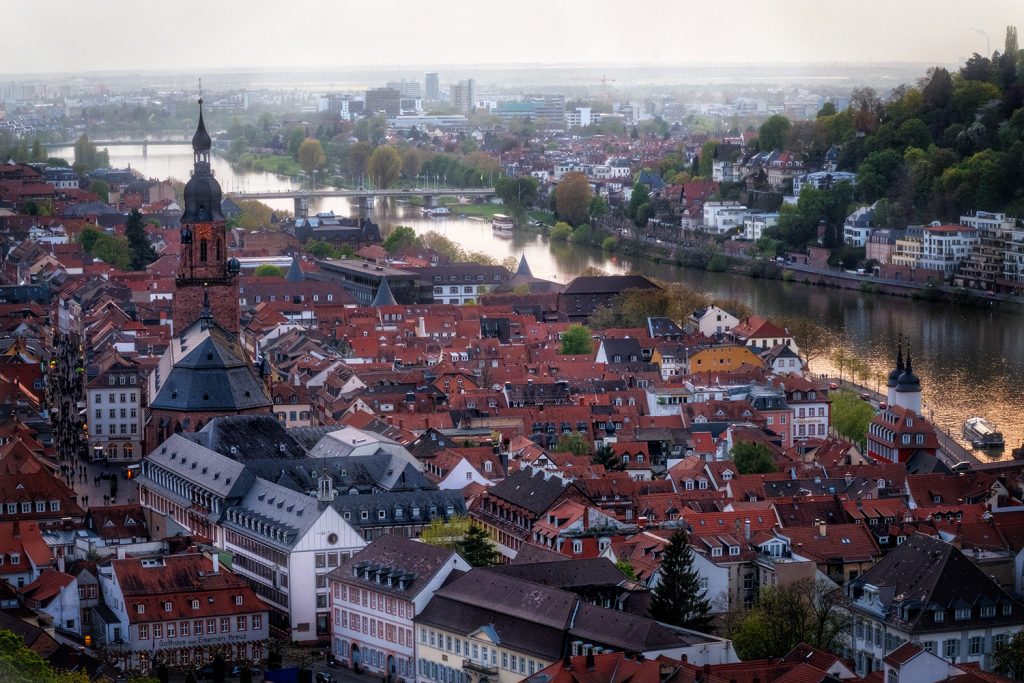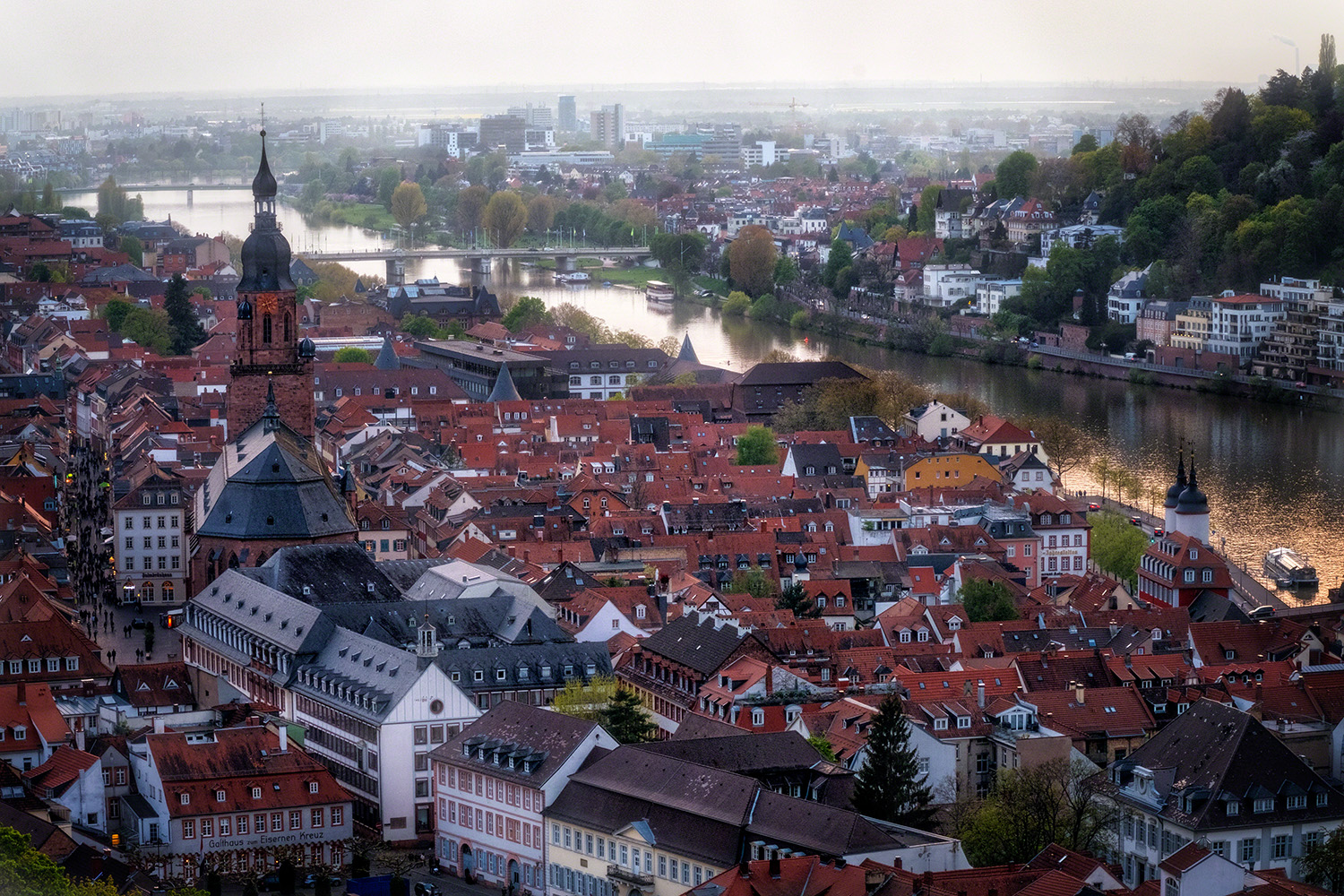 My "Postcard" Video:
I made a short video too (of course!)… first video'ing the music we encountered walking through the old town on our way to the palace, then some video of what you see at the top:
Y'know, I'd read quotes by Mark Twain and Victor Hugo, waxing on and on about the beauty of Heidelberg Castle – even as a ruin, which is what it is now – and was even when they visited it. They did not exaggerate! There's just something about this place that is just jaw-dropping and captures the imagination.
You can read more about its history here… but my Cliff Notes takeaway was this: first built in 1225, later becoming hugely grand and important in the Renaissance.  That was before it got bombed – hard – a couple of times in wars, was devastatingly struck by lightning at least twice… and yet still stands, refusing to go down. It's so elegant in ruin – I can only imagine what it must have been like back in the day!
Specs:
Fujifilm X-Pro 2, XF 16-55mm lens
ISO 200, f/16, 1/50 sec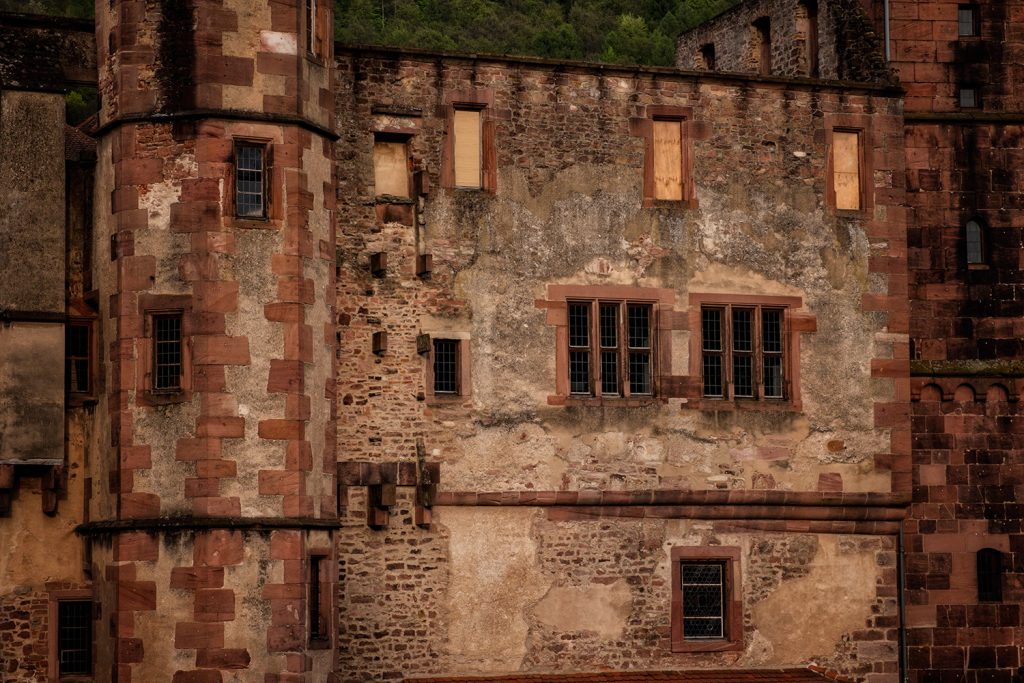 I loved these trees – and the way you think you're looking at something so NOW and modern… then you notice the railing.
Specs:
Fujifilm X-Pro 2, XF 16-55mm lens
ISO 320, f/20, 1/150 sec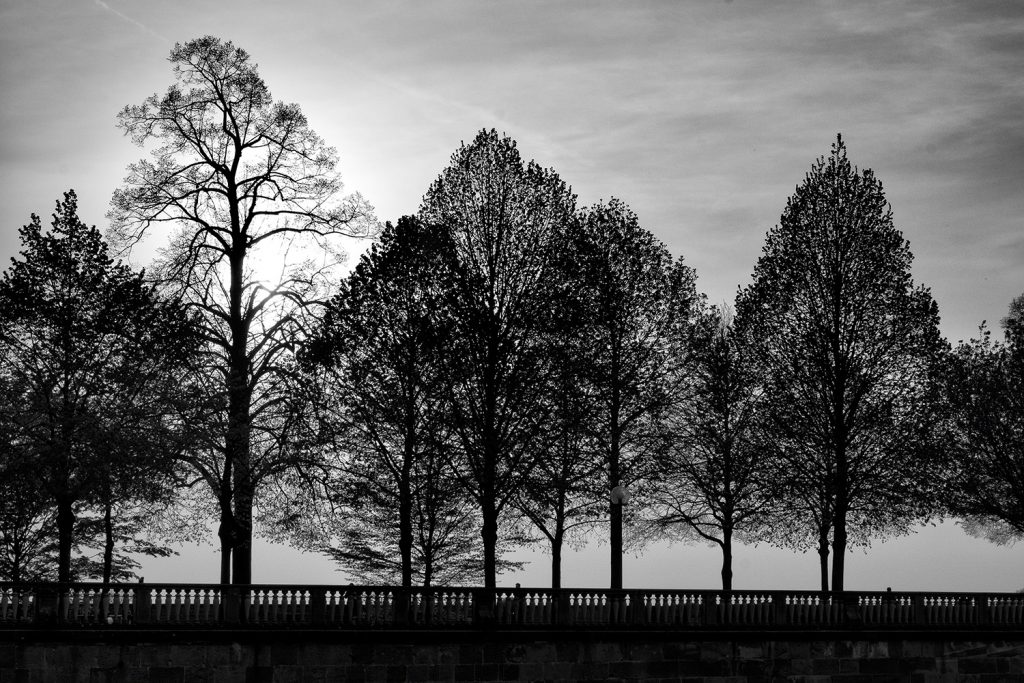 The fact that we were there in early spring meant that the trees hadn't budded out yet. Which gave me a perfect opportunity to frame this sans-leaves tree into an overview of the town. It lent a sense of melancholy; like a nod to its tortured past, in contrast to an otherwise green-appointed, cheery scene. I love juxtapositions!
Specs:
Fujifilm X-Pro 2, XF 16-55mm lens
ISO 320, f/22, 1/15 sec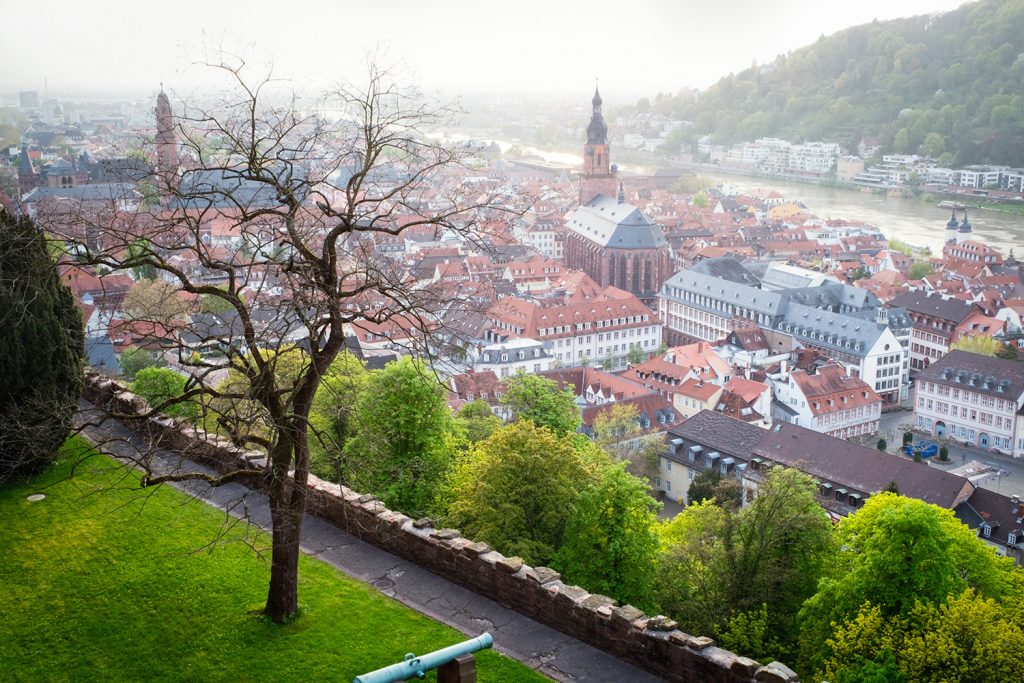 After Joe and I had photographed all we could before, during and after the sun went down… we cabbed down to a restaurant in the village. It was lovely. We were entertained by a fellow who played his own unique versions of old jazz tunes and standards on this rickety, out-of-tune pano. (I'll be honest: I loved it at first, but by the end I was ready to stick a muzzle on the whole operation. hehheh.) I have no clue if he just felt like playing for an hour and a half or if he was hired to do so. It could've gone either way, from appearances.
The Final Lightshow
On our way back to the tram, we took a swing out to the Alte Brücke (Alte Bridge) for one last glimpse of the palace. Joe said "Let's see if they light it up at night". HA! More prophetic words were never spoken.
Specs:
Fujifilm X-Pro 2, XF 16-55mm lens
ISO 800, f/6.4, .5 sec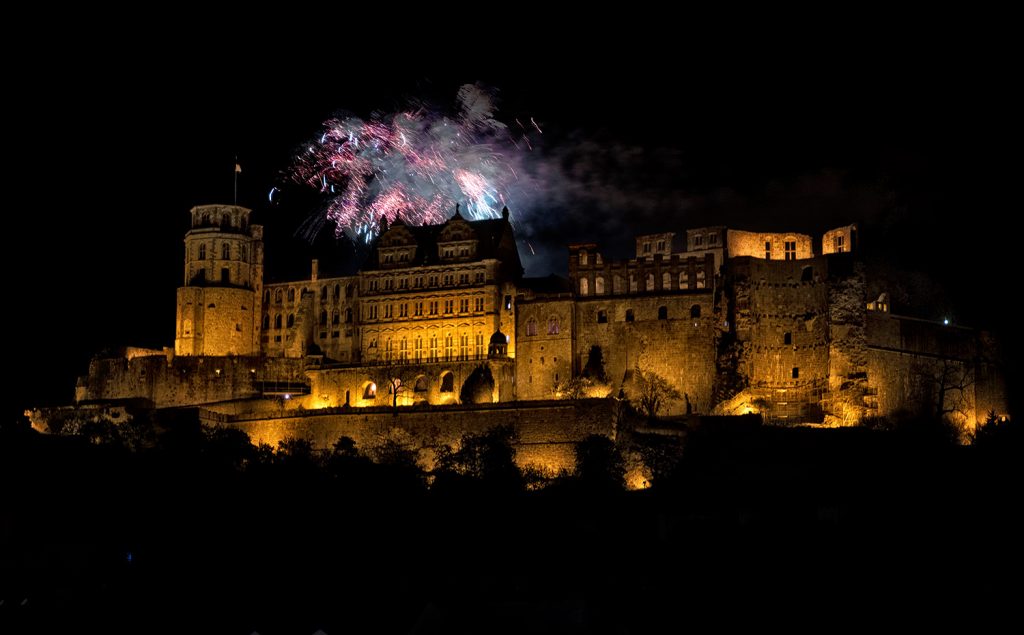 We had a schedule to keep, so we left Heidelberg the next morning… vowing to return one day for more exploration. If you like this sort of thing and EVER get a chance to visit… DO IT! It's just amazing.
---
You can check out all the "Postcards From Germany" Posts here…