Postcards From France: Catherine Just

In this Postcard From France, I'm writing about yet another amazing person and bff I met that I want to introduce you to!
Her name is Catherine Just.
… but can she laugh?
Catherine is a gifted conceptual and portrait photographer. She photographs amazing people – and has a knack for capturing their heart and soul in truly unique ways. She came to La Pitchoune for Makenna Johnston's business strategy retreat in May, which I also attended. It was marvelous!
You always wonder what it's going to be like meeting and spending days in close proximity at a retreat with another photographer. Will they be competitive? Too cool for school? Take themselves so seriously it's like a perpetually cloudy day whenever they're around?
I need not have worried. Despite our completely different approaches in photography, our philosophies lined up. So did our sense of humor. In what seemed like no time at all, we were making videos together and looking for light in all the wrong places…
And hanging out in Cannes!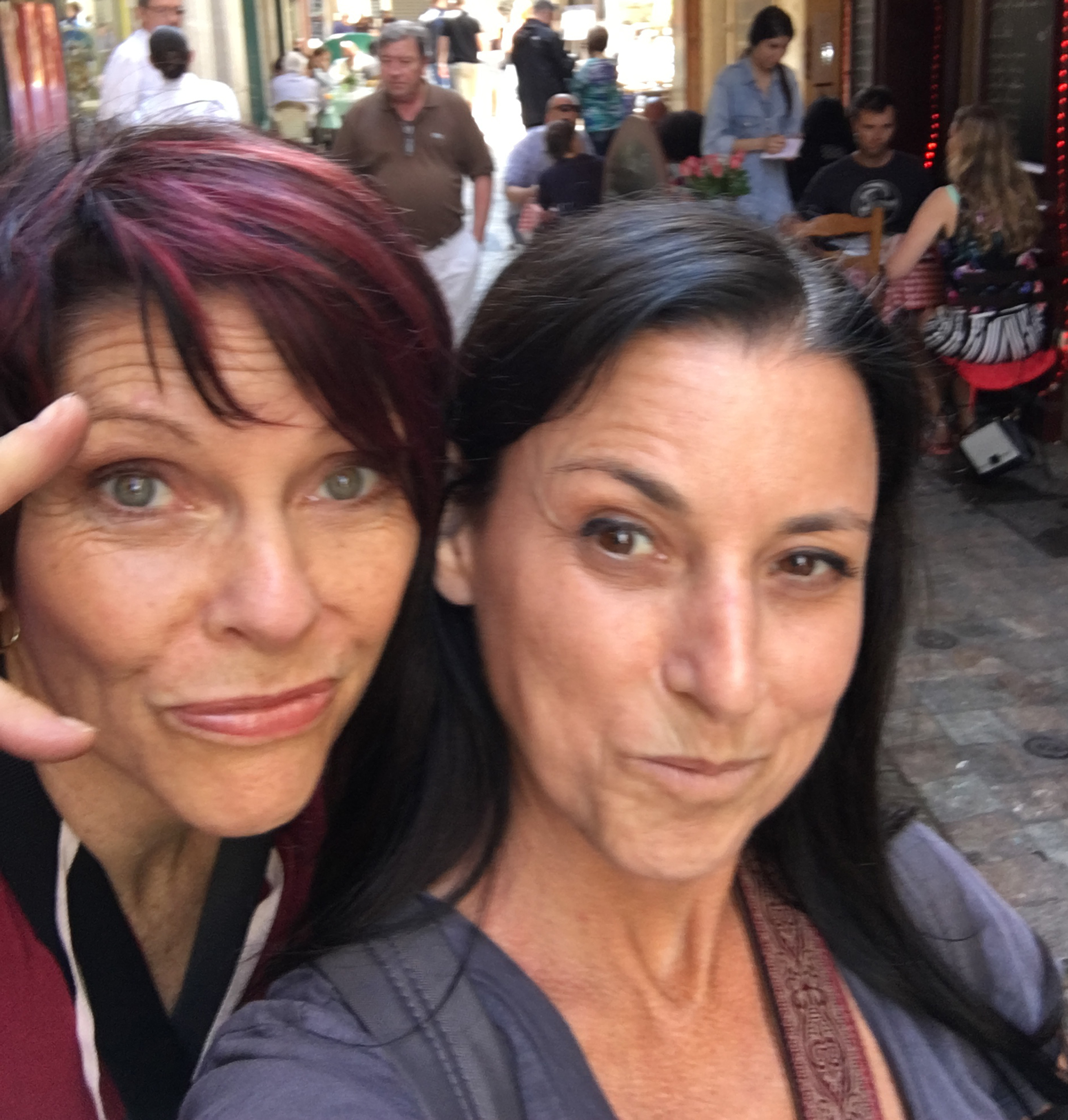 One of the things Catherine was doing while she was there was portraits. A number of us had booked time with her ahead of time… I needed new images for upcoming projects and such. We did mine at La Peetch and in Cannes. We laughed and guffawed our way through all of it… except when I was mock-sneering at her on the train… (she took this with her iPhone)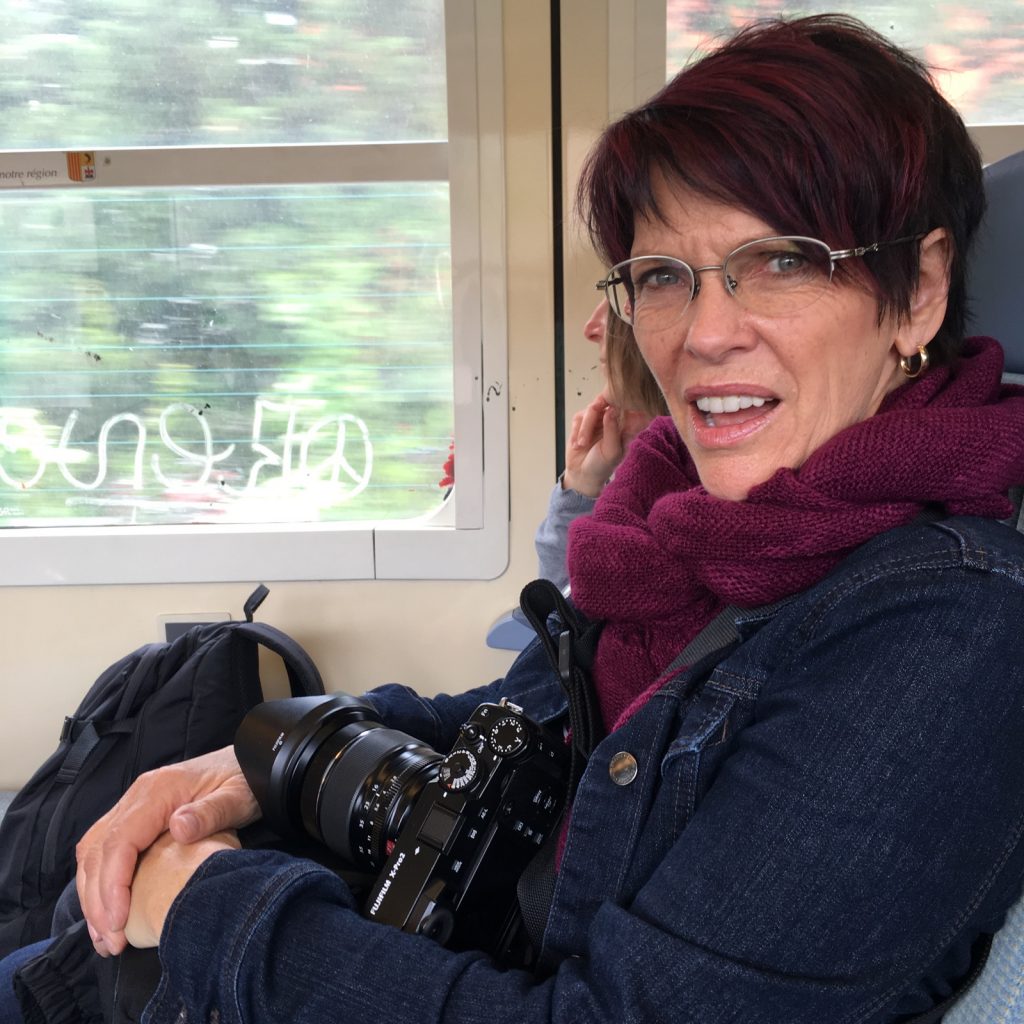 Heading to the old town…
We headed toward the old town of Cannes, because I wanted to be surrounded by all those textures, colors and history I love so much. Of course, along the way, there were sights to behold, photographs to be made…
The Cinema Cannes… a whole wall of Trompe-l'œi illusionist painting!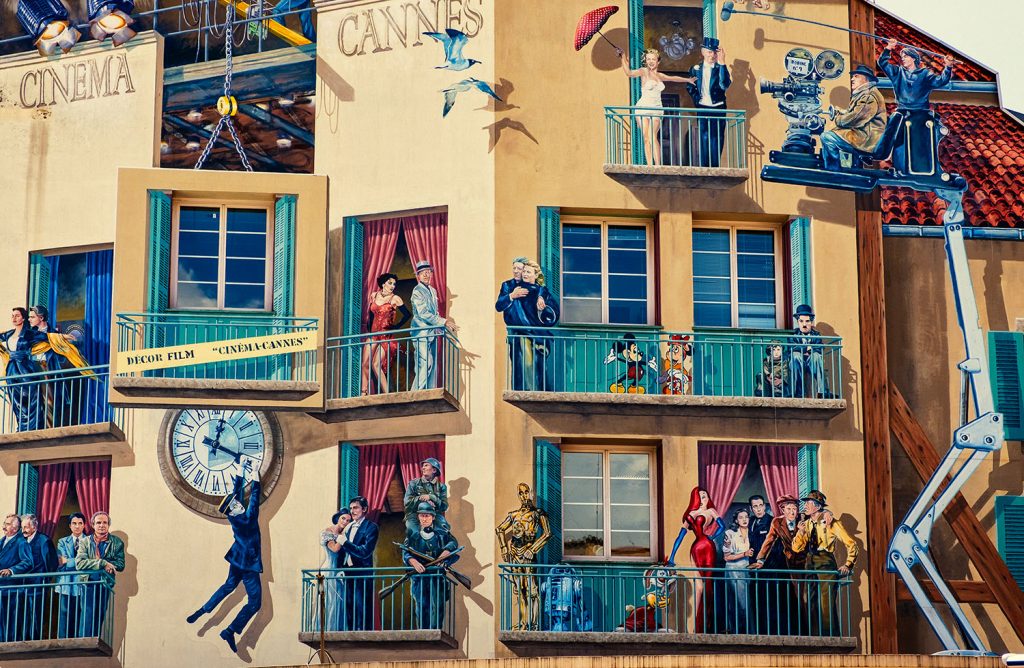 The old, medieval part of town is up on the hill, as all self-respecting medieval village were. Back then, it was so the people could see who was approaching from miles around.
(Straight out of camera; Fujifilm X-Pro2, 16-55mm lens.)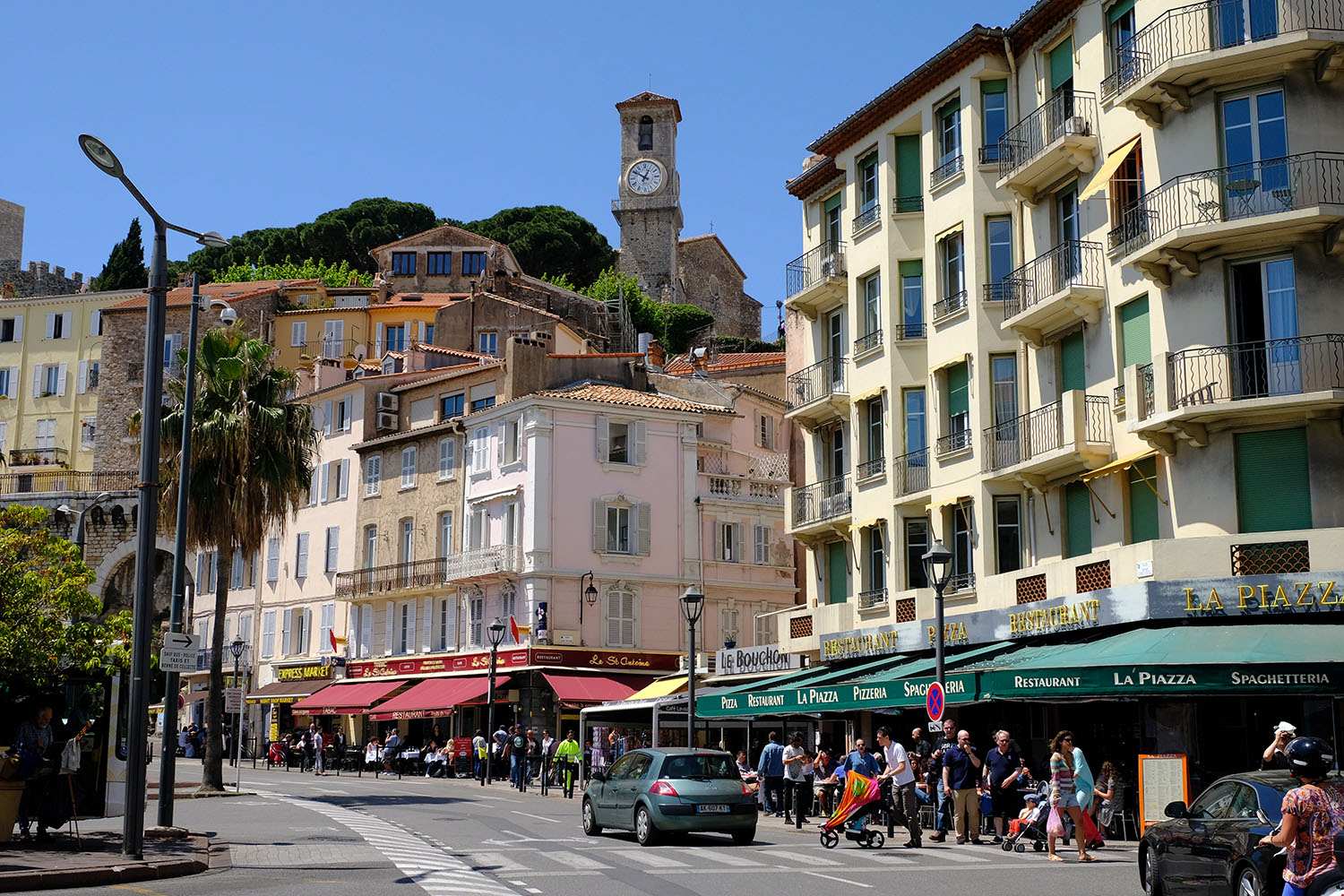 One of many stairways leading up to apartments in the old town, midday: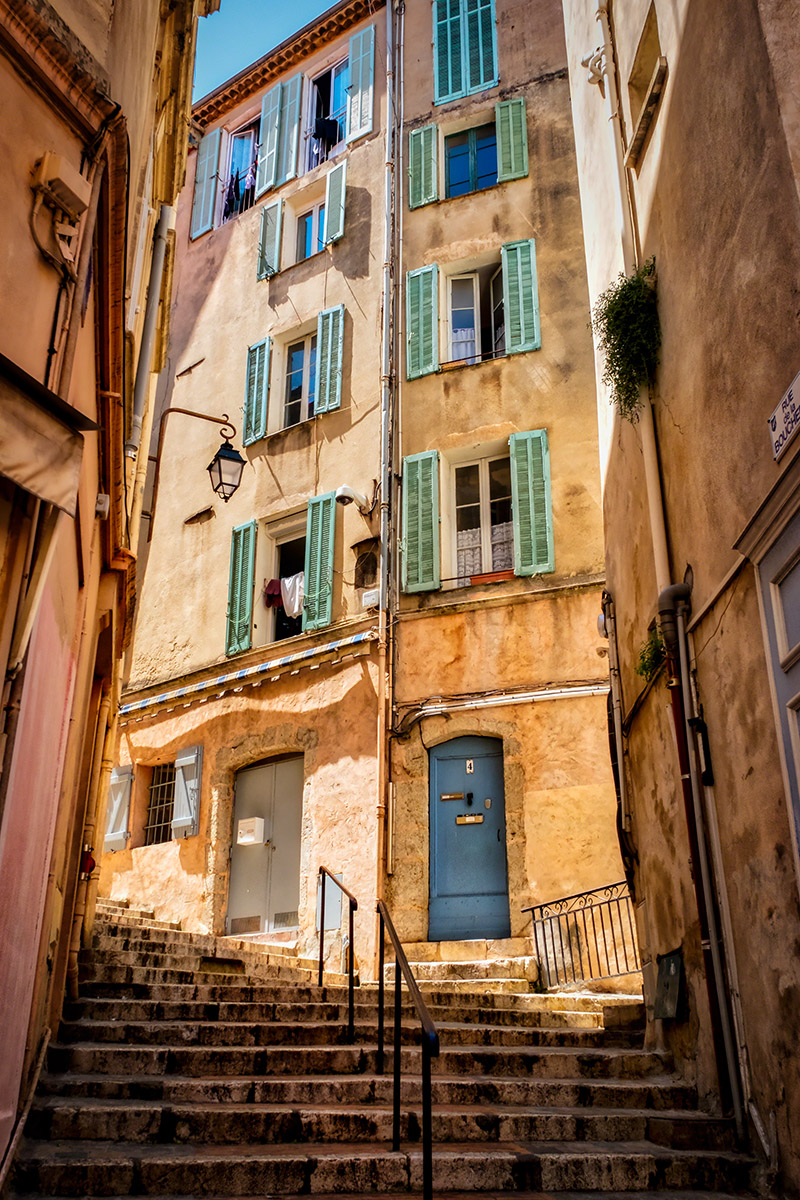 Gavroche Restaurant, where we would've stopped for coffee, tea or lunch had we not been on a photographic mission!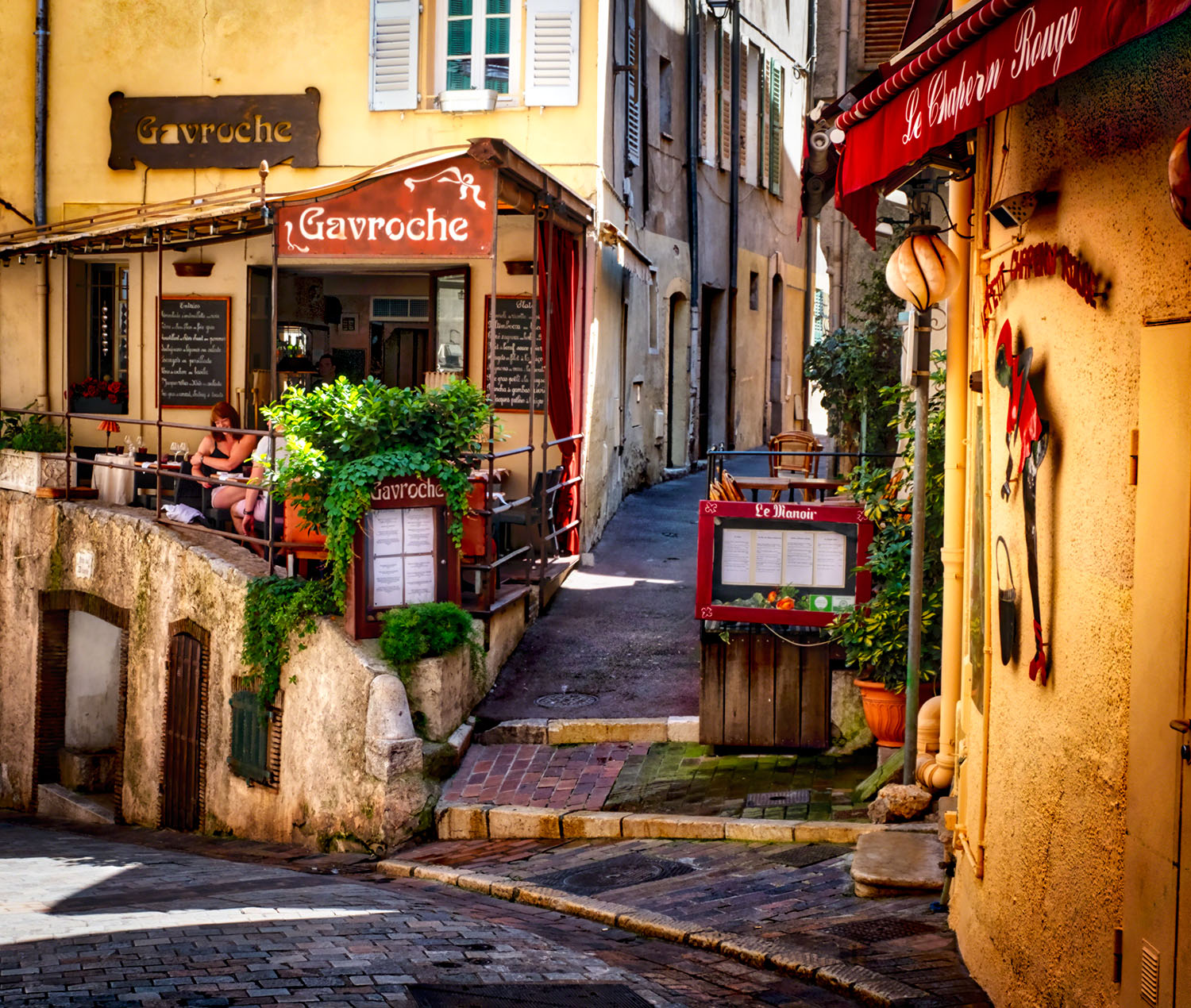 We ventured up to the clock tower to check out the beautiful overview of Cannes… and the Cannes Film Festival, which by now was in full swing!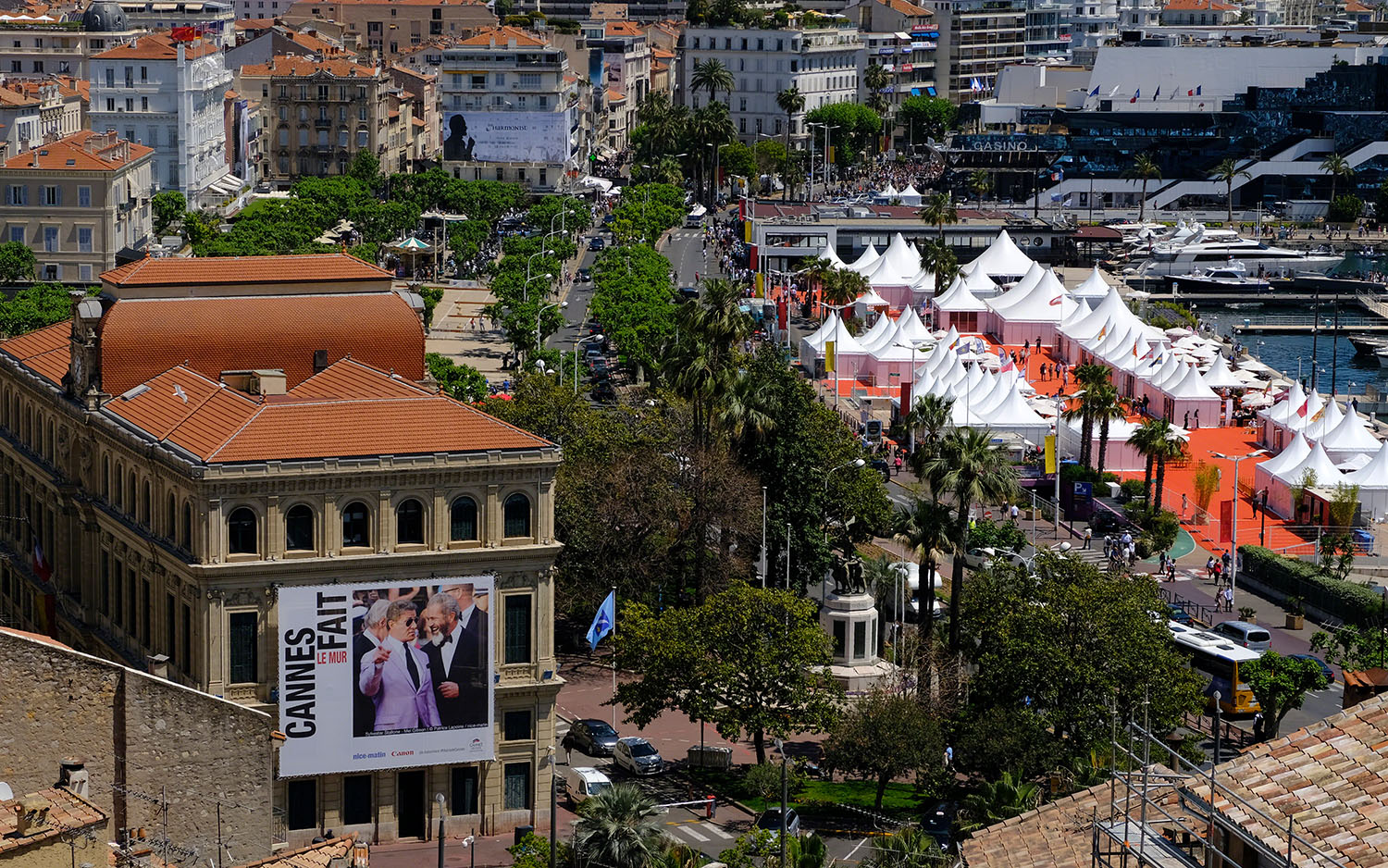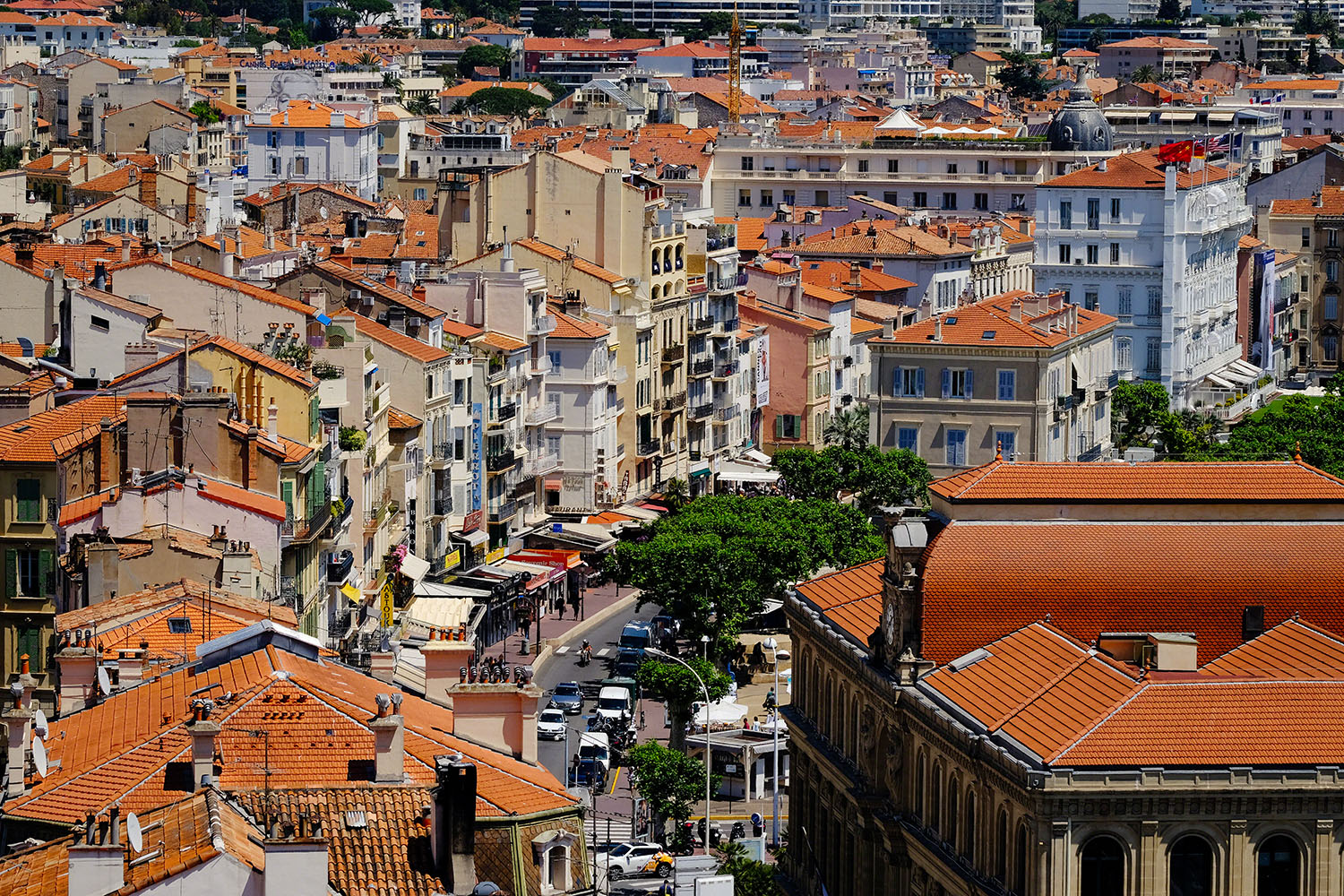 Yacht? Helipad? Sailboat? Take your pick!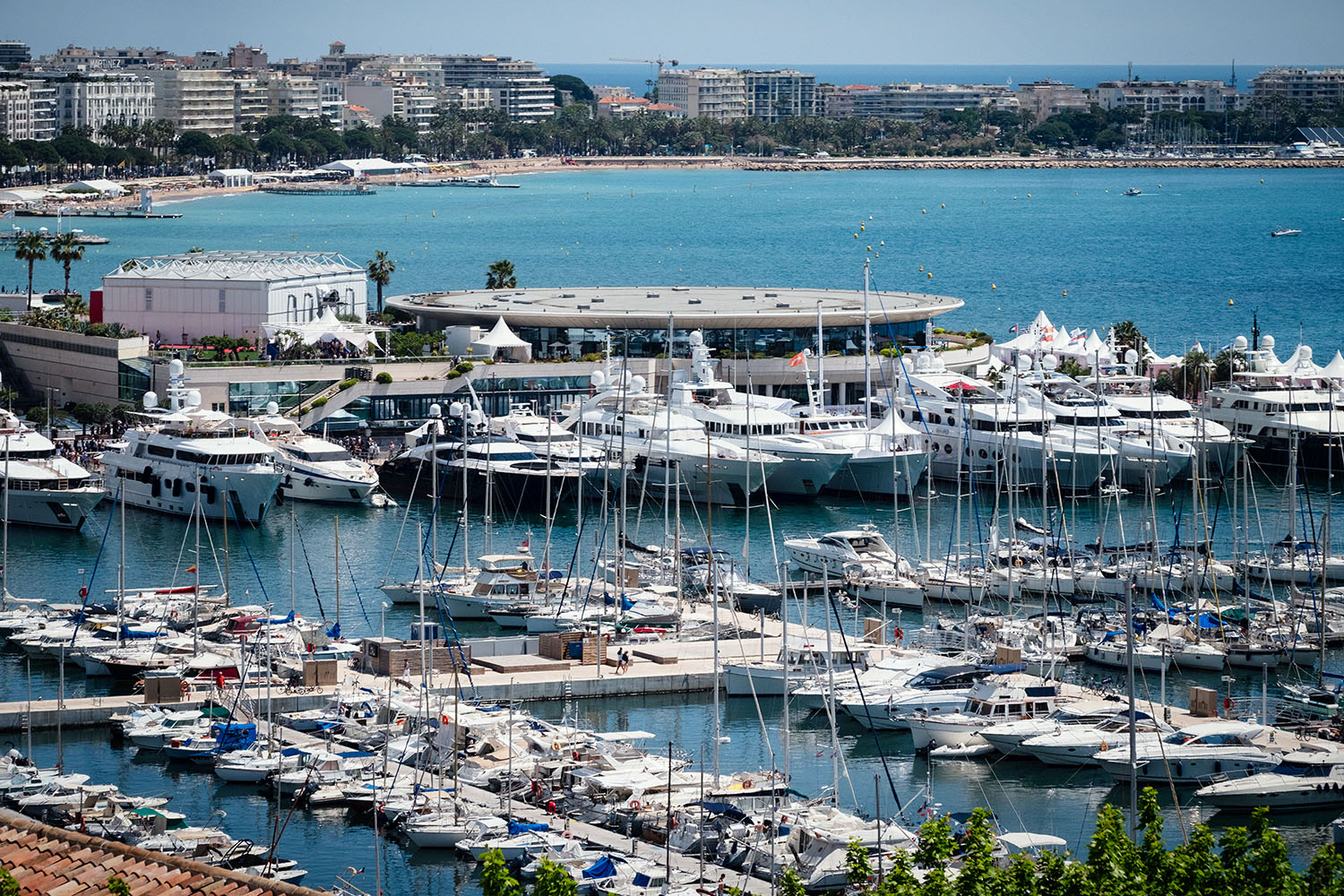 What a difference 125k people make!
By the time we were done, it was hot and we were thirsty.. plus we planned to meet my friend Lieke (I wrote a post about her too! Click this link to see it.), so we headed back down the hill and across town. My goodness, how it had changed since my first early morning visit days before, right before the festival started! 125,000 people had indeed arrived (we counted. haha)… a veritable teeming mass of humanity!
Before: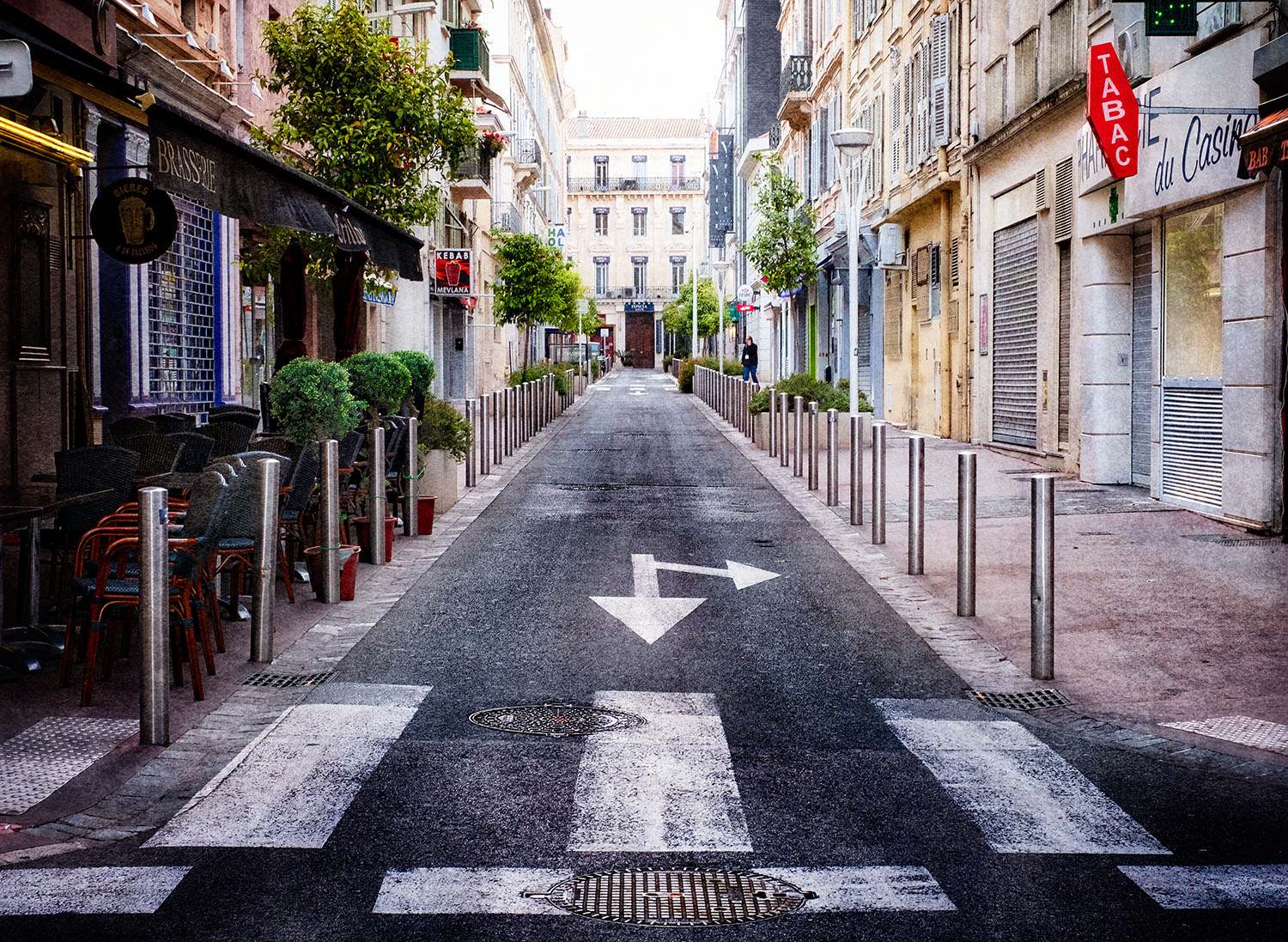 After: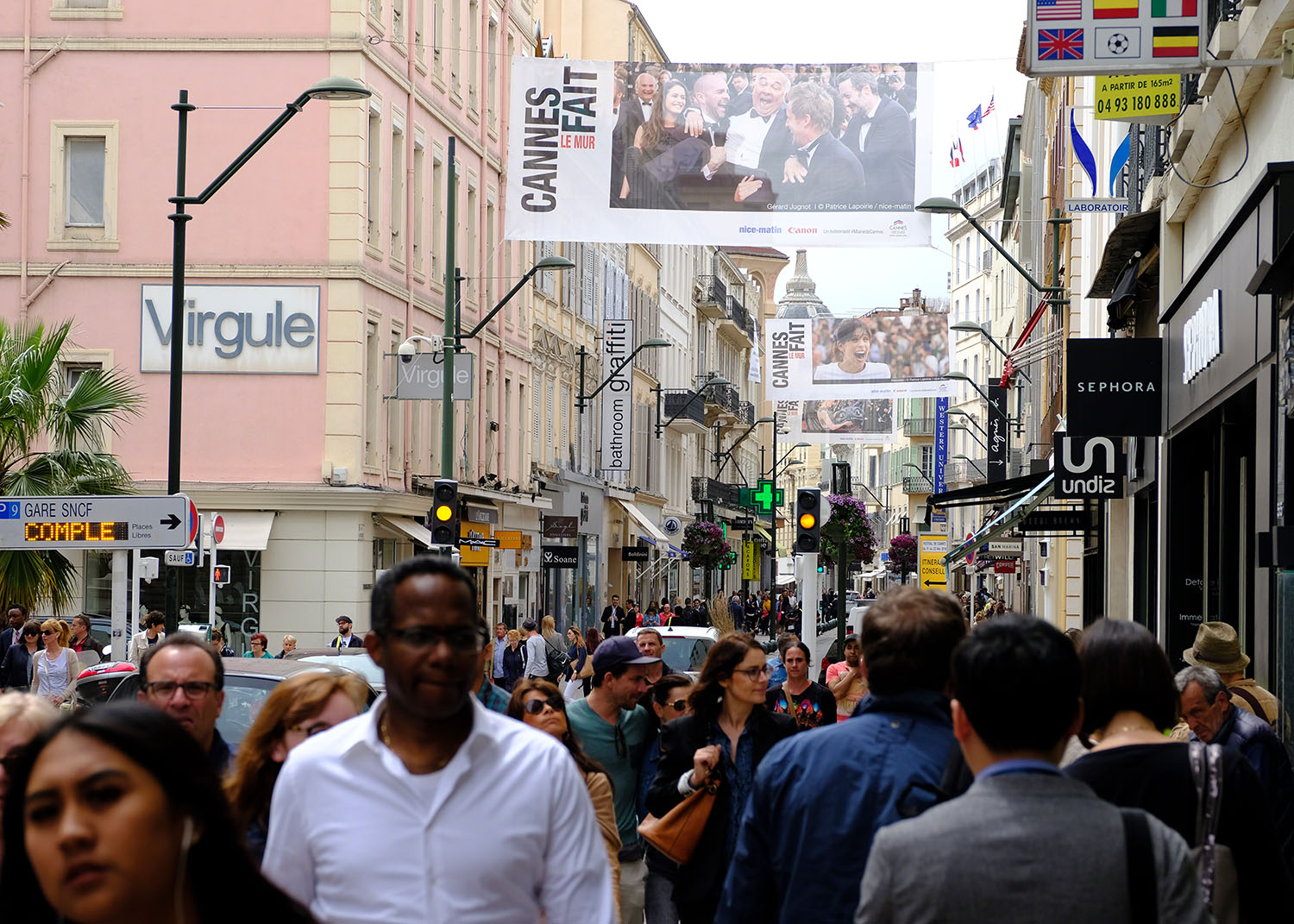 In addition to the insta-huge population of lookie-lous, during the Festival, you'll also see folks walking around in evening gowns and tuxes by day…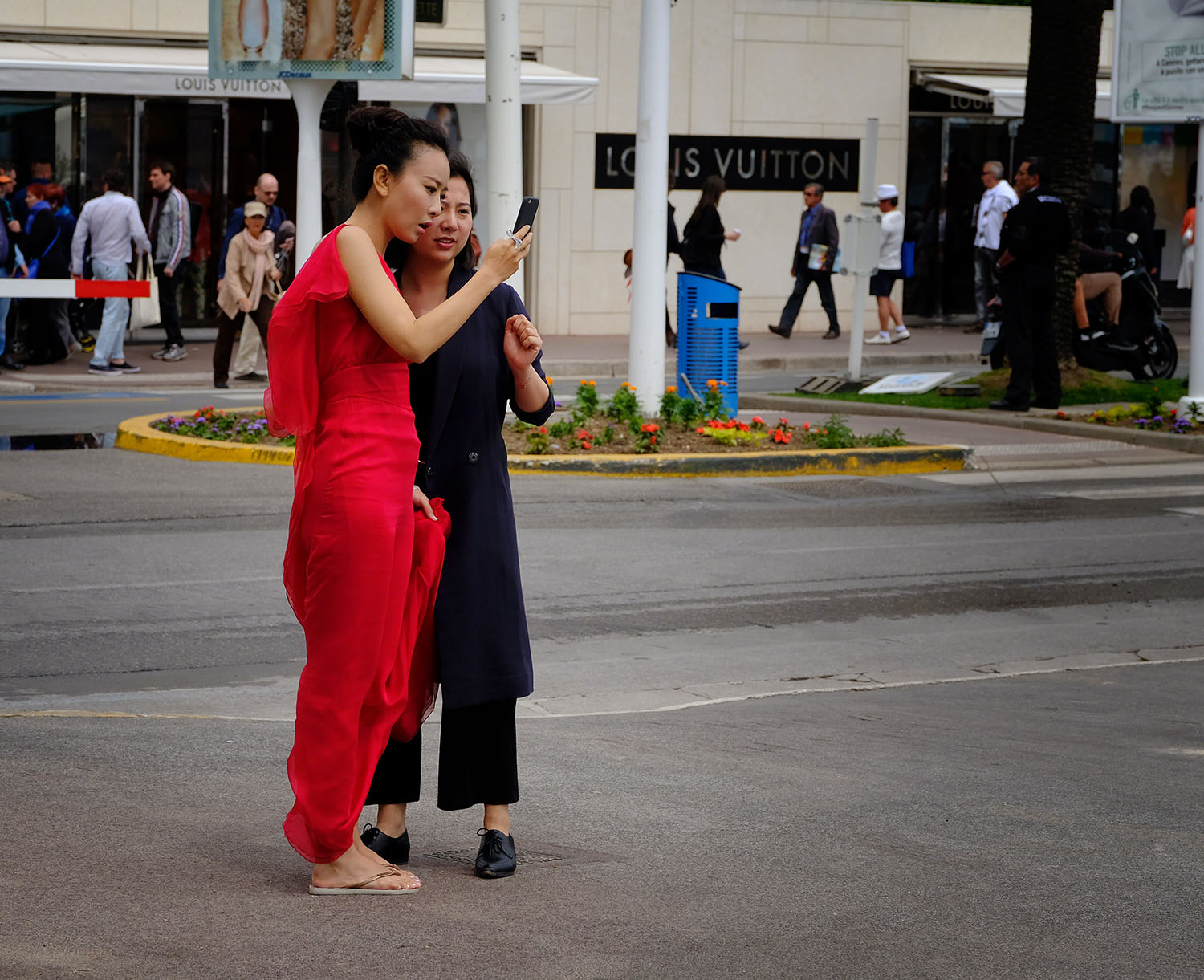 Giving interviews…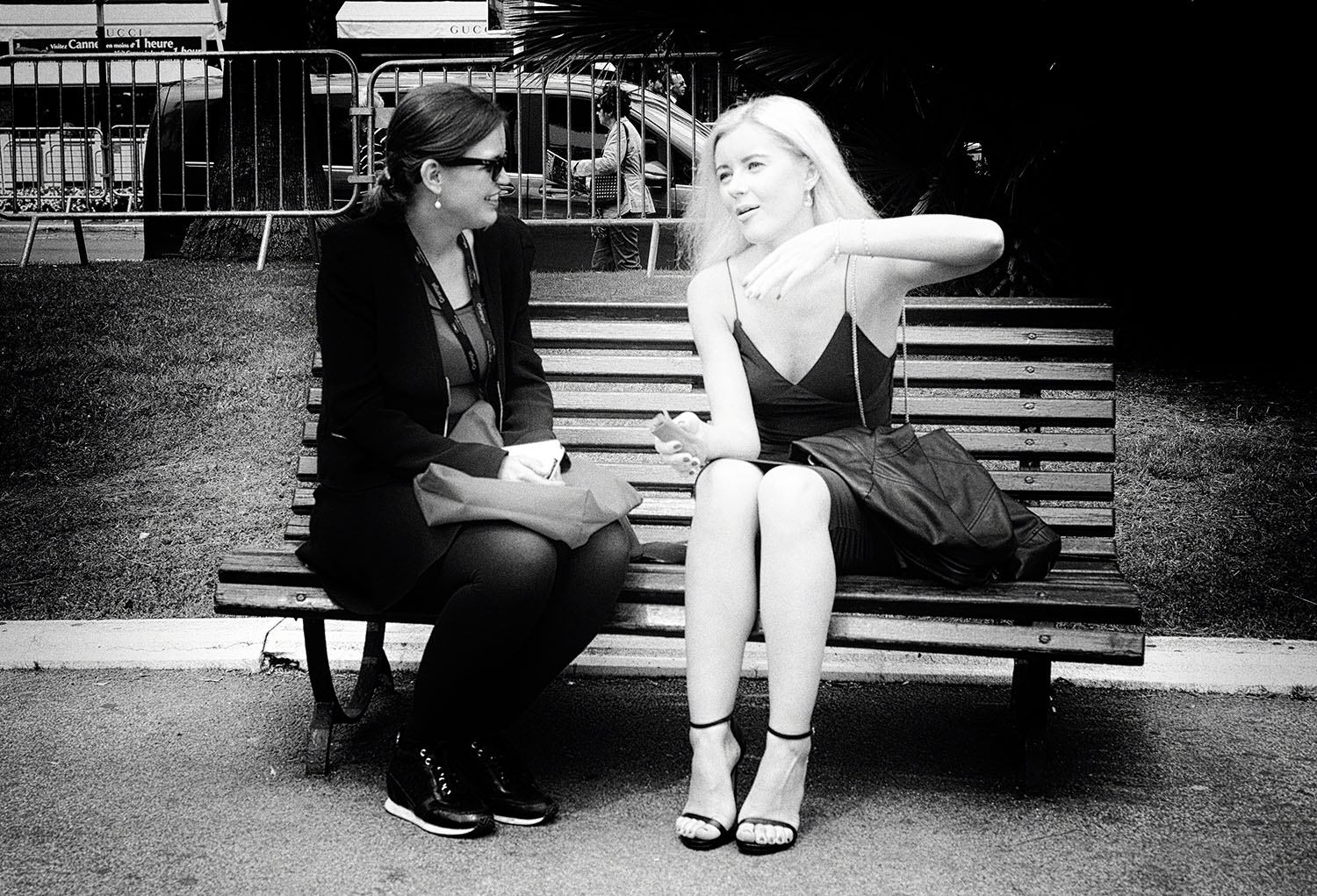 … and looking upscale-fabulously casual as they wait for their wives. Or whomever.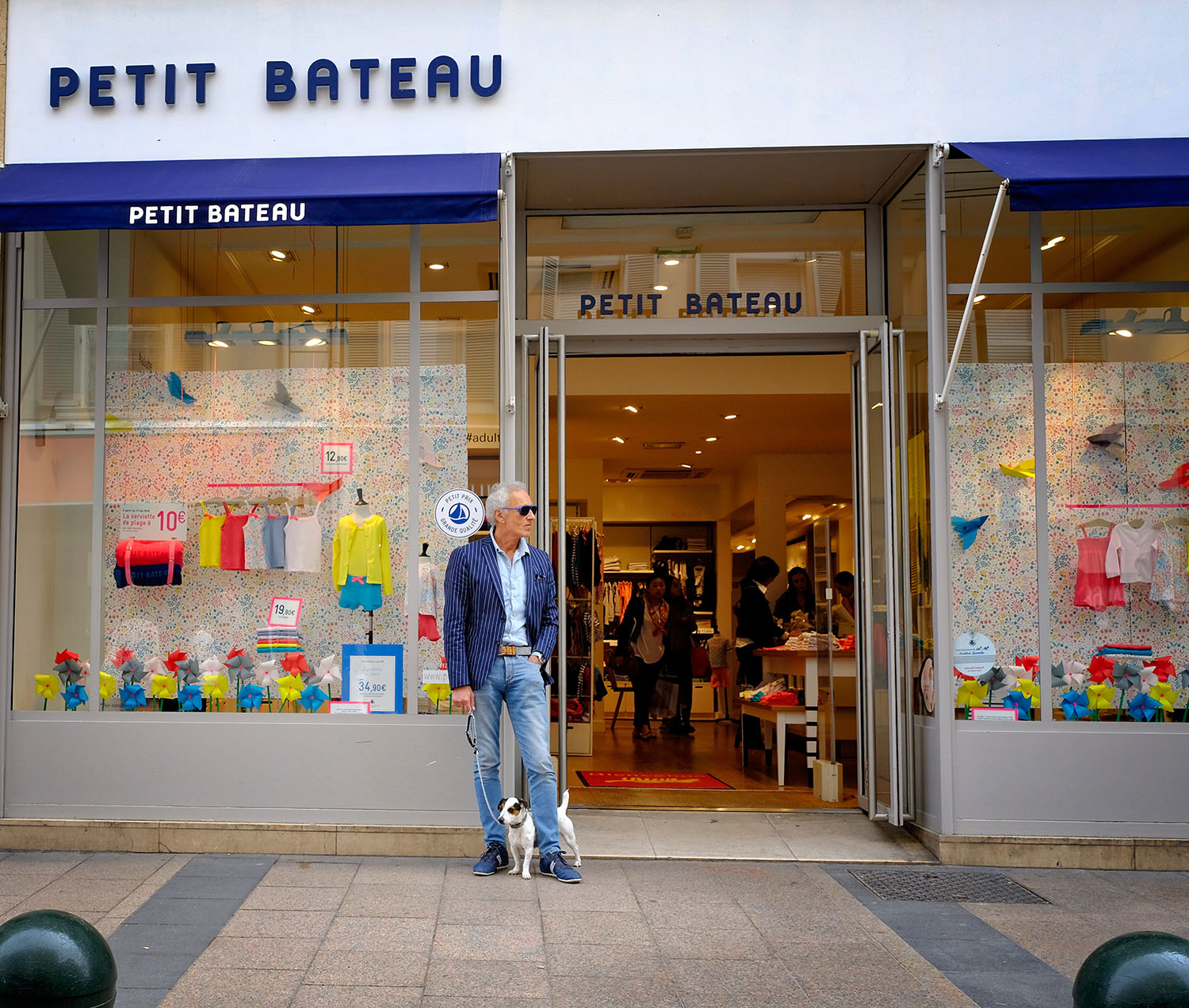 True story:
As I was standing on the sidewalk taking the picture above, there was this commercial shoot happening (below). I mean, they just set up on the street and went for it. Thing was, I didn't know that, since I was facing across the street to photograph the man in blue in the image above. So when I turned 90 degrees to my right, BAM! There they were. They were so adorable… and like out of a movie or something… so of course I photographed THEM. A few times. Without moving. Hey, it's a public sidewalk!
One of them finally came over and said "Could you please move, we're trying to film over here." Hahahahah!! It was all good. I got my shot.
Another awesome Cannes Film Festival moment.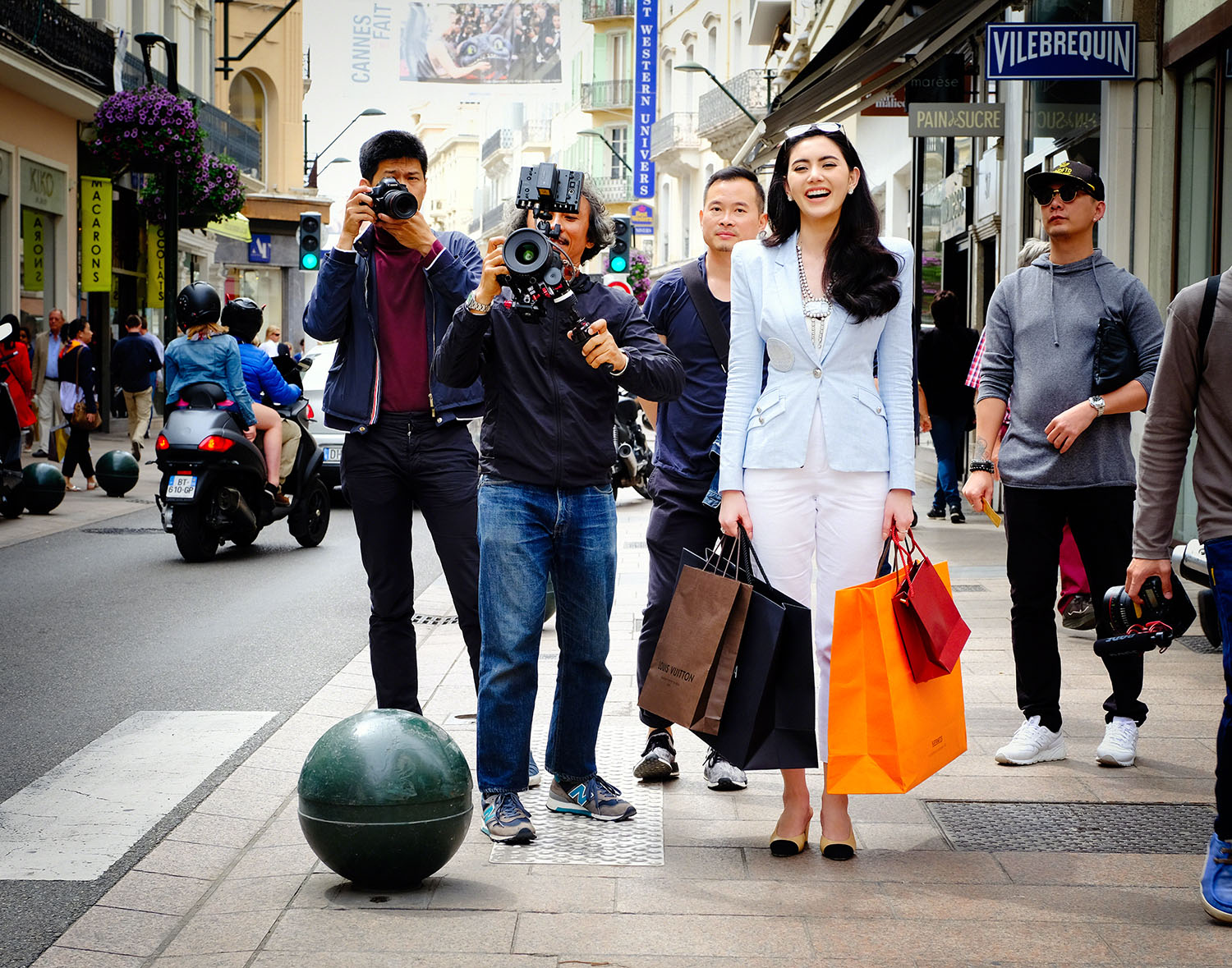 Oh – and here's Catherine getting an impromptu lesson in making REALLY BIG BUBBLES:
Of course, we decided that yet another impromptu video – this time together – was a must!
(We never knew what we're going to say or what was going to happen… we just turned on the video and went for it)
Oh… and that cafe we mentioned in the video? Lieke Kay was that friend.
This is the two of them giving me The Eye as I took even MORE pictures of them! Hahahahahha!!! Money. Shot.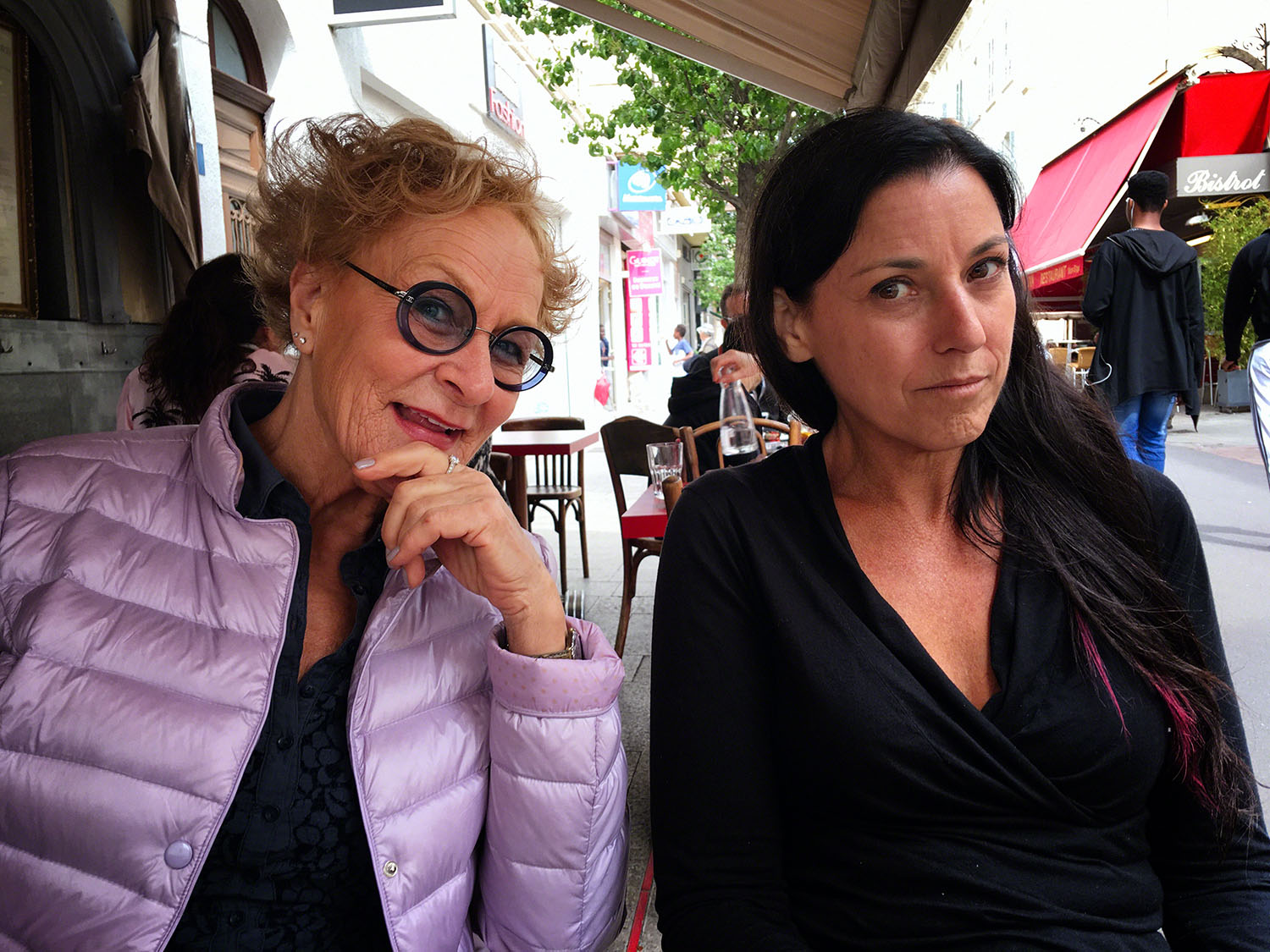 Lieke walked us back over to La Verrière for a couple of hours to rest our weary feet and selves, then it was time to head back up to La Pitchoune. Thing is, we lounged a little too long: we had a train to catch and we were almost late! We leapt to our feet and got hoofing.
I'll tell you one thing, these two covered ground like a pair of gazelles on the run! Since I could barely keep up – I decided to do some one-the-run (literally) street photography. It made it seem like I was lagging on purpose. Snort!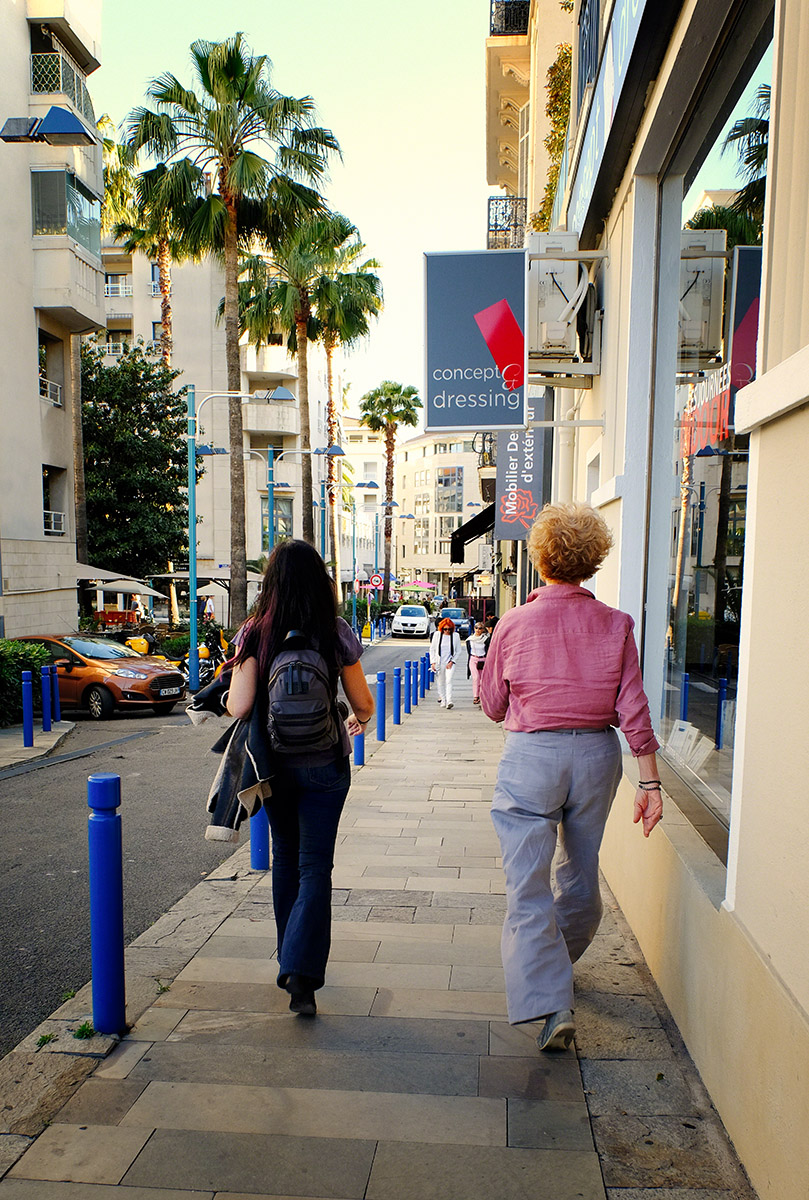 The train station at last!
OK, sure the train would be here shortly, but art before transport! Catherine had promised Lieke some portrait shots for her website and spotted the perfect place right outside the station. I, of course, had to record the moment, just for some flavah-flav of the moment…
Then the mad dash for the train and back to La Pitchoune!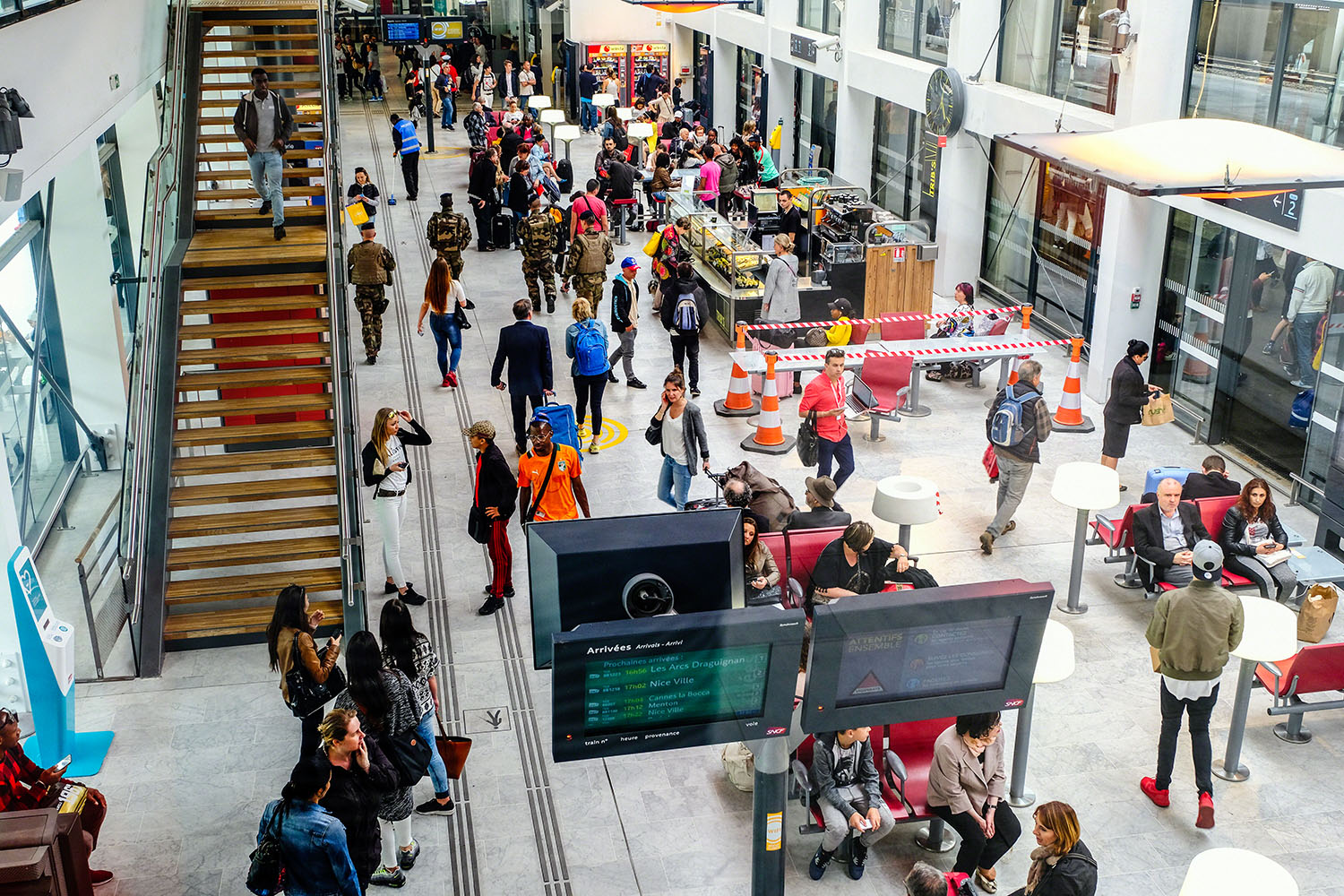 ---
Oh, and the photos Catherine took of me? We've got more to do, but this project is off to a great start!