The Fujifilm X-T2: First Impressions & Images
So, this happened. The Fujifilm X-T2. WOOOHOOOOO!!
But before I do the new camera dance,  I must preface with:
Those who know me have come to expect the type of piece I'm about to write. But for those who are new here (Hello, you!)… this first-look, hands-on review thing isn't your typical one. It's subjective and based upon my own personal experiences and preferences.  If you're looking for the splitting-of-pixels, comparisons of each f-stop and all that jazz, well, suffice it to say there are PLENTY of geeky types out there offering those. Google 'em and go git 'em!
I'm here to share my initial thoughts and images from this amazing camera and the technical bits that have been relevant to me in creating my work so far.
Secret Agent Girl
I was one of only a few photographers who were given the opportunity to test the X-T2 over the past couple of months. It was a tip-top secret mission. I honestly don't know how many of us there actually were… only that it was a small number. We weren't even allowed to speak its name; it had a code name. Upon threat of death, nary a word could be spoken. It was like being in a spy novel!
It even arrived with all the branding blacked out with tape: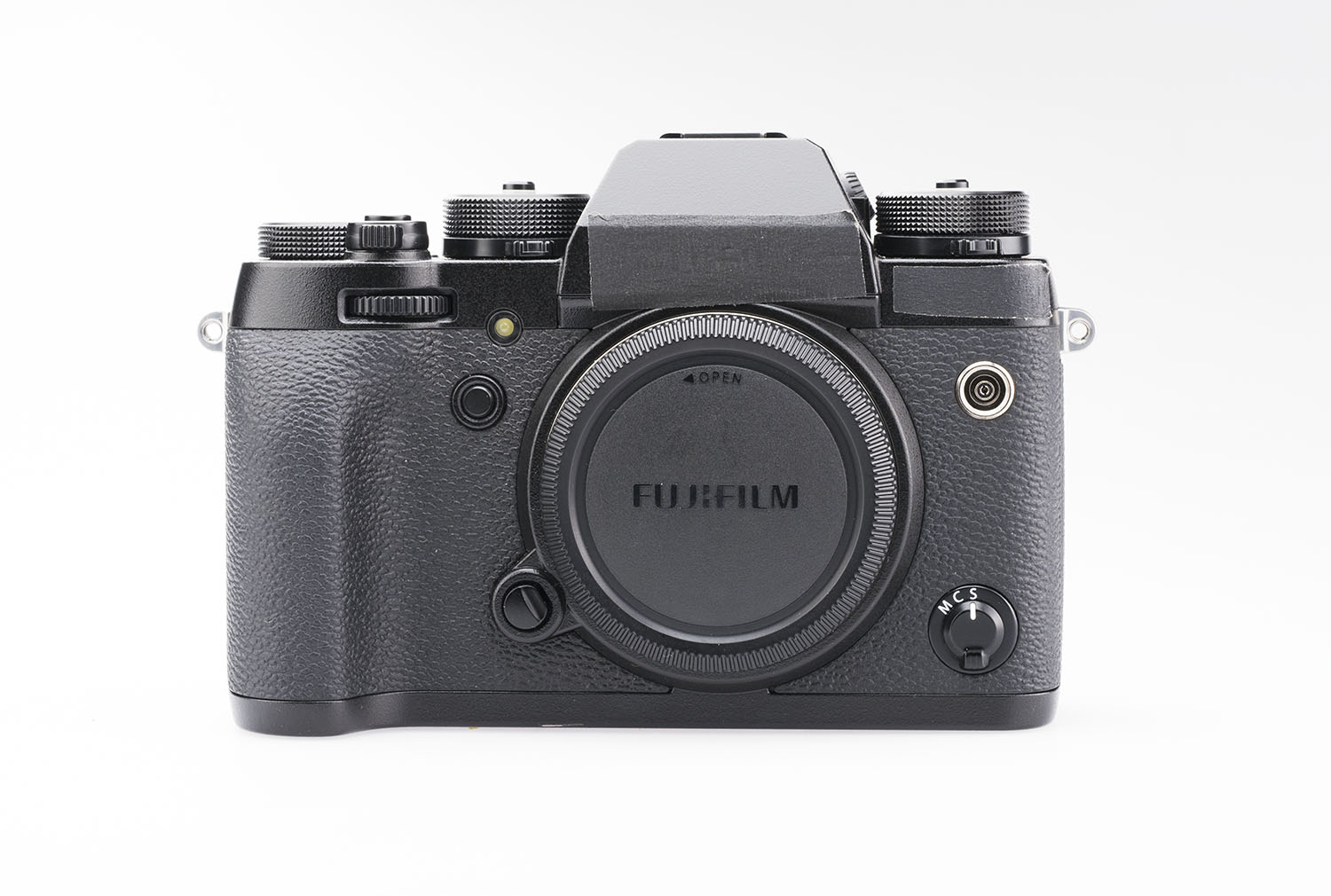 Here it is, out from behind the curtain: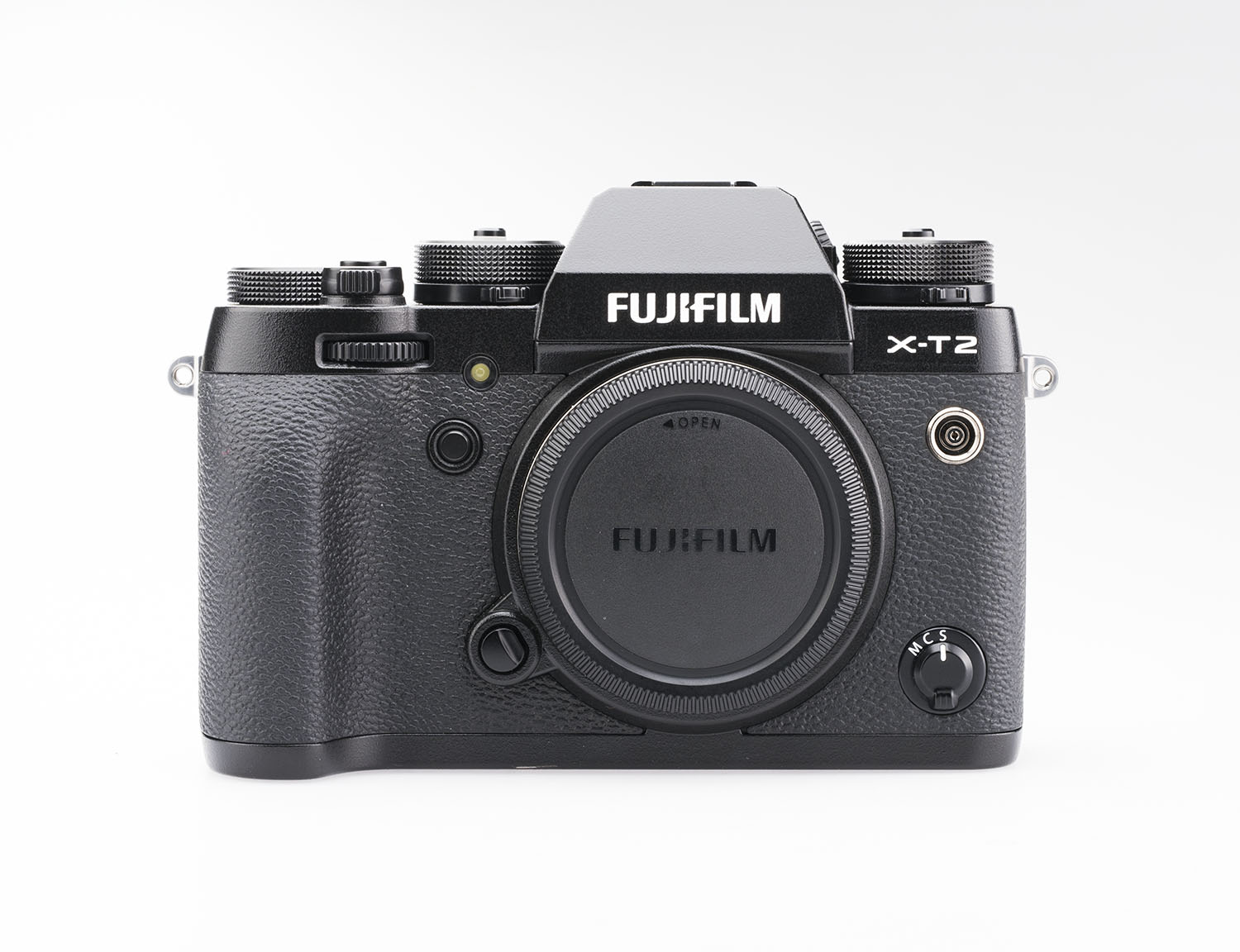 First Impressions
It was waiting for me at home when I got back from my 2 months in Europe and I got busy with it, jet lag and all. Typically, takes me awhile to fully get up close and personal with a new camera. But with a form factor so closely aligned with the X-T1 it took me no time at all to get up and humming.
What I got excited about right away was its 24.3 megpixels (image file size: 48 mg) with the same sensor as the X-Pro 2 (X-Trans CMOS III). I'd primarily used the X-Pro 2 in Europe and LOVED the images it creates. But I'm a fan of the feel and ergonomics of the X-T series, so I yearned for that, especially my beloved flip LCD screen. I was stoked to have it back.
AND, UM, ABOUT THAT FLIP-SCREEN:
It articulates 3 ways!! Here's it is horizontally: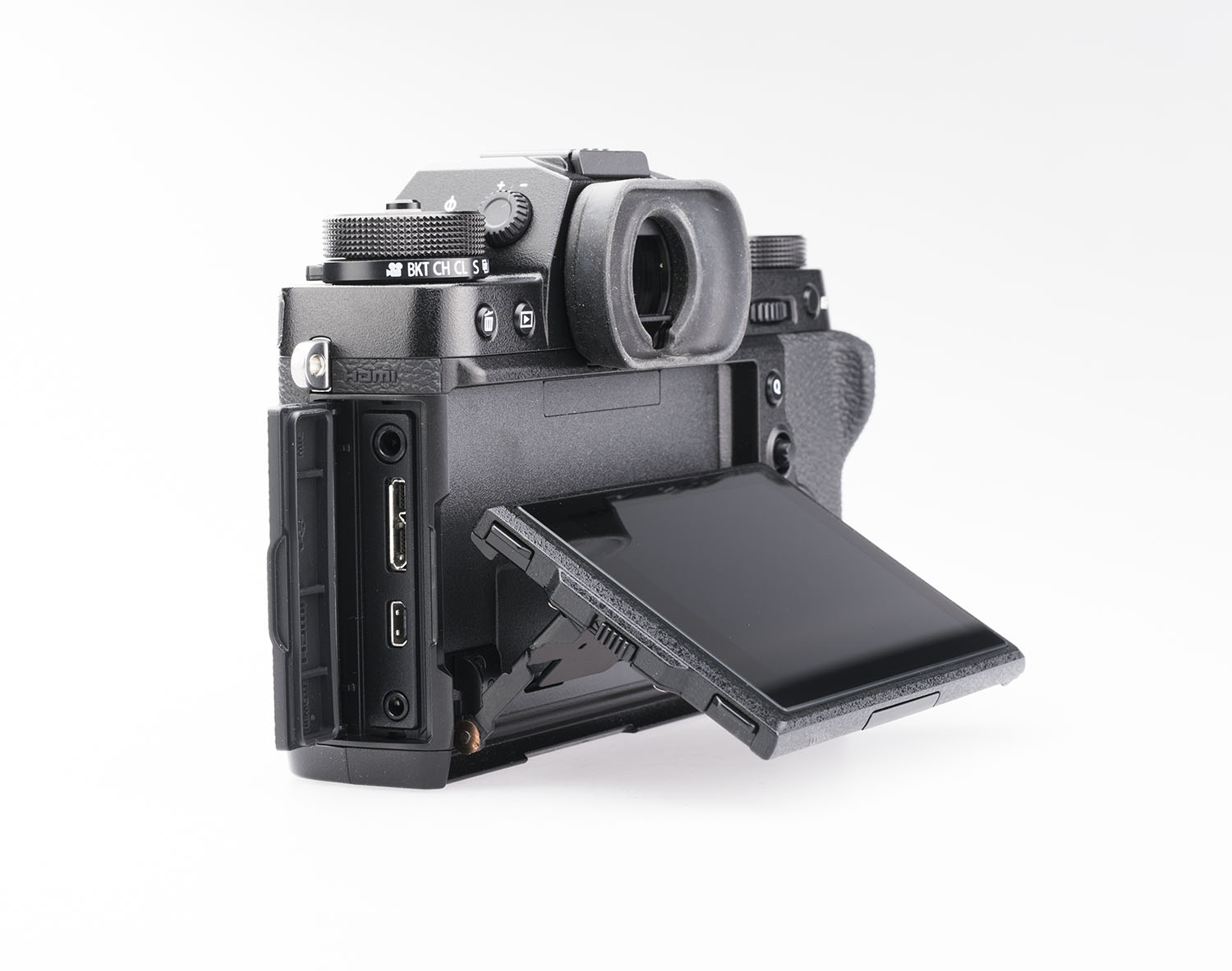 But now you can flip it out vertically too. Man, I love this. It's a neck and back-saver when I'm out in the field: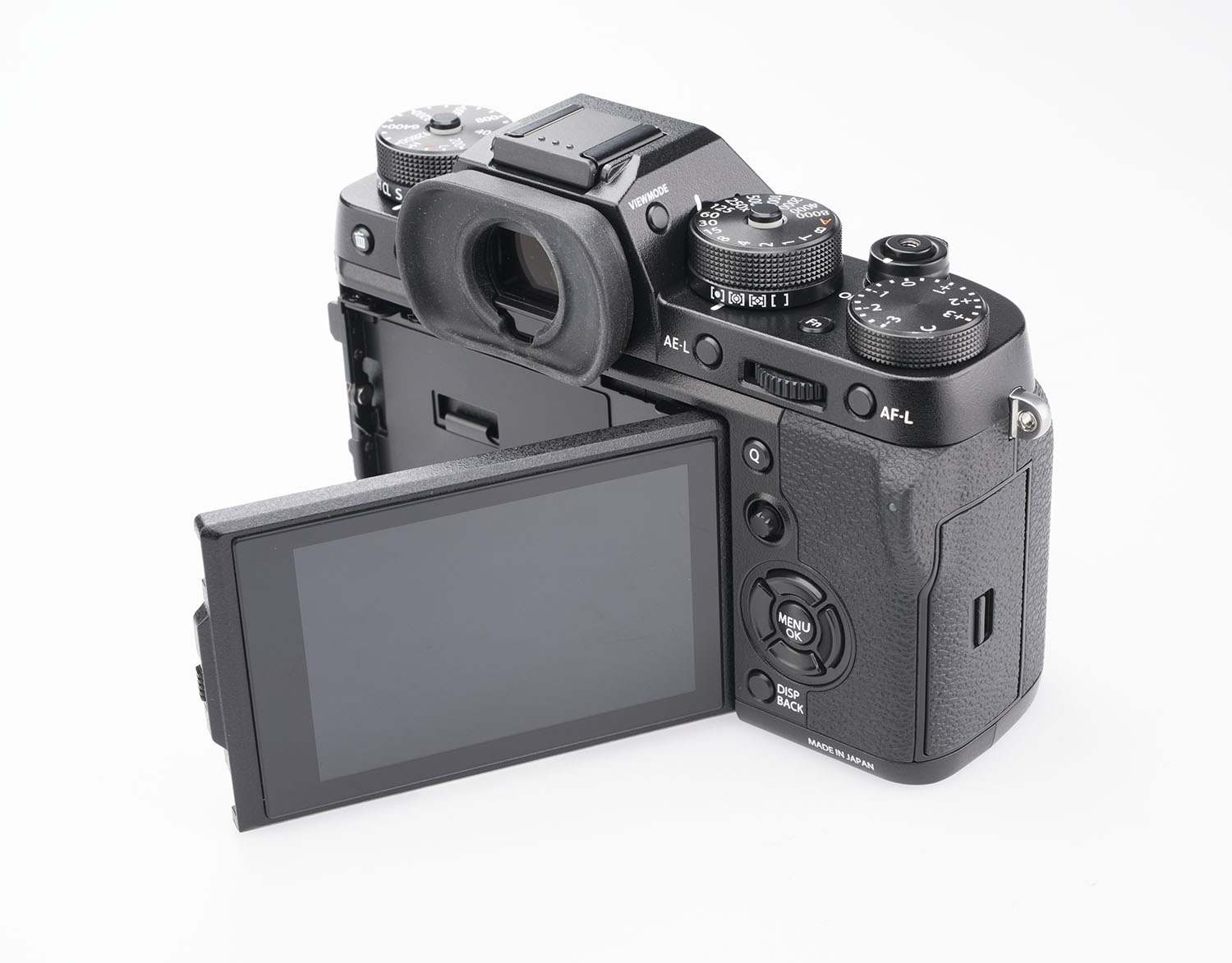 The X-T2 also has dual SD cards. Aww yeah.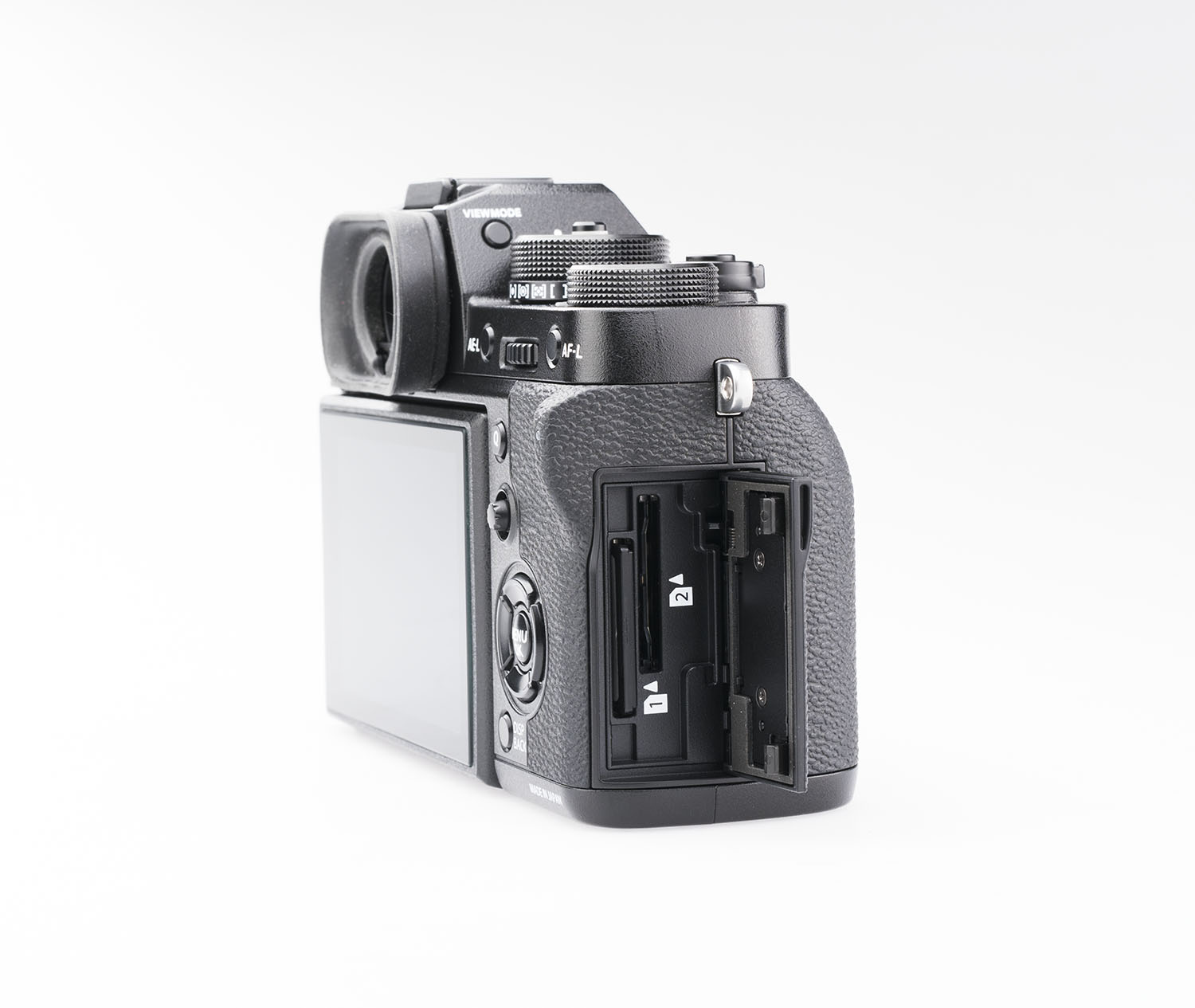 It also sports a menu button system with some of the features of the X-Pro 2 that I particularly liked, as well as various cosmetic and aesthetic updates that you'd expect from a decent upgrade.
And finally… 4k video. [fist pumps the air] Thank you, Fujifilm!
OK, here are the X-T2 key features:
24.3MP X-Trans CMOS III Sensor
Dust and moisture-resistant body with approximately 63 points of weather sealing; Freeze resistance to 14°F
X-Processor Pro
Fast AF of 0.06 seconds
Startup time of 0.3 seconds
Shutter time lag of 0.045 seconds
Shooting interval of 0.17 seconds
Phase detection AF and motion predictive AF for continuous shooting up to 8 frames per second (fps)
Up to 11fps using Booster Grip
High-precision 0.48-inch, 2.36 million dot OLED viewfinder
Viewfinder magnification for digital cameras of 0.77x
Wide viewing angle (diagonal 38° and horizontal 31°)
Ultra-fast Real Time Viewfinder with a lag-time of 0.005sec (less than 1/10 of existing models)
Automatic Brightness Adjustment function
EVF refreshes at a rate of 60fps, or as high as 100fps in the Boost mode
Continuous shooting of 5fps in Live View
Full 4K 3840×2160 30P/25P/24P shooting (Using a card with the UHS Speed Class 3 or higher)
Continuous recording: up to approximately 10 minutes
Full HD 1920×1080 60P/50P/30P/25P/24P, Continuous recording: up to approximately 15 minutes
HD 1280×720 60P/50P/30P/25P/24P, Continuous recording: up to approximately 29 minutes
Four different display modes: Full, Normal, Dual and Vertical
Full mode: Displays shooting information at the top and bottom of the screen to avoid obstruction of the view
Dual mode: Adds a small second screen for checking focus point with Focus Peak Highlight or Digital Split Image
Normal mode: Lets you concentrate on framing the shot in Auto Focus mode while keeping you aware of how the shooting conditions are changing, making it the perfect setting for sports and action photography
Portrait mode: When in Full or Normal modes, it rotates the shooting information interface when the camera is turned vertically
Tempered glass 1.04 million dot high-precision 3" tilting LCD monitor
Digital Split Image and Focus Highlight Peaking
Wi-Fi and remote camera operation
ISO200 – 6400, extended ISO 100, 12800, 25600, Auto(maximum ISO setting from ISO 400 – ISO6400 available) with High ISO 51200 setting
Lens Modulation Optimizer technology maximizes each lens' performance
In-camera RAW converter
Die-cast magnesium body provides a sturdy and durable, while compact and lightweight design
Two command dials and six Function buttons for instant control and customization
Interval timer shooting for Time Lapse photography is available with intervals of 1 second to 24 hours and up to "∞" frames
Advanced filters and Film Simulations, including ACROS


---

Lupine, Lake Tahoe, CA
Fujifilm X-T2, XF60mmF2.4 R Macro
Hand-held, ISO 640, f/6.4, 1/250 sec

A word about choosing gear
Let me say right here that I'm someone who believes that the best camera is the one you have with you. I'm not judgey about that or a camera snob. An artist creates with the materials at hand. I also don't get into riled up discussions over which camera out there is better. Because what I know to be true is that everyone's different. There's something that's going to suit YOU perfectly, if you can figure out what you actually want to do and create FIRST… then find the gear that brings you closest to that ideal.
For me, that's Fujifilm. I determined that by trying every single mirrorless camera that looked like would even come close to my list of requirements and desires. Your list might be entirely different than mine. I'd advise anyone wondering "which camera is right for me" to make a list (mental or physical)  of what you want to do with your gear – and what you want to see in the way of colors and contrasts, dynamic range, weatherproofing (or not), size, weight, everything you can think of. Then go get your hands on some cameras, either by borrowing, renting or buying somewhere that offers a full 30-day refund.  Because my priorities are not yours… and vice versa.
OK, I'll step off my soapbox now. 😉
Mule's Ears, Truckee CA
Fujifilm X-T2, XF16-55mmF2.8 R LM WR
ISO 500, f/22, 1/4 sec
Really Right Stuff tripod, BH-40 ballhead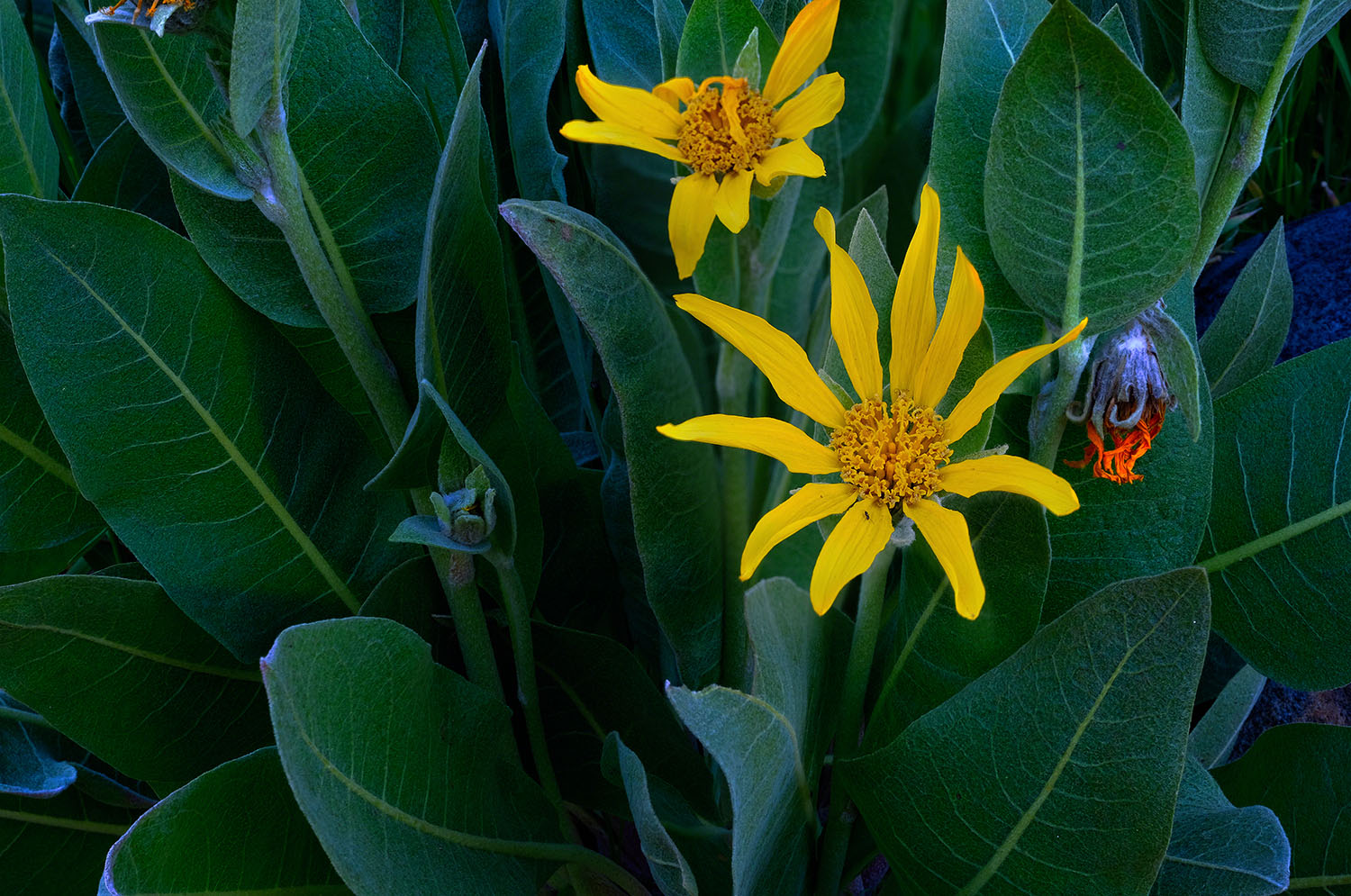 But What About The Images?
I'm glad you asked. Because more than camera specs and speculations, the proof is always in the pudding. I'm all about the pudding.
I loved the images that the X-Pro 2 made during my 2 months in Europe this year. Greater clarity, depth and just an overall bump up in quality made me happy. Not to say the other cameras AREN'T good… just that the new sensor made a difference, as it should.
The X-T2 has that same sensor, so I experienced much the same delight in the quality. Along with the other improvements I mentioned earlier, I have to say I was happy as a clam using the camera. If you're thinking of upgrading from an X-T1, you'll feel right at home with this puppy.
Shining Through.. Truckee, CA
Fujifilm X-T2, XF16-55mmF2.8 R LM WR
ISO 500, f/13, 1/25 sec
Really Right Stuff TQC-14 tripod, BH-40 ballhead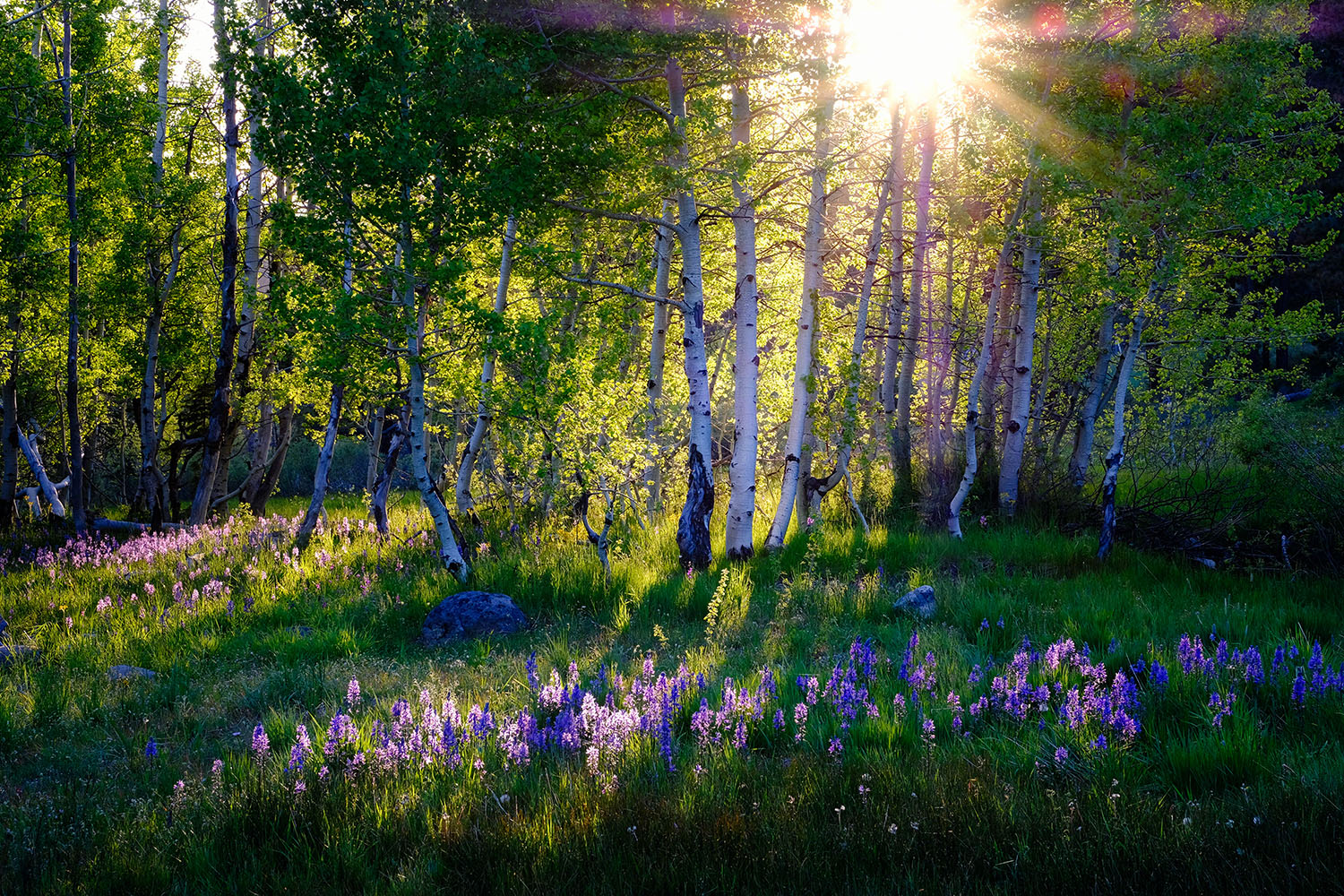 Pining Over the Summit: Truckee, CA
Fujifilm X-T2, XF16-55mmF2.8 R LM WR
ISO 640, f/20, 1/9 sec
Really Right Stuff TVC-24 tripod, BH-55 ballhead
This image was created from two exposures from the X-T2.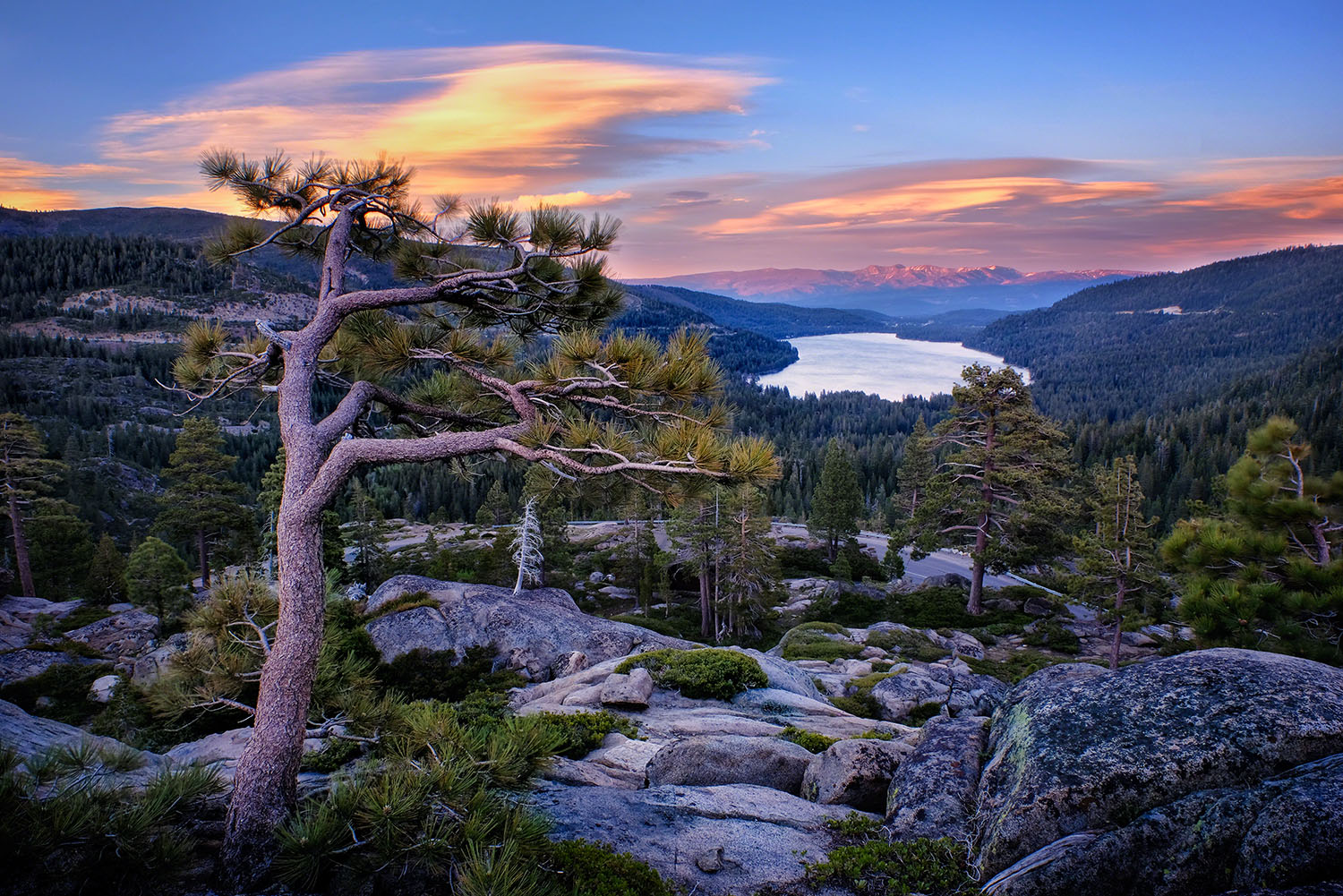 This was the RAW exposure I shot for the sky: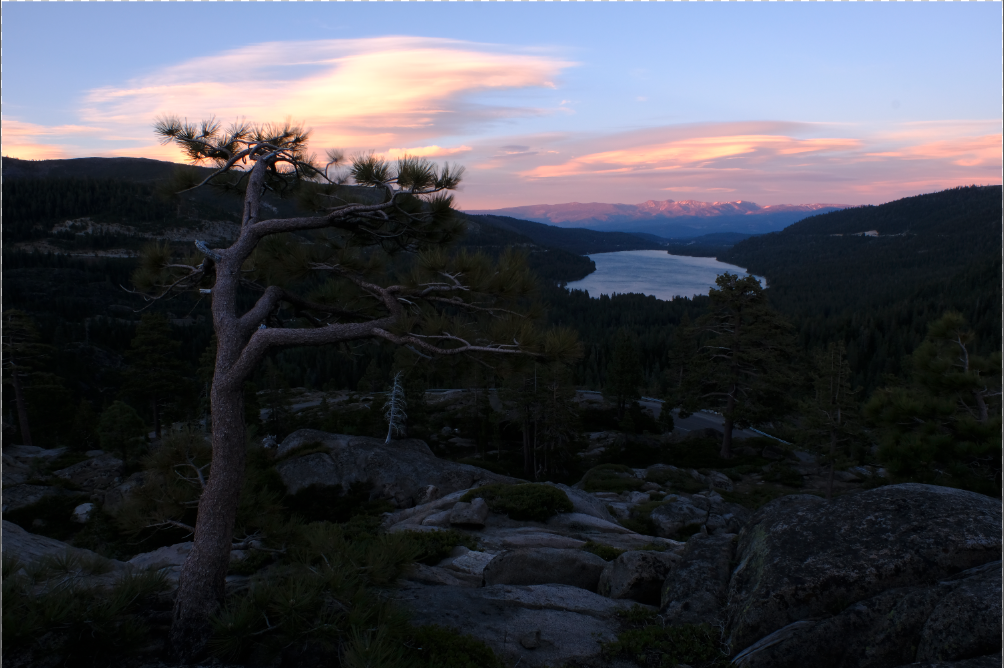 And this was the one for the land:
(I blended them in Photoshop, then brought out the colors and contrasts for the final image.)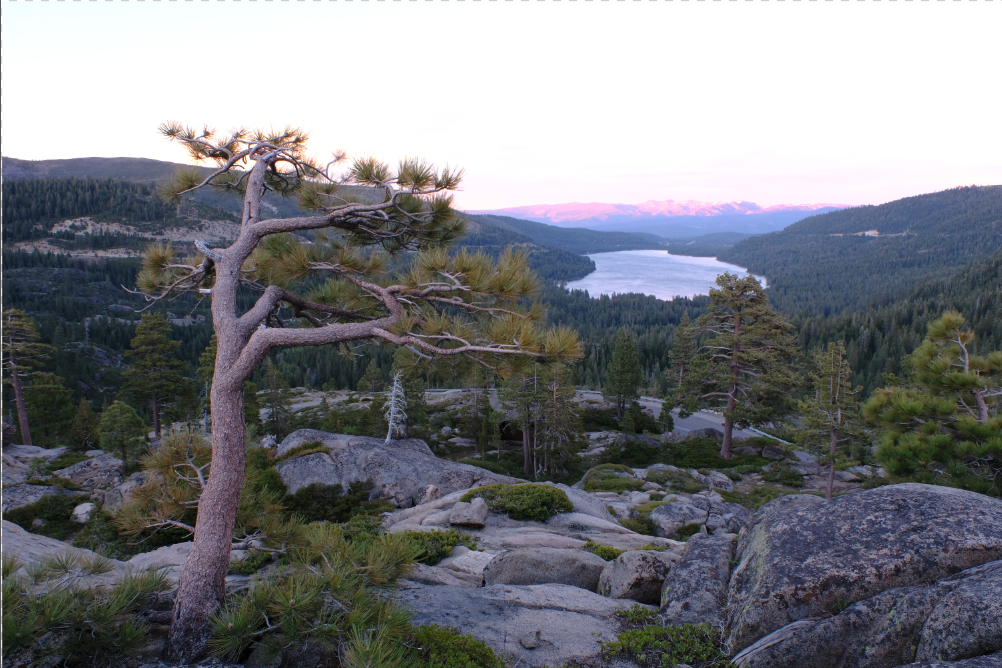 6-image early morning panorama of Eagle Falls, Lake Tahoe, CA:
Fujifilm X-T2, XF16-55mmF2.8 R LM WR
ISO 200, f/14, 1 sec
Really Right Stuff TVC24, BH-55 ballhead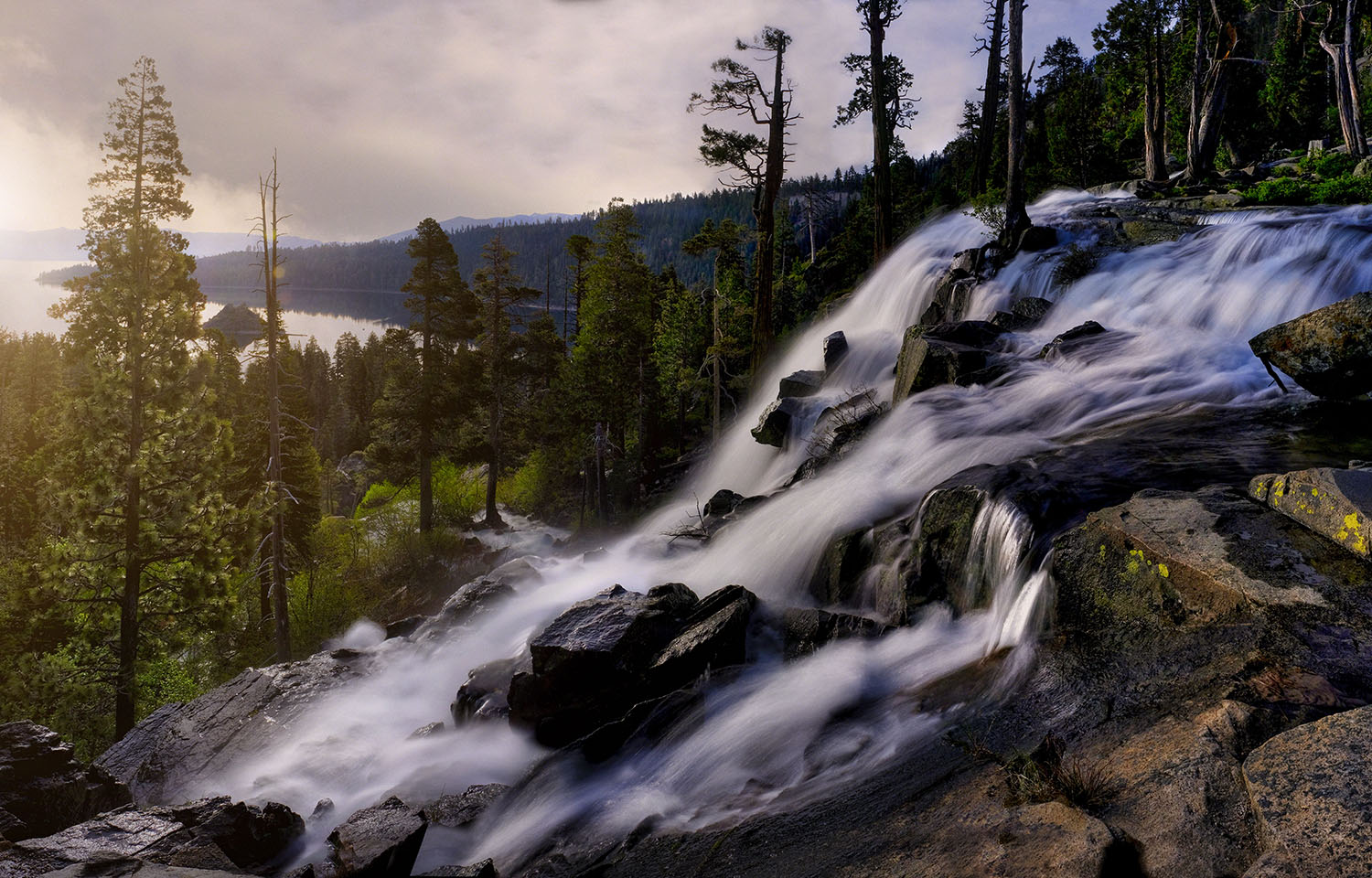 Trax: Felton, CA
Fujifilm X-T2, XF16-55mmF2.8 R LM WR
ISO 500, f/7.1, 1/9 sec
Really Right Stuff TVC-24 tripod, BH-55 ballhead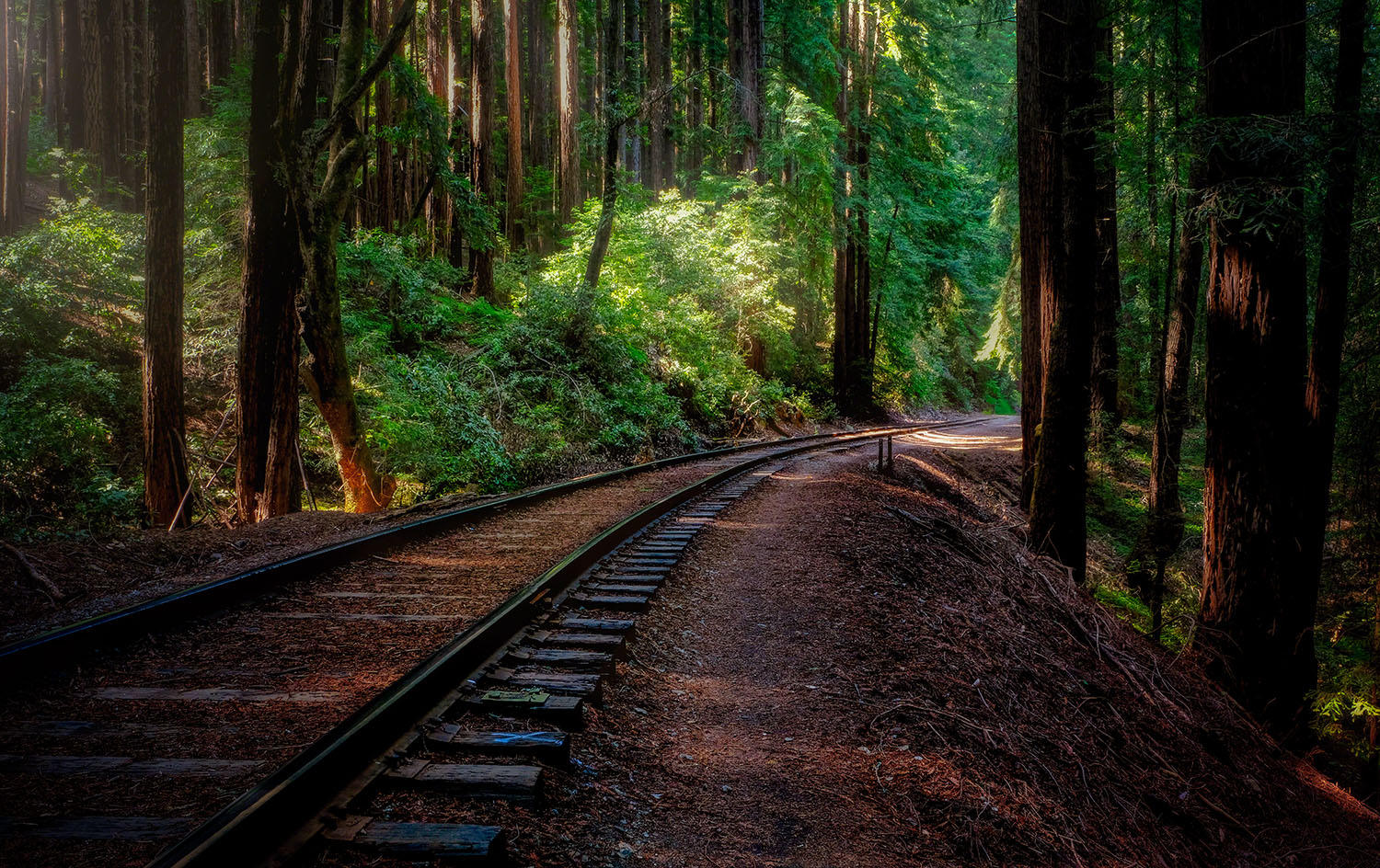 Smokin' Sunset: Truckee, CA
Fujifilm X-T2, XF16-55mmF2.8 R LM WR
ISO 640, f/9, 1/180 sec
I shot this one hand-held and it was getting dark. There was a wildfire that had just started maybe 70 miles away.. the first fingers of smoke had just come up over the mountains. I was out for a walk without my tripod, and figured I'd give it a shot. I expected to need a higher ISO, but didn't. This is something I'm beginning to notice with this camera; that perhaps it's got improved light sensitivity. Time will tell… but where I expected to have to go up to 1000 or 1200 ISO, it did just fine at 640 and f/9. A nice surprise! Now to see if it continues…

Her Own Self: Lake Tahoe, CA
Fujifilm X-T2, XF60mmF2.4 R Macro
ISO 500, f/7.1, 1/250 sec
And of course, no showing of new images is complete with something that was "artified." There is a field of lupine that goes off like crazy every year in Tahoe City, CA. I brought my X-T2 down there one afternoon – and stayed through a lovely sunset. The images were so… well, so Fujifilm I guess that some of them made me see some possibilities beyond the "real". It's part of how I see the world… so it's part of how I create my impressions of it.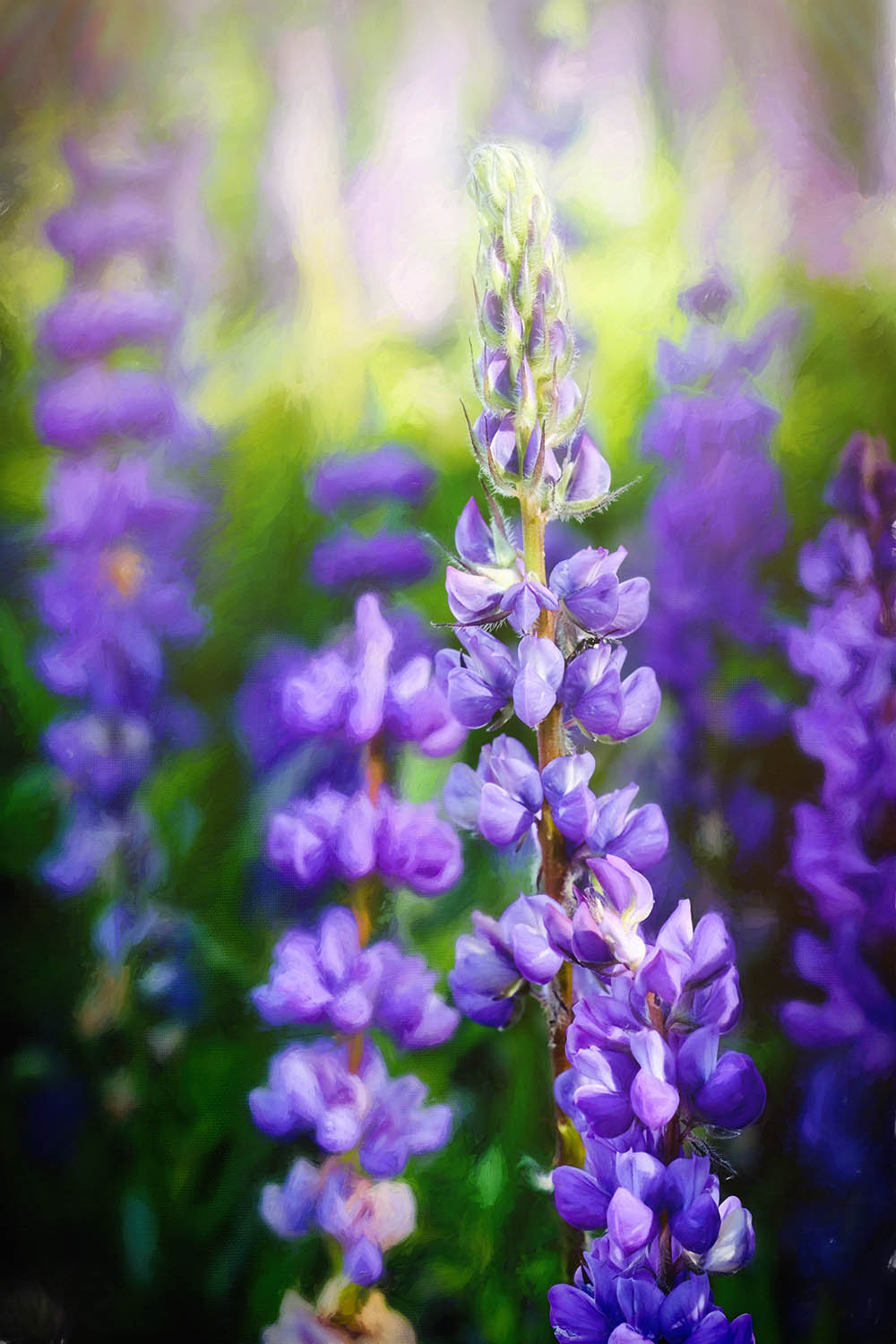 Finally (for now!)
I've only been a Fujifilm user for a bit over a year now. In that time, I've seen amazing growth and improvements. Every upgrade is solid. They listen to what users say. There's just no sliding by for them. This is something I was looking for when I was switching to mirrorless: great gear, yes. But also a company that really gets photography and stays on top of their game. It's been so exciting to watch it happen… and to be a part of it!
I'm grateful for the opportunity to be a photographer in this day and age. To allow my art to grow. To have equipment that helps me do what I do and inspires me every step of the way. As an artist, it is a true gift – and I never take it for granted.
The X-T2 is right in line with all of that. For me, it's kind of a dream camera. I haven't had it in my hands for that long, yet I never want to let it go! I'm loving what I've been able to create with it in a short time, what it inspires me to think about and how it handles in every situation I've taken it into.
I haven't yet dug into the video feature, but that's coming. Winter? Should be interesting. They say it's good to 14 degrees F. Sometimes I shoot in near 0 degrees, or a little lower. So well see! I can't wait to do more and share my further impressions as they happen!