OK, I know you know where air and earth meet. But what I'm talking about is where aerial and terrestrial photography meet and have a common ground. Where they support each other. Serve one another. Yeah, I'm fancy that way.
MAKING YOUR WORLD NEW AGAIN
As many of you know, I've been flying a DJI Phantom 4 quadcoper named Bob for a little while now. I gotta say, it is TRULY mind-blowing. Getting to see my favorite places from above (as I have dreamt of and imagined countless times) is absolutely thrilling and such an enormous gift. Color me grateful to DJI Global, Randy Jay Braun, Stacy Garlington, Barry Blanchard and Laurie Rubin 100x over!
For example, there's this aspen grove near me that has this little settler's cabin on it. I started photographing in the autumn somewhere around the year 2000. Maybe earlier. Each year the fall colors are a bit different, each year the cabin gets more and more decrepit as it's slowly subsumed by the aspens.
Here's a photo of it I made last year about this time…
It's a 3-shot pano taken with my Fujifilm X-T10 and XF60mmF2.4 R Macro lens.
Settings: ISO 1250 (I was hand-holding, not on a tripod), f/8, 1/800 sec.
Here's an aerial shot I did of the grove a few days ago with my drone Bob:
(the cabin is actually just below the bottom of the shot on this.)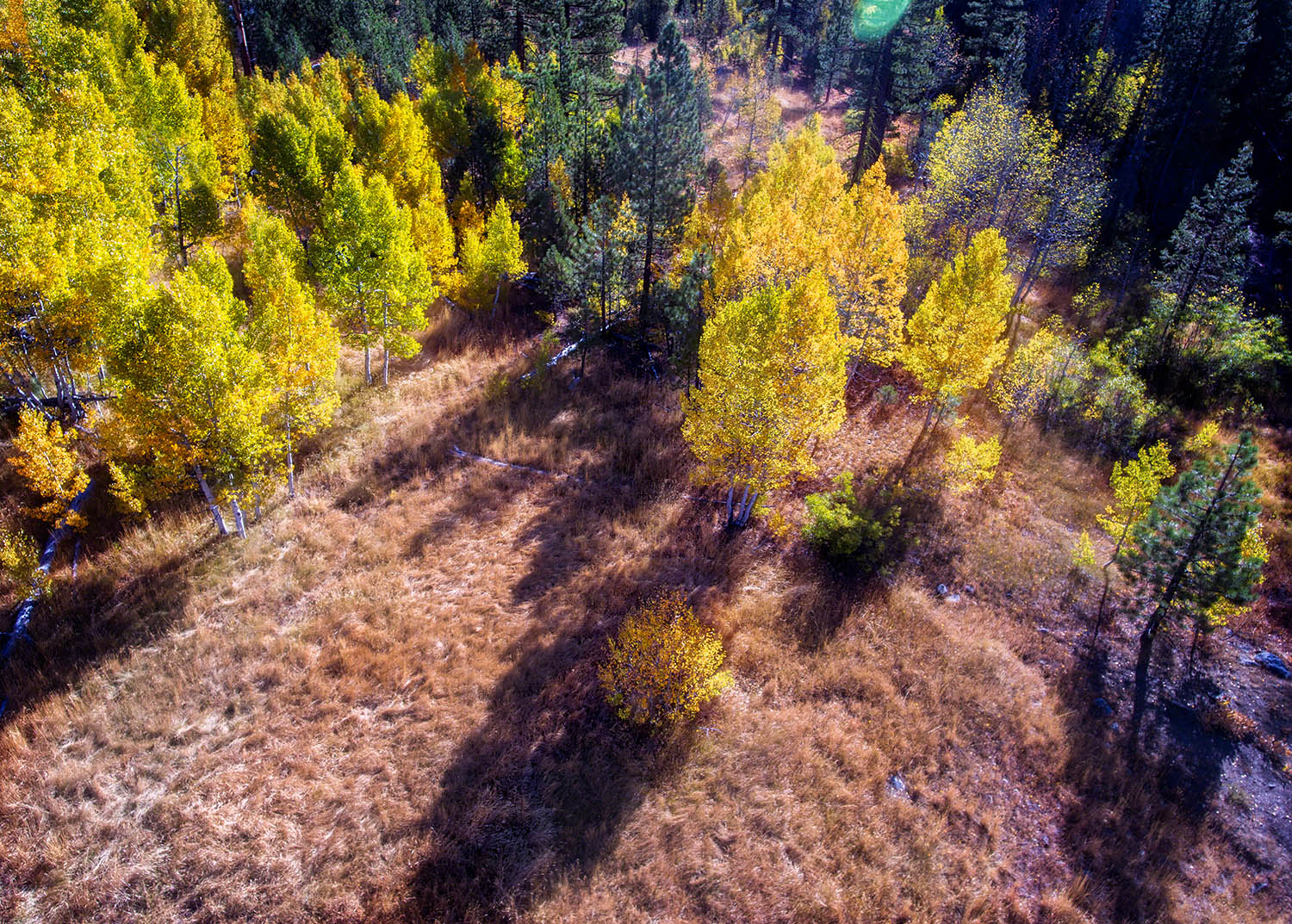 Talk about seeing your usual world in a whole new way! That in and of itself has been crazy fun and fascinating. Like; game-changing amazing. It's like getting to make art on the fly! (couldn't resist)
Scouting Your Ground Shot
My  latest amazing coffee discovery is what a fabulous tool Bob is (don't tell him I called him a tool!) for finding my ground shots. I've heard my BFF and flying mentor Barry Blanchard talk about this over the years… now I'm finally discovering it for myself.
For instance, ever wondered what was over that rock? Around that corner? Over that hill? Send Bob to find out! You not only get a unique aerial photo and perspective – you can also decide if it's also worth trekking over there to set up for a terrestrial shot too. This has been a time saver already… and I've got a couple of less-easily accessed spots in mind I've always wondered about. I'm thinking it's going to be extra especially helpful this winter!
Thing is, even though I love aerial photography like there was no tomorrow; me 'n my camera on the ground (Fujifilm, in my case) are married forever. I don't see this as an either-or deal. Instead I see this new vista as a brilliant expansion of vision, a blending of worlds, a tapestry of perspectives woven together in a breathtaking representation of life as we (could) know it.
As above, so below.
And so it goes… 😉
Here are a few more images… each one an experiment; each one a step down the footpath of creativity and delight!
Low and lovely over Donner Lake; Truckee, CA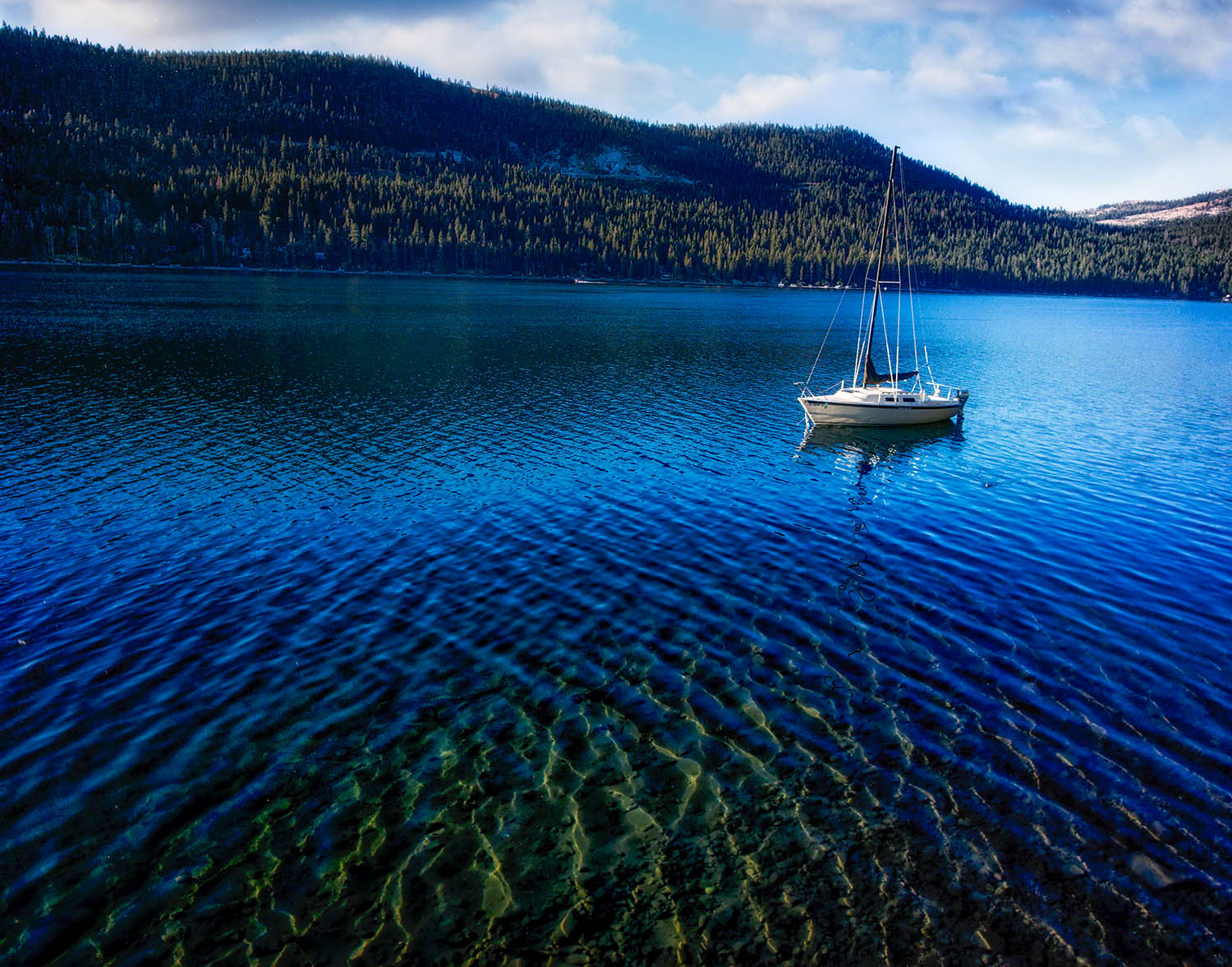 The brilliance of fall in Truckee, CA: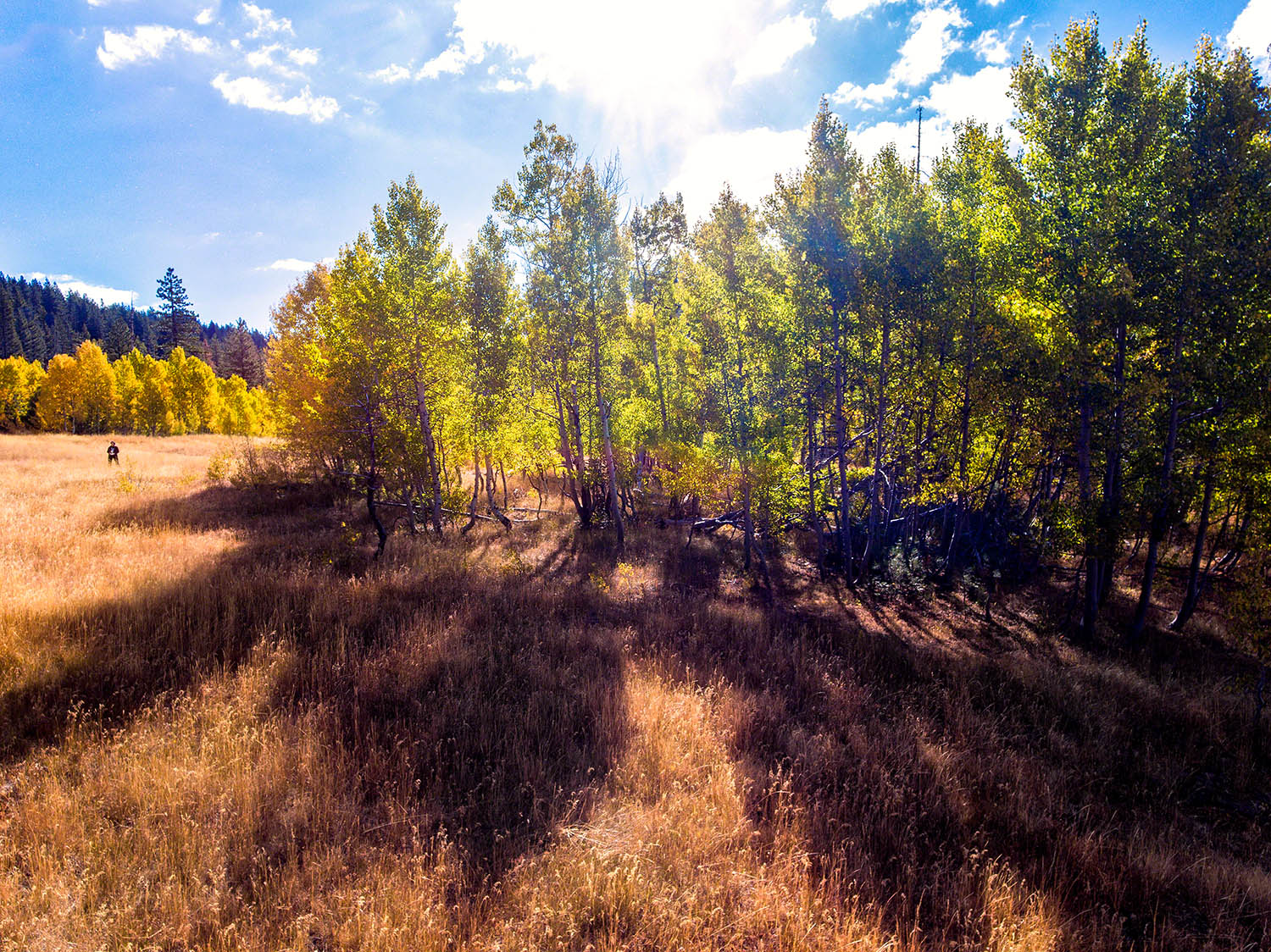 High over Lake Tahoe, Nevada side: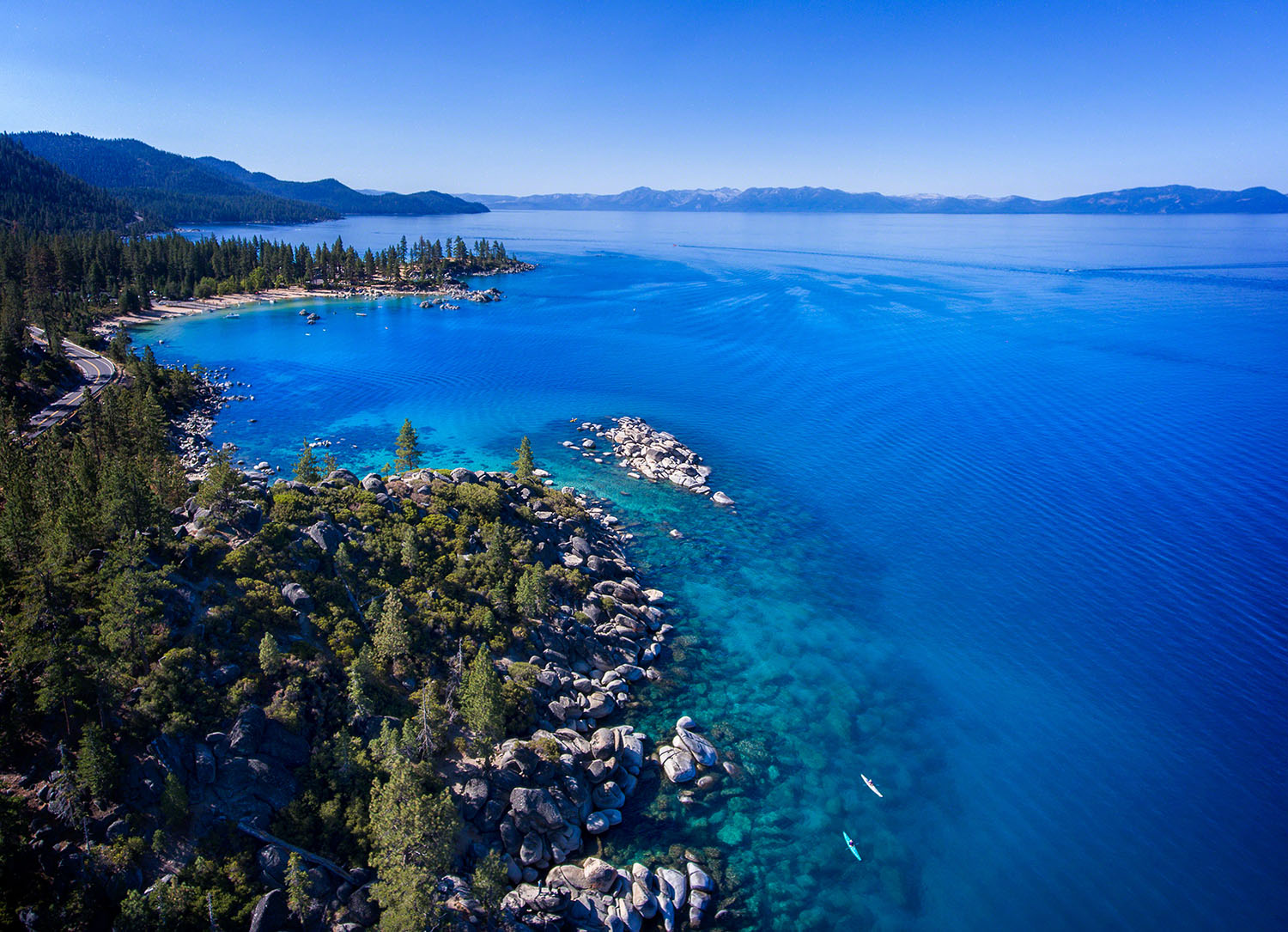 Q: How could I ever choose between perspectives on Tahoe?
A: Can't. Won't. Don't bother asking me to!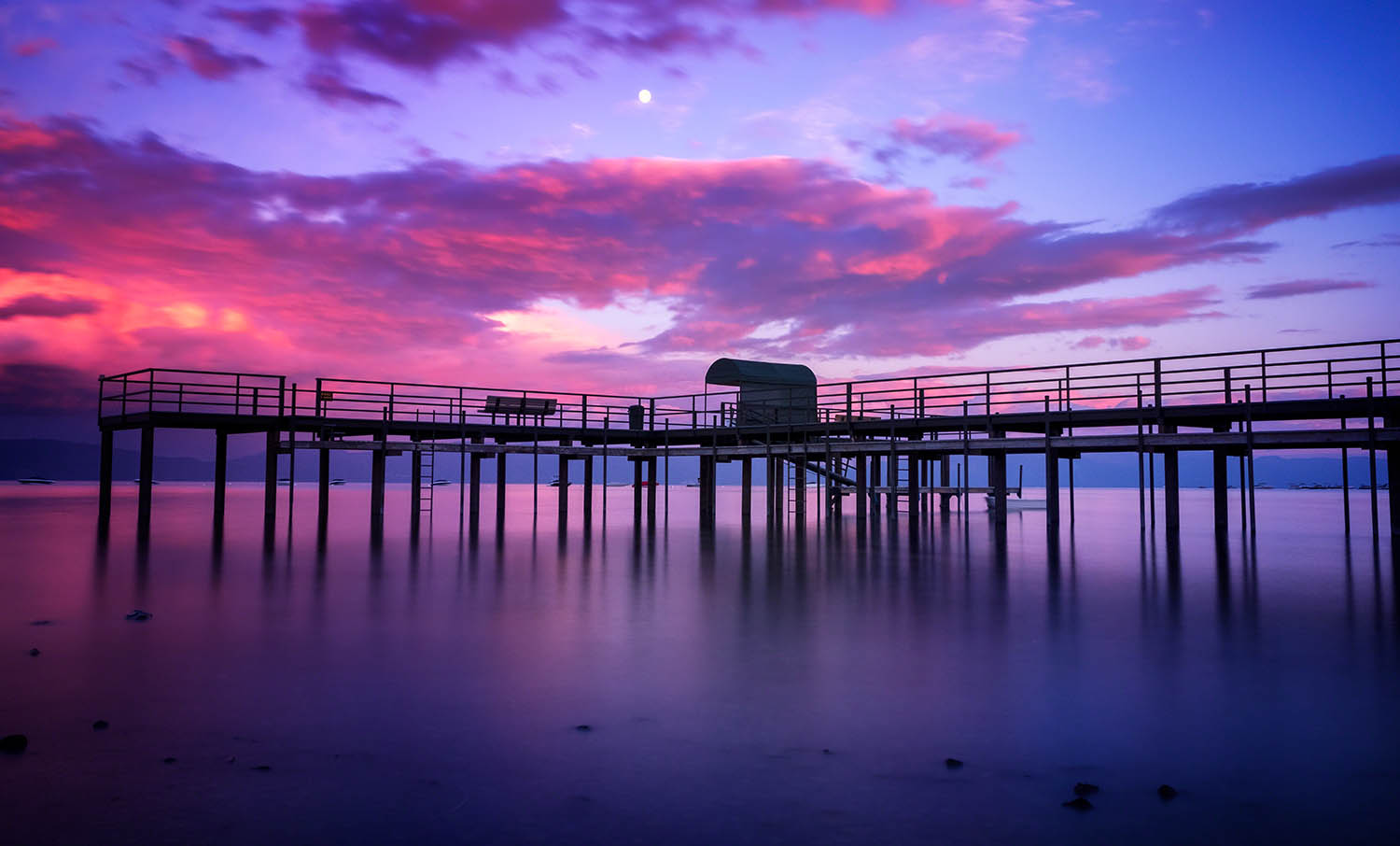 A little post-sunset light show commentary! (on a different night than the one above)
Lake Tahoe, California side.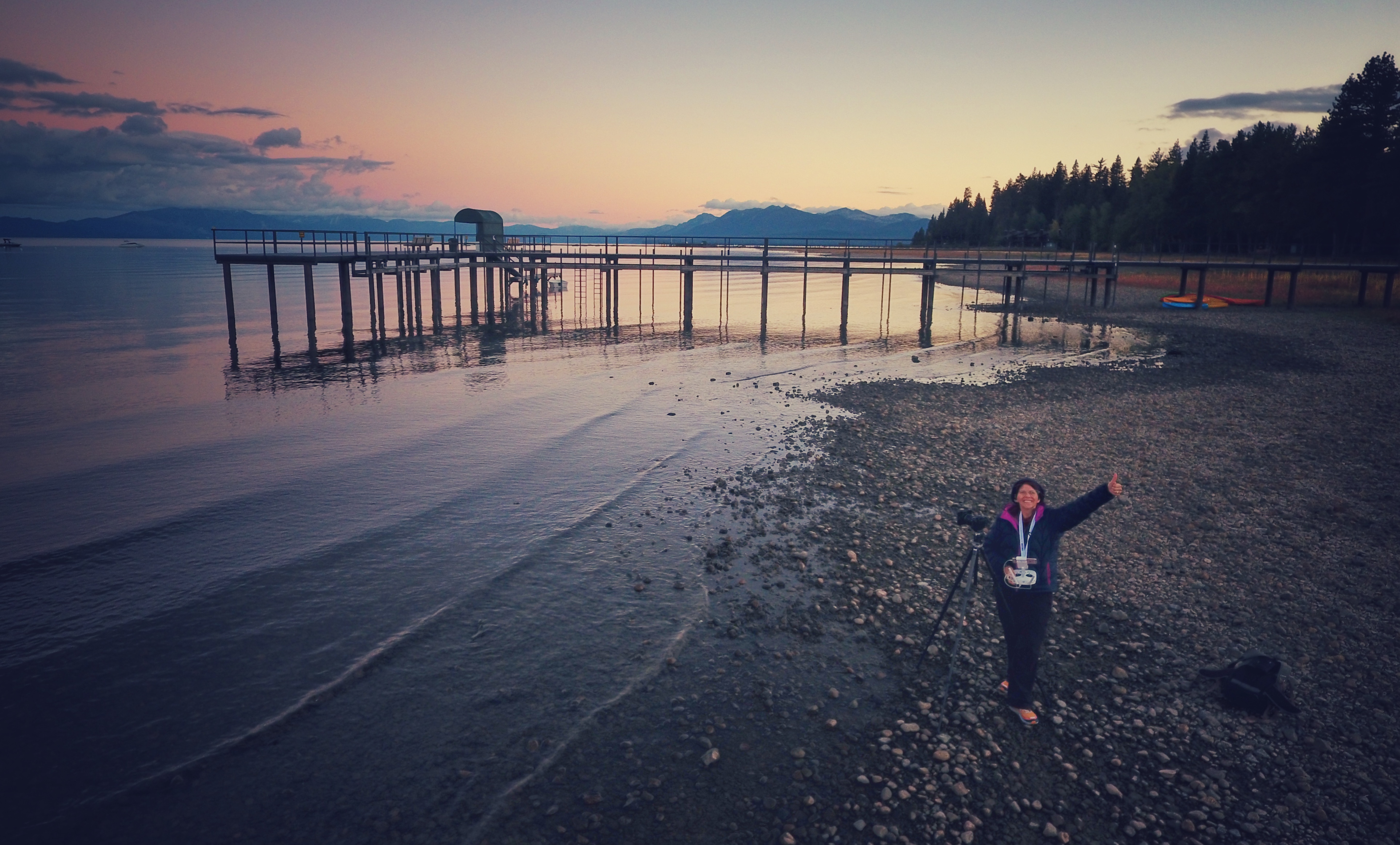 Coming Soon!
There's more going on than I can shake a stick at this October! Coming soon are these events and the stories behind them:
VIDA creates a tote bag from this piece (one of my faves) and Home Shopping Network falls in love with it! Yep, my work – and its story  – will be on HSN this month!
The 5DayDeal photography bundle event is coming! Tanya Wallis and I have some really fun creativity-inducing products for it this year… and oh boy, have we had a blast creating videos for the sale! No boring sales copy for us, no siree. We went crazy filming from land and air! You're either gonna love it, think we're absolutely or – maybe both! Giggling already…
My KelbyOne course: "Finding Your Artistic Voice" launches this month too! I'm over the moon excited about this one. It's a first! And just the beginning… 😉
I'm literally writing this on a plane to France, where I'll lead my second "Finding Your Artist's Voice in Photography" retreat from Oct. 3-8.! I made some changes to this one, having learned tons on the first. I can't wait to share photos and videos – and, if the interwebs are strong enough, some Facebook LIVE from the French Riviera!
Plus – I'll be announcing the June 2017 dates for the next Artist's Voice retreat in France – and opening registration!
Yeah. It's like that. Woot!