Recap: Finding Your Artistic Voice, Cannes
Another "Finding Your Artistic Voice" retreat has come and conquered.
This one happened in Cannes, France; October 3-8, 2016. What was it like? Kinda like this…
Oh and fair warning: this is a long post! Loads of pics and videos… offering a glimpse of the adventure…
Cannes Harbor: Cannes, France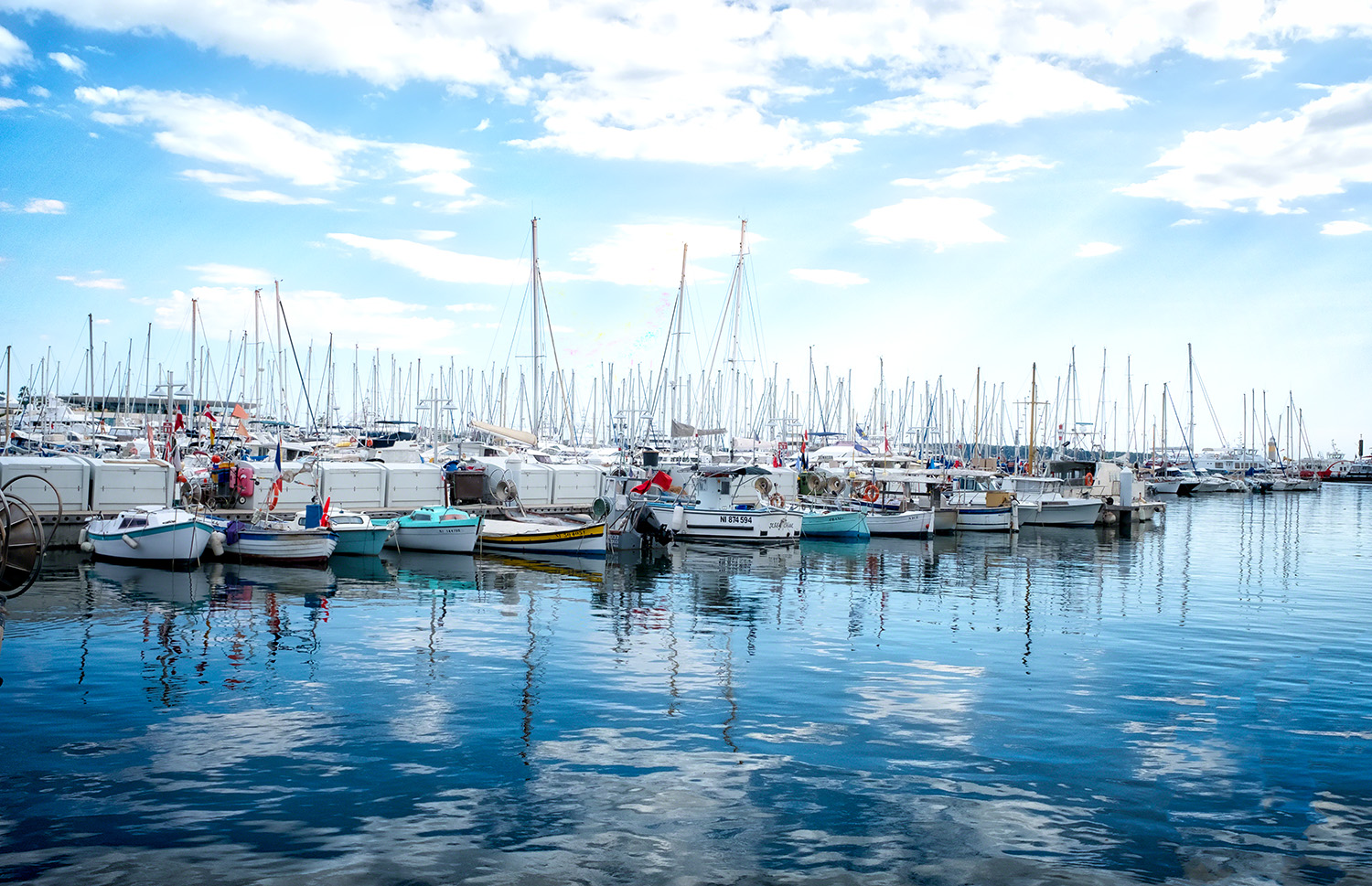 A rich, unique experience was had by all – and included photography, health and a mighty dose of mindfulness and focus that every artist needs. Especially in this crazy world! It was a week of growth, art and health for Tanya Wallis, Lauri Novak and Barb Cochran. One of deepening and stretching. We focused upon healing both mind and body; building upon strengths – and strengthening our vision. These fabulous ladies supported one another through an open-hearted process that requires supreme groundedness and authenticity; but also a let-go willingness to envision new possibilities.
We lived like locals and everyone got to know this area nestled in the South of France that we called home for 5 days and 5 nights. (OK, I'm here for 2.5 weeks, but who's counting?). Any one of them could bring a friend or loved one and show them around like a pro. Love that part!
The amazing Lauri Novak joined us for the week: check out blog post and images recapping her experience! 
Artistry Takes Strength
I'm not saying you have to be a physical beast… but being healthy enough to focus and carry through with your inspirations is a must! Most people don't think about this aspect: what it takes to work from the inside out, physically, mentally, emotionally, spiritually. And yet… we all want our beautiful artistic expression to take wing!
Consequently, in addition to the grounding/focusing/breathing and mindfulness practice we did every day… the mighty Lieke Kay was there to inspire everyone with her energy, joyfulness, home-cooked healthy meals, health consultations and wizardy ability to know exactly what each person needed to be their absolute best.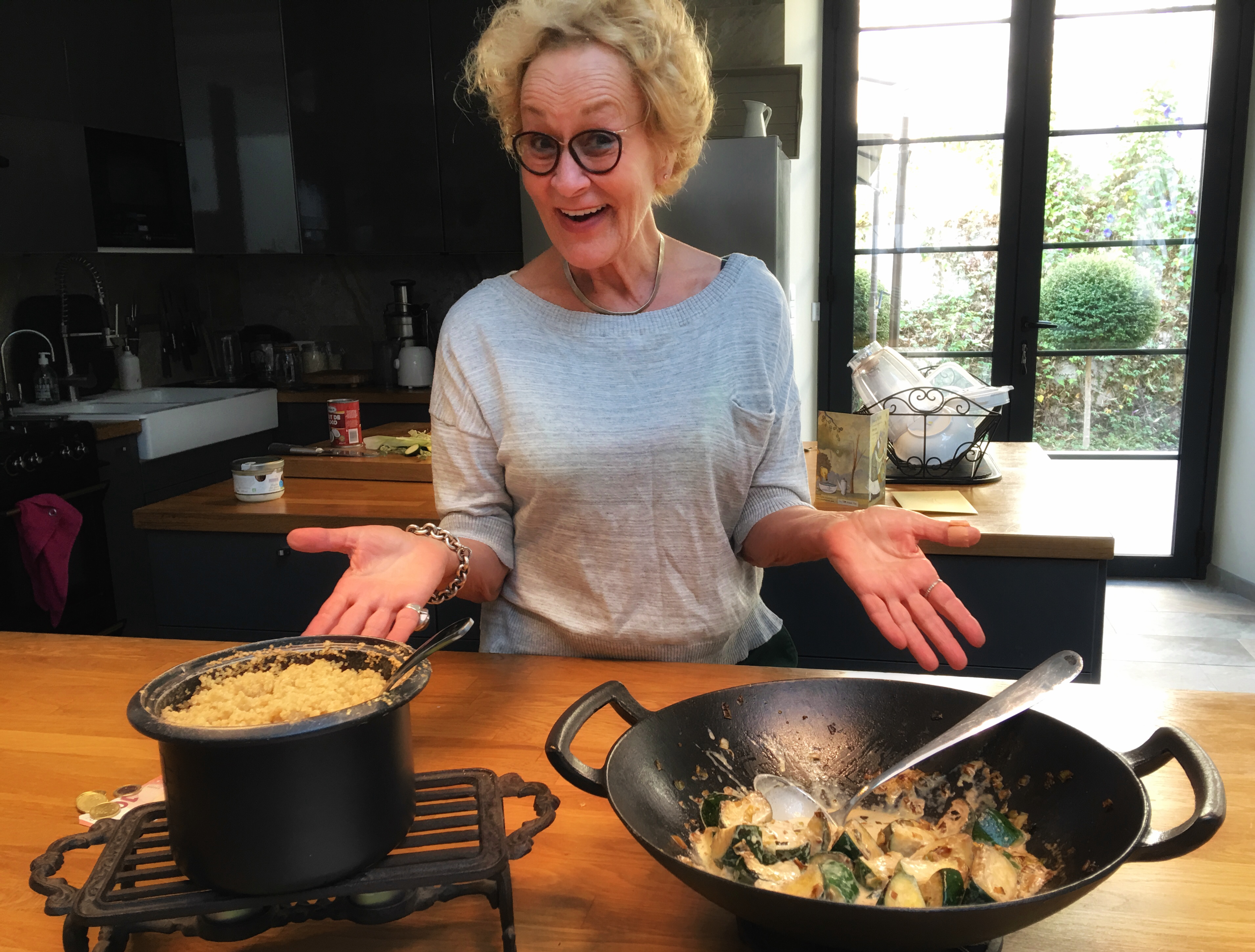 We home-based at her wellness center La Verrière… which is a story unto itself. I'll get to that in another post!
BUILDING VISION, DAY BY DAY: LA VERRIÈRE
Day 1 began quietly at La Verrière with a light lunch and a presentation and focusing exercises.  I gave these to the group in order to set the stage for what we would be building throughout the week.
The first photography exercise was to wander quietly throughout the calming, peaceful and rejuvenating La Verrière and discover new ways of seeing known things. Stretching one's vision can be easeful and fun… but you have to listen carefully, undistracted by the world outside. This exercise set the stage for everything to come!
PRAYER BEADS FROM AFRICA, FROM LIEKE'S COLLECTION: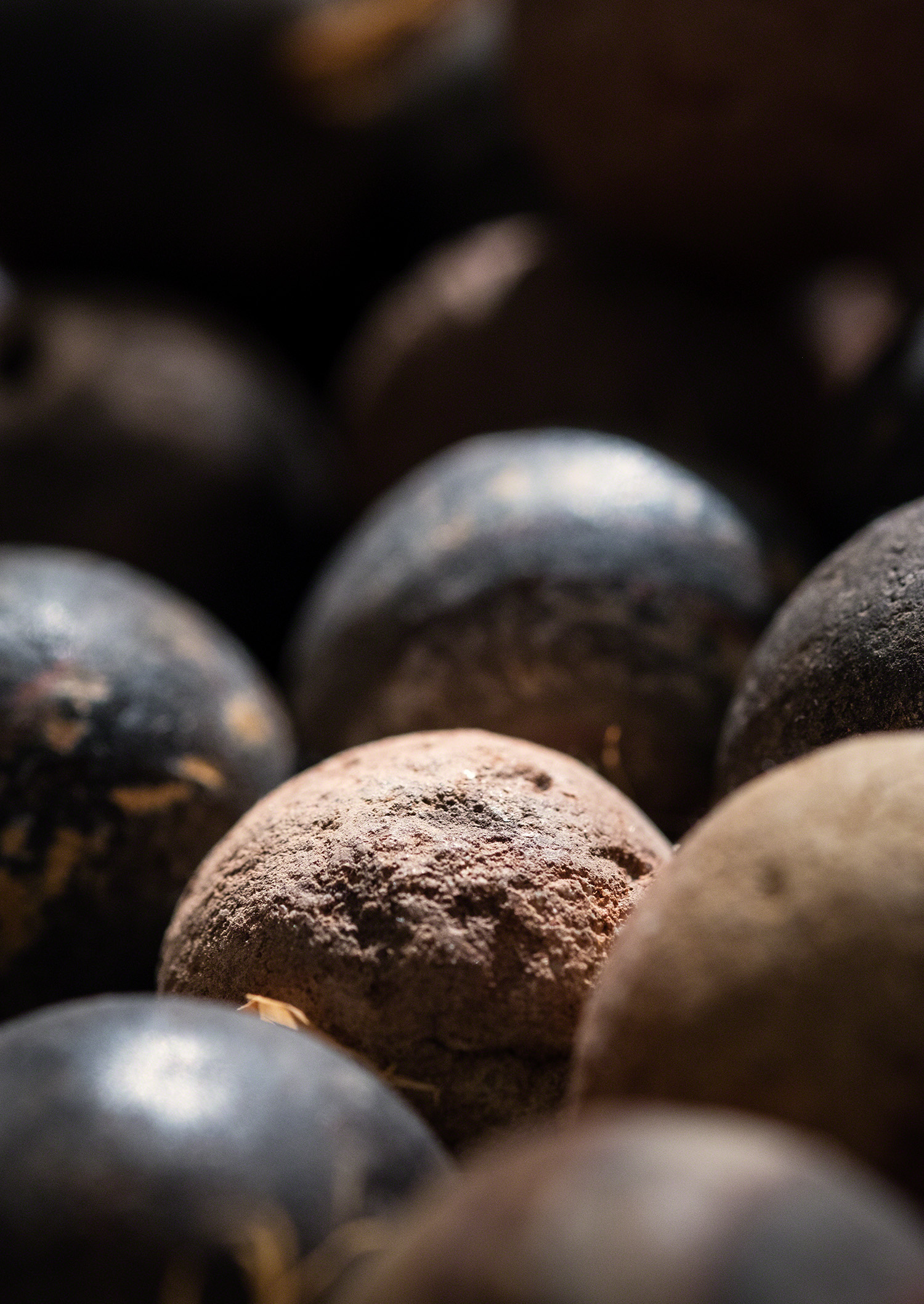 KEY TO THE HEART: HEIRLOOM PIECE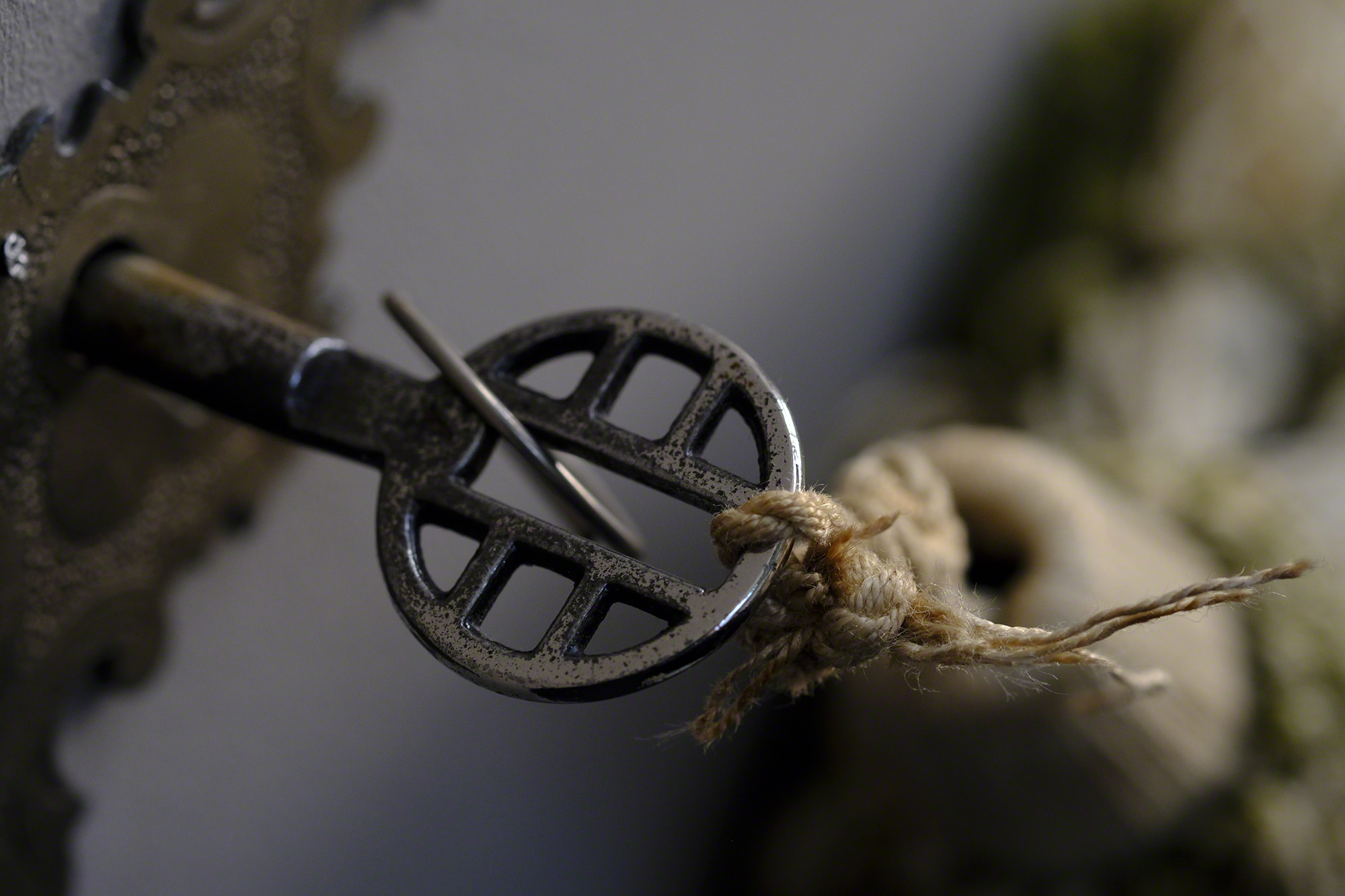 DAY 2: CANNES
Day 2 took place all in Cannes. It was hot, so we moved slowly. But we began along the water and La Croisette, worked our way up into Le Suquet (the old town), then back through the shopping areas of Rue Meynadier and Rue d'Antibes, then home. A full day!
TALL SHIP IN THE HARBOR
Loved this… anchored in the Cannes Harbor amidst the yachts.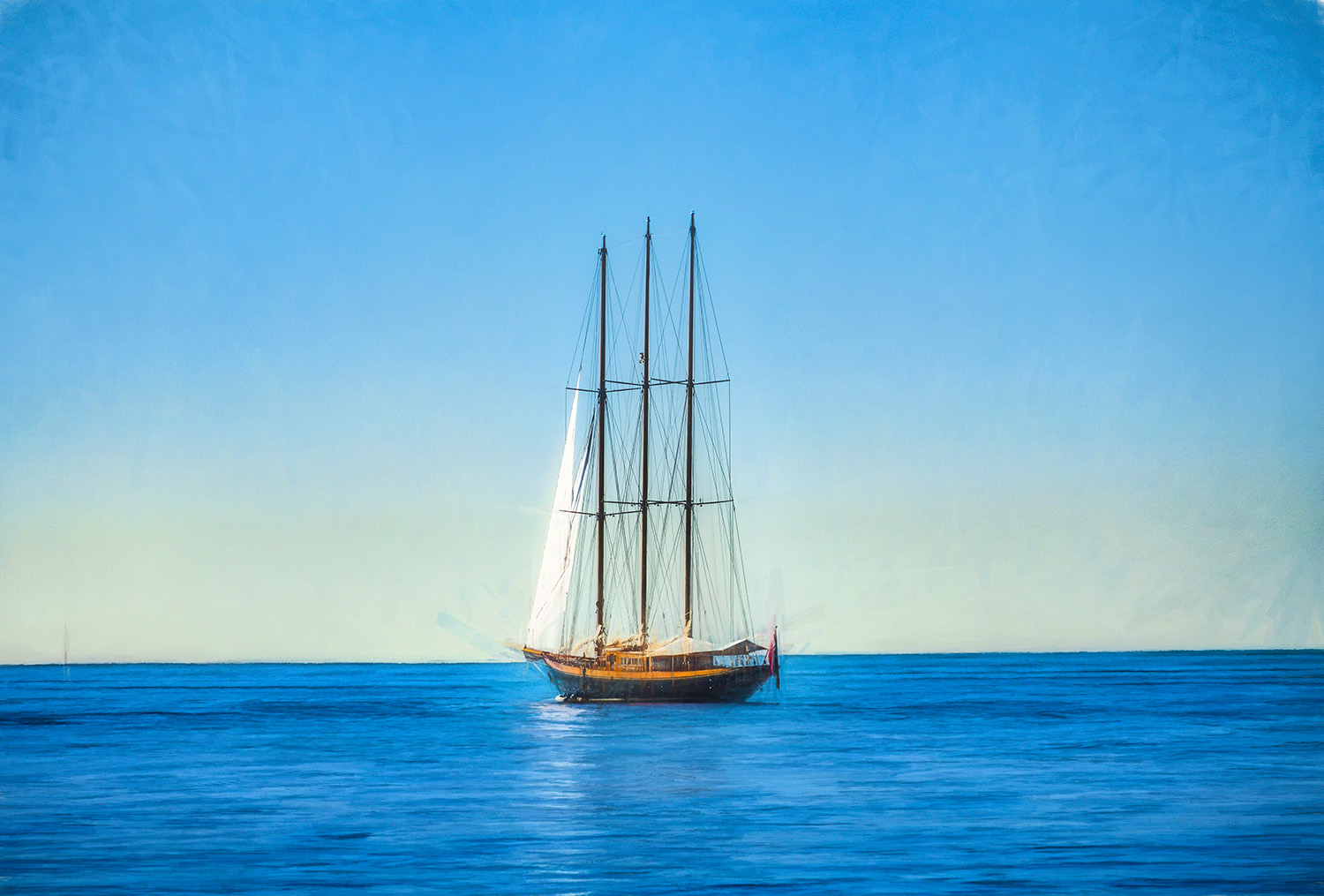 CANNES HARBOR AT NIGHT
I ventured out one night before the retreat began… 'cause I love the silky midnight mystery of night. 😉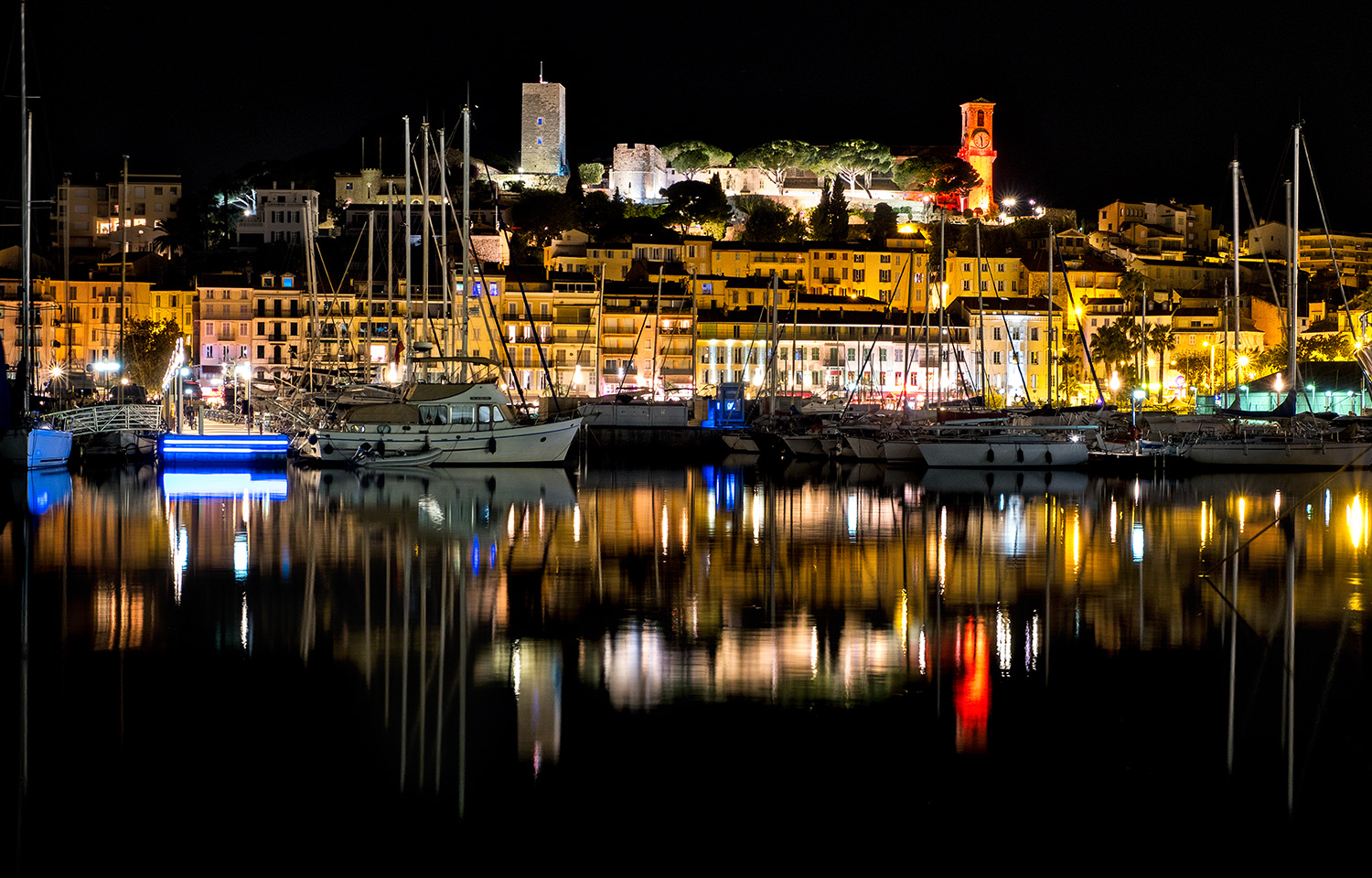 LE SUQUET AT NIGHT
One of my favorite spots… magical after dark!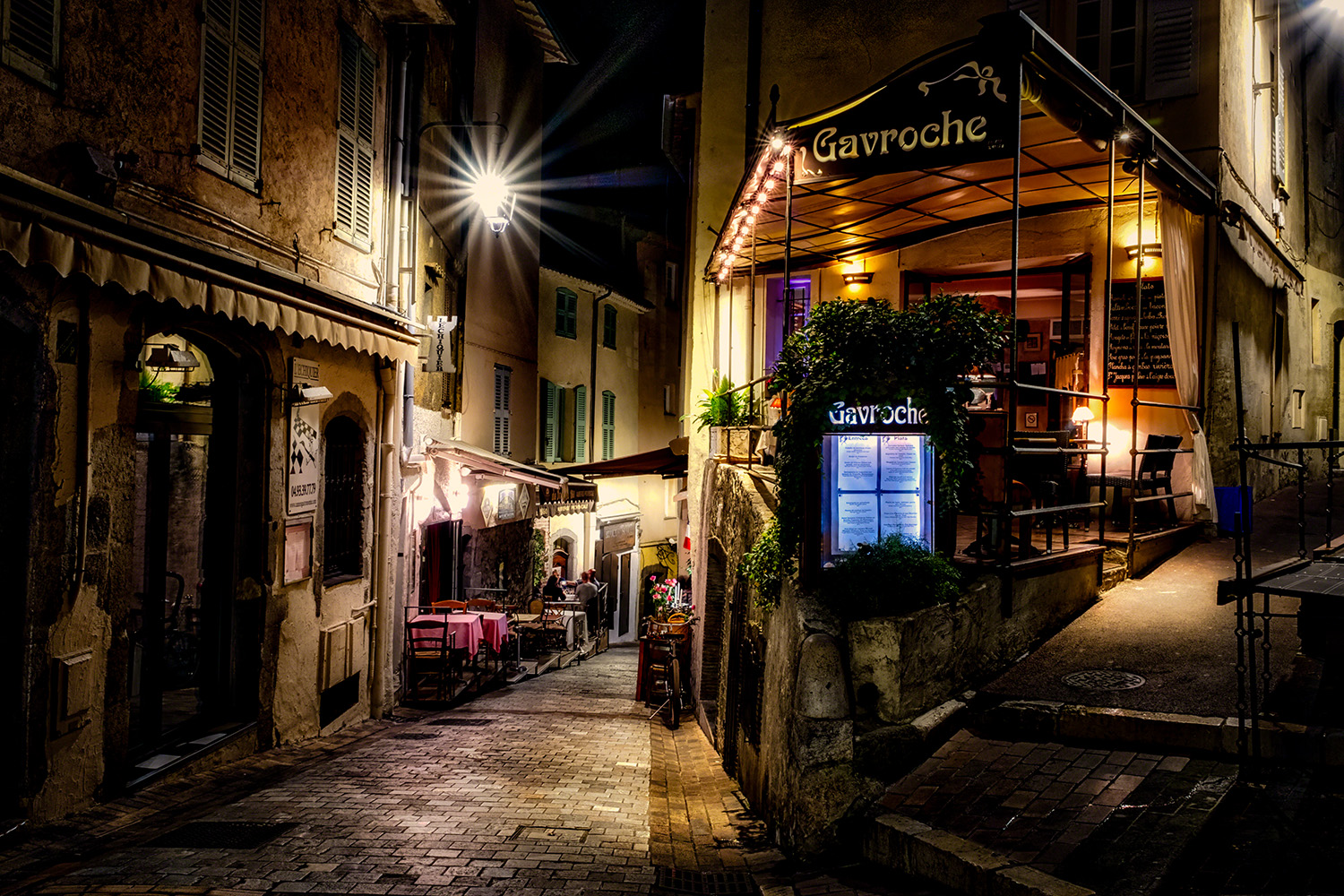 LONGING & SHOPPING GO WELL TOGETHER ALONG THE RUE D'ANTIBES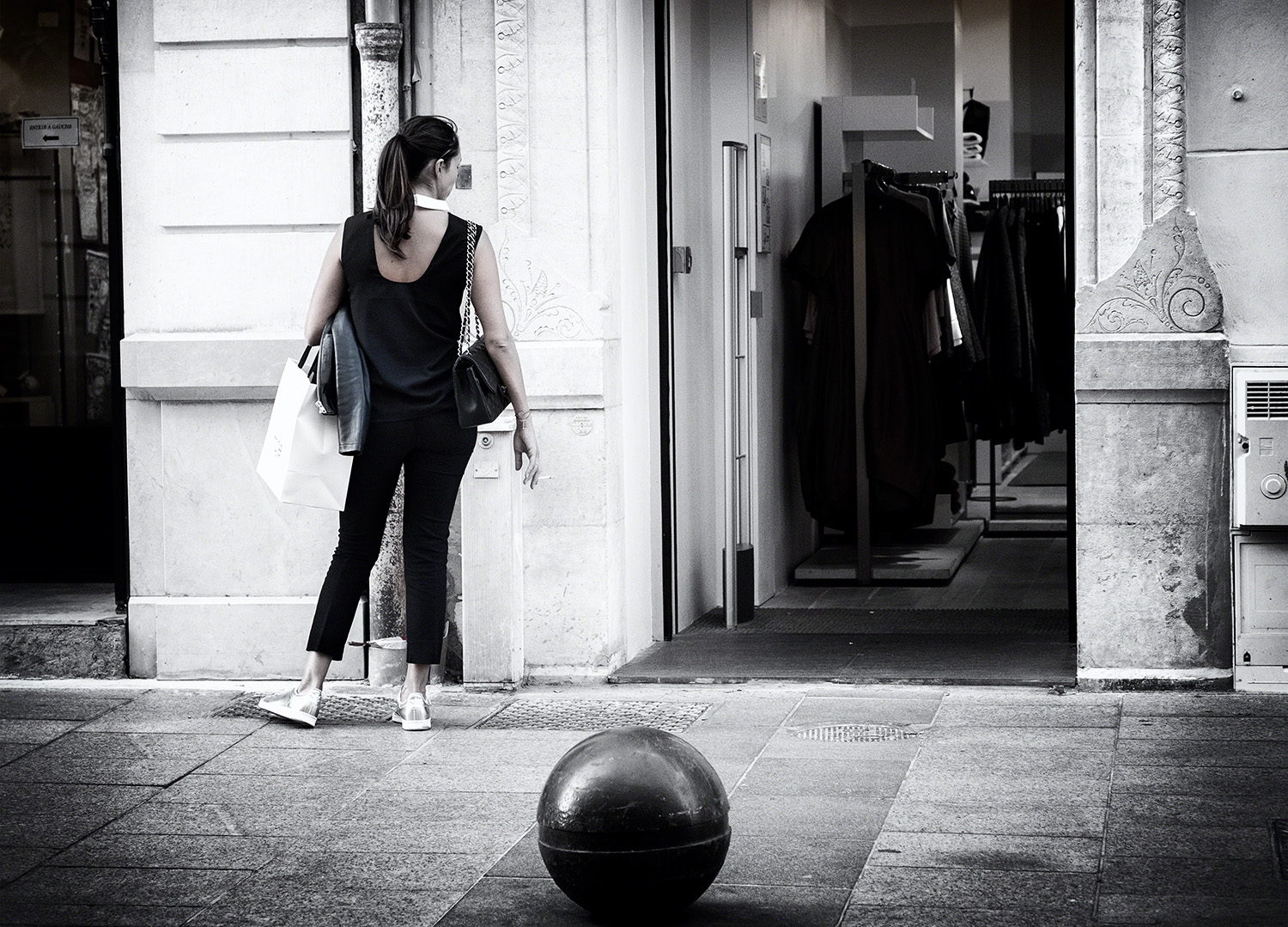 EMERGING INTO THE LIGHT ALONG RUE MEYNADIER. ON HER PHONE. HEH.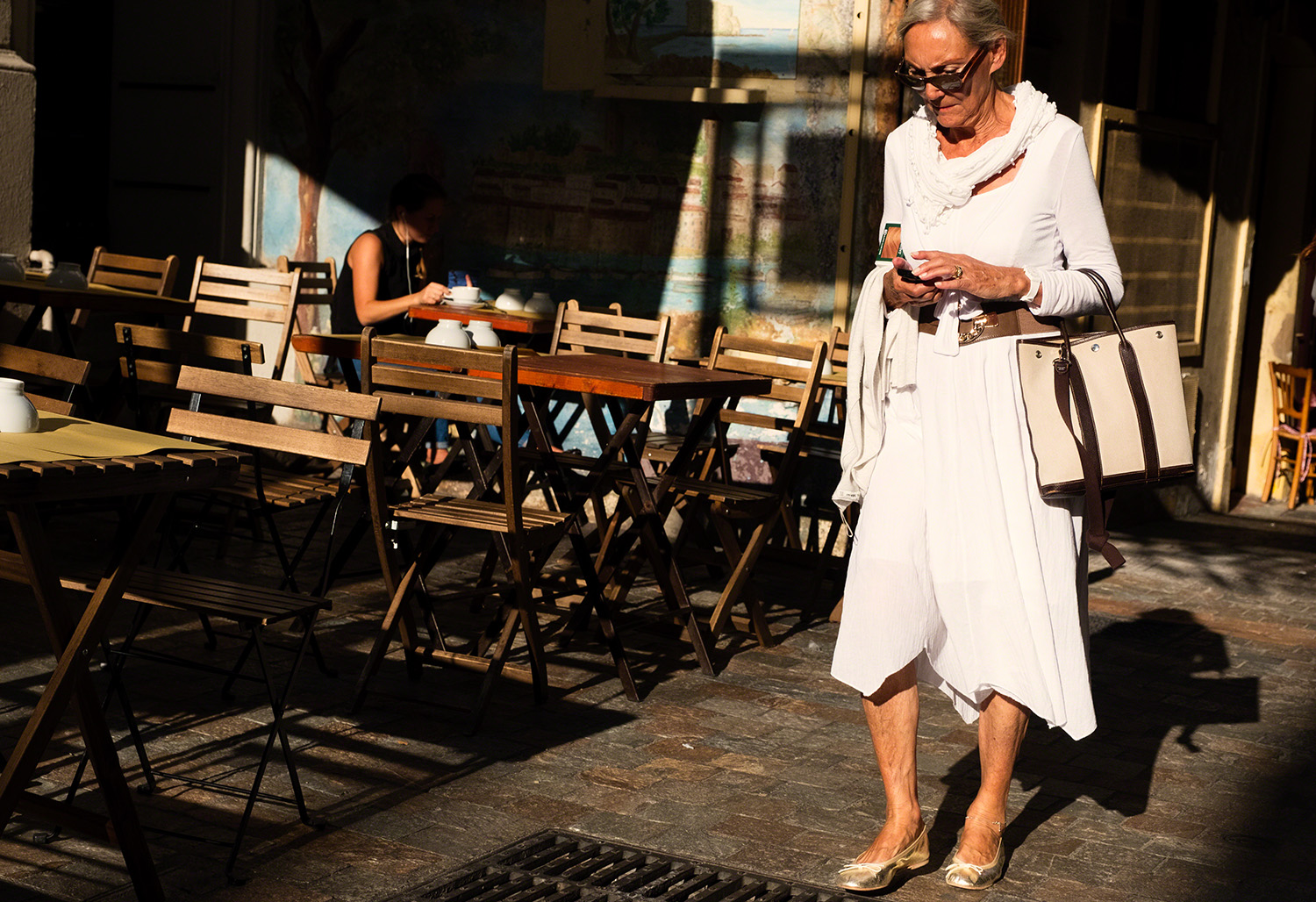 DAY 3: ÎSL SAINTE MARGUERITE
The real Man in the Iron Mask was held in the prison at Fort Royal on this island for over 10 years. This was his cell… clearly MUCH cleaner than it was when he was there. It's also artified on one wall – as are all the cells of the prison.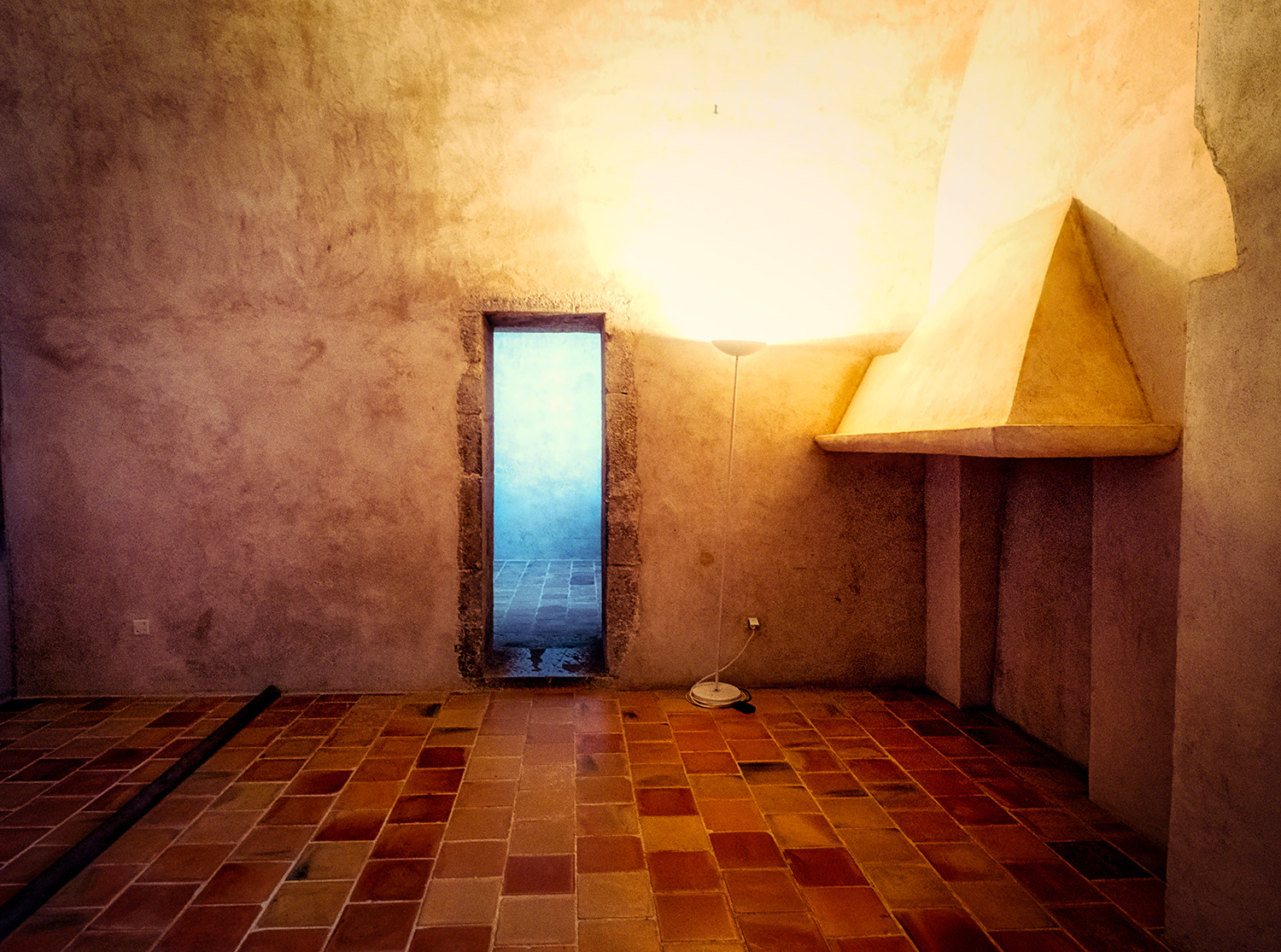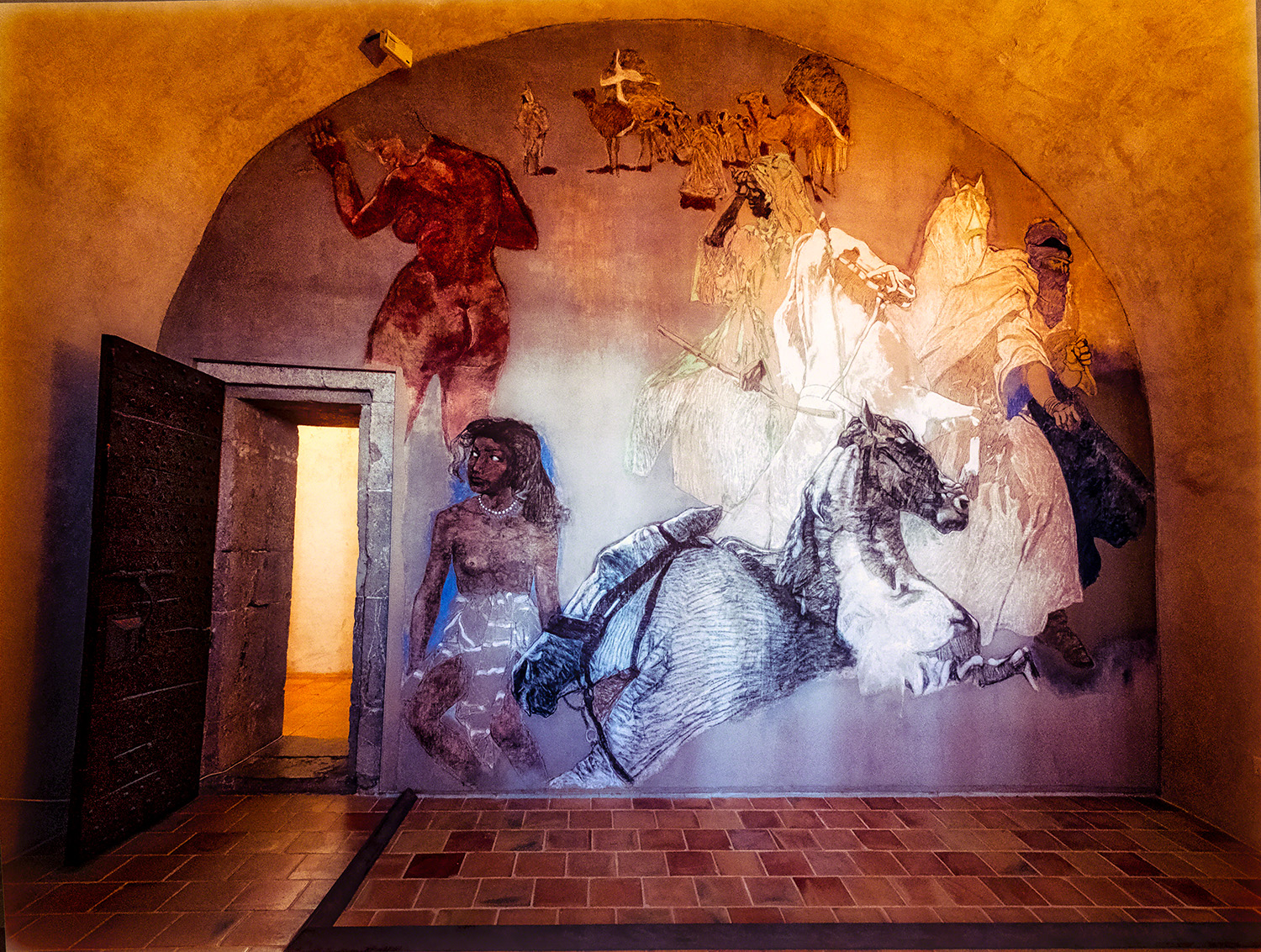 Fort Royal itself is lovely, full of studies in color, texture, memories… and doors.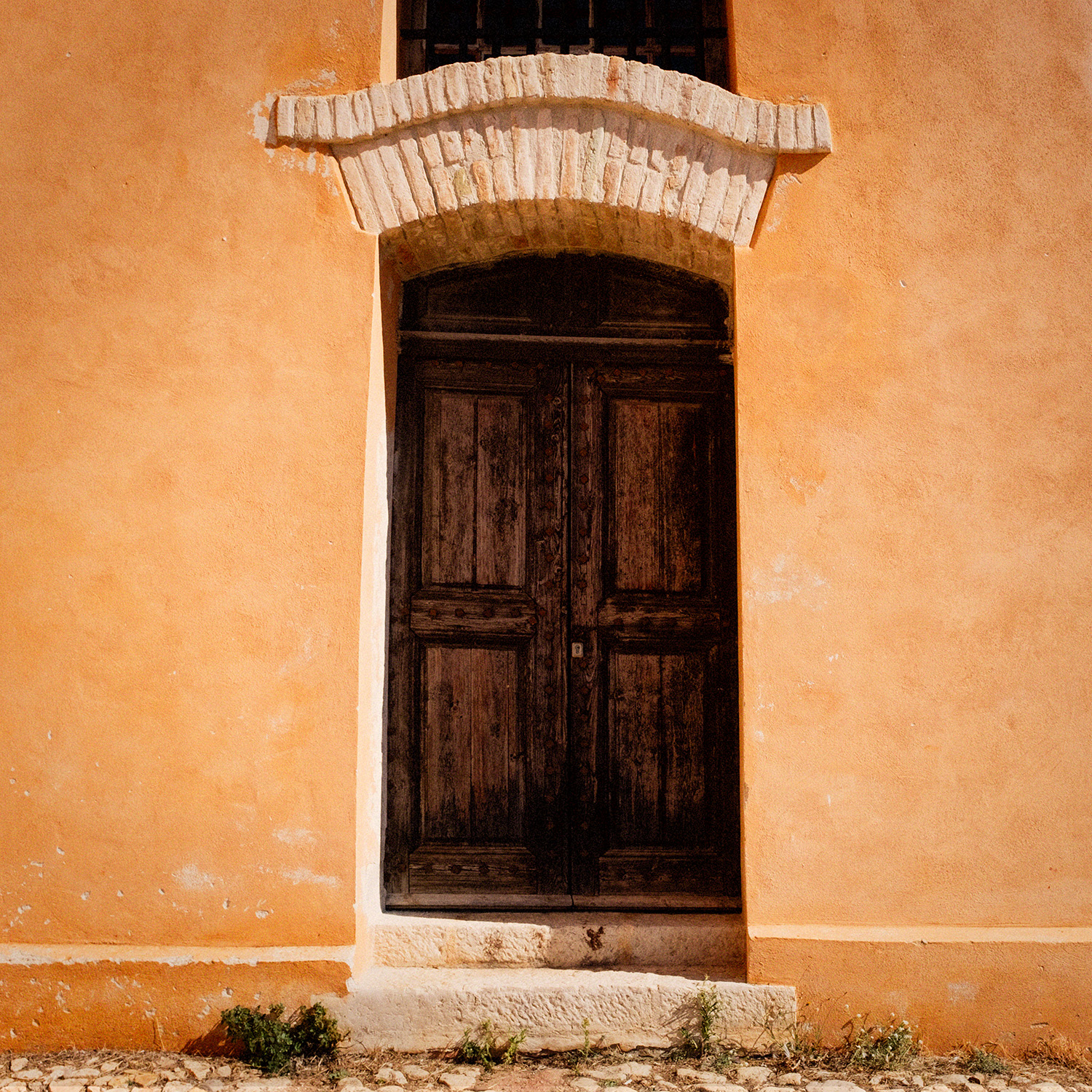 DAY 4: GRASSE
The more I get to know it, the more Grasse is becoming one of my favorite places to photograph. There's also yummy food, teas and coffees to be had there… and of course, it's the Perfume Capital of the World. But mostly, my lens just loves it there!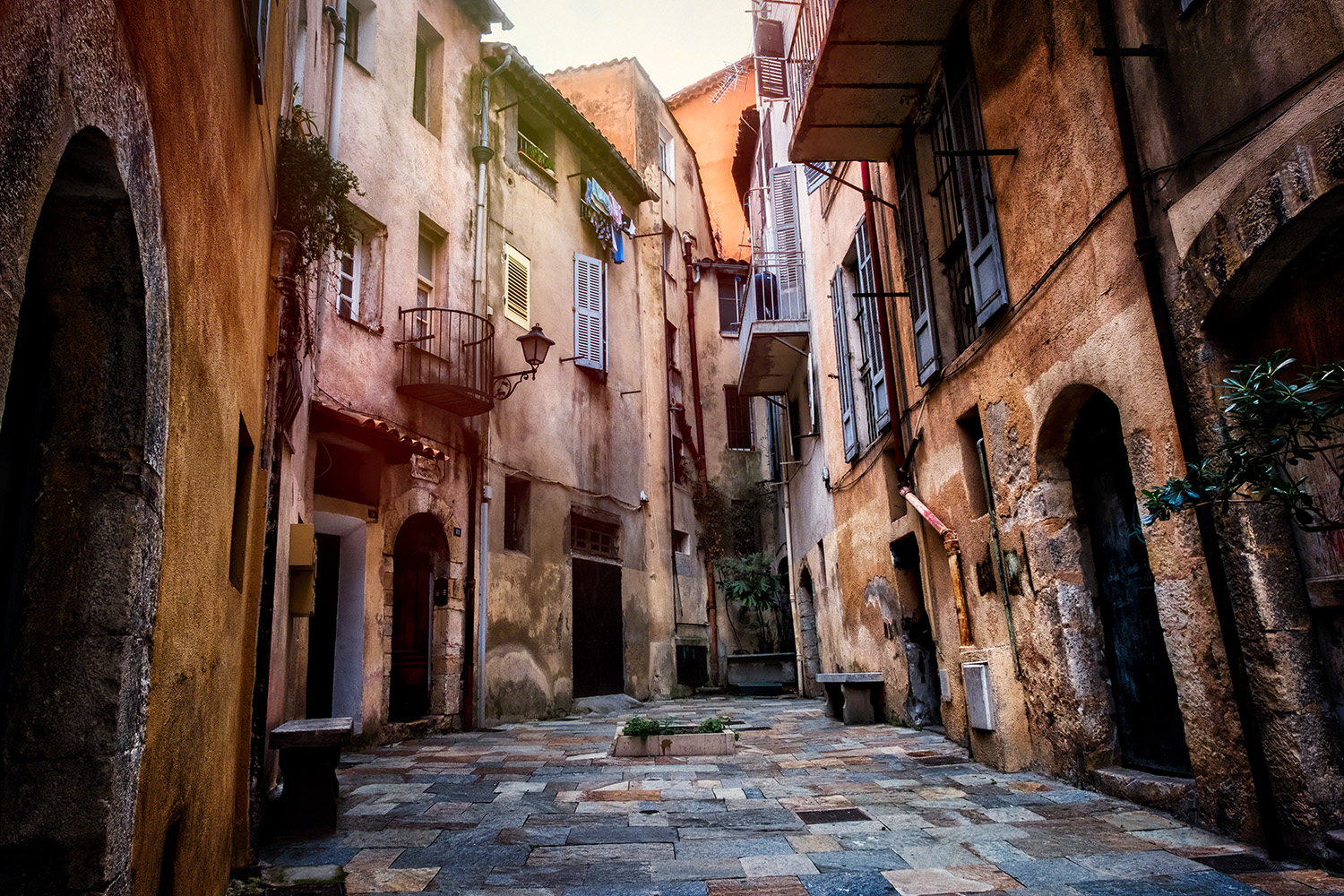 Although I brought the ladies to Grasse by day: here's a glimpse of its wonderland self by night: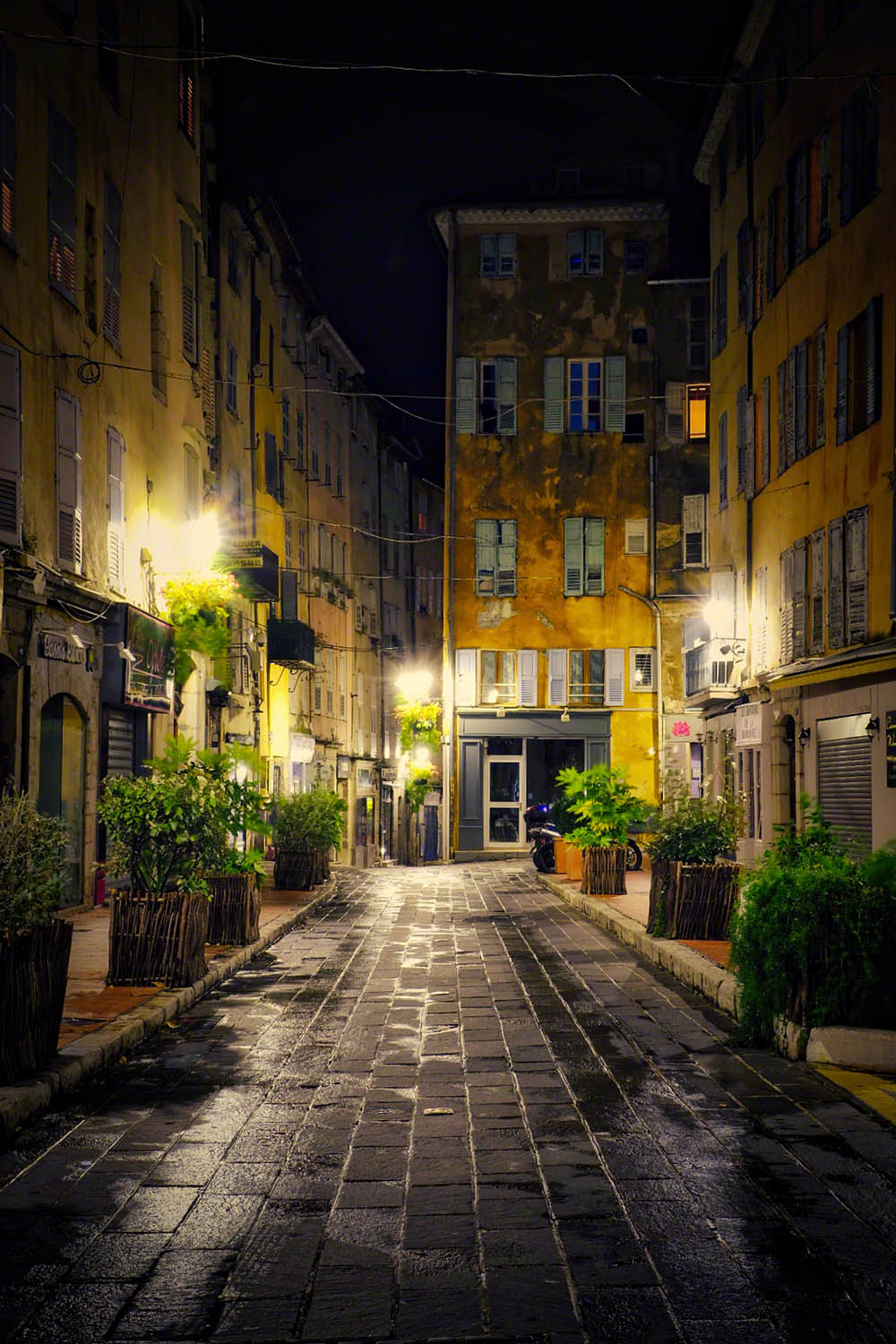 I set the ladies up for a photo in one of my fave spots.
(L-R: Lauri Novak, Barb Cochran, Tanya Wallis.)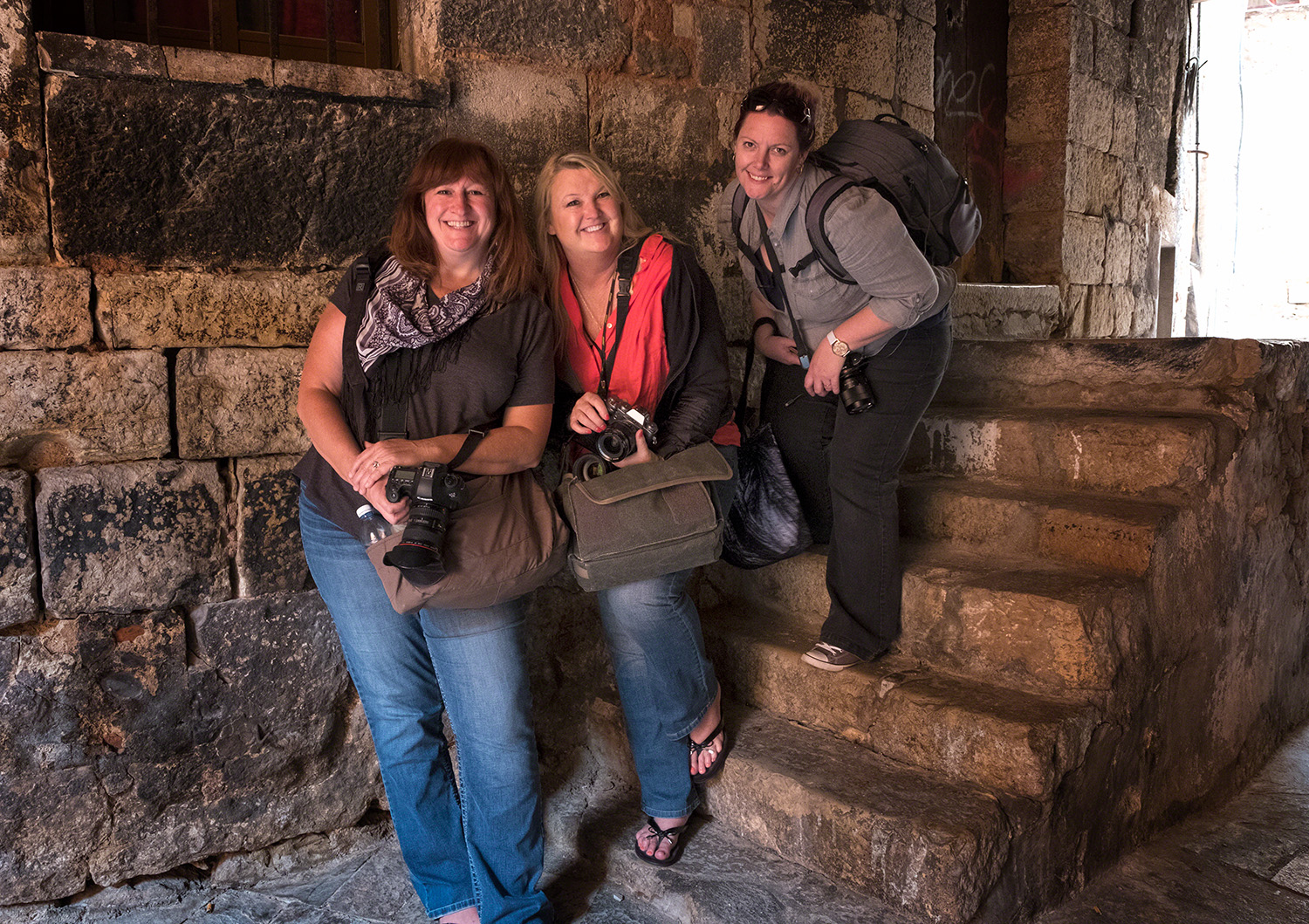 Then we set up my camera on my Really Right Stuff tripod for a silly series of selfies: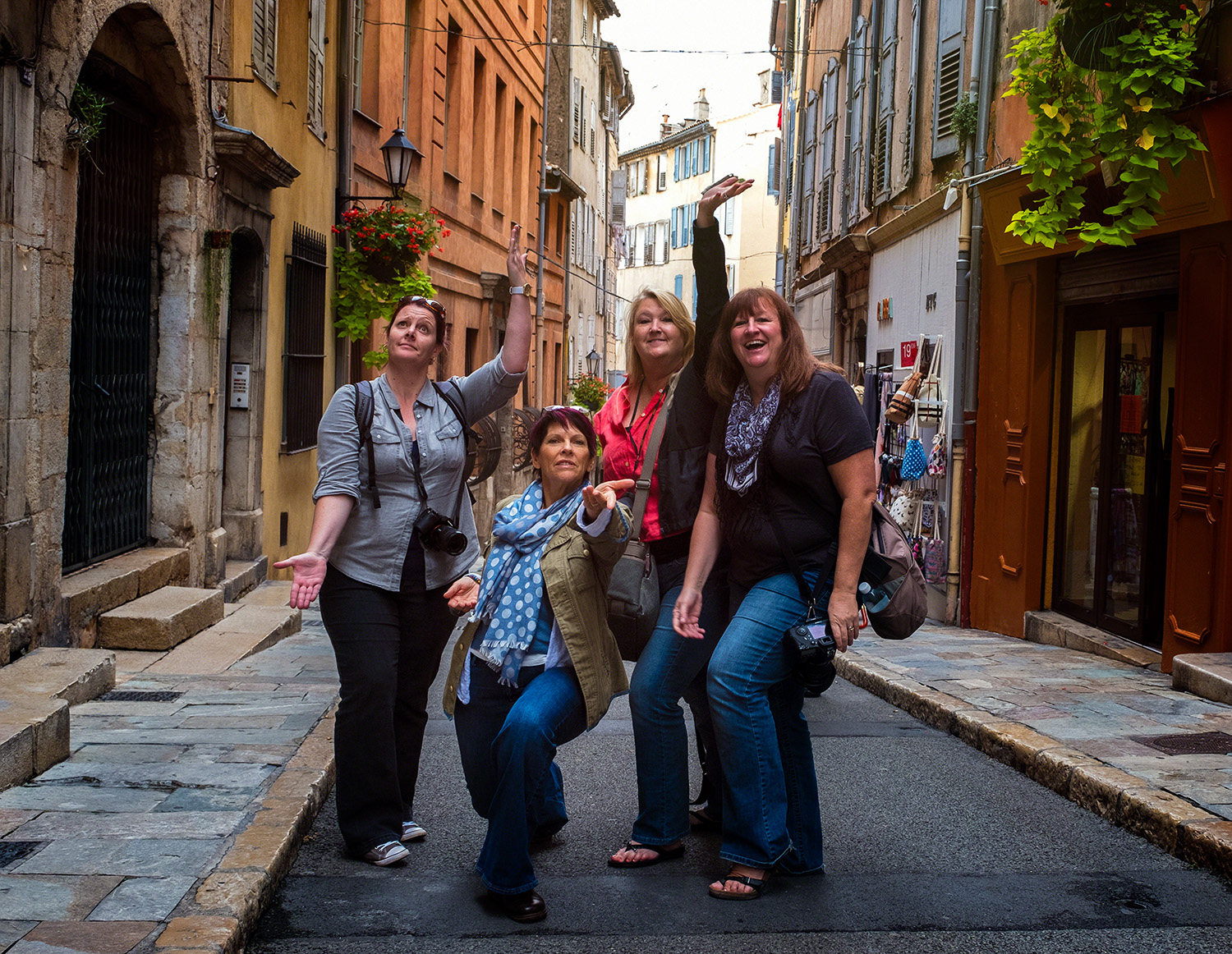 OK, this one's not so silly…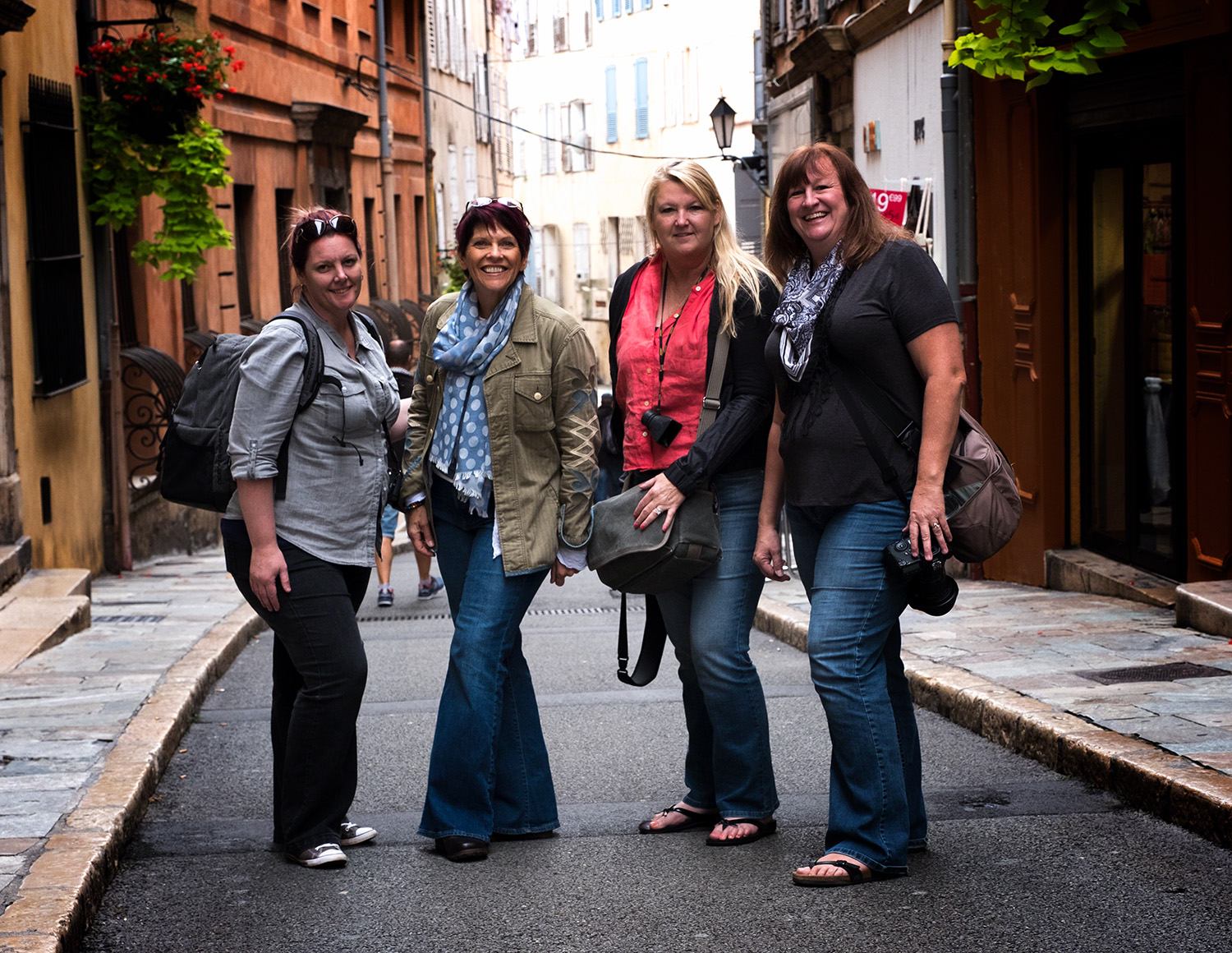 But this sure is, in the most awesome of ways! Unlocking your mind and creativity makes you willing to try new things. If it means channeling one's own inner Isadora Duncan… well, I'm all for it!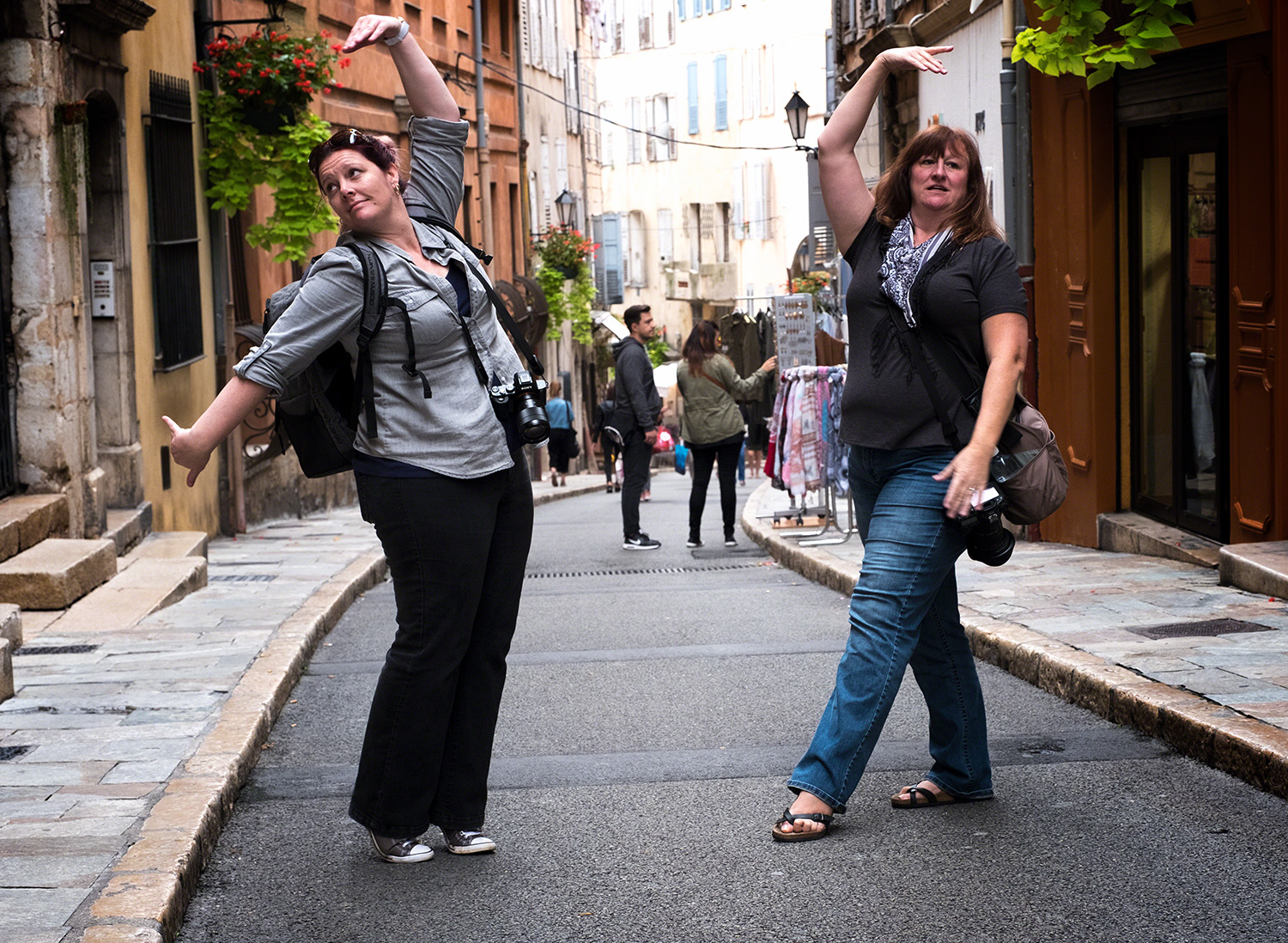 DAY 5: VENTIMIGLIA
I wanted to take the crew to a fabulous market to photograph. Lieke suggested Ventimiglia, Italy's Friday market as being a fun big one with lots of variety to choose from. Having never been, I said "let's do it!". So we piled into a car and headed to this quaint border town just inside Italy.
I've seen people turn up their noses at Ventimiglia. Fancier places? Sure. But for sheer lensy grit 'n goodness, the market and its requisite pickpockets , I loved this little town.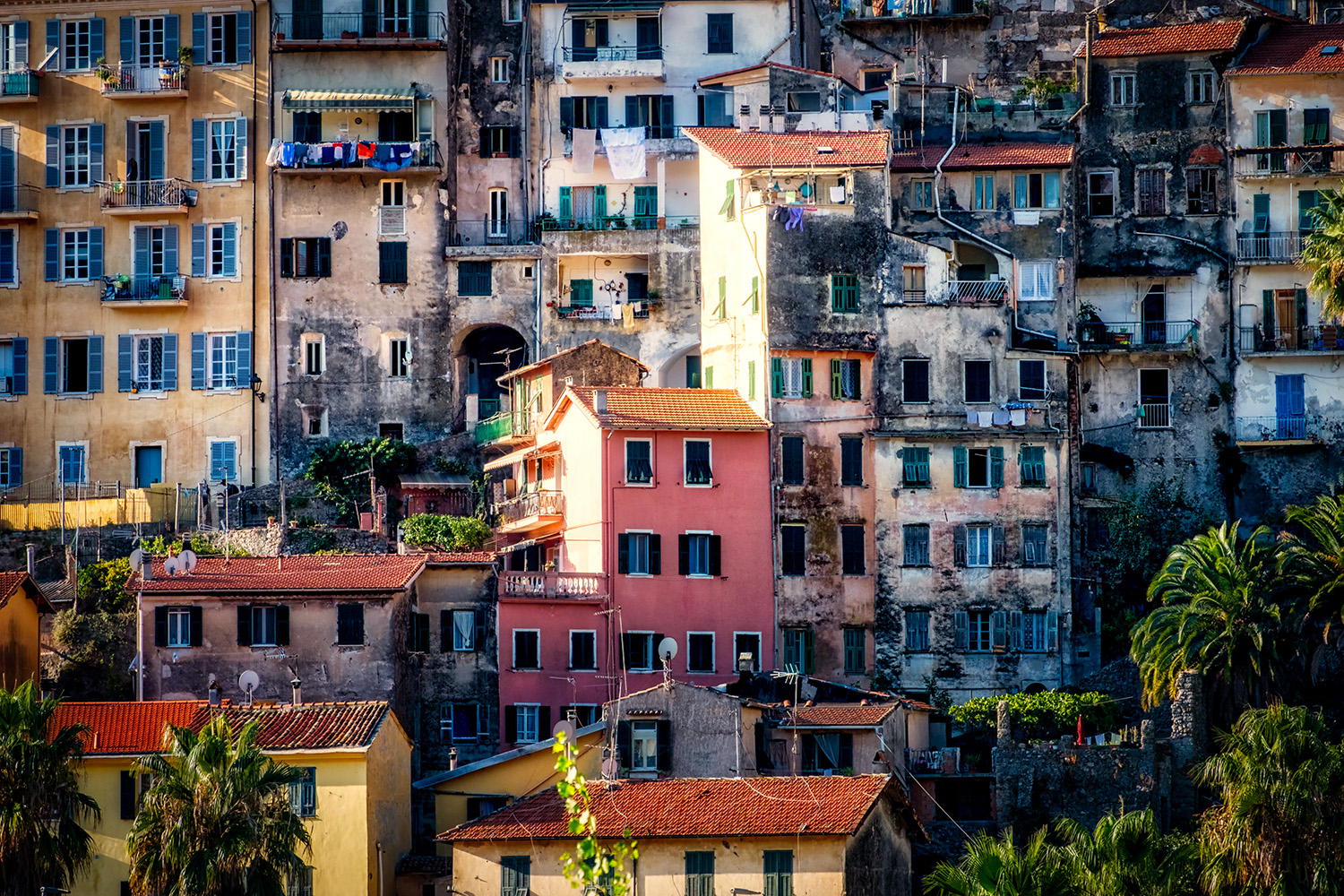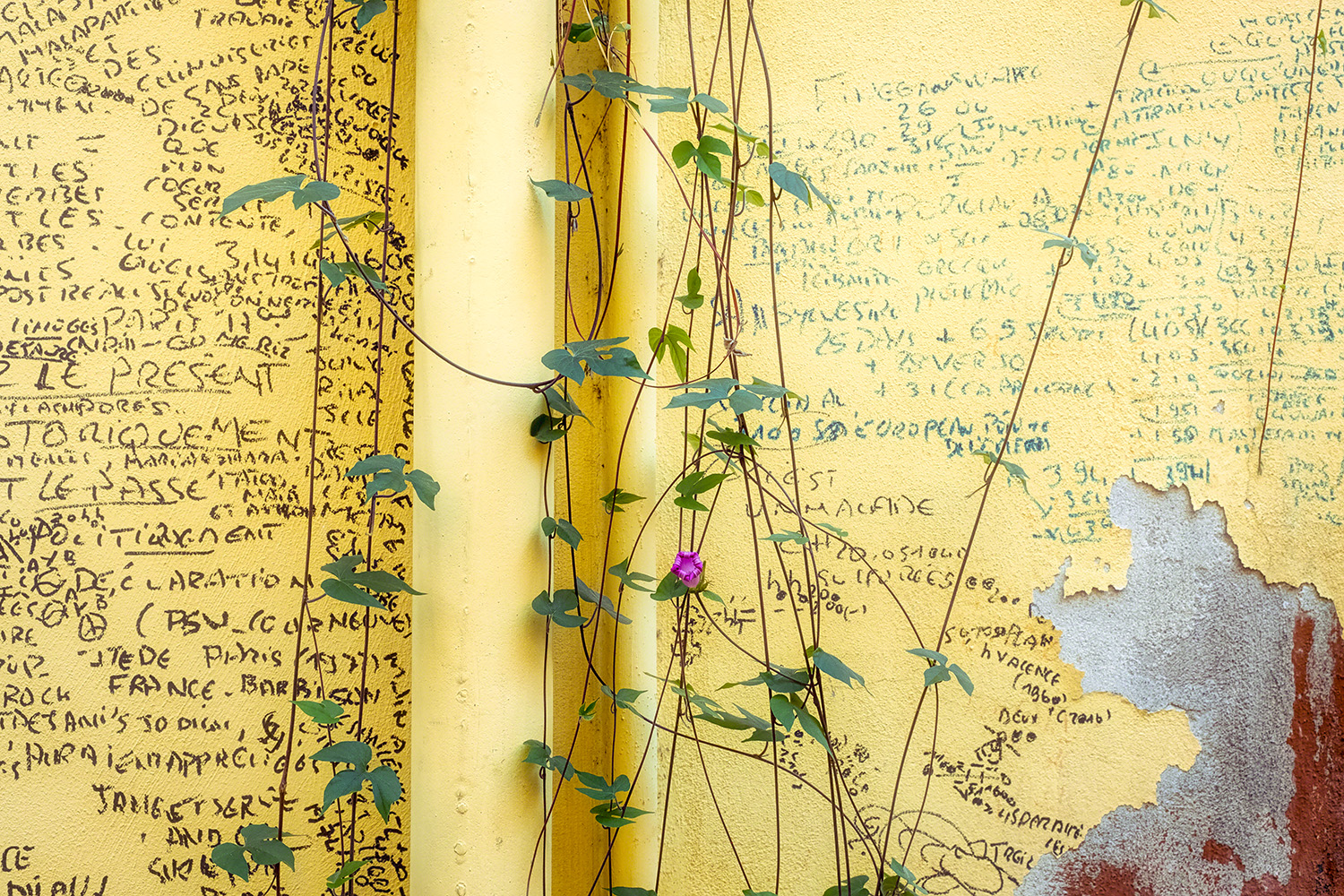 What's Mime is Yours…
And yes, I paid him – 2 Euro – to take his picture. 😉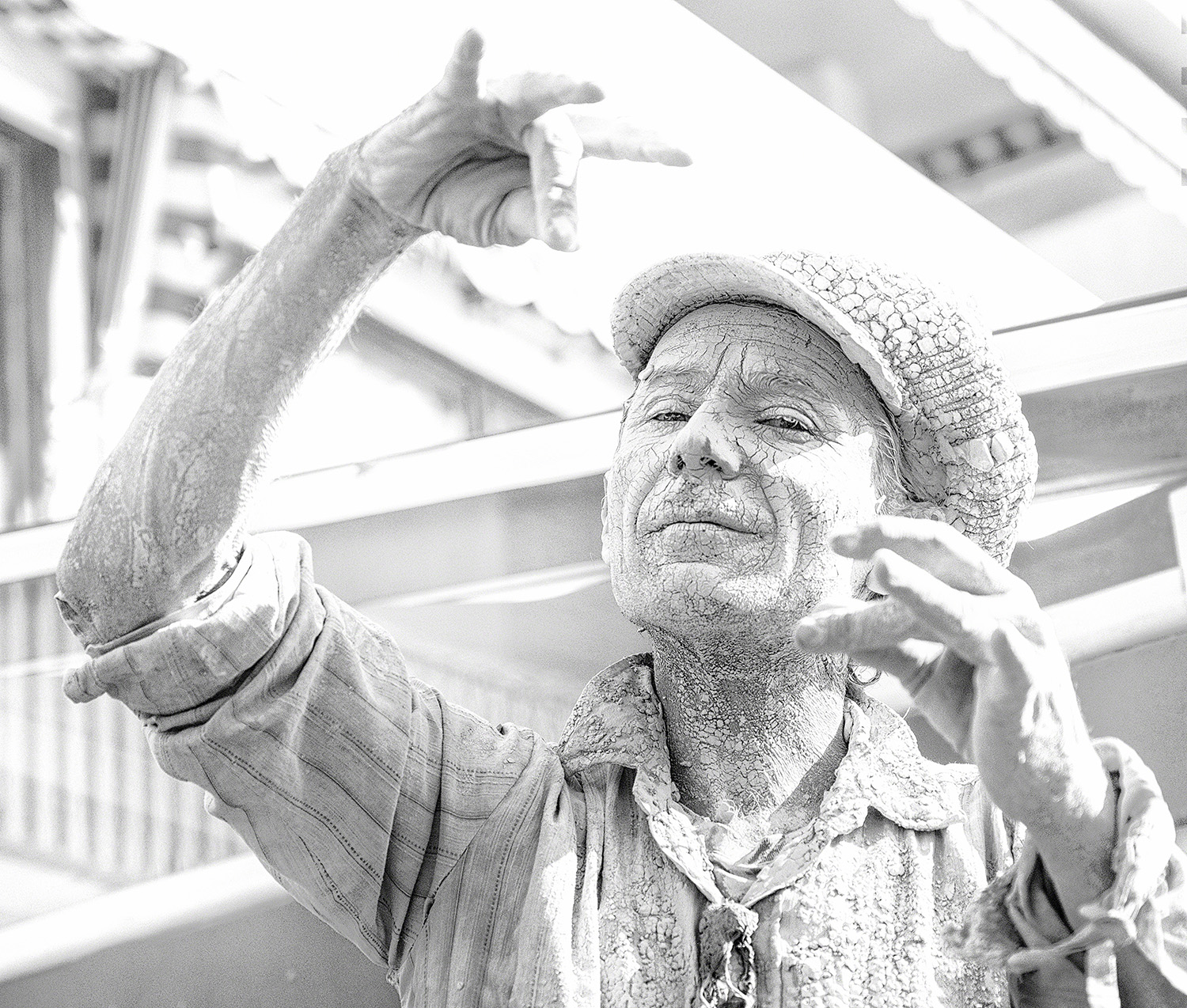 Our final lunch together was in Ventimiglia: that's me, Tanya Wallis, Lieke Kay, Barb Cochran, our fearless waiter and Lauri Novak!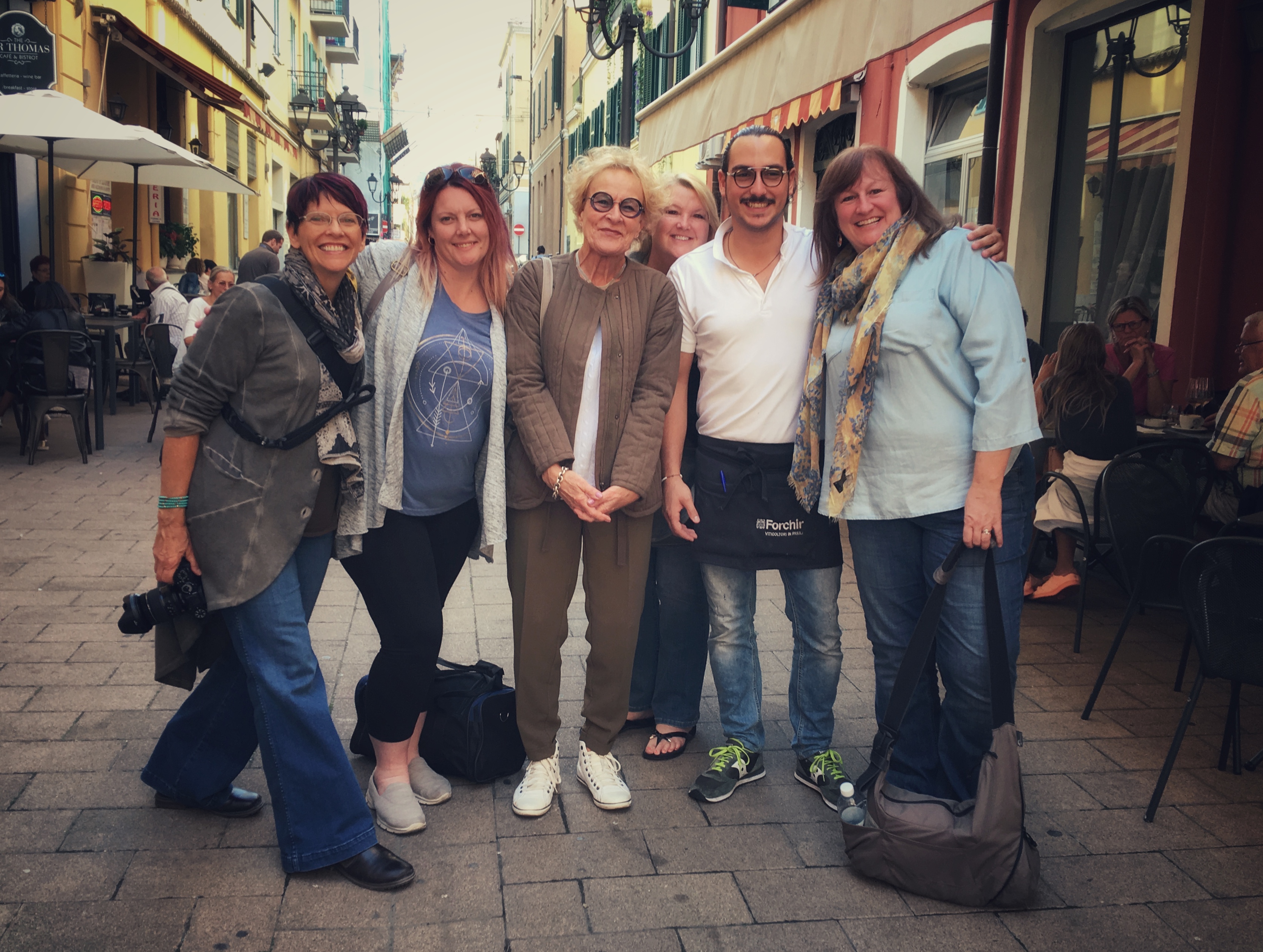 ---
AND FOR THOSE WHO LIKE VIDEOS:
Yeahhhhh… I did some videos before and during the retreat. I figured for those of you who like watching the movie more than reading the book: this next bit is for you!
Some are me sharing whatever we were up to that day… others are recorded Facebook LIVE vids, since we did summa those too. 😀