Fujilove LIVE
February, New York City. Fujilove LIVE. What the heck is Fujilove, you ask? Well, it's a website, a Facebook group, a magazine, a podcast, an academy – a movement!  It's the passion and brainchild of professional musician and photographer Tomasz Trzebiatowski, who is one of the loveliest and most genuine people I've met in recent years. He lives in Lucerne, Switzerland – and we allllmost met when I was there last year. But a freak late spring snowstorm made me change my plans, so we missed like ships in the night.
But now… Fujilove LIVE. This was Tomash's vision for a brand new sort of live photo-centric conference. It happened on February 25-26, 2017 at the amazing  Bathhouse Studio. There were only four of us presenting over the two-day event: Valerie Jardin, Damien Lovegrove, Elia Locardi and myself. Fujiflm was there, of course – with gear for folks to check out, plus they offered free cleaning to anyone who wanted it.  An enthusiastic and dedicated group showed up that weekend to meet, greet, rub elbows and learn.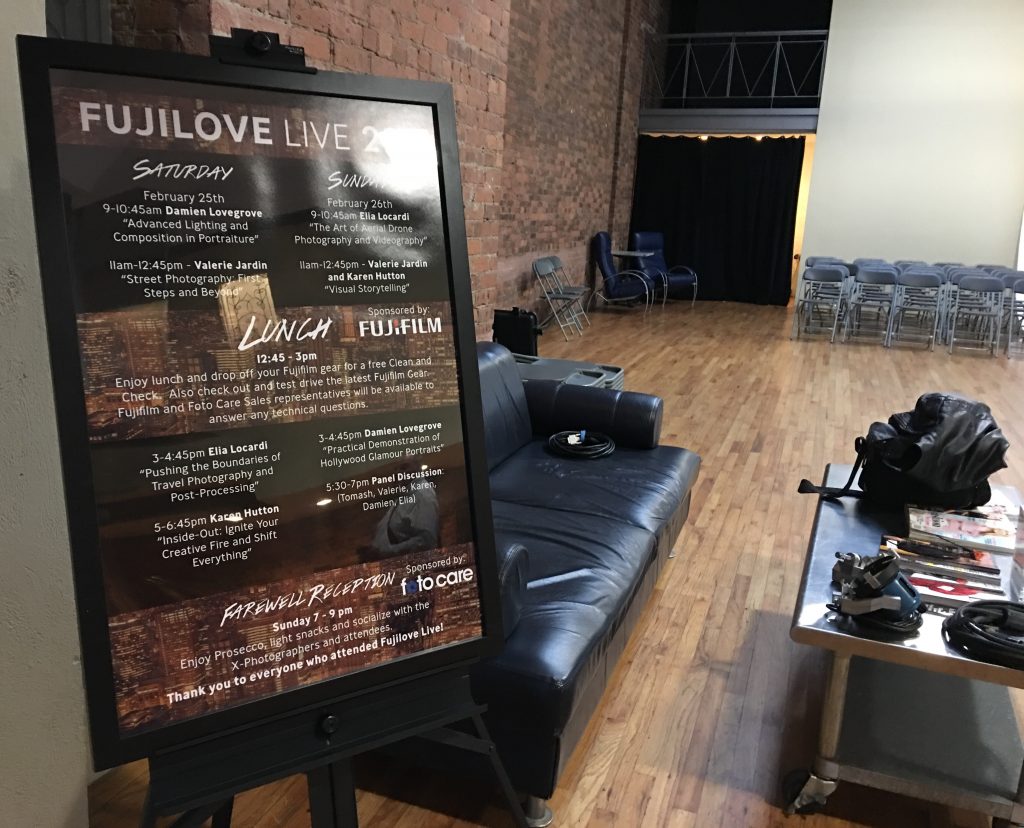 We were each asked to present in wonderfully disparate areas: Valerie on Street Photography, Damien on Portraiture, Elia on Landscape Photography, and my given topic was Inspiration. Valerie and I also presented together; as friends who excel in vastly different areas (her street to my landscape are worlds apart)… we've noticed that there are soooo many similarities in the way we approach and think about our photography, that we thought it would be fun to put them together and present it side by side. That's exactly what we did! It was cool – and fun.
This was us right before we went on: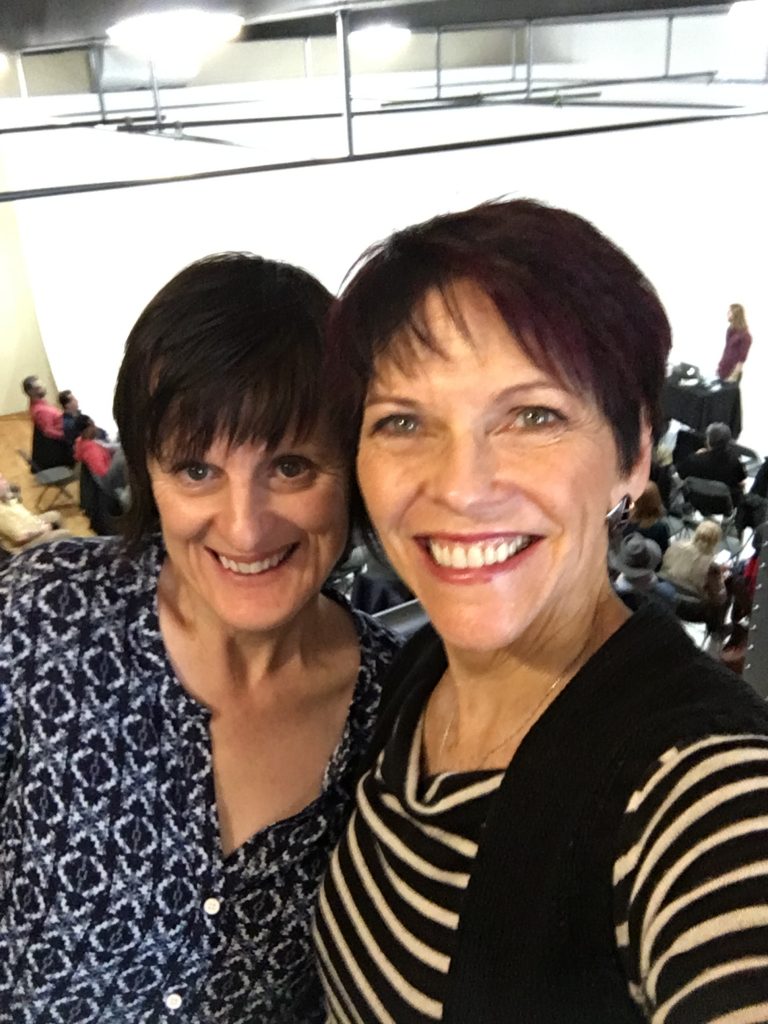 And of course, I just HAD to do a selfie in this really cool room! It was the red chair and that big frame. Had to be done…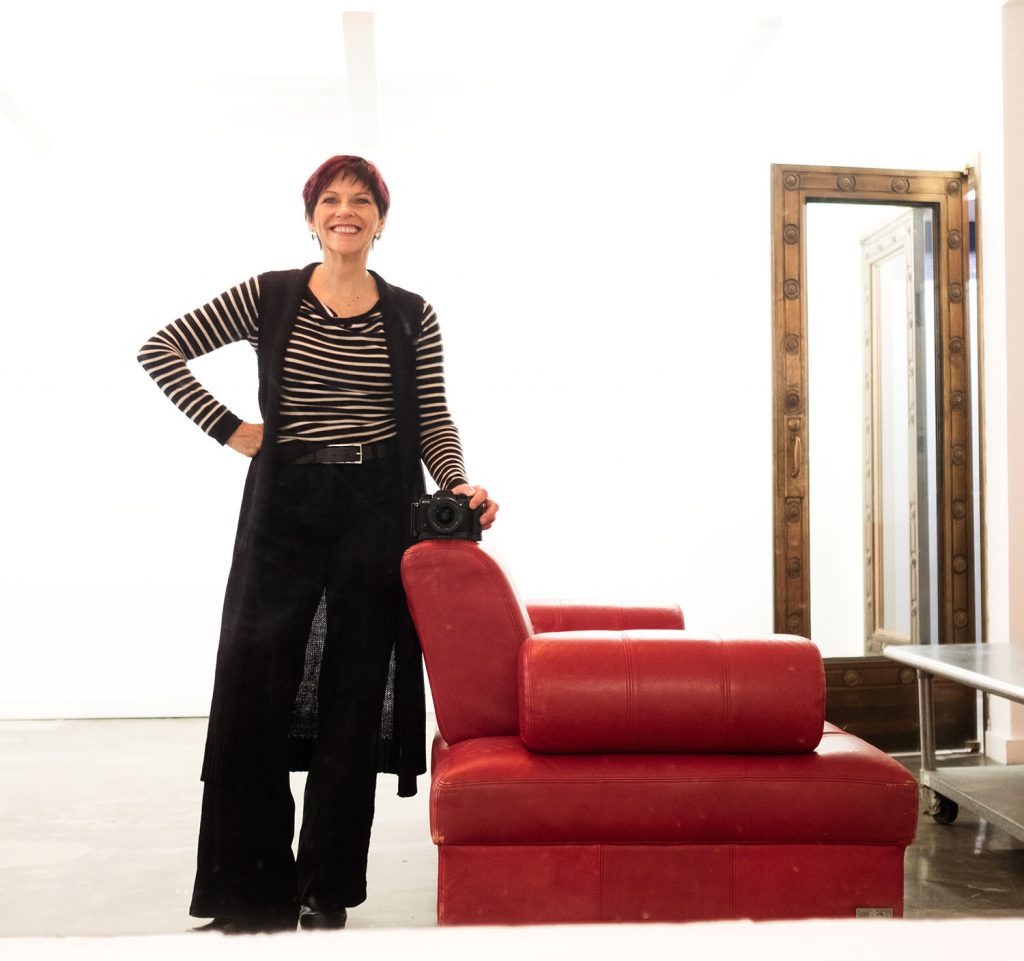 Here's what it looked like getting set up the day before the event.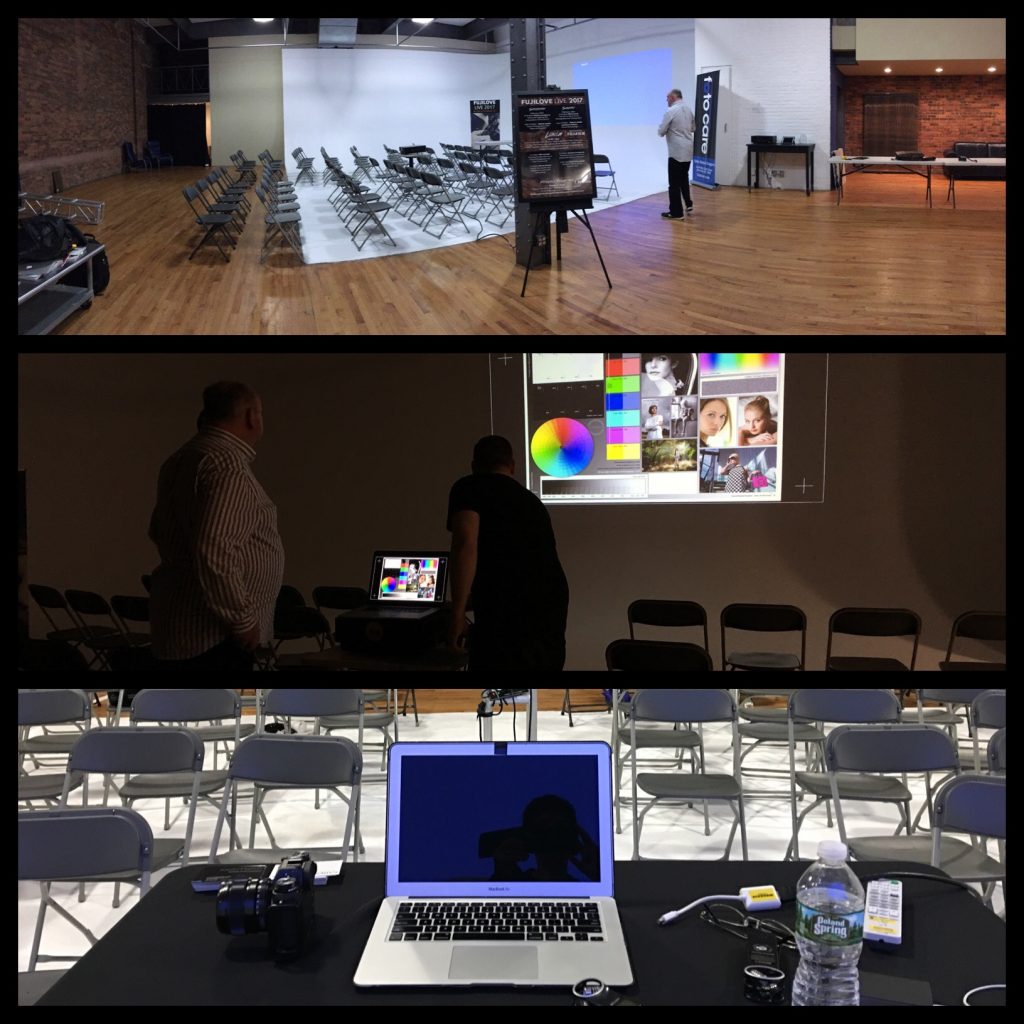 The Inaugural Event
It being the first year for this Fujilove LIVE, was an intimate group – not a crazy huge one. That was nice! I know it'll grow over time, so it was really special to be part of the inaugural event with such fantastic people. So fresh, so authentic. Tomash did a first class job all the way, so everyone got to walk away feeling good on every level.
Fotocare co-sponsored the event… and aside from taking photos all through Fujilove LIVE, they also had a fun portrait area that EVERYONE got in on! Kind of like a camera booth, but all open with a backdrop and great lighting.
The event wasn't video'd or anything, but I just thought it would be fun to introduce you to the whole Fujilove thing. I've never met a more impassioned community than Fujifilm users.  I've discovered that you don't just take pictures with this gear; part of what you get along with it is this big lovefesty family who is just crazy about photography, the cameras themselves, all things Fujifilm – and are so welcoming. Many become lifelong friends. I don't think there's another brand out there that engenders anything quite like it.
I love my Fujifilm USA team. Y'know, there are times in life when you know for sure that you're experiencing a rare moment that 1. Doesn't happen all that often and 2. that you'll remember forever. That's how I feel about working with these people. Part of my team is in this photo, taken on our last night along with the Fujilove crowd. The other part is behind the camera. 😉
Team USA rocks! I am beyond grateful for their support, encouragement.  Working with them makes me just want to be… better.
Lisa, Justin and Yuji; you're the best.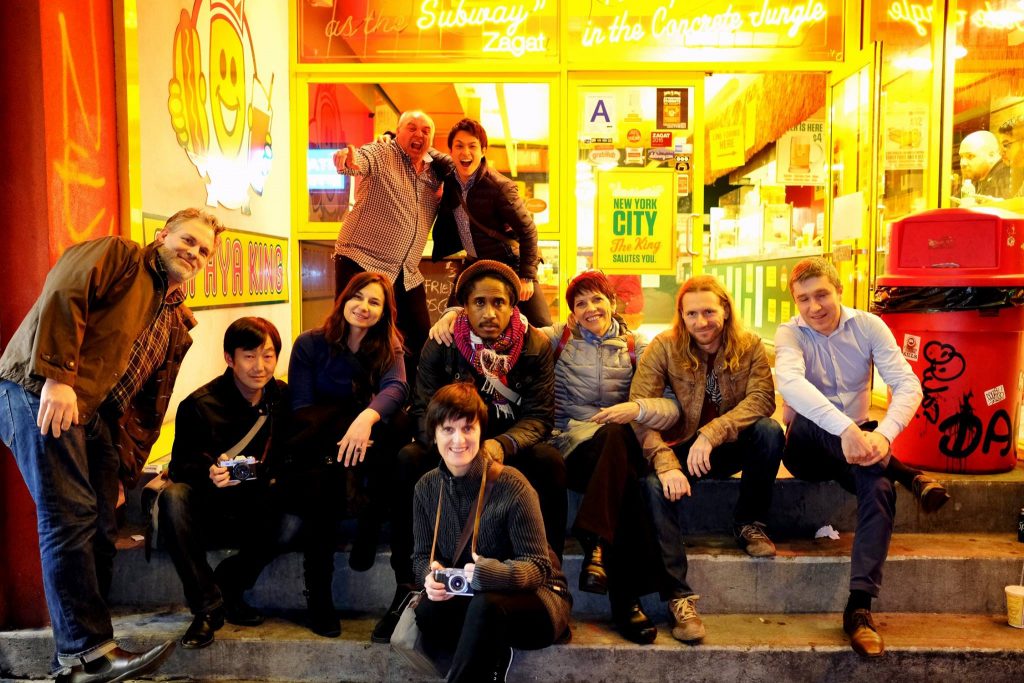 The Standard
The event gang all stayed at The Standard East Village, which was great – and not all big chain impersonal or stuffy.  ln fact, I've never met a more helpful, genuinely friendly staff. I mean, they were truly a stand out in this day and age. One thing that probably helps is that it's family-owned and run. In fact from what I heard, the family still lives on the premises, as they have for many, many years.  How cool is that? The Standard also spells their name upside-down, which is definitely NOT standard – and I wish I could repeat here. Heh.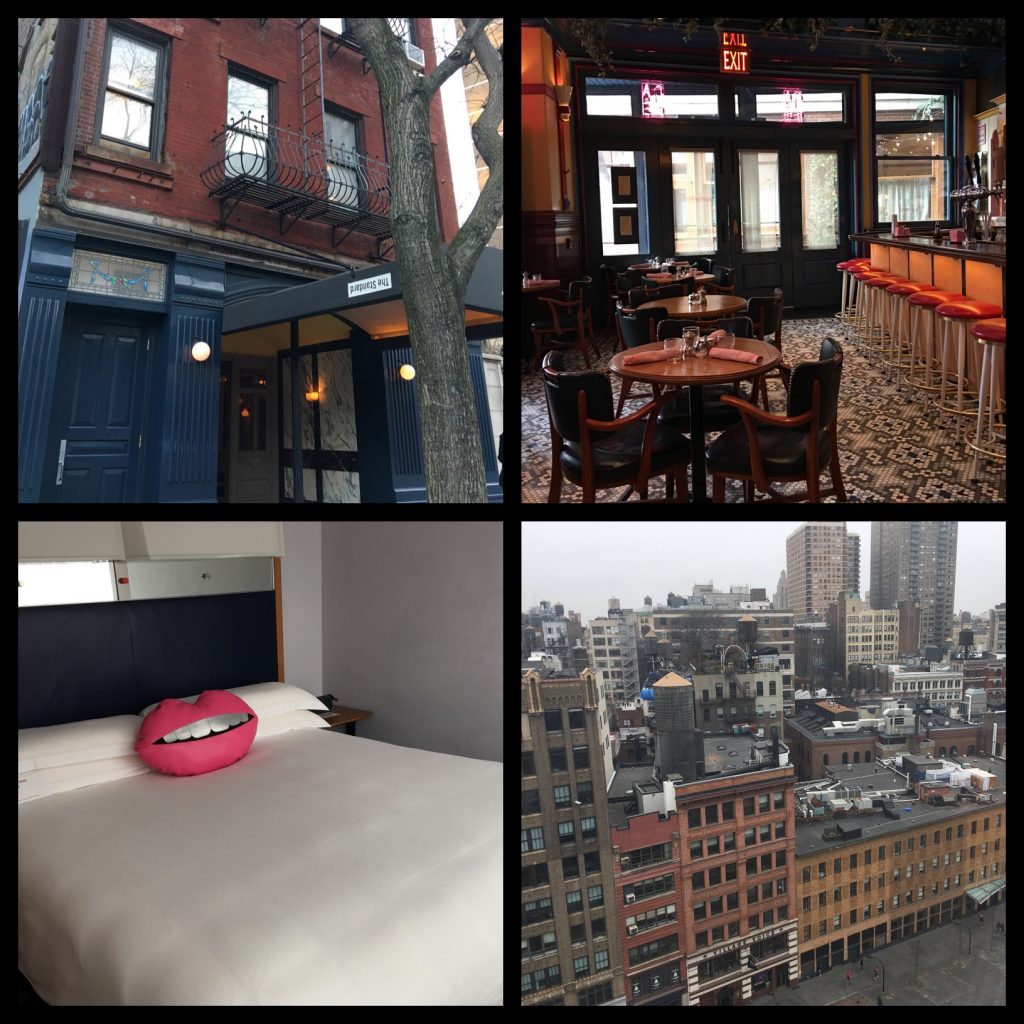 And Always… the Sights & Sounds of New York
Of course, being in NYC means getting out and seeing the sights. I'll show you what caught my eye in a sec. But since I know you'll ask, I tell you right off what gear I took along.
For this trip, I only brought my X-T2 and 23mm f/1.4 lens. That's it. I wanted to keep it light and make it an exercise for myself. You know, stretch a little! I find that while my fab weather-sealed zoom lenses are ideal for my landscape work, smaller prime lenses are just the ticket in a city like New York, where you're just on the go constantly.
OH! And check this out… one of those moments I just LIVE (see how I did that?) for. Great street musicians doing their thing. First time I've ever seen a bass banjo! And I love this guys' voice and their rendition of "Summertime" in this short clip (taken with my iPhone in really bright light, hence it was not without a couple of pilot-induced issues)…
The Images
And then… I just let myself see stuff. Photographed the stuff I saw that made me smile… left the rest behind.
The ever-popular Flatiron building, framed like a hug by these branches awaiting spring…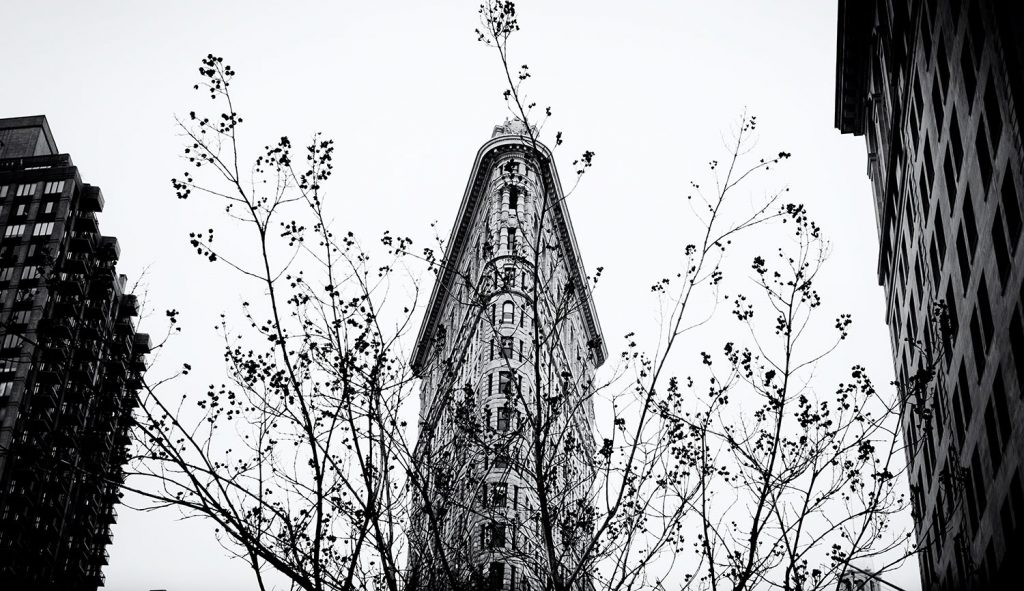 Makeup at Macys…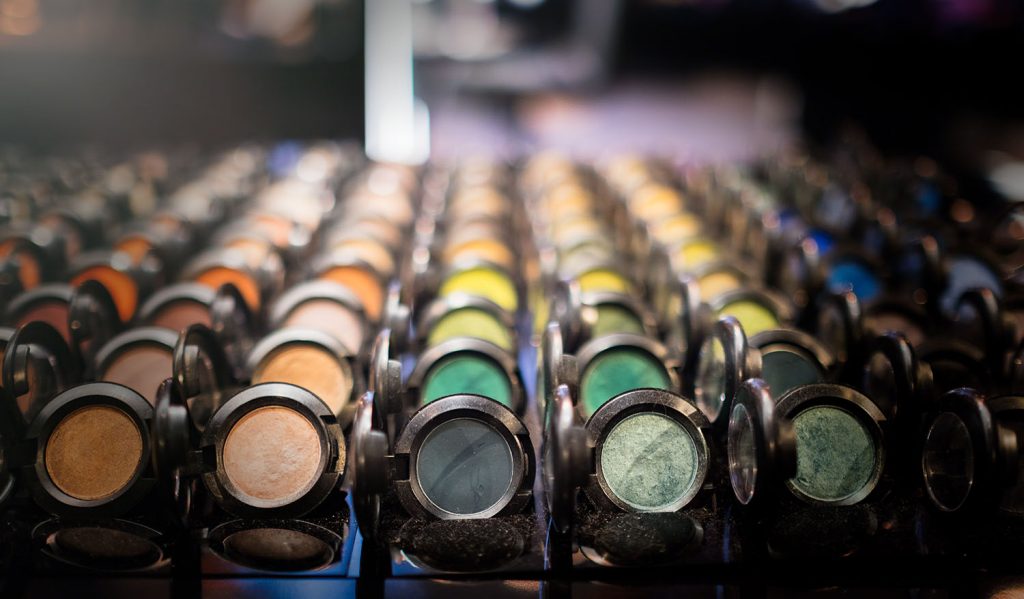 An alternate tech universe…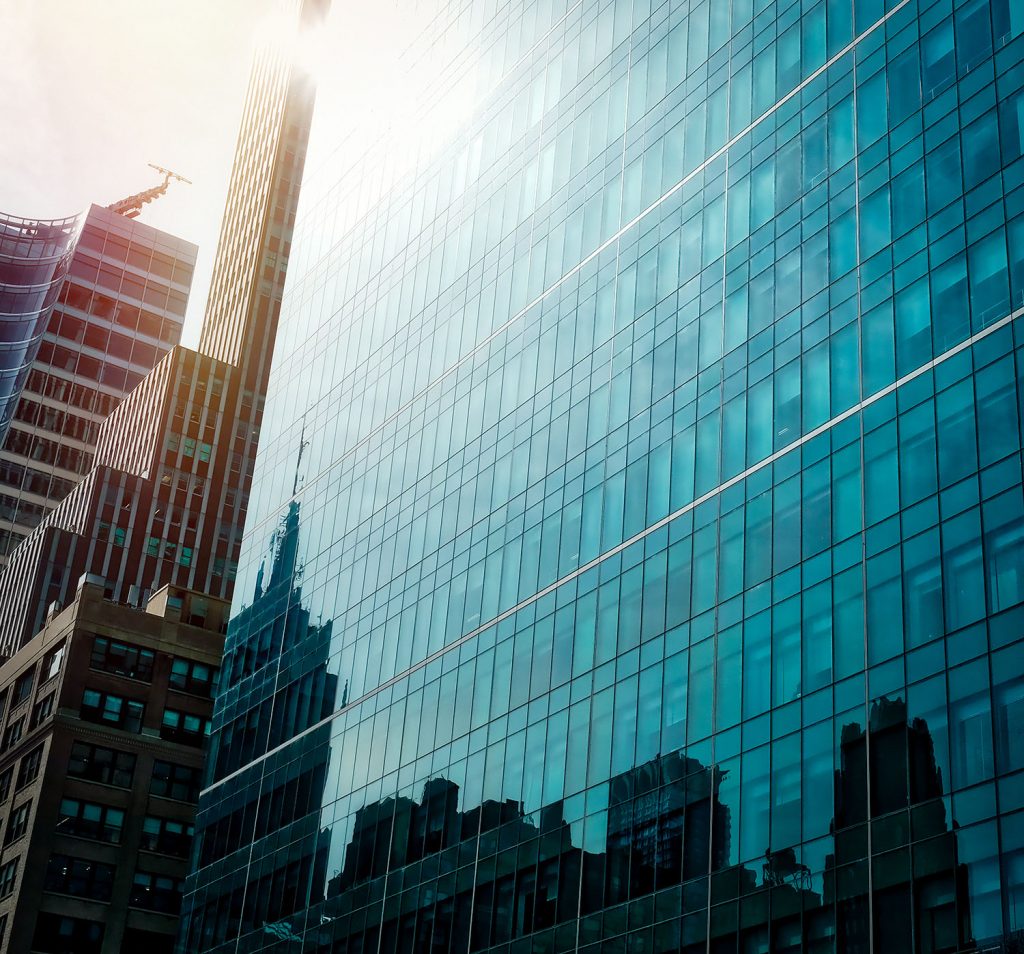 Sushi night at Hogwart's inter-dimensional sushi stand…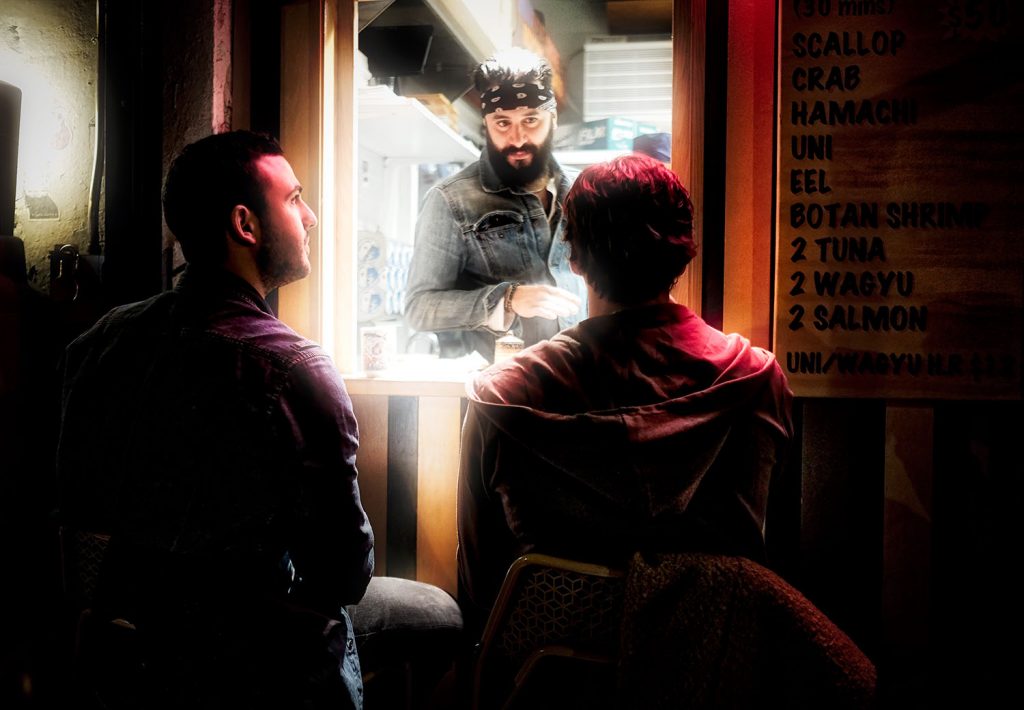 Glamorous late afternoon light…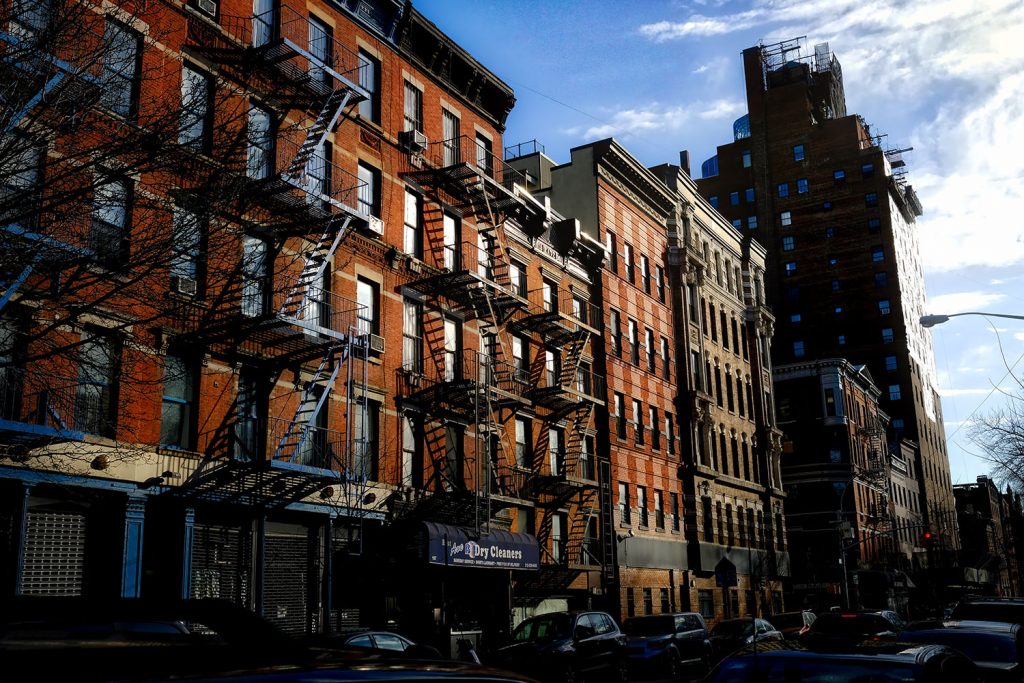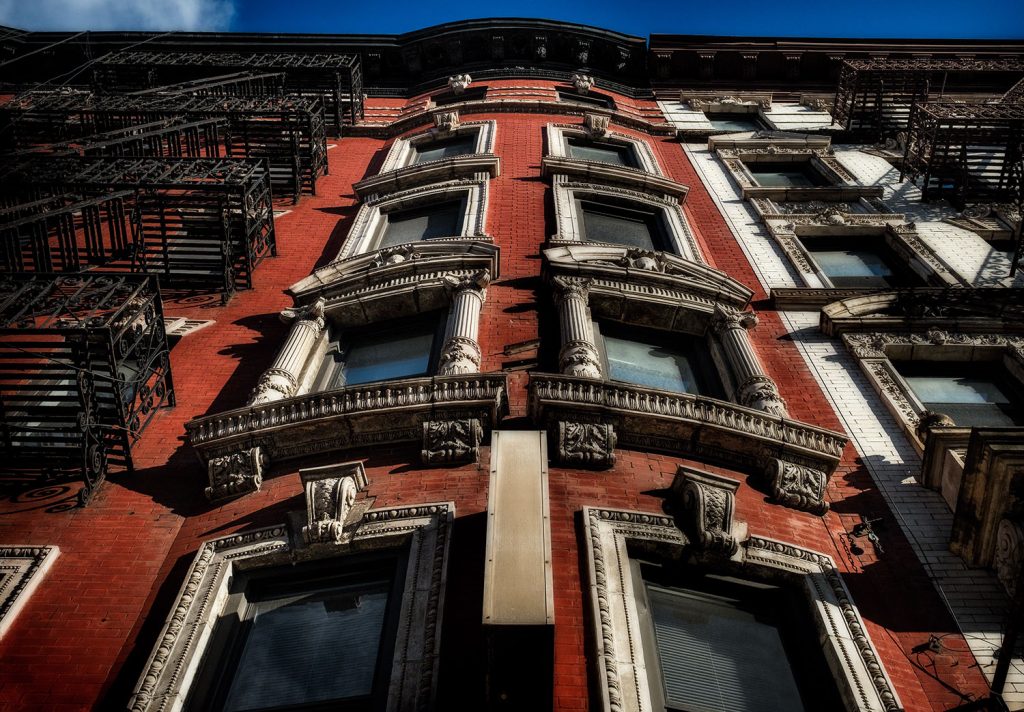 The hems, the stockings, the shoes, the swagger…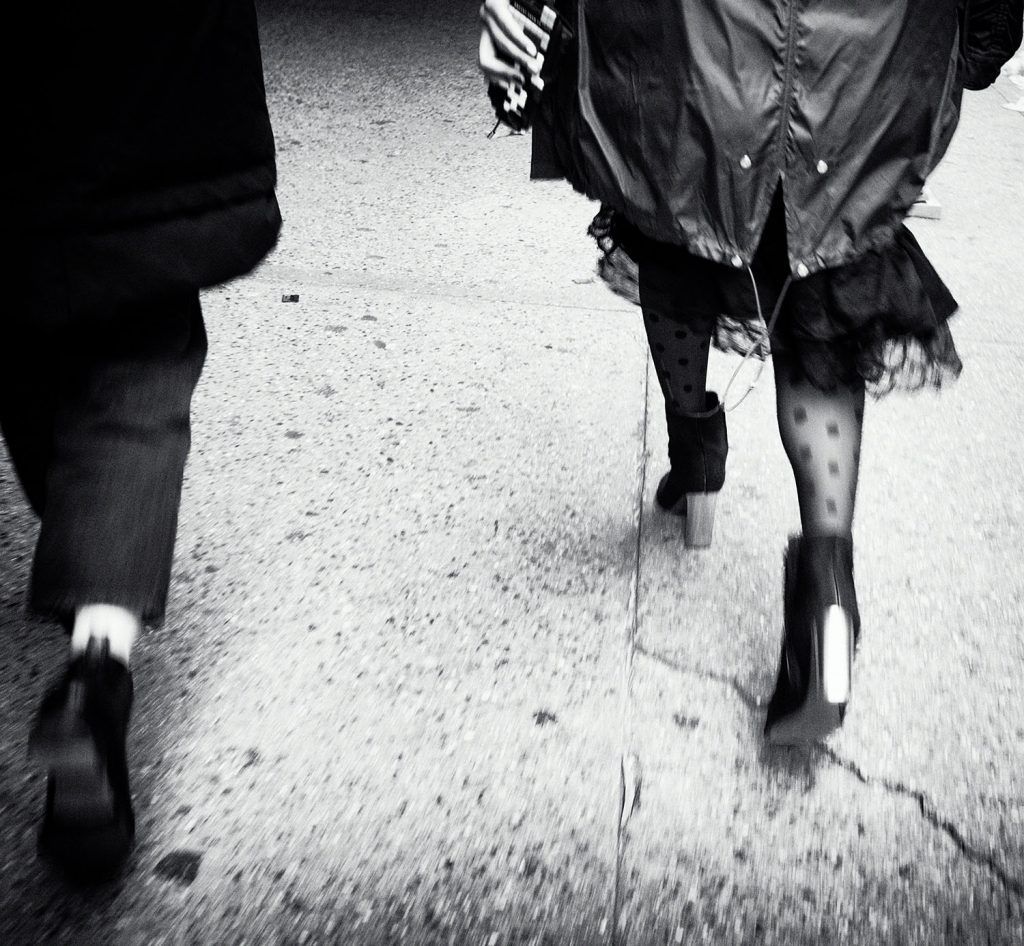 I have a thing for mannequins. Strange, I know. Ever see Stephen Sondsheim's "Evening Primrose"? The movie is all out of date now, but it's true mannequin-lover's story. Check out one of my fave songs from it called "I Remember". Siiiigh.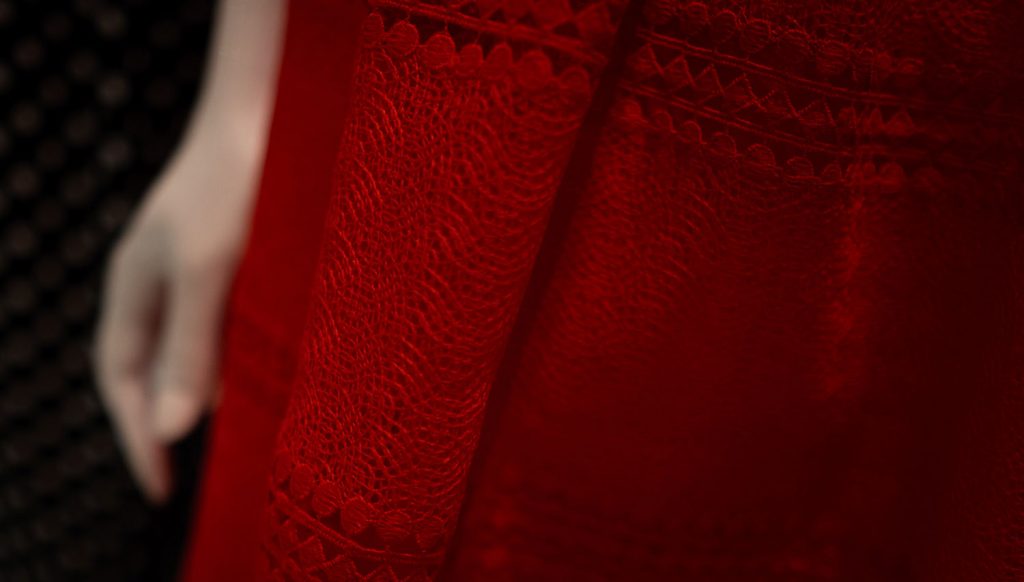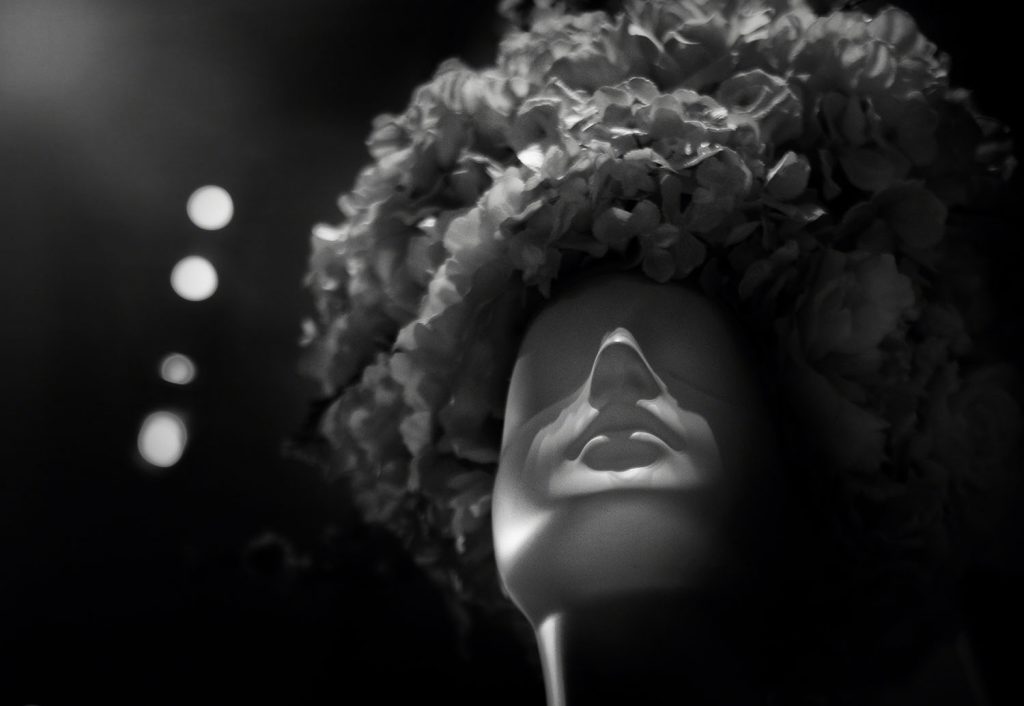 A juxtaposition that made me grin…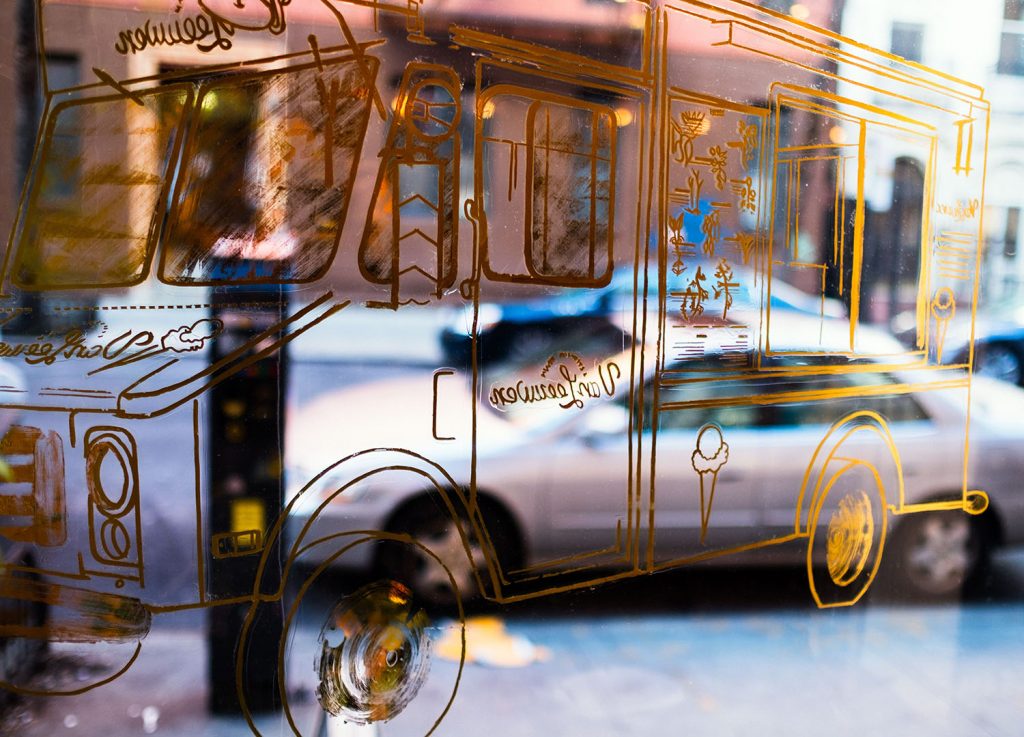 Oh come on. Even you couldn't resist round, red, radiant radishes!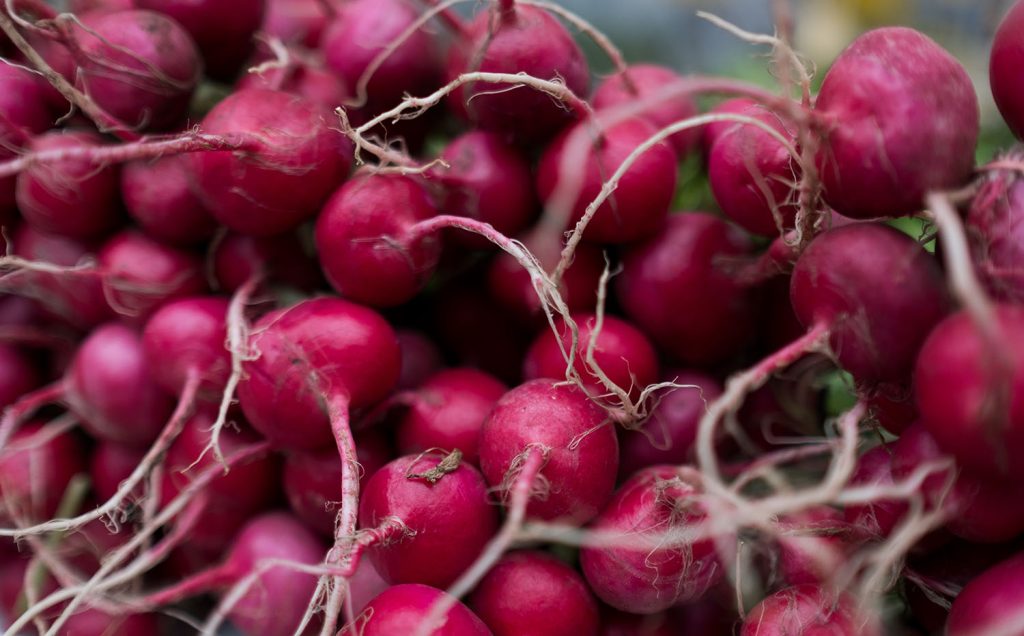 Caption, anyone?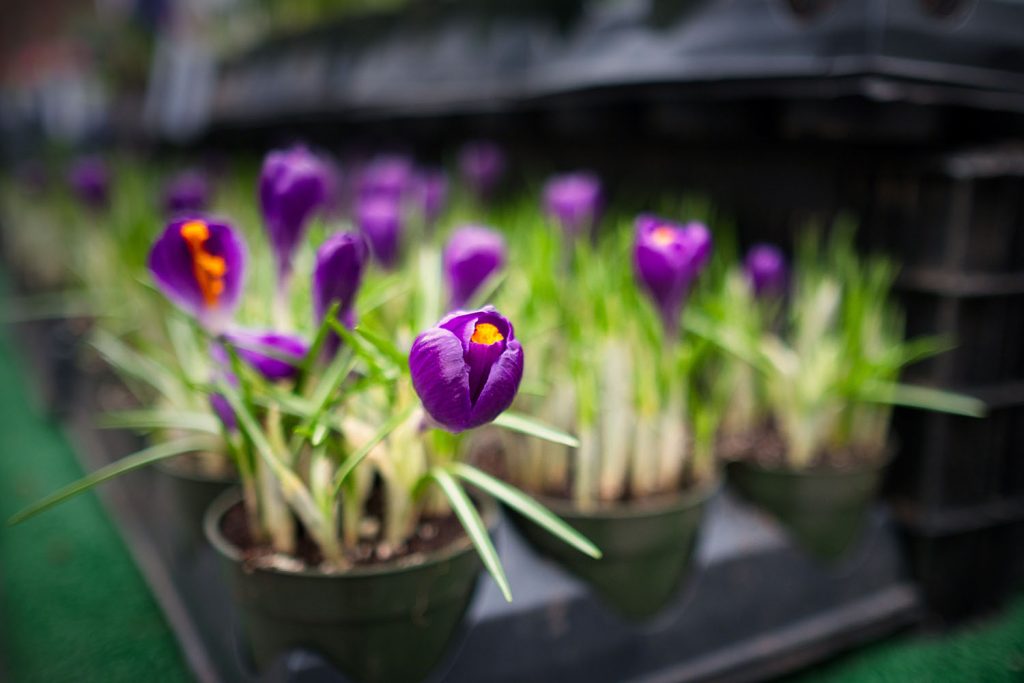 Timing is everything…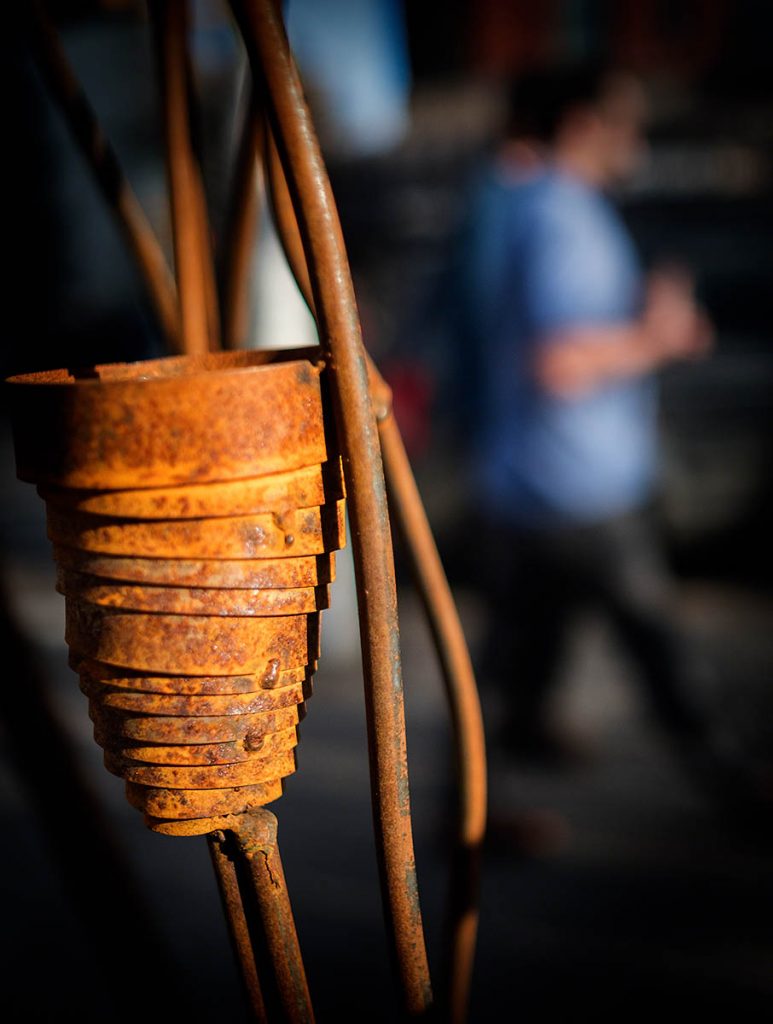 Unchain my heart…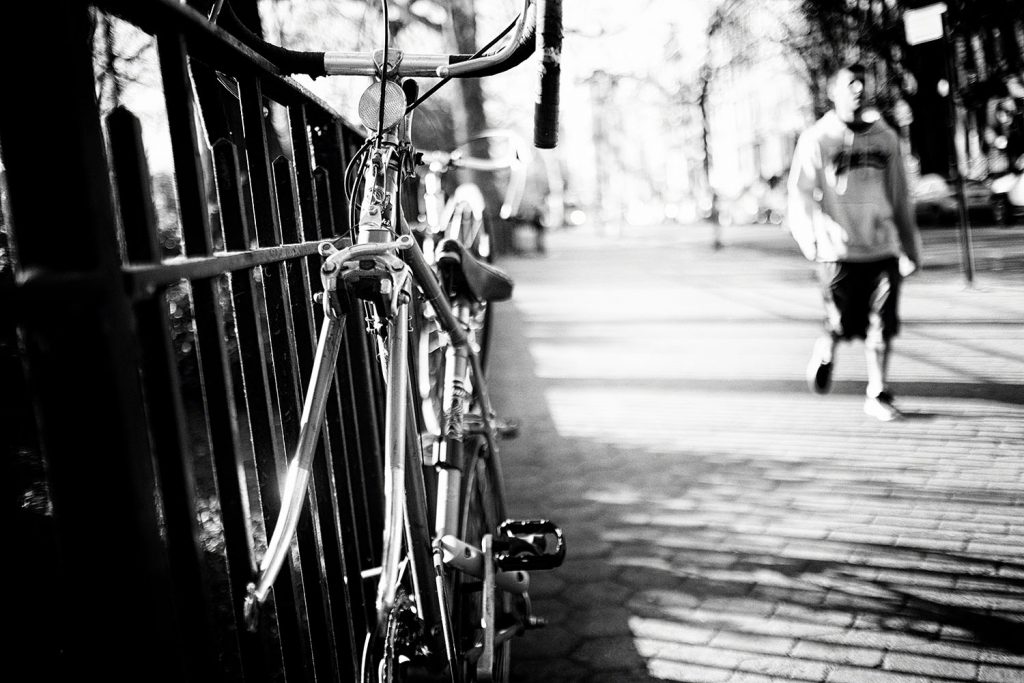 Because who couldn't use a little Grace?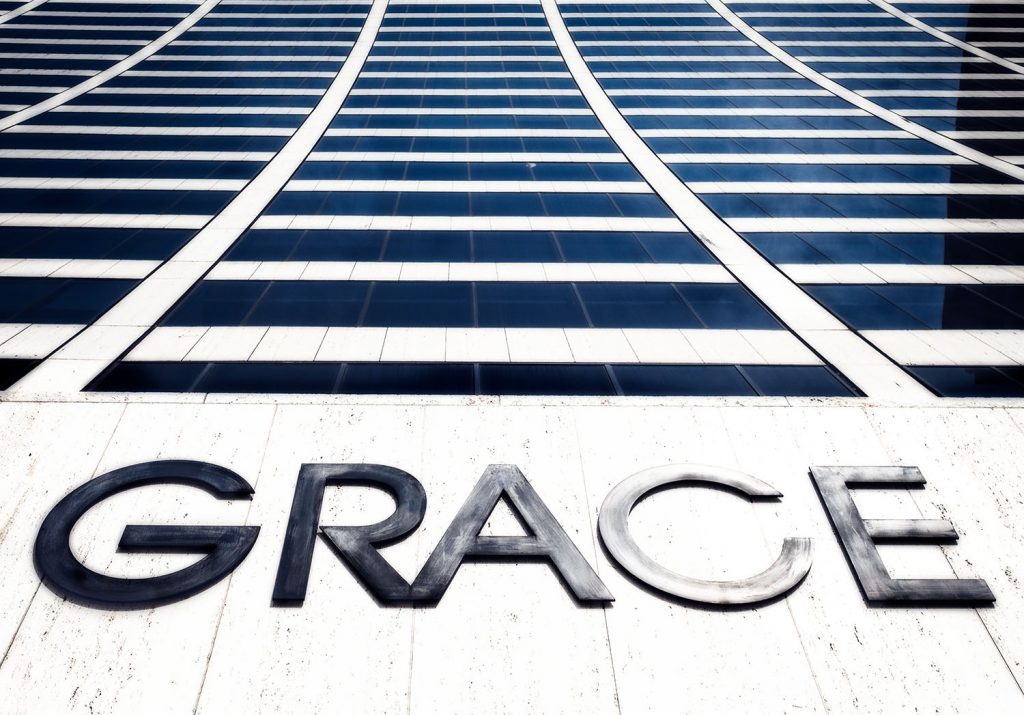 Sure was fun shooting with an f/1.4! I throw that baby in my landscape bag now, for those special moments when it's just perfect for the moment. Like this: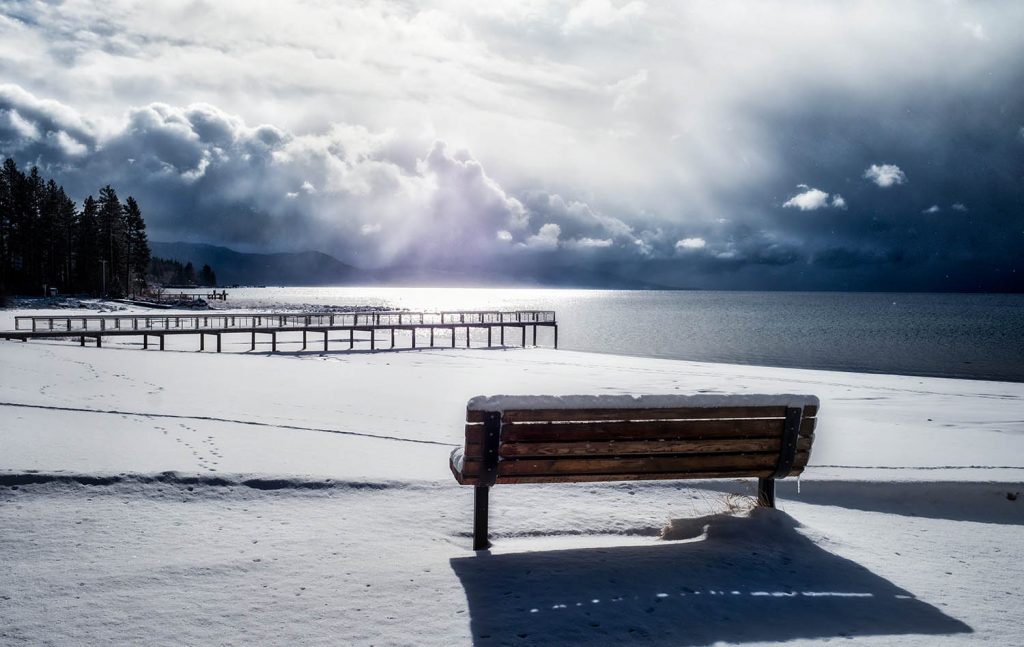 But I digress.
New York was fun, once again. And it was trippy to be there in February in 70+ degrees F! I didn't mind the break from all the snow at home though… and throughly enjoyed helping to kickoff Fujilove LIVE – and the whole entire visit.
Can't wait to do it again!
---
love this little corner of the world? Stay ever in the know!