Hello, Procreate! Where have you been all my life?
Hello Procreate! I'm sooooo happy to meet you! Where have you been all my life? [Swoon]
For those of you who don't know, Procreate is a digital illustration app for the iPadPro – and it's blowing my mind!
I've barely begun to scratch the surface, so what I'm going to show you is probably equivalent to preschool amongst Procreationists. Mostly, think of this as a "where I'm going next" moment, since quite honestly – Procreate is an answer to my creative call to the heavens!
This crazy app has got my brain synapses firing and my muse twirling around like she's on "Dancing with the Stars" – so in my book, it's already worth a million times its $10 price tag. (And, umm – that's a one-time $10, not some ghoulish monthly groundhog day $10. #Winning!).
I had a craving…
This began quite awhile ago, as I craved something more in my post processing. But for the love of God, pleeeeease not more time in front of a computer! And while I'm a Photoshop girl, NOOOOO to learning more fancy footwork on that ballroom floor. Plus, I started wanting to work directly on my images. I've always primarily used a Wacom on my laptop and iMac, with occasional forays into making do with a touchpad. But it isn't enough anymore!  Me want mano a mano.
I could see, smell and practically TASTE the direction I wanted to go next artistically. But what was going to feed all of these needy needs of mine?
Then in January, Gigi Embrechts showed me her iPadPro with Procreate and I practically jumped in the air and high-fived myself. AND her!
It still took me a couple of months to spring for it, but when cravings this strong 'n long get hold of you, you're pretty much hosed. So couple of weeks ago, I bellied up to the bar at the Apple store and did the deed.
Bought the setup, that is. Jeez, what were YOU thinking I meant?? 😜
The Procreate manual is a 350+ page free iBook which you download – and it's great. Typical me, I read about 5 pages. Then – having just learned enough to actually be dangerous, fired up the app and went to town.
It. Was. AWESOME! Really, truly, madly deeply amazing and fun.
Simple to use, has a bunch of really cool brushes built right into it (who are kept company now by the ridiculous number of new ones I've either bought or downloaded.
I've also learned that people make their own brushes (it's really easy to do) – then share them. They've all helped open my mind to possibilities. It's like sitting blind in the dark, thinking you just had to learn to see better in the dark. Then suddenly, a window opens, light explodes into your brain (and it doesn't even hurt) and nothing is the same. You fly out that window and never look back.
Anyway,  I'm at the baby steps stage, the very beginning of the process. Diving into this (or whatever floats your boat, creatively) is exactly what I tell my students and clients to do… keep growing and expanding, listen to your muse! I have to do it too, or I'd be a total fakeroo. Luckily, I live for this stuff!
Baby's first steps
For me, first steps in Procreate have been WAY more fun than my actual first baby steps. Which I can actually remember! Strange but true fact.
I started with images I've already processed, but for one reason or another they I just couldn't get 'em to line up with my gut and vision. Some of them are new; others are a few years old. I'm showing you the befores and afters and sharing my thinking along the way.
"martin birdsong"
Every spring, Purple Martins come and make their homes in the birdhouses my hubs set up behind our house. Almost nothing makes me happier than when they arrive! I could watch their star cruiser flying skills and listen to their voices all day.
I have a Fujifilm 100-400mm lens that makes capturing these beauties possible from my house. I love capturing their "moments". Although catching them in-flight and in-focus has eluded me so far, when they do stop for minute to consider which house is best, they're all mine!
This image was done through a window. Hence, it wasn't as sharp as I wanted it to be. I had done as much post-processing using Photoshop and AlienSkin Exposure 3 as I wanted to; any more and the simple, elegant story of this moment got lost. Still, I wanted more…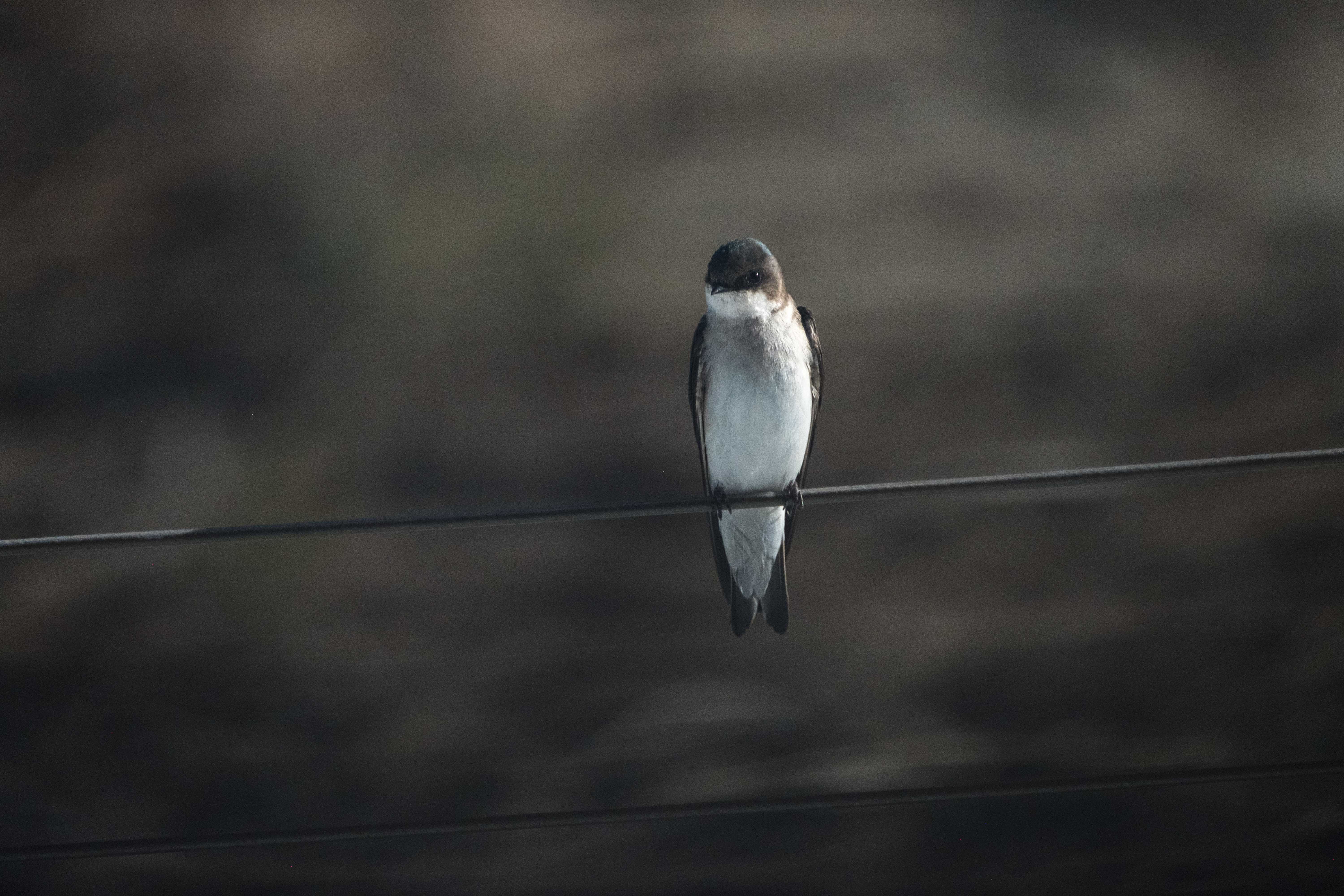 Pro-Created Martin Birdsong
So I did this. Keep in mind, I'm not planning to simply re-paint all of my images. But I wanted to know how to create this particular one as the piece of art I saw in my mind. Which is how I see these beautiful little birds; little pieces of art, soaring through the air like lightning, each one a tiny Millennium Falcon. I'm sure that's how they think of themselves, as I watching them swooping in on mosquitos. (Go Martins!)
I found some feather brushes (I use Creative Market to find all kinds of artistic tools, including free downloads), then went to town experimenting. This was the first piece I did with feather brushes. I then dabbled with a couple of grunge brushes for the background – wrapped it up with a soft airbrush to make the light source caress that right side of my precious lens-pal a little more lovingly.
I finished it off in Alienskin Exposure 3 to set the final mood and et voila!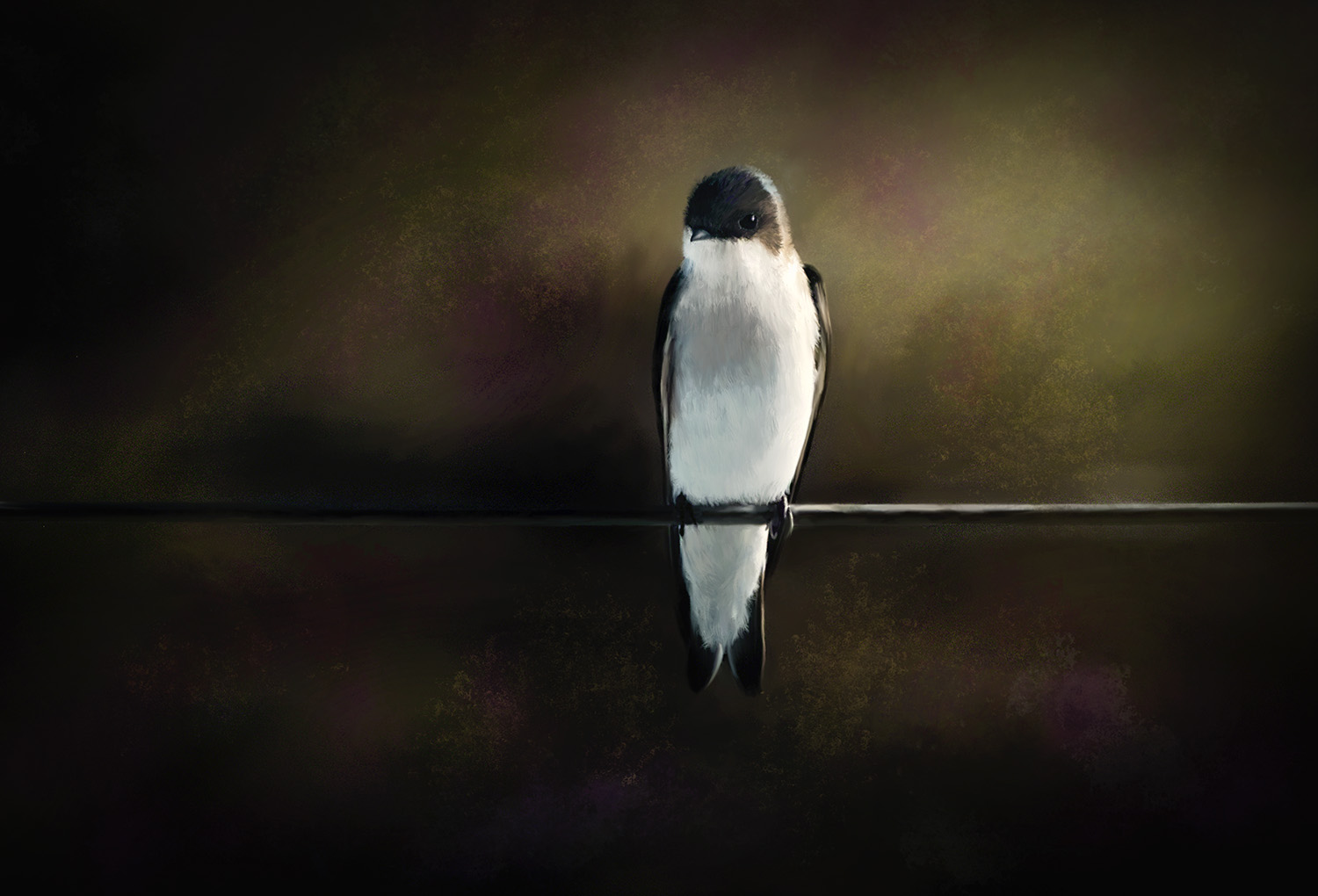 ---
"Comfort"
This is part of my ongoing "Family of Trees" project. I've been working on it for awhile, at leisure (with many more images for the series in the pipeline!). It's based upon what I've observed about trees from spending so much time in forests. The way they form relationships and families has become so clear to me and I love artifying the whole thing.
Think I'm nuts? Read this. 
Anyway, I always loved this image – but it never came to fruition, no matter what I tried in Photoshop. Keep in mind, I draw the line at a certain amount of time I'm willing to spend in front of a computer… so that limitation meant stopping here. It told the story though… so I called it good. Until now.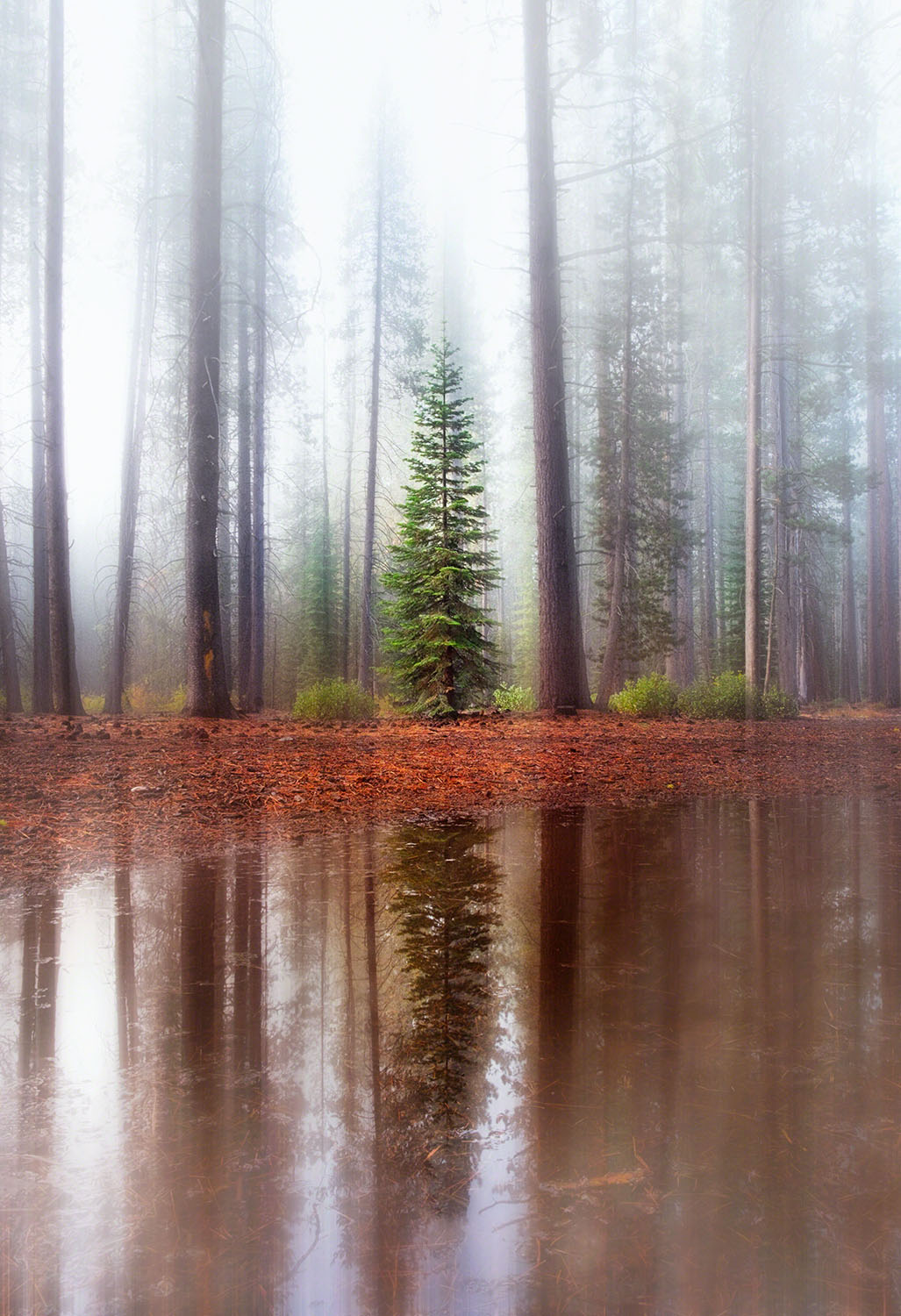 Pro-Created Comfort
I've discovered that Procreate users are nothing if not excited, inspired and willing to share. You'll find hundreds of videos and tutorials for practically anything out there.
I stumbled across this nice forum/blog/tutorial page when I searched for how to make a pine tree. This was my first pine tree effort, which I quite liked.
I'm experimenting with the crossover between what's "real" and what isn't (much like I do in life!)… which is why I like using my photos as my foundation. Although I admit that I'm learning alot about actual painting too, which sure is fun. Who knows where all this will go?!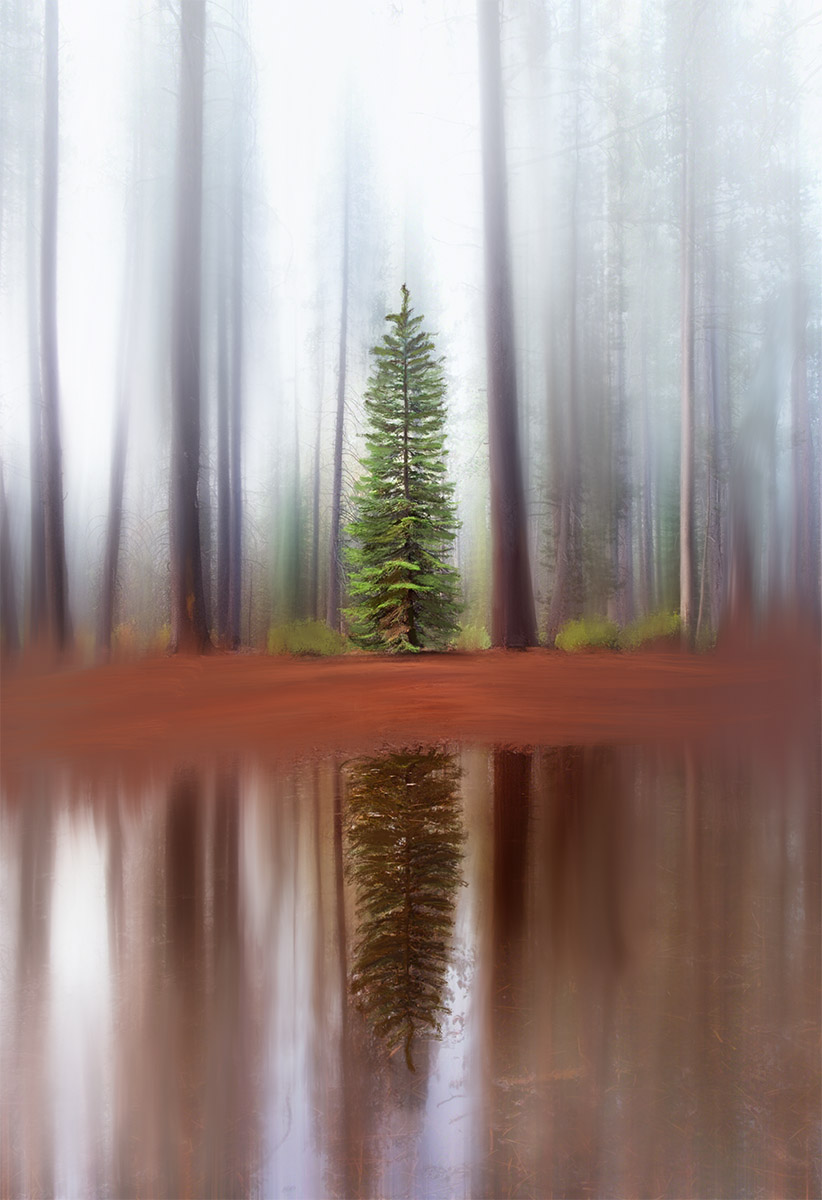 ---
Fiercely Through The Ages
I fell in love with this statue's head years ago when I was Rick Sammon's guest on one of his awesome workshops in Croton-on-Hudson, NY. He takes his groups to this cool Buddhist Temple, where dramatic statues line the drive up to the temple itseslf. Their expressions caught my eye… and the beautiful, sweeping lines that characterize them.
Here you can see that my original post-processing (circa 2012 I think) let the grit override the lines. See, I wanted an artistic approach… maybe texture, to denote time?? I didn't quite know how to get my thoughts to come across visually, although I did like these colors that accidentally happened as a result of whatever texture and Photoshop techniques I applied. I don't remember what they were = now.
Not happy with my efforts and not sure what to try next,  I gave up and put the image aside.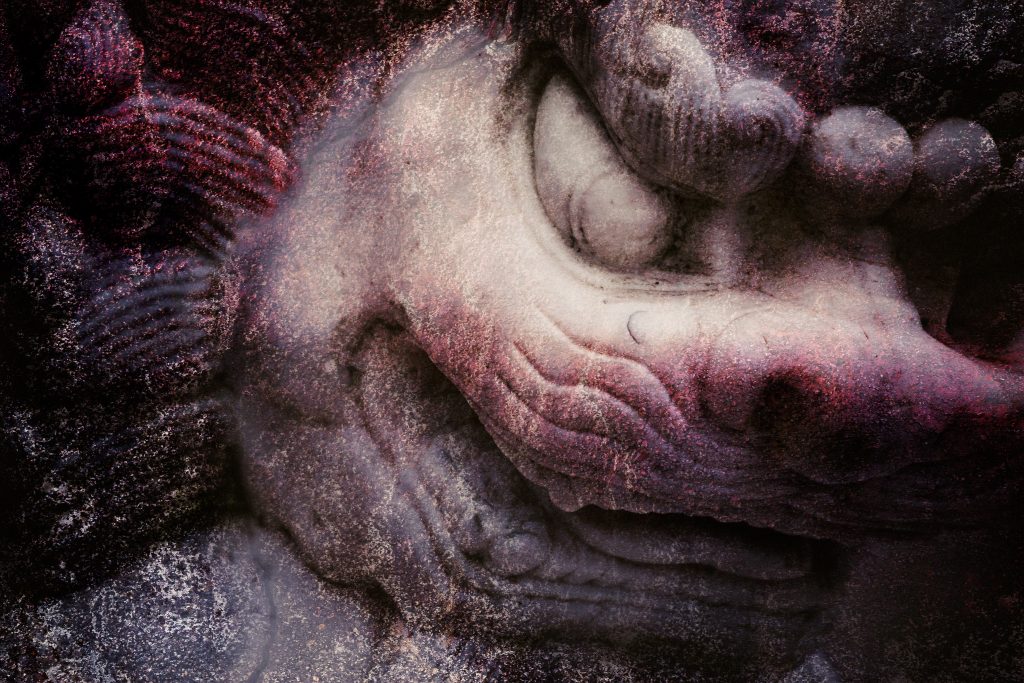 Pro-Created Fierceness
What can I say? THIS version fulfills my vision for this piece.
Like I said, I liked the colors… and the sweet large blending Procreate brush I used spread the tones around smoothly, like grass-fed buttah!
This version definitely focuses upon the lines… the gesture of the piece. I like that. And now, I've determined THAT was the aspect of the statue I loved most. Focus and specificity is so important in making those choices.
It was VERY smooth when I finished with the blending brush, so I grabbed a grunge brush to add in a bit more texture.
Then I took it into Photoshop and into Skylum's Aurora HDR Pro (I use it as a plugin) – and applied a touch of Image Radiance, which gave it some depth. These powerful stone carvings are VERY deep!
FINALLY! It only took 5 years, but I'd say this currently version feels good to me. Tells the story. Makes me smile. That latter is how I know I've done what I set out to do. It's an all-over, full body great feeling.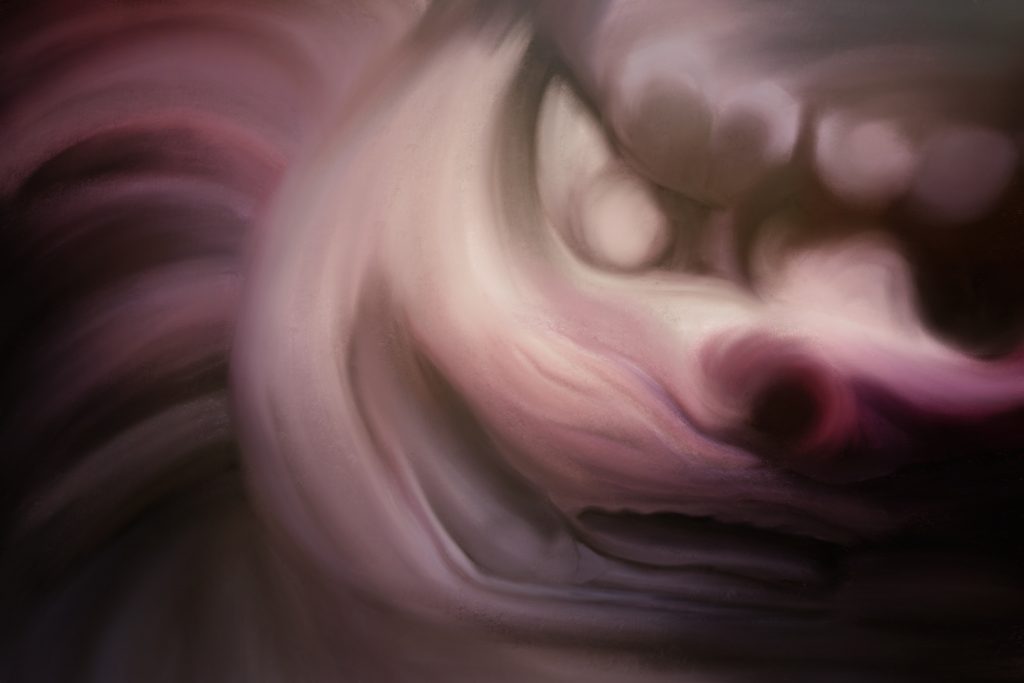 ---
The Adventure Continues… 
And so it goes!
Every day, I find myself grabbing my iPad to mess about with an image or an idea. Every dang day! It's been years since I did that. Instead, over the past year I found myself going weeks in between post-processing sessions (which I've always loved). Mostly because I was too busy – or just plain tired of sitting in front a computer all day doing other work. It was bumming me out!
All this digital revolution as applied to photography means we have more options than ever to create what we envision, feel, want to say. I LOVE that!
My must is excited… and so am I!
I can't wait to share more, as it all unfolds.
---
WANT TO BE THE FIRST KNOW WHEN THE COOL STUFF HAPPENS?
JOIN MY TRIBE OF LIGHTBENDERS! YOU CAN UNSUBSCRIBE ANYTIME, ZIP-ZERO QUESTIONS ASKED.