Although live (in-person) events for 2021 have been cancelled due to Covid-19, I am excited that the "teaching and sharing" portion of my world is happening online! Upcoming ones will appear here: some recorded past events are viewable on my Media page, scroll down to Shows & Podcasts.
AUGUST 2021

The Sedona Photography Symposium's 2021 scheduled event "Unleash Your Inner Artist" has been modified from a live event to a live virtual conference to be held on Friday, August 13, 9 AM – 2:30 PM MST and Saturday, August 14, from 9 AM – 2:00 PM MST.
SATURDAY, August 14th
9:00AM to 10:00AM PDT (MST)
Feature Presentation: Finding Your Signature Voice in Photography with Karen Hutton
The power of embedding YOU into your photography.
In this presentation, I share a philosophy of photography that weaves art, life, soul and the Power of Awe to create signature work.
As artists, we have an opportunity to shift perceptions and uplift our audience with our work through unique ways of looking at the world. The challenge: with light and time as our media, we have mere moments to do it! How do you crack the code?
Developing "signature" in your work is one way. It sets you apart as an artist; it identifies your images as having a unique "voice". When the essence of YOU is embedded into the very pixels of your images, they become unique, regardless of photographic genre. Signature work tells a powerful story, it conveys emotion, harnesses the creative force of your soul's genius – and yes, it makes a highly specific statement!
Using thought provoking imagery, I take you on a personal journey. Along the way, I'll show you a system for transforming your world into consistently and creatively awe inspiring imagery. It's an approach that leaves you feeling more grounded, focused and less distracted by your own mind chatter. More than just "inner game"… it's a practical approach that brings your soul's voice and creativity to bear in your imagery, informing each decision, resulting in consistently awe-inspired personal and professional work.
---
AUG-SEPT 2021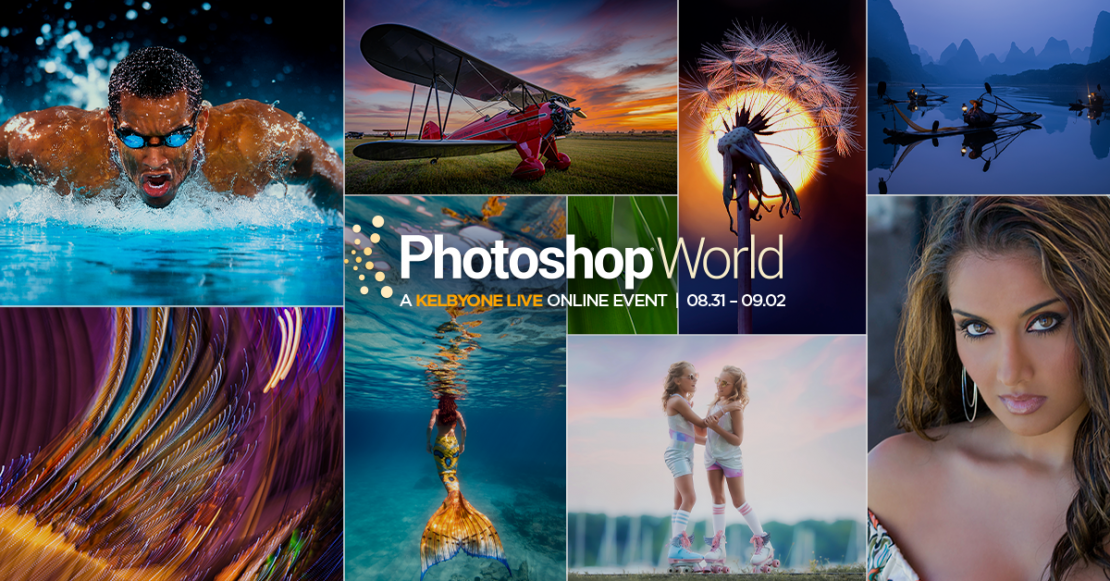 A KelbyOne Live Online Event! I'm teaching at Photoshop World 2021—and I'd love to see you there too! My fellow instructors and I will spend three days LIVE discussing topics like composition secrets, lighting, social media, portrait photography, Lightroom and Photoshop, editing apps, and so much more. And the best part? You can watch the replay for a full year – and all attendees will receive a 6 month KelbyOne Pro membership! Join us!
I'll be teaching 2 BRAND NEW classes:
1: HOW TO CREATE ART WITH PROCREATE.
Love your photography, but got a craving to get even more creative with it? Procreate is an app for the iPad that lets you turn your photograph into a unique piece of art, using the pixels you got! You might even learn to paint in the process!
TRUE FACT: Procreate helped me create an entirely new line of art  (Check it out here) – and it all started with my photographs, doing exactly what I'll be showing you in this class. 
I'll be focusing upon the basics of Procreate, specifically how you can use it with your own photographs. You'll see how easy it is, plus how quickly you can re-imagining both your images and the "reality" they depict! (Reality IS relative – and an art, after all.😉)
Maybe your creative muse is like mine and always wanting… MORE. Well, here's your chance to give it to her!
2. MY PROCESS FROM START TO END.
Who doesn't love looking over somebody's shoulder as they apply their "secret sauce" whilst editing an image and not get in trouble for it? I know I do! In this class, I'm bringing you behind-the-scenes for a peek at how I approach my own photo editing; dancing with it like no one's watching. Except you!
Everyone tackles their images – and their artistic vision – differently. More than a tutorial about how to use any particular tool (I happen to use Photoshop and various Plug-ins), I focus on the feeling I want to create – and show you how and why I choose the tools I use to make it happen. My goal? That you walk away with yummy new ideas to try – and even more, permission to THINK DIFFERENT! Good times will be had… 😄
---