Entrance to the Mountains
On the way into Milford Sound, New Zealand stand these magnificent sentries. They're impressive… like dare-you-to-pass guardians. I felt like I should have to decode an ancient rune or dodge poison darts whilst leaping from rock to rock over a wide mountain stream to gain entry. But perhaps they were looking the other way – or perhaps it was sufficient homage to their grandeur that we stopped, gasped with jaws dropped in wide-eyed wonder and photographed reverently, but that day but we were allowed to drive peacefully on through.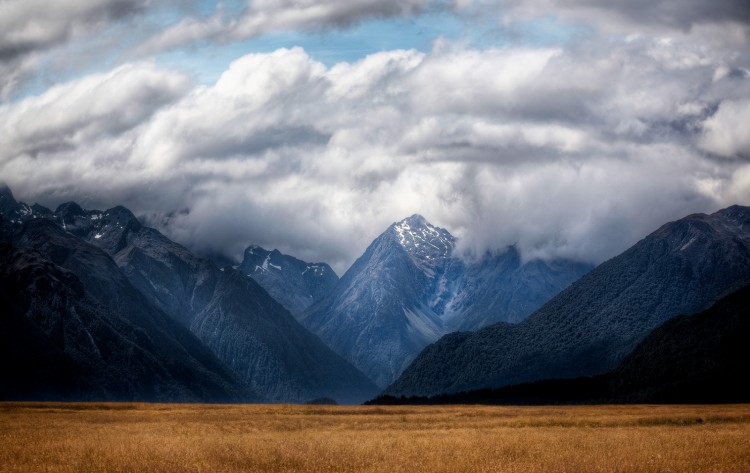 We just finished "Trey's New Zealand Photo Adventure"! It has been absolutely fantastic. An intrepid group of passionate photographers joined us for an action packed 5 days. We saw incredible sights, photographed amazing sculpture art at a highly exclusive club called "The Hills", owned by Sir Michael Hill; visited a Korean Prison (actually an old movie set) on private property where herds of red deer, bison, elk, cattle, alpaca and miniature horses roam; visited the natural wonder of Milford Sound and took the cruise; photographed sunset along the lake in Queenstown and strolled through the gardens there; and stopped more times than you can count along the road to all of these places to photograph the wonders along the way. It's been joyous and expanding in such wonderful ways. We're all tired and happy.
I feel so fortunate to have been on the team of Trey Ratcliff, Scott Kublin and Curtis Simmon,  helping to coach, inspire and laugh with this group. We've had an absolutely delightful and magical time together.
As life should be. Aaahhhhh.
This was photographed as a 7 exposure HDR, shot with a Canon 5DIII, 24-70ii f2.8. Most reverently.